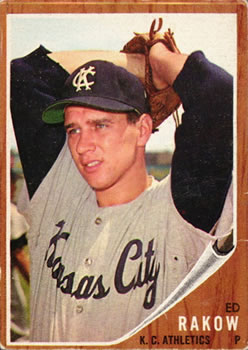 ---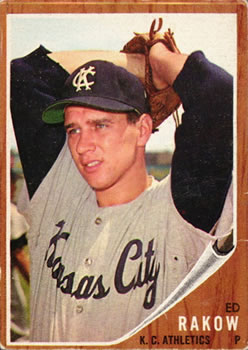 In June 1959, International League secretary and longtime baseball historian Harry Simmons was ecstatic about the 24-year-old Montreal Royals right-hander making the jump from the Three-I League (Class-B) to Triple-A ball. "[Ed] Rakow could be the best pitcher to come along since Don Drysdale," Simmons exclaimed. "He can throw hard and is … completely fearless on the mound."1 Four years later, as the youngster was entering his third full season in the major leagues, he garnered additional backing from Kansas City Athletics manager Eddie Lopat when the former American League All-Star hurler projected a 20-win season for Rakow. In 1964, following his trade to Detroit, it was learned that Tigers star outfielder Al Kaline had the ear of his general manager when the club acquired the righty. "Rakow's the toughest for me to hit," the future Hall of Famer claimed. "He really shows me something."2
This was high praise for a pitcher who several years earlier was unable to attract the interest of his hometown Pittsburgh Pirates. Though a 20-win season was never realized, in the early-to-mid 1960s Rakow was much sought after by several major-league clubs while toiling for the lowly Athletics. But in 1964, arm and shoulder ailments that initially plagued Rakow in the minors resurfaced to foil a once-promising future.
Edward Charles Rakow was born Edward Charles Ciuksza on May 30, 1935, the only child of Geraldine Stella Ciuksza, in Pittsburgh, Pennsylvania. Geraldine was the daughter of Polish immigrants who arrived in the United States around the turn of the 20th century. In the 1930s she listed her surname as Cane, providing a possible hint to the last name of Ed's biological father. In the 1940 U.S. census, the 25-year-old single mother reclaimed her maiden name while living in Pittsburgh with her parents, siblings and 5-year-old son. Around 1948 Ed and his mother took the name Rakow following Geraldine's marriage to Pittsburgh native Frederick Carl Rakow. Seven years her junior, Fred appears to have had no children from a prior short-lived marriage while he was serving in the Marines during World War II. Fred, Geraldine and Ed settled in Pittsburgh's Eighth Ward just two miles north of the city's famed Forbes Field. Fred then launched a long career with a large road paving equipment company.
Growing up near the home field of the Pirates and National Football League's Pittsburgh Steelers contributed greatly to Ed's passion for sports. He channeled this passion into his own athletic pursuits in prep school and American Legion play on the gridiron and diamond. His baseball skills were honed by local legend Dick Romano, who, over the course of six decades, helped usher the careers of Rakow, future Pirates hurler Jim Sadowski and many minor-league professionals.3 After high school Rakow was frequently spied on the sandlots of neighboring Sullivan Field playing for the semipro St. John club in the Greater Pittsburgh Federation League, most often as a catcher or first base. The talented youngster continued playing football as well. In 1955, Rakow was the quarterback and defensive end for the Pittsburgh-based semi-pro Bloomfield Rams, losing his former job to Johnny Unitas in 1956 after the future Hall of Fame quarterback was released by the Steelers. Rakow's football career ended after he broke a hand while making a tackle.
But Rakow's passion was pitching a baseball. Both during and after his high school career he attended several Pirates tryouts but was turned away when the coaches felt neither his fastball or small 5-feet-11, 178-pound stature were of major league caliber. Resigned to a career among the Pittsburgh sandlots, Rakow found work as a truck driver and an industrial machine operator. But in October 1956, a chance meeting with Brooklyn Dodgers scout Howard "Doc" Ruppan while attending a friend's wedding proved pivotal to the 21-year-old's career. During a subsequent tryout Ruppan was impressed enough to offer Rakow a minor-league contract with a $250 bonus.4
Initially slated for one of the Dodgers' four Class-D affiliates, Rakow's spring 1957 performance at the club's Vero Beach campus convinced the coaches to slot the youngster with the Reno Silver Sox in the California League (Class C). Despite a high yield in walks (113) and home runs (16), Rakow continued to impress by placing among the club leaders in wins (12), appearances (31) and innings pitched (190). During the post-season he helped lead the club to the final round of the playoffs.
In 1958, Rakow was promoted to the Green Bay Bluejays in the Three-I League (Class-B) where he quickly became a favorite of manager and former All-Star outfielder Pete Reiser. On April 28, in near-freezing conditions, Rakow delivered a four-hit 3-0 shutout against the Burlington (Iowa) Bees. Four months later the aptly nicknamed "Rock" was pressed into starting both games of a doubleheader against the Cedar Rapids Braves after injuries had decimated the Bluejays' rotation. Though Rakow remained susceptible to the home run ball, he succeeded in curbing his walks to finish the season tied for the league lead in wins (15) and shutouts (3) while placing in all other categories. In October he followed Reiser to Venezuela where he competed in winter ball alongside fellow-Dodgers prospects Don Demeter and Tommy Davis.
In February 1959 Rakow was one of a small group of non-roster players selected to work with the parent club, by now having relocated to Los Angeles, during the Dodgers' spring camp. Initially tabbed for promotion to Class-A ball, Rakow's strong performance resulted in another jump to the Montreal Royals in the International League (Class-AAA). Joining a staff anchored by veteran starters Tom Lasorda, Babe Birrer and Bill Harris, Rakow was used primarily as a spot starter. On May 10, he started the second game of a doubleheader against the Rochester Red Wings and delivered two-hit shutout. A month later he came out on top in a 2-1 10-inning complete game duel against Havana Sugar Kings righty Mike Cuellar. "Rakow [is] a top prospect," said Royals manager Clay Bryant. "[He only] needs to curb his wildness to be a big winner."5
But in late June Rakow's upward trajectory was slowed when arm problems began to plague the youngster. He tried to pitch through the pain with little success. On July 22, Rakow was sent to the Victoria Rosebuds in the Texas League (Class AA) where he was reunited with manager Reiser. The reunion quickly proved beneficial to both as Rakow rebounded to win six of his first seven decisions to help Reiser steer the club to its first pennant as a Double-A team. After the season Rakow returned to Latin America, where he placed among the league leaders in the Panamanian League.
During the offseason, the reigning world champion Dodgers, not content to sit on their laurels, engaged heavily in trades. One such swap came two days before the start of the 1960 season when the club sold reliever Johnny Klippstein to the Cleveland Indians. The confidence to part with the veteran righty stemmed in part from the superb spring performance of Rakow. In Grapefruit League play the youngster led the club with a 2.00 ERA to position himself behind Ed Roebuck as the club's number two bullpen man. (Manager Walter Alston had lost confidence in former relief specialist Clem Labine whereas Larry Sherry, the Dodgers 1959 bullpen hero, was slated as a starter in what proved to be a short-lived experiment.)
On April 22, 1960, Rakow made his major-league debut in Busch Stadium against the St. Louis Cardinals. Entering the eighth inning with the Dodgers trailing 10-7, he surrendered a home run to his first batter, shortstop Daryl Spencer. A single, walk and wild pitch nearly led to another run before Rakow escaped the inning. He made his next appearance two weeks later in a start against the Philadelphia Phillies. Rakow dodged several scoring opportunities before the Phillies broke through in the sixth, the major damage coming on a three-run homer by light-hitting catcher Jimmie Coker. Rakow was lifted one batter later and suffered his first major-league defeat in a 4-2 loss. Over his next five appearances, all in relief, Rakow surrendered 11 runs and 14 hits over six innings to lift his ERA to 11.37. On June 7, he was sent to the Spokane Indians in the Pacific Coast League to make room for veteran free agent outfielder Irv Noren, who was signed the same day.
Rakow rebounded with a record of 12-6, 3.26 including four straight complete-game wins through July 16 to help lead the Indians to a 92-61 first place finish. On July 6 Rakow, a generally poor hitter, connected for one of the club's league-record six triples as the Indians demolished the Vancouver Mounties 14-4. Meanwhile the Dodgers, who had fallen out of contention in the NL pennant race, turned its focus to the future by selecting Rakow among its 15 September call-ups. "The quicker we get a good look at some of the young talent, which we must depend on for rebuilding, the further we'll be along," Alston said.6 Rakow made two strong appearances, including a start on the last day of the season against the Chicago Cubs in which he yielded just two earned runs and five hits over seven innings. He did not figure in the decision in the Dodgers 4-3 win.7 Rakow spent the winter in Venezuela where a circuit-record 185 strikeouts and a league-leading 1.29 ERA put him in competition for the Occidental League's Most Valuable Player award. "He has better command of his breaking stuff, and is using winter ball to improve his curve and change-up," Dodgers scouting director Al Campanis said in December after observing Rakow strike out 11 batters in five innings.8
But Rakow's path to the parent club was not as straightforward. Difficulties during the 1961 Grapefruit League campaign, combined with stiff competition from youngsters Ron Perranoski, Jim Golden and Ed Palmquist, ensured Rakow's certain return to the minors. In the last weeks of camp GM Buzzie Bavasi, who had received queries from Kansas City regarding the righty, offered Rakow a choice between a trade to the Athletics or returning to Spokane. Rakow chose the trade and on March 30 he was sent to Kansas City for right-hander Howie Reed and $40,000. "The Dodgers were good to me," Rakow said afterward. "With all the pitchers they had, there was no way I could make that staff. Coming to Kansas City was the biggest break of my career."9
The perennial second division Athletics lacked the luxury of the Dodgers' deep pitching as Rakow moved from the major league's best staff to its second worst. They dropped to worst in 1961 as 17 new faces took the mound for the Athletics during a 100-loss season. One of those new faces was Rakow, who began the season with a bumpy start working from the club's bullpen. But his fortunes turned on May 22 as Rakow compiled a 1.57 ERA over his next 11 appearances (27⅓ innings, including one start). The successful run included his first major league win on July 2 against the Minnesota Twins. Rakow was moved into the rotation on a regular basis where he garnered mixed success. On July 14, he pitched his first complete game, an 8-3 win over the Washington Senators; three weeks later the Boston Red Sox chased him from the mound in the second inning. When the season ended, Rakow's unimposing 2-8 record masked his durability as he placed among the club leaders in appearances (45), innings pitched (124⅔) and strikeouts (81). He returned to Latin America where he turned in another impressive winter campaign, this time in the Puerto Rican League.
In 1962 Lopat, the Athletics' pitching coach, chose Rakow his special project.10 Throughout spring training Lopat worked closely with the 27-year-old to develop his talents, work that produced immediate results when Rakow delivered six shutout innings against the Dodgers in an exhibition in West Palm Beach on March 19. Two weeks later he handcuffed the Cincinnati Reds in a 3-1 complete game win in Tampa. Rakow's continued progress earned the club's "Best Young Pitcher" tab in a poll of nationwide scribes.11 His hard work was rewarded when, a week before the start of the season, Athletics' manager Hank Bauer selected the righty as his Opening Day starter.
On April 10, a piercingly cold day, Rakow halted future Hall of Famer Harmon Killebrew's nine-game home run streak against Kansas City while scattering seven hits in a 4-2 complete game win over the Twins. Two weeks later, he settled for a five-hit 7-1 complete game win against Chicago after White Sox second baseman Nellie Fox foiled Rakow's bid for his first career shutout with a sixth-inning homer. On May 20, he succeeded in his second bid for a whitewashing with a five-hit, 1-0 win over the Senators. Two weeks later he carried an identical 1-0 lead into the eighth inning against the Red Sox before a one out error by first baseman Norm Siebern open the floodgates to five unearned runs in a 5-2 loss. On August 6, Rakow delivered his second career shutout with another 1-0 win against the Senators.12 He finished the season with club leading marks in wins (14), starts (35), complete games (11), shutouts (2), innings (235⅓) and strikeouts (159). In October, Rakow signed with an AL All-Star barnstorming club that toured the Midwest.
But not all went as swimmingly for Rakow during the season. He surrendered a league leading 111 earned runs while tying Baltimore Orioles right-hander Chuck Estrada with 17 losses. He also yielded 31 homers, a total surpassed only by New York Yankees righty Ralph Terry. Moreover, the arm problems that briefly plagued Rakow in 1959 reemerged in May and again in July. In a decision that likely proved detrimental to the rest of his career he chose to pitch through the pain.
Throughout the offseason, Athletics GM Pat Friday received several trade queries for Rakow including an aggressive pursuit from the Yankees. But he and Lopat, who replaced Bauer as the club's manager after the season, were just as eager to retain the righty's services. "I'm quite excited about [Rakow]," Friday said. "[W]e're going all the way with [him.]13 Slowed by a torn shoulder muscle in spring training, Rakow opened the 1963 season on a strong note with a two-hit shutout against the Twins on April 12. He won six of his first eight decisions to keep the surprising Athletics in contention through the first third of the season. But a June swoon quickly dropped the club to its proverbial second-division standing, a tumble that affected Rakow as well. Over 16 appearances (11 starts) through August 17 he compiled a record of 1-6, 4.89 in 70 innings, a mark unaided by a heel injury he suffered while covering first base on July 25. Rakow did little to help his standing with the team when, during a series in Baltimore, the notably quiet athlete bolted from the team on July 1. Three days later he returned to the club in Washington explaining that he had traveled to Pittsburgh on personal business. The unapproved departure cost Rakow a $250 fine. He finished the season with a record of 9-10, 3.92 in 174⅓ innings.
In October, rumors surfaced that Rakow would be moved to the NL as several clubs, especially the Dodgers and San Francisco Giants, were reportedly interested in the righty. Instead on November 18, to improve upon an AL-low 95 homers in 1963, the Athletics surrendered a small ransom of Rakow, infielder Jerry Lumpe and right-hander Dave Wickersham to acquire Tigers' slugger Rocky Colavito (pitcher Bob Anderson and $50,000 accompanied Colavito but the All-Star outfielder was the main prize). "We felt like we were giving up too much and we asked for another player in the deal," Friday acknowledged. "We didn't want the players they offered … [so r]ather than let[ting] the whole deal fall through, we agreed to take [the] cash."14
Tigers manager Chuck Dressen, who was a coach with the Dodgers when Rakow was coming up through the farm system, was elated with the acquisition. Moreover, the subsequent departure of Tiger stalwarts Jim Bunning, Don Mossi and Frank Lary placed even greater expectations upon Rakow to fill the void. The righty was thrilled to join a possible pennant contender and was one of the first players to report to spring training in February 1964. But one month later Rakow's excitement turned to disappointment when he was unable to shake stiffness in his shoulder. He missed several scheduled exhibitions and the ones he did pitch in produced inauspicious results. Rakow spent the first three weeks of the regular season working out of the bullpen. He made his first start on May 10 against the Orioles but was chased after surrendering three hits, four walks and four runs (two earned) in 3⅔ innings. Six days later a more promising start against the Indians resulted in a 2-1 loss, but this was followed by a disappointing outing against Senators on May 20 that forced Rakow back to the bullpen.
In July, Dressen moved Rakow back into the rotation where the righty responded with three consecutive wins in four starts. But two far less productive starts returned Rakow to the bullpen where he stayed through the rest of the season. In July, his late-night carousing during a California road trip cost Rakow $200 when he missed the team curfew. Except for a two-inning appearance against the Athletics on August 14 he was sidelined for three weeks with an elbow injury. Rakow finished the season with a disappointing record of 8-9, 3.72 in 152⅓ innings. Of his 42 appearances, only 13 were as a starter where Rakow compiled a record of 3-8, 4.94 — a major blow for the pitcher who was looked upon to fill the void of Bunning et al. (Further futility was found in Rakow's 0-for-42 batting throughout his two years in Detroit — a Tigers record.)
In 1965, a promising spring training that included a strong performance against the Athletics on March 17 gave Rakow hope that he had finally overcome his arm and shoulder problems. These hopes were quickly dashed in April. Days before the start of the season Rakow was sent to the Syracuse Chiefs in the International League to work through his injuries. Recalled in May, he made six appearances with the Tigers before he was again optioned to Syracuse. In July, the Chiefs sent Rakow to the Salt Lake City Bees in the Pacific Coast League (the Cubs' Triple-A affiliate) but, when the 30-year-old hurler refused the assignment, he was reassigned to the Chiefs. He finished the season with a record of 4-9, 4.63 in 101 innings.
Rakow began the 1966 season with Syracuse before a disappointing start to the campaign resulted in his May release. Promptly signed by the Toronto Maple Leafs in the same circuit, Rakow rebounded with a near no-hitter in a June 17 win against the Richmond Braves. He won his first six decisions with the Red Sox Triple-A affiliate and finished the season with 11 victories (four against the Chiefs). On September 12, in Game One of the Governor's Cup playoffs, Rakow carried a no-hitter into the eighth inning against the Braves before a Tommie Aaron single forced him to settle for a 2-0 shutout. For the first time in five years Rakow felt healthy enough to return to Latin America to play winter ball in the Puerto Rican League.
On December 7, the Red Sox traded Rakow and right-handed pitcher Julio Navarro to the Atlanta Braves for catcher Chris Cannizzaro and utilityman John Herrnstein. In the spring of 1967 Rakow was assigned to Richmond where he compiled an All-Star-worthy record of 10-6, 3.11 in 136 innings. Recalled by Atlanta in July, Rakow won three consecutive decisions in August. Working primarily in relief, he entered the sixth inning of a September 28 game against the Cincinnati Reds and was tagged for four runs and five hits in an inning-plus. It proved to be Rakow's last appearance in the major leagues. After the season, he returned to Puerto Rico where he sustained yet another arm injury.
In the spring of 1968 Rakow tried out with the Braves as a nonroster invitee. Seven days' shy of qualifying for a major-league pension, he was promised a recall when the club sent him to Richmond to start the season. But a promising April gave way to a horrid May after Rakow was diagnosed with tendinitis in his arm. On July 9, after missing a month on the disabled list, he was released following a poor performance against the Jacksonville Suns. He never qualified for the pension. During the winter Rakow went to Venezuela in what appears to be his last attempt to garner interest from the major-league clubs. In 1969, he returned to Pittsburgh where for several years he resumed semipro ball.15
Throughout his career Rakow found varied offseason work as a truck driver and, in 1963-64, as a bartender. After his career, he returned to the former job and reportedly continued driving trucks through (and possibly beyond) the 1980s. At various times Rakow lived in Long Beach, California, and in the southwestern part of North Carolina before settling into West Palm Beach, Florida. In 1989, he was a player-coach for the West Palm Beach Tropics in the short-lived Senior Professional Baseball Association.
Until late in life Rakow encountered several challenges with the women in his life. He went through at least three divorces and several relationships — one of which produced his only child, a daughter named Lynn. In 1993, Rakow married Charlotte Giovanniello in Clark County, Nevada. The only union that lasted more than four years, Charlotte was with him when he died on August 26, 2000, in West Palm Beach. The author was unable to discover whether he was buried or cremated.
Rakow concluded a seven-year major league career with a pedestrian record of 36-47, 4.33 in 761⅓ innings. Successful in comparison to the snub he received from the Pirates when he was trying to break into organized baseball, it fell well short of the Drysdale-like comparisons he garnered while coming up through the Dodgers system.
Sources
In addition to the sources cited in the Notes, the author consulted Ancestry.com and Baseball-Reference.com. The author wishes to thank SABR member Bill Mortell for his valuable assistance. Further thanks are extended to Mark Pattison for review and edit of the narrative.
Notes
Born
May 30, 1935 at Pittsburgh, PA (USA)
Died
August 26, 2000 at West Palm Beach, FL (USA)
If you can help us improve this player's biography, contact us.
http://sabr.org/sites/default/files/RakowEd.jpg
600
800
admin
/wp-content/uploads/2020/02/sabr_logo.png
admin
2017-01-25 18:51:53
2017-01-25 18:51:53
Ed Rakow