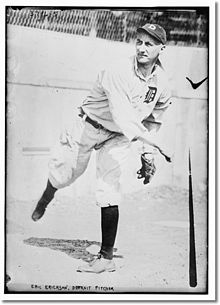 ---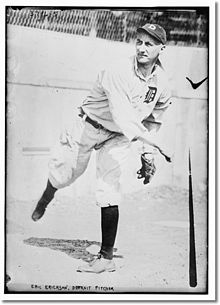 Between 1870 and 1920, over a million Swedes emigrated to the United States, primarily seeking greater economic opportunities.1 This influx produced notable second- and third-generation Swedish-American baseball stars like Charles "Swede" Risberg and Freddie Lindstrom. But only four Swedish-born players made the big leagues. Collectively they appeared in just 149 major-league games.2 Pitching for the Giants, Tigers, and Senators in an eight-year career (1914-22), Eric Erickson accounts for 145 of these.
Swan Erickson and Selma Larson arrived in the early 1880s and were married several years later. Swan became an American citizen, and three of the couple's four children were born in the United States.3 But one, Eric George Adolph Erickson, arrived in Vargarda, Sweden, on March 13, 1892, as his parents were visiting their native land.
Eric spent his childhood in Johnsonburg, Pennsylvania. In 1908 the family moved 60 miles north to Jamestown, New York, a regional magnet for Swedish-Americans.4 Per the 1910 census both Swan and Eric worked at a Jamestown factory, the father as a night watchman, his son as a machinist. By 1912 Eric was pitching for the Leroe semipro team in the neighboring town of Celoron.
One day, Don Curtis, a visiting Dallas Giants scout, spotted the strapping right-hander throwing heat. "Do you think you can throw that hard and get away with it at Dallas in the Texas League?" Curtis asked Erickson. "I think so," came the reply. "At least, I'd like to try." It was, he later recalled, an easy decision: "Leroe was paying me $3 a game, so the $60 per month Dallas was paying me looked pretty good."5 In 1914 Erickson reported to Dallas for spring training.
The New York Giants trained in Marlin, Texas, and Erickson faced one of their squads that March. There he caught John McGraw's eye and, in early July, the Giants purchased him for $2,000.6 Erickson went 11-19 for a Dallas squad which finished 67-83. After the Texas League season ended in mid-September, he reported to New York.7 Over the next few weeks the Braves blew past the Giants in the pennant race. In the second game of an October 6 doubleheader against the Phillies, the last game of the season, McGraw gave the newcomer a start. Shaky, Erickson yielded eight hits and three walks in five innings of work. But, with only a couple regulars in the New York lineup, the fielding behind him "was not even up to Texas League standards."8 He gave up seven runs, all unearned, and took the loss, 8-0.
Erickson trained with the Giants in 1915 but, while pitching against his former Dallas teammates in an exhibition game, a line drive fractured the index finger of his pitching hand. McGraw sent him to the AAA International League's Rochester Hustlers "with strings attached."9 After healing, he compiled a 14-8 record and finished second among league pitchers in strikeouts, with 173 over 215 2/3 innings.10 Per terms of the agreement between the clubs, McGraw needed to exercise his option by August 15.11 The Giants skipper did not. Days later, the Hustlers skipper — John Ganzel — signed a deal to manage the Federal League's Brooklyn Tip-Tops. Ganzel soon signed Erickson for Brooklyn, although he left the pitcher in Rochester to complete the 1915 season.12
When the Federal League dissolved that offseason, Erickson was left without a team. Ganzel recommended him to Tigers president Frank Navin.13 During the just-completed season Detroit had, for the first time in six years, challenged for the pennant. But they were a primarily slugging team, and Navin was anxious to upgrade his pitching staff. Detroit paid a reported $5,000 to Brooklyn for Erickson's release.14
"Erickson has everything," Ganzel raved. "Nobody possesses more speed and he has a beautiful curve ball."15 Catcher Brad Kocher, who played International League ball against the pitcher in 1915, claimed he had "as much smoke as anyone living and I do not bar Walter Johnson."16 Standing 6-foot-2, weighing 190 pounds, and employing an overhanded delivery, he was a prototypical power pitcher.17
In 1916 Tigers manager Hughie Jennings appointed veteran catcher Billy Sullivan to work with the squad's young pitchers. Erickson was sometimes wild in spring training; in a March 25 game versus Waco, for example, he walked the first five batters.18 But he was also battling arm problems.19 Erickson only saw 16 innings of work early in the 1916 season, before being released to San Francisco in early July "with a thick rope attached."20 After a slow start in the Pacific Coast League, Erickson found a groove, and finished with a 12-9 record and a 2.35 ERA (fifth-best among PCL regulars) and 158 strikeouts (third-best).21 San Francisco manager Harry Wolverton reportedly engineered the outright purchase of Erickson from Detroit.22
Healthy, his wildness tamed, and with a "combination shine ball and spitter" added to his repertoire, Erickson won the PCL pitching triple crown in 1917.23 In addition to a 31-15 record, he sported a sparkling 1.93 ERA, and struck out 307 batters in 443 2/3 innings.24 Detroit wasted no time in negotiating a deal to reclaim Erickson from San Francisco.
But his return to the Tigers wasn't without its problems. "It is an open secret that he and Jennings got along like two strange catamounts," the Chicago Tribune reported in February 1918. "Erickson has been quoted as declaring that he never again would pitch for Detroit while Jennings managed the club."25 Writing in The Sporting News that April, Tigers correspondent H. G. Salsinger described Erickson as "a valuable twirler, but one of peculiar temperament." The pitcher, the sportswriter suggested, "wants to be pampered constantly." But Jennings believed in "pampering none, and treating all alike." This approach, Salsinger believed, was mistaken, "for no one who knows men will say that all men can be treated in the same way and the best gotten out of them."26 More recently, Ty Cobb biographer Charles Leerhsen suggests Jennings "combined an extreme aversion to confrontation with a tendency to bully and be sarcastic toward the younger or more insecure men on the team."27
Erickson suffered "an extremely unfortunate start" to his 1918 season.28 At Cleveland, on April 18, in relief of Bernie Boland, the seventh inning began poorly for Erickson when shortstop Donie Bush muffed a double-play ball. He then walked two batters, and yielded a bases-clearing triple to Braggo Roth.29 Erickson took the 6-2 loss. But he quickly recovered to emerge as one of the staff's best options. At Washington in front of President Wilson on May 24, he dueled with Harry Harper for 16 innings until a 2-2 game was called for darkness. Erickson had surrendered but eight hits, walked none, and struck out 12. Over the last 13 innings he faced only 40 batters.30
Little did he realize that his season was over: several games later Erickson was shelved with a sore arm, and then he was drafted into the army. He spent his WWI service at Fort Dix, New Jersey, with the 153rd Depot Brigade, and on January 24, 1919, he was honorably discharged as a sergeant. Erickson finished the 1918 campaign with a 4-5 record and a 2.48 ERA over 94 1/3 innings. Detroit slid to a 55-71 seventh-place finish.
As the 1919 season began, a knee problem — its legitimacy questioned by the Detroit press — kept Erickson mostly out of action.31 In mid-May he was threatened with suspension by Navin and Jennings unless he returned to game shape.32 On June 25, 1919, after appearing in only three games with Detroit, he was dealt to Washington for right-handed pitcher Doc Ayers, who had recently stumbled with the Senators.
"I have long been sweet on Erickson," Senators manager Clark Griffith stated, and he immediately put the newcomer into the starting rotation.33 Erickson finished his 1919 season with the Senators with a 6-11 record and a 3.95 ERA. In the nation's capital, he presented no problem to the team's management, as was true at every other stop in his career, save Detroit. It's probably fair to conclude Erickson's relationship with Jennings was indeed poisonous.
Before the 1920 season, MLB outlawed the shine-slash-spitter Erickson had relied upon, and he was not among the 17 pitchers whose slippery repertoire was grandfathered. For whatever reason—changes in the pitching rules, or a loss of velocity—his ability to overpower hitters diminished. Before 1920 he had struck out five hitters every nine innings, an impressive Deadball Era accomplishment.34 In 1920 he struck out 3.3 batters every nine innings, and achieved a 12-16 record and a 3.84 ERA. Washington finished in sixth place with a 68-84 record. That October, Erickson married Alma (nee Bergquist) Anderberg, a young widow, who also had been born in Sweden and resided in Jamestown. Their only child, son Burwin, arrived the next year.
During 1921's spring training, Erickson began to use "a sort of half side-arm and half under-hand delivery."35 The Senators climbed into fourth place with an 80-73 mark. Erickson, as the fourth starter, finished with an 8-10 mark and a 3.62 ERA. The retrospectively-calculated ERA+ of 114 he achieved that season was his career-best.
In November 1921, Griffith sought to deal Erickson to Portland for some of their young pitching talent. But the Yankees refused to let him pass through waivers.36 Next, he was rumored to be a piece in a three-way trade, with the Athletics and the Red Sox, which would bring Roger Peckinpaugh to Washington.37 Though the deal went down, Erickson was not included. Consequently, the veteran stayed with Washington in 1922, stumbling to a 4-12 record and a 4.96 ERA. The Senators also fell backwards, landing in sixth place with a 69-85 record. That December, Washington dealt him to the American Association's Minneapolis Millers.
In Minnesota, Erickson went 7-25 in 1923. He appeared in a handful of games for the Millers the next season, before league rivals Toronto obtained him in December 1924. After a brief turn with the Maple Leafs in 1925, he returned home to Jamestown.
During his major-league days, the press commonly referred to Erickson as "Ole" or Olaf" or "the big Swede." In Jamestown, ever since delivering key hits at the beginning of his semipro days, he was known exclusively as "Swat." Almost two decades after his earliest triumphs, possibly his finest baseball moment occurred on a local semipro diamond. On August 7, 1930, Bill McKechnie's Boston Braves came to Jamestown for an exhibition game. The 38-year-old Erickson one-hit the major leaguers, allowing only a "dinky single between first and second" to pinch-hitter Lance Richbourg in the ninth inning. "Swat" accounted for all of Jamestown's runs in their 3-0 victory, by clearing the bases with a triple in the second inning.38
Erickson worked in the shipping department of Art Metal, eventually retiring in 1958.39 He also tirelessly farmed on his 15-acre property, raising chickens and pigs, planting apple trees, and become "widely known throughout the area for his berries and garden produce."40 On May 19, 1965, Eric "Swat" Erickson died of heart disease. Alma, Burwin, and grandchildren Linda and Dennis survived him. Remembered in Jamestown as "a gentleman who was a credit to baseball and our community," he was buried in Sunset Hill Cemetery in nearby Lakewood, New York.41
Acknowledgments
This biography was reviewed by Tom Schott and fact-checked by Chris Rainey.
Sources
The author is grateful to Linda Erickson for generously sharing her knowledge of her grandfather's life.
In addition to the sources noted in this biography, the author also accessed Erickson's file from the National Baseball Hall of Fame, the Encyclopedia of Minor League Baseball, and the following websites:
chautauquasportshalloffame.org/ericerickson
Notes
Full Name
Eric George Adolph Erickson
Born
March 13, 1892 at Vargarda, (Sweden)
Died
May 19, 1965 at Jamestown, NY (USA)
If you can help us improve this player's biography, contact us.
https://sabr.org/sites/default/files/EricksonEric.jpg
600
800
admin
/wp-content/uploads/2020/02/sabr_logo.png
admin
2017-05-22 18:14:51
2017-05-22 18:14:51
Eric Erickson