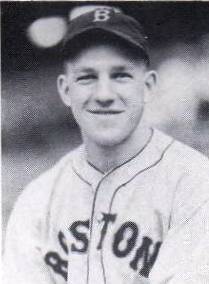 ---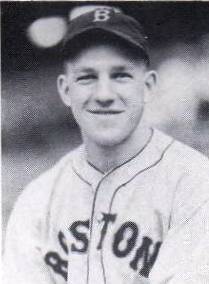 Before he died, Fabian Gaffke frequently told his family, "I hope when I'm off this earth, they play ball in Heaven." Gaffke was "a sturdy Pole" (in the words of Milwaukee Journal sportswriter Sam Levy), born in Milwaukee's South Side to John and Agnes Gaffke on August 5, 1913. John worked in a coke plant near the Allen-Bradley works and Agnes was a homemaker. There were three other children in the family – sisters Nory (Eleanor – who died of a brain hemorrhage in her 20s) and Sophie, and a younger brother, Gilbert, who also tried his hand at professional baseball.
As a youngster, Fabe was always playing baseball, with the strong encouragement of his father, who urged him to practice and practice. There was some baseball in the family; Fabe's uncle Ray Gaffke was "a semipro star of the first water for many years" according to a clipping from a Milwaukee paper. Only illness held Ray back from the big leagues, the paper claimed.
In junior high, Fabian made the team at the age of 14 and, by 15, was also active as a catcher and outfielder with the Nowicki All-Star American Legion team, which won the Wisconsin state championship and the Midwest championship, and in the national tournament at Colorado Springs was the runner-up for the national title. He also made time to become proficient on the saxophone and clarinet, playing in the school band and with a combo of his own dubbed The Rusty Four.
Fabe also played semipro ball for Saint Stanlislaus P.R.C.U. (Polish Roman Catholic Union) in Milwaukee's Municipal Minor League in 1930 and 1931. His .491 average for the Stans led the league in 1930.
In 1932, Gaffke played with the Kosciuszko Reds and led the Southeastern Wisconsin State League with a .525 average. He caught the eye of a couple of White Sox scouts, who wasted little time in getting an option on him after spiriting him away for a week of workouts under the direction of White Sox coach Johnny Butler at Comiskey Park. In doing so, the White Sox scooped the Cubs, as Kosky Reds owner Leo Ryczek had planned to surprise Fabe by taking him to Wrigley Field the very next weekend for a tryout.
That summer, Fabian appeared as a right-handed-hitting outfielder and second baseman with Waterloo (Class D Mississippi Valley League) under manager Doc Bennett; he played in 41 games for the Iowa team (163 at-bats), batting .221 and driving in 13 runs. On August 28, the Chicago White Sox exercised his option and that of two other players. His contract was formally purchased in November. Ed Gaffke, as he was known by some at the time, was sent on option to the Texas League's Galveston Buccaneers in January 1933. In March, John H. Murphy of the Galveston News Tribune took note of his early play for Galveston: "Gaffke is being called a second Joe Medwick by the fans. He takes a terrific cut at the ball and hits long line drives."
The second Joe Medwick didn't get much baseball in, though. Galveston had a veteran Texas League outfielder who kicked into high gear and held onto his spot on the Bucs. After Gaffke appeared in four games, with just one single in 10 at-bats, he was cut on April 25. Fabe returned to Wisconsin and played semipro ball once more, getting in enough at-bats with Kewaskum (Badger State League) playing shortstop to win the batting title with a .440 average.
In 1934, he wrote for a tryout with Des Moines in the Class A Western League, was accepted, and got in a full year: 123 games, 524 at-bats, an average of .311 with some power (27 doubles, 17 triples, 15 homers). The "Pulverizing Pole" drove in 93 runs. The team won the Western League title.
Moving up to the American Association, Fabe was still growing, listed as 5' 8" tall and a stocky 190 pounds. His listed major-league playing height was 5'10"; his weight 185. Gaffke played for Minneapolis in 1935 and 1936, and legendary Twin Cities sportswriter Halsey Hall was impressed. On June 13, 1935, Hall wrote in The Sporting News, "The play of 20-year-old Fabian Gaffke in center field has won him recognition as one of the choice first-year men of any season…."
The "South Side Hercules" hit .302 with 19 homers in 1935 (76 RBIs). He missed a couple of stretches due to appendicitis in midseason, so perhaps it was not a surprise when he greatly exceeded those totals in 1936 and when he played in the American Association All-Star Game at center field. Impressed as well was Millers owner Mike Kelley, who said during spring training 1936, "Gaffke is the best centerfielder in the Association, fielding, hitting and throwing. He had three separate appendicitis attacks last summer that he kept secret, but after the season he had his appendix removed and right now he has just about everything in the way of baseball ability. He is a sure-fire major league prospect."
On September 8, 1936, Gaffke was acquired by the Boston Red Sox, brought up from Minneapolis along with pitcher Archie McKain (in December the Red Sox sent Dusty Cooke and Mike Meola to Minneapolis to complete the deal). The Red Sox made the easy call; Gaffke had hit .342 for the Millers, with 25 home runs and 47 other extra-base hits, driving in 132 runs. It was reportedly a rich deal for the day, paying Kelley $25,000 cash.
Gaffke got his first chance to play the next day. Looking ahead to that September 9 game, there was a bit of a shakeup in the works. Manager Joe Cronin recalled Babe Dahlgren from Syracuse to play first base and sent Jimmie Foxx to play left field. The Boston Herald wrote that Gaffke had been the unanimous choice of the American Association baseball writers as the league's outstanding center fielder. "If he lives up to this reputation," the paper opined, "the job will be his for keeps." It wasn't a magical debut. Gaffke was 0-for-4 in a 13-inning loss to the White Sox – batting third and playing right field. His second game came on September 11 and he batted leadoff, again going 0-for-4, but this time he scored three runs. His first hit came in his third game, a third-inning home run into the Sportsman's Park bleachers driving in Fritz Ostermueller ahead of him. It gave him his first real taste of glory but was the only bright spot in a 1-for-9 day.
While with Boston, Fabe bounced around up and down in the lineup; in some games, he batted sixth or seventh. He played both right and left fields (his .982 fielding percentage had led the American Association), and even kicked off a triple play on September 20, catching a fly ball, then firing it to Dahlgren at first, who relayed to Cronin before the runner was able to return to second.
Heading into the 1937 season, the Red Sox had Doc Cramer set to play center field, but expected a lot from Buster Mills, Dom Dallessandro, and Fabian Gaffke as flycatchers. All were newcomers. "Judging by last year's records, at least one of this trio should make good," said Joe Cronin. Mills, Gaffke, and Doerr were listed in the New York Times as "three of the finest players produced in the minors last year." Gaffke came on really strong in the last week of spring training, and in a City Series game against the Boston Bees, he went 4-for-5 with a double, home run, and two singles. He got the nod.
Playing major league ball wasn't easy, and Gaffke seemed to strike out in key situations several times early in the year. He "had a hard time getting started," commented the Christian Science Monitor. He pulled a muscle in May and Mel Almada filled in for him for a couple of weeks; he made his return with a pinch-hit RBI double on May 22. His hitting came around, perhaps the best day coming on July 14 in St. Louis when he went 4-for-5 with a double and a triple and a stolen base, and scored five runs – one of only two players to do so in 1937. A few days later, nearly 1,000 fans from Milwaukee took buses and cars, and a special train, to Comiskey Park to watch their compatriot play two against the White Sox.
The Red Sox had acquired Ben Chapman in mid-June, though, and Chapman became the regular right fielder. Not being used as frequently, Fabe became less effective at the plate. On August 3, Gaffke was optioned to Minneapolis for the balance of the year. He was batting .272 at the time. Newspaper reports say that Mike Kelley pleaded with Red Sox general manager Eddie Collins for a right-handed-hitting outfielder and Gaffke fit the bill. He was brought back up to Boston on September 22 and got in one more excellent day: He hit a home run in both games of a September 30 doubleheader.
With Minneapolis, he had a very strong year, batting .325 in 41 games. While with the big-league team, Fabe had raised his Red Sox average to .288, with six homers and 34 RBIs. But his star seemed to somehow be waning, and the Red Sox projected newly-acquired Joe Vosmik, Doc Cramer, and Chapman as their outfield. By February 1938, Gaffke was described, with Leo Nonnenkamp, as "held-over spare outfielders." [1]
Leo Nonnenkamp got the nod as the backup outfielder in 1938 so Gaffke spent most of the season with the Minneapolis Millers – rooming with another outfielder, Ted Williams. Gaffke hit .293 for the Millers, but got into only 42 games. He was called up to Boston again, late in the season, and added another 10 at-bats to his resume but only one single and one RBI.
One of the more celebrated moments in Ted Williams' early days with the Red Sox came in Atlanta in an early April 1939 exhibition game. Ted went after a foul ball but overran it and was unable to make the catch. Frustrated, he kicked the ball, then picked it up and heaved it out of the ballpark. Cronin, playing shortstop, shouted back to the Boston bench, "Gaffke, you're playing right field." That's the story of the time Fabe took Ted Williams' place.
In 1939, Gaffke opened the season with the big-league club but on April 26, when the season was but six games old, he was farmed out to Louisville. After a disagreement with Mike Kelley in 1938, the Red Sox sought another high minor league affiliate and purchased the Louisville Colonels, transferring all the players they had under contract to Louisville. The Millers became an unaffiliated ballclub.
This left the Red Sox with just four outfielders, but Cronin said the Colonels were in "dire need" of a right-handed-hitting outfielder and that it would be good for Gaffke (who had been sharing the utility role with Nonnenkamp), to play more regularly. Gaffke had just one Boston at-bat in 1939, on April 25, a pinch-hit grounder that was misplayed by Washington's Cecil Travis, allowing the Red Sox to score their third run of the inning. For the second year in a row, he collected one major league RBI. He had a subpar season with the Colonels, hitting .240 – though the team did win the 1939 Junior World Series. The Red Sox signed him for 1940, and in October, he married Alice Sokolowski of Milwaukee.
Alice and Fabe had met at a dance in December 1936 and Alice acknowledged later that "I was always crazy about baseball and I didn't know Fabe was a ballplayer until the following spring when he told me he had to leave for training camp with the Boston Red Sox. I was really stunned." [2]
In April 1940, Fabian's brother Gilbert Gaffke signed with the LaCrosse Blackhawks for a tryout as an outfielder. Gilbert had started as a catcher and was a .400 hitter in Legion ball but apparently didn't get too far in the pros; he doesn't turn up in minor league records.
Fabian played the full 1940 season for Mike Kelley's independent Millers ballclub. He hit a solid .294, with 12 homers and 52 RBIs. Despite a bit of a rocky start in 1941, which saw him battling to hold an outfield job, he made the team and was voted onto the All-Star squad. Nicknamed "the Angel" by some of his teammates, he compiled a league-record streak of 118 games without an error in the outfield, and batted .305 with 97 RBIs helped by 21 home runs.
War was looming, and Cleveland outfielder Clarence "Soup" Campbell was expected to be called up by his draft board, so the Indians needed a backup outfielder, and on August 13, 1941 – even though he'd been slumping at a .209 pace over the previous three weeks – the Indians purchased Gaffke's contract. He appeared briefly in four September games, with one single in four at-bats, but before spring training began in 1942 the Indians declared that they planned to give him a real chance. He got off to a slow start in spring training. On April 2 The Sporting News acknowledged that Gaffke "has not exactly overwhelmed the Tribesmen with his possibilities."
Fabe started the 1942 season with the Indians and contributed early on; his two-out, two-strike pinch-hit single in the bottom of the ninth won the April 18 game against the White Sox, the fifth game of the year and Cleveland's second win. Unfortunately, he would manage just two more RBIs in his remaining at-bats. Gaffke was hampered by an arm injury that, by August, required surgery to remove bone chips from his right arm. After 40 games and 67 at-bats, he was out for the season.
When he reported to Cleveland's camp the following March, The Sporting News reported he "still is under doctor's order not to throw too hard." The Indians needed better than that, so Gaffke left his hotel room in the early morning hours, leaving behind a note for manager Lou Boudreau: "When you read this, I'll be on my way home. I'm no good for anything but a bush league, playing about once a week. I'm going to work." [3] The war was on in earnest, and after an operation on his right elbow, Gaffke retired and found a position for the next three years doing defense work as an expeditor for the Allen-Bradley Company in Milwaukee. The full-time position offered a measure of security for his wife and daughter Judith as well.
On January 21, 1946, Gaffke decided to give it another go and returned to baseball's active list. The Indians released him officially early in 1946 so he could take the center field job with Minneapolis, and he played in 18 games but was released from the Millers in the first half of May. Gaffke then chose to retire.
Gaffke resumed his work with the Allen-Bradley Company, this time as a receiving clerk. He had been active during the war years with the company's industrial baseball team and continued after the war. In his first six years the company team won three championships and a semipro tournament. After 1949, Gaffke stopped playing and turned to umpiring in County League baseball for the next 15 years. Other sideline activities included bowling in shop leagues and golf in company jamborees. Beginning in 1960, he worked for Allen-Bradley as an electrical wireman on special control panels, putting in a total of 34 years with the company.
After retirement in 1977, his daughter recalls, "He loved gardening. That was just like baseball to him; he loved gardening. Grandpa Fabe made all the Little League games of Judith's son Greg Magerowski. His favorite team was the hometown Brewers, though he did a little scouting for the Angels. That lasted only a very short time, before he had to tell them, "I'm not going on planes and going around the country." They asked him to watch the boys around Milwaukee, and there was one he recommended, but most of the time he was involved in company and community events. A member of the Loyal Order of Moose, active on church committees and in the Holy Name Society, he'd occasionally tend bar at a function and maybe break out his sax or his clarinet. He was named to the Wisconsin Baseball Hall of Fame in 1982.
Fabian Sebastian Gaffke died at 78 on February 8, 1992, in Milwaukee. He'd once told writer William Janz of the Milwaukee Journal, "I got to the major leagues, got a few steaks, didn't make that much money, but had a lot of fun. When I quit, I missed it very much." Alice Gaffke added, "He still misses it until this day." He was buried with his baseball glove and a bat in his casket, and was followed to the cemetery by a procession of 124 motor vehicles. One hopes he's found they do indeed have baseball diamonds in Heaven.
Sources
Interview with daughter Judy Magerowski, April 15, 2007
Interview with Ed Gaffke, April 11, 2007.
Fabian Gaffke player file at the National Baseball Hall of Fame.
Born
August 5, 1913 at Milwaukee, WI (USA)
Died
February 8, 1992 at Milwaukee, WI (USA)
If you can help us improve this player's biography, contact us.
http://bioproj.sabr.org/bp_ftp/images4/GaffkeFabian.jpg
600
800
admin
/wp-content/uploads/2020/02/sabr_logo.png
admin
2012-01-04 20:25:34
2012-01-04 20:25:34
Fabian Gaffke