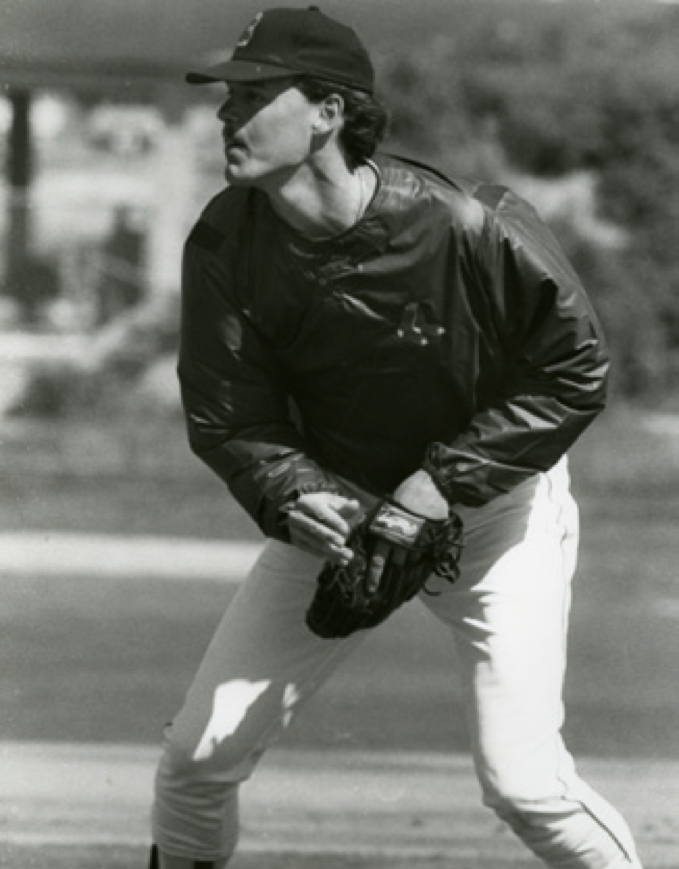 At one end of the Red Sox dressing room stood a pitching master, a winner of 306 games and a future Hall of Famer with "flecks of gray in his hair," wrote Bill Parrillo of the Providence Journal. 1 His reputation preceded him. At the age of 41, Tom Seaver was in a Red Sox uniform for the first time and a sea of cameras and reporters engulfed him in that moment on June 30, 1986. Seaver had been acquired for his experience and leadership with the Red Sox contending for the pennant, in what the Boston Globe's Dan Shaughnessy called "a Fenway fantasy fulfilled." 2
 There was no fanfare at the other end of the dressing room, as a 23-year-old pitcher packed up his belongings, mindful that a living legend was taking his spot on the Red Sox roster. He shook a few hands and prepared for his drive down Interstate 95 to rejoin the Triple-A Pawtucket (Rhode Island) Red Sox. Rob Woodward attempted to speak with Seaver, but decided not to with the crowd, and instead, he quietly made his exit.
"The kid who was leaving," another player mentioned to Seaver, "I think he wanted to say hello. He's the guy you're replacing."
"Oh jeez, where is he?" Seaver asked. On his way to the field he stopped and chatted with Woodward at his locker. "Best of luck. You'll be back," the veteran reassured.3
Woodward would indeed be back, and spend parts of four seasons in Boston. While considered a top Red Sox pitching prospect at one point, he wound up pitching in only 24 major-league games, with a 4-4 record. Yet the kid from rural northern New Hampshire became a local legend and returned to his community roots, coaching and talking behind a microphone about the game he loved.
Robert John Woodward was born on September 28, 1962, in Hanover, New Hampshire, to Robert and Beverly Woodward. A 1992 directory listed Robert as working at Granite State Electric, and Beverly for Bond Optics, a manufacturer of optical products. 4 He starred in baseball, basketball, and football at Lebanon High School. He went 7-1 as a pitcher in his senior year, and batted .412 with seven home runs as a first baseman. Lebanon defeated Monadnock High School for the 1981 New Hampshire Class-I baseball championship. On a bases-loaded single in the fifth inning, Woodward, playing first base, cut off a throw from left field and picked off the runner, who had rounded first, ending the Monadnock rally as Lebanon won 7-3.5
The rural baseball team had a short schedule, so Woodward's coach, Ted Andress, sent out postcards to notify teams that he had a prospect to keep their eyes on. Boston Red Sox scout Bill Enos took notice. "The word gets around. Scouts were watching me since my sophomore year of high school," Woodward recalled. "As a pitcher it's tough because you have fewer games and you have to take advantage of the time you have. Everything counts, you get maybe eight games and you can't afford to do poorly." 6
"I think it's tougher for a person in New Hampshire to get noticed," said Woodward. "In New Hampshire, you only play 16 games in a season. You don't get the same amount of scouts as you would if you played in California."7 Woodward was elated when he was drafted by Boston, the team he had been a fan of since his childhood. "I feel lucky to be able to play ball and just being drafted. Being from New Hampshire, I've always wanted to play for the Red Sox. I'm glad I got the chance." 8
Woodward was selected by the Red Sox in the third round of the 1981 amateur draft. He pitched for Elmira of the short-season New York-Pennsylvania League, where he led the team with a 3.39 ERA with a 4-3 record in 11 starts, with three of the starts being complete games. Woodward also made the all-star team. 9 He struggled at Winter Haven of the Class-A Florida State League in 1982 with a 7-9 record and a 5.12 ERA. Woodward improved in 1983 with a 13-11 record and 4.14 ERA for Winston-Salem (North Carolina) of the Class-A Carolina League.
Woodward was invited to spring training with the Red Sox in 1984, and threw a scoreless inning with one strikeout against the New York Mets on March 12. 10 "I couldn't wait to throw it," Woodward said of throwing his first pitch for Boston. "I found out I'd see a little action today, and I was nervous in anticipation." 11 He had an impressive 1984 season, with a 10-12 log and a 3.96 ERA for New Britain of the Double-A Eastern League. Manager Rac Slider said Woodward had the best stuff of the pitching staff but needed another season at the Double-A level. 12
Woodward worked an offseason job painting while other players had training regimens in preparation for the 1985 season. "You can't get outside for much running in New Hampshire in the winter," he said during spring training. "However, I wasn't very far behind anyone when I got here last week." 13 He began 1985 with New Britain, where he was 7-5 with a 3.54 ERA in 12 starts. In July he was promoted to Triple-A, Pawtucket of the International League, going 3-8 with a 4.46 ERA. Woodward won the "pitcher of the week" honors on July 15 as he went 2-0 with a 1.29 ERA, including a complete-game victory over Columbus. 14
Woodward was called up to Boston on September 1. Very few fans saw his debut in the second game of a doubleheader against Cleveland on September 5 because it was actually September 6 by the time he got into the game at 1:42 A.M. The game had been delayed an hour and 25 minutes by rain. Woodward pitched before an estimated 200 fans, who were watching the Red Sox lose 9-5. "I think only my grandfather was up to watch me," he mused. 15 "It was a strange hour. The weather was miserable. We were losing (after winning the first game). But heck, I didn't care. It was the major leagues, a dream come true." 16 Woodward pitched two scoreless innings, and the game mercifully ended at 2:17 A.M. after the 8-hour 42-minute doubleheader. 17 Woodward followed this with one earned run in six innings of mop-up relief in Milwaukee on September 13.
Woodward made his first start in Detroit on September 29, and earned his first major-league victory, giving up four runs in eight innings. "I have to admit I was nervous early," he said, "and I was having trouble mainly because I was working slow… As the innings went on, I kept building up my quickness and was working faster toward the end of the game. Everything was falling into place. It's just exciting to be here and pitching." 18 His final start of the call-up was a no-decision against Milwaukee despite pitching nine innings with no earned runs allowed. Woodward's first stint in Boston was a success with a 1-0 record, 26⅔ innings pitched, and an ERA of 1.69.
Woodward began the 1986 season in Pawtucket. He had an 11-strikeout performance against Rochester, followed by a six-hit shutout over Tidewater, earning him the International League Pitcher of the Week honors. 19 He was recalled to Boston on May 21 when pitcher Al Nipper was placed on the disabled list. 20 At the time, Woodward was 3-2 with a 3.72 ERA at Pawtucket. "I feel I'm ready," he said. "I'm comfortable up here. With a little time, I might be able to fit right in. I don't know how I will be here. But the time I am up here, I want to go out and pitch the best that I'm capable of. That's all I can do at this point."21
Woodward started against the Rangers in Texas on May 24, pitching 7⅓ innings with no earned runs allowed, but the Red Sox bullpen surrendered the lead in a 3-2 loss. "I was very impressed with his location, the way he kept the ball down and the fact he didn't make mistakes to beat himself," John McNamara noted. 22 His next start was as an emergency replacement for Roger Clemens, giving up five runs in two innings at Minnesota. In a start against Cleveland on June 4, Woodward outpitched 47-year-old 300-game winner Phil Niekro with 6⅓ innings pitched, allowing three earned runs and earning his first victory of the season. "I don't even think about there being any pressure on me," he said. 23 The victory was the Red Sox' fifth straight, and they were in first place in the American League East, 4.5 games ahead of New York. 
Woodward's season unraveled from that point on. In New York he had a 7-2 lead but could not finish the fifth inning, throwing 69 pitches through four innings, including six three-ball counts. 24 On June 24 Woodward shut out the Yankees at Fenway Park through four innings, but fell apart in the fifth in an 8-1 loss. "I thought Woodward pitched very well," McNamara said. "You're talking about a man who was in Double-A ball last year. There were a couple of strange things that hurt him last night. But he kept us close until the sixth." 25
The Red Sox were in first place in the standings, yet were hurting for pitching. With Bruce Hurst on the disabled list, Woodward, Jeff Sellers, and Mike Brown tried to fill in the gaps behind Roger Clemens and Oil Can Boyd. As Dan Shaughnessy of the Globe put it, the staff was "Clemens and Boyd and fill the void." 26 In need of pitching for a pennant run, they acquired 300-game winner Seaver from the Chicago White Sox. 
To make room on the roster, Woodward was sent to Pawtucket on June 30. "I knew when I came up that it was because people were hurt. Now that people are starting to come back, I know I might have to go back to Pawtucket," he said. "Right now I'm caught up in the numbers game. The Red Sox are doing the best they can to win a pennant. I understand that. Maybe it's better to go down instead of to the bullpen, where I'll just get rusty and lose the things I've worked on." 27
Woodward continued his dominance at Pawtucket, shutting out Richmond and Tidewater, and was named the International League Player of the Week in August. 28 He finished the season with eight complete games and four shutouts. On August 15 Woodward ran a consecutive scoreless innings streak to 27⅔, setting a Pawtucket record. 29
Woodward was recalled by the Red Sox on September 1. The team's pennant drive reminded Woodward of his childhood when he watched the Red Sox 1975 pennant winners. "I loved those guys in '75. Now I'm here enjoying what they enjoyed then. It's quite a thing. I can't describe it. You really can't know what it's like to be part of this unless you're going through it. It's just so special," he said. 30
While he did not pitch for Boston in September, Woodward made a different kind of appearance that is remembered in Boston sports history. On September 28 the Red Sox defeated Toronto 12-3 and clinched the American League East title. As the players sprayed champagne and celebrated in the clubhouse, WCVB television reporter Mike Dowling conducted an interview with Jim Rice and Don Baylor. A nude Woodward appeared on camera, on his way from the shower. As Jack Craig of the Globe wrote, "It was not a quickie scene. The camera lingered and so did Woodward as he dried himself with a towel. No one pulled the plug during the two minutes the naked athlete appeared intermittently in the background. It surely was the longest two minutes in Channel 5's generally distinguished existence." 31 Red Sox publicist Josh Spofford said Woodward didn't know he was on camera and was embarrassed by the incident.32 WCVB sports anchor Mike Lynch apologized to viewers for the segment, but the station was flooded with calls from people complaining. Not everyone complained, however. One woman called and asked, "Are you going to show that again at 11?" 33
Woodward finished the 1986 season pitching two games in relief in October, including a win over Baltimore after he had blown a save opportunity. He was not on the postseason roster, but after the Red Sox celebrated in the clubhouse when they defeated the California Angels and won the American League pennant, some players watched the television monitor and asked, "Where's Woody?" 34
In spring training 1987, Woodward competed with Sellers, Nipper, and Bob Stanley for the fifth starter role. "I don't like to say that there's a little more pressure on me, because I went down last year. If anything, I know what to do now. I know what it's all about," Woodward said. 35 He made the team as a reliever and appeared in three games in April, pitching poorly with a 10.12 ERA in 5⅓ innings pitched. He was optioned to Pawtucket on May 2. "I'm happy with the way I'm progressing," Woodward said. "I haven't reached my peak as far as abilities go, but I keep learning." 36
Woodward was recalled on July 27, and made his first start of the year in Texas on August 4. He left with a 5-4 lead in the seventh inning, but the Red Sox bullpen surrendered the lead. Still, it was encouraging for Woodward. "When they called me from Pawtucket, I really was only supposed to be here three days. So you know I was just happy to be here last night. … I just wanted to go out there. I didn't want to put any pressure on myself saying that I had to pitch good. I just knew that I wanted to pitch good, and I think I did." 37
"I don't know what's in store for me after this," Woodward said. "You never know. I was just happy to get this chance to go out and throw the ball well." 38 Woodward didn't last through the second inning on August 9, and was sent back to Pawtucket on August 12. He finished the season with Boston in September. Woodward pitched seven innings against Baltimore on September 10 and left with a 3-1 lead which the Red Sox bullpen surrendered. His only victory in 1987 came in Baltimore on September 18 in a 10-7 Red Sox win in the second game of a doubleheader. Woodward pitched in Yankee Stadium on his 25th birthday and deserved a win, but the Yankees scored six runs in the bottom of the ninth in the comeback victory. He finished 1-1 with a 7.05 ERA in 37 innings pitched with Boston and 12-8 with a 3.51 ERA in 136 innings pitched at Pawtucket.
Before the 1988 season, Woodward lost 30 pounds and suffered blurred vision as symptoms of juvenile diabetes. 39 "I was scared at first," he admitted. "I didn't know anything about it. I didn't know if I'd be able to play ball again. … So far, I've been able to do everything. I just have to eat at certain times and take (insulin) shots at certain times." 40 The reality was that Woodward was now in his fifth spring training with the Red Sox and was no longer considered a top prospect at age 25. "Consistency, that's the key," he acknowledged, knowing his career had been anything but consistent to that point. 41 Woodward was again optioned to Pawtucket after spring training. 42 He was converted into a closer, and had 13 saves with a 1-4 record and a 3.86 ERA. But one last major-league appearance was still in his future. "I was out on the field in Pawtucket the other night, and all of a sudden they came out and said, 'You're going to Boston,'" Woodward said. "That's all I wanted to know. … I'm ready to pitch whenever they call upon me." 43 Woodward was needed for pitching help, as Sellers and Boyd were on the disabled list. On September 26 he pitched two-thirds of an inning of mop-up relief in an 11-1 loss to Toronto. It was his last major-league appearance. Woodward's Boston career finished at 4-4 with a 5.04 ERA in 24 games and 100 innings pitched.
Woodward spent the entire 1989 season at Pawtucket, as there was little room in the Red Sox bullpen with established players like Lee Smith, Bob Stanley, Mike Smithson, Dennis Lamp, and Rob Murphy as relievers. "I just have to be ready when an opportunity comes," a wistful Woodward remarked. 44
Also in 1989, Woodward married Kathy Hurlburt, also a Lebanon High School graduate. Their son, Robert Edward Woodward, was born later that year. 45 To pay the bills, Woodward worked in construction over the winter. His career was at a crossroads. "I suppose I can go back to doing something like that again if it doesn't work out here," he said during spring training in 1990. "And I thought maybe I could help out with something as a coach at one of the high schools."46 Woodward was released on April 2, after nine years in the Boston organization. "In that way, it's a relief," he said. "Now we can see if there's anything else out there."47 He was seen two days later, in jeans and a T-shirt, playing catch with Steve Ellsworth, another pitcher who had been released, beside an orange grove at the Winter Haven, Florida, Holiday Inn. 48 "My agent's going to make some calls, find out from a few teams if there's any interest in me as a pitcher," Woodward said. "If there ain't, I'll go home."49
Woodward got another chance when he was signed by the Baltimore Orioles and assigned to Triple-A Rochester. He went 6-1 with a 3.00 ERA in 1990 and 7-7 with a 4.23 ERA in 1991. In a 1991 game, Rochester was short of players and Woodward was the designated hitter. Batting for the first time since high school, he went 0-for-3 with a strikeout. 50
Woodward retired after the 1991 season and returned to New Hampshire to work in construction and carpentry.
Woodward coached the Lebanon Post 22 Senior American Legion baseball team for several years. "All we ask of them is stay committed to the team, and play hard and clean," he said. 51 One of his Legion players over the years was his son, Jake, whom he had coached from his T-ball days. "He taught me the mechanical things, keeping my balance point — things like that — and some of the more mental stuff, too," Jake Woodward said. "That getting ahead of batters makes a big difference in a game, and you can't fall behind. Pitch location — stuff like that." 52 Jake, a lefthanded pitcher (his father was a righty), pitched for Lebanon High School, earned four letters in baseball and was the 2009 Class I baseball player of the year. After high school he pitched for St. John's University and Southern New Hampshire University. 53 In 2008 Rob Woodward signed on to co-host a Saturday-morning talk show on a Hanover radio station with Rich Parker, a New Hampshire golf coach. The two untrained co-hosts gave "shout-outs" to local businesses and athletes, a spelling-bee competition, lake reports, a joke of the week, and raised money for local causes. Woodward was known for his trademark "Who is it?" when a caller came on the air. A station commercial promoted the show with the tag, "You never know what they're going to say next."
The show was canceled in 2013 but the pair didn't stay off the air for long. A station in nearby Lebanon continued the show. "I never talked when I was a ballplayer," Woodward said of his radio experience. "One-word answers: 'Yes.' 'No.' … Now I just feel like I'm talking to friends. … So many people were disappointed when we were taken off the air. Now we'll have the opportunity to put a little happiness in their lives while they are going to the dump." 54
Last revised: December 1, 2016
This article originally appeared in "The 1986 Boston Red Sox: There Was More Than Game Six" (SABR, 2016), edited by Bill Nowlin and Leslie Heaphy.
1. Bill Parrillo, "Season's Greetings, From the Red Sox," Providence (Rhode Island) Journal, quoted in Miami News, July 1, 1986: 4B.
2. Dan Shaughnessy, "A Fenway Fantasy Fulfilled; Tom Seaver Brings His 306 Career Pitching Victories to Boston," Boston Globe, June 30, 1986: 1.
3. "Season's Greetings, From the Red Sox"
4. Information provided by the library staff at the Lebanon (New Hampshire) Public Library, and the Lebanon Historical Society.
5. "Exeter Walks to Class L Crown," Nashua (New Hampshire) Telegraph, June 15, 1981: 21.
6. Nancy L. Marrapese, "Hometown Heroes: N.H. Players Make Their Mark in Big Leagues: Talent, Hard Work Required," Boston Globe, August 23, 1987, New Hampshire Week: 1.
7. "Hometown Heroes"
8. Larry Whiteside, "He Got The Call; Red Sox Beckon; Woodward Answers," Boston Globe, May 31, 1986: 21.
9. Peter Gammons, "On Baseball. Reds' Hopes for Cedeno Awfully High," Boston Globe, December 27, 1981: 1.
10. "Easler Wants to Blend in," Nashua (New Hampshire) Telegraph, March 13, 1984: 18.
11. Nick Cafardo, "Sox Camp Looking Brighter," Quincy (Massachusetts) Patriot Ledger, reprinted in Lewiston (Maine) Daily Sun, March 13, 1984: 15.
12. Peter Gammons, "On Baseball. Red Sox Farm System has Crop Still Growing," Boston Globe, September 8, 1984: 1.
13. "Woodward Seeks Spot With Sox," Nashua (New Hampshire) Telegraph, February 26, 1985: 14.
14. "Richmond's Estes Player of the Week," Richmond (Virginia) Times-Dispatch, July 16, 1985: C-3.
15. Nick Cafardo, "Woodward Wins First Start," Nashua (New Hampshire) Telegraph, reprint from Quincy (Massachusetts) Patriot-Ledger, September 30, 1985: 13.
16. Associated Press, "Woodward Hopes Dream Continues," Lewiston (Maine) Daily Sun, February 28, 1986: 23.
17. Bob Duffy, "Night and Day Fenway Split; 200 Insomniacs Stay For 2:17 A.M. Finish Friday; Sox Play Two Today," Boston Globe, September 7, 1985: 28.
18. Larry Whiteside, "Woodward Wounds Tigers," Boston Globe, September 30, 1985: 31.
19. "Woodward Paces Pawtucket," Boston Herald, April 28, 1986; 3; "IL Cites Pawsox' Woodward," Boston Globe, May 13, 1986: 4.
20. Larry Whiteside, "Armas Hopes Big Night Put Him Back in Swing," Boston Globe, May 22, 1986: 64.
21. "He Got The Call; Red Sox Beckon."
22. Joe Giulotti, "Nothing's Minor About Woodward," Boston Herald, May 26, 1986: 61.
23. Larry Whiteside, "Red Sox Keep Rolling, 6-4," Boston Globe, June 5, 1986: 53
24. Larry Whiteside, "Red Sox Hold Off Yankees 7-6; NY Rally Falls Short," Boston Globe, June 18, 1986: 29.
25. Larry Whiteside, "Yankees Rattle Red Sox, 8-1; Defense, Woodward, Falter," Boston Globe, June 25, 1986: 49.
26. Dan Shaughnessy, "Memories are Made of This: Most Will Remember The 20-Strikeout Performance and the Marvelous 14-0 Start of Roger Clemens. Other Fans Will Gloat Ever So Slightly Over the Rise and Fall of the Red Sox' Opponents. There Will Be Pictures, Folded Stubs, Vignettes of the Red Sox' Championship; Season to Savor. Here's How the AL East Title Happened, From Start to Finish," Boston Globe, October 3, 1986: 31.
27. Jackie MacMullan, "Woodward Caught in a Numbers Game," Boston Globe, July 1, 1986: 66.
28. "Woodward Shuts Out Richmond," Boston Herald, July 31, 1986: 2; "DeCinces AL Player of the Week," Boston Herald, August 12, 1986: 5.
29. Joe Giuliotti, "Crawford Goes South," Boston Herald, August 16, 1986: 12.
30. Garry Brown, "Gorman Misses Party," Springfield (Massachusetts) Union, September 29, 1986: 23-24.
31. Jack Craig, "Dignity is Missing From Live Coverage," Boston Globe, September 30, 1986: 26.
32. Ibid
33. Dan Shaughnessy, "A Day to Swap a Few Stories Around Camp," Boston Globe, April 3, 1990: 29.
34. Larry Whiteside, Michael Madden, and Dan Shaughnessy, "Hurst Ready For Series," Boston Globe, October 16, 1986: 48.
35. Charles Pierce, "Woodward Learns From a Master," Boston Herald, March 12, 1987: 83.
36. Nancy L. Marrapese, "Red Sox Pitcher Moved Up and Down in 1987," Boston Globe, August 23, 1987: 36.
37. Larry Whiteside, "Woodward Gets a Second Start," Boston Globe, August 6, 1987: 30.
38. Stephen Harris, "A Shot in the Arm for Sox," Boston Herald, August 5, 1987: 105.
39. Dan Shaughnessy, "Hurst Starts Working After Bout With Virus," Boston Globe, February, 19, 1988: 37; Tom Yantz, "Woodward Adjusting, Both on Field and Off," Hartford Courant, reprinted in Schenectady (New York) Gazette, May 19, 1988: 23.
40. David Cataneo, "Woodward Carries On," Boston Herald, February 20, 1988: 36.
41. Associated Press, "Woodward Seeks Steady Job With Red Sox," Springfield (Massachusetts) Union-News, February 29, 1988: 42.
42. Ron Borges, "Dodson, Four Others Sent to Minors," Boston Globe, March 29, 1988: 70.
43. Larry Whiteside, "Red Sox Stand-In Relieved," Boston Globe, September 2, 1988: 59.
44. Associated Press, "Woodward Awaits Next Chance," Bangor (Maine) Daily News, March 27, 1989: 21.
45. David Corriveau, "Red Sox Give Up on Woodward," Valley News (Lebanon, New Hampshire), April 2, 1990
46. Ibid
47. Ibid
48. George Kimball, "Clemens By the Numbers," Boston Herald, April 8, 1990: B-24.
49. "Red Sox Give Up on Woodward"
50. Patti Singer, "Mussina Devours K's, Leaves No Room for Complete Games, Baltimore Sun, July 25, 1991. Retrieved January 24, 2015, from articles.baltimoresun.com/1991-07-25/sports/1991206081_1_kingwood-strikeouts-wings.
51. Poody Walsh, "Coming From Far and Wide," Valley News (Lebanon, New Hampshire), June 29, 2013. vnews.com/ home/7216484-95/coming-from-far-and-wide.
52. Allen Lessels, "Lebanon's Jake Woodward Making His Own Name," Manchester (New Hampshire) Union Leader, July 3, 2011.
53. "Player of the Year Awards," New Hampshire High School Baseball Coaches Association. Retrieved January 27, 2015 nhhsbca.com/playeroftheyear.asp; "Jake Woodward," Baseball, St. John's University. Retrieved January 27, 2015. redstormsports.com/sports/m-basebl/mtt/woodward_jake00.html; "Season Preview: Baseball Looks to Defend East Region Crown," Southern New Hampshire University Penman Athletics. February 21, 2013. Retrieved January 27, 2015. snhupenmen.com/sports/bsb/2012-13/releases/201302210naahl.
54. Don Mahler, "Back on the Air; Rich and Woody Return to Radio," Valley News (Lebanon, New Hampshire), January 31, 2014. Online edition. vnews.com/.../back-on-the-air-rich-andwoody-return-to-radio