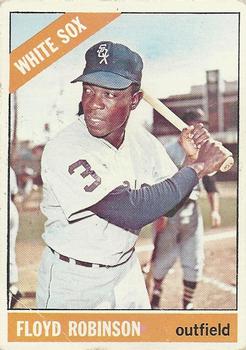 ---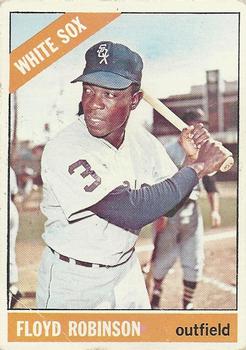 On graduation day in 1954, San Diego High School star athlete Floyd Robinson was signed personally by Bill "Chick" Starr, the owner of the Pacific Coast League San Diego Padres, for a reported $500 bonus.1 He appeared in three games — two in the outfield. He was 3-for-6 at the plate, and handled all eight chances on defense, then was optioned to the Boise Pilots of the Class-C Pioneer League on July 19. For Boise, he hit for a .326 average in 46 games.
Robinson had starred at left field playing American Legion baseball for Fighting Bob Post 364 in the summer of 1952. At San Diego High, he played baseball for coach Les Cassie, who had been something of a surrogate father for Ted Williams a decade and a half earlier. Robinson hit for a .508 batting average in his senior year, the highest in City Prep League baseball history.2 He was named Co-Player of the Year for All-Southern California.3
In the fall of '52 he became starting quarterback on San Diego High's football team. As a quarterback who had traveled with his team to the national high school finals in Denver, Robinson was recruited but declined the offer of a football scholarship at the University of Arizona. An American League fact sheet put out in 1969 said that his favorite targets on his high school team were Deron Johnson, who played 16 years of major-league baseball, and Art Powell, who played 117 games in 10 seasons as an end and defensive back, primarily in the American Football League.
Floyd Andrew Robinson was born in Prescott, Arkansas, on May 9, 1936. His father George Robinson was an automobile mechanic who later owned an auto repair shop at 16th and Imperial in San Diego.
When Floyd turned down the football scholarship to sign with the Padres, he said, "My father and mother were both sick, and I had to go to work. Baseball work was the kind I could do best so I accepted."4
He batted left-handed and threw right-handed. As a major leaguer, he was listed at 5-foot-9 and 175 pounds. He said himself that he was 5-foot-8 ¾ inches tall.5
Robinson spent almost all of 1955 with the Salem (Oregon) Senators in the Class-B Northwest League. He hit .301 at the higher level, playing in 102 games.
In 1956 and 1957, he spent two full seasons with the Padres. The Pacific Coast League was in open classification at the time but was more or less equivalent to Triple-A baseball. In 133 games the first year, he hit .271 with a .338 on-base percentage. In 1957 his OBP was .370 (batting average .279) and he began to show some speed and acumen on the base paths, stealing 27 bases (second in the league). He led PCL outfielders with a .997 fielding percentage. He drove in 41 runs but scored 93. That winter he played winter ball in the Dominican Republic. In early 1958 he was looking forward to a big year when he was informed on March 11 that he would be inducted into the United States Army. Padres GM Ralph Kiner said, "We felt this was the season that he would establish himself as a major leaguer. And it's a big blow to the club."6
Rather than go into the Army, Robinson enlisted in the United States Marine Corps and served two full years, until he was mustered out in March 1960. He played ball while in the Marines for the Marine Corps Recruit Depot team and didn't seem to have lost any baseball skills as a gyrene — and made the major leagues in August. He was said to have "spent two years playing at Beeson Field during the heyday of 11th Naval District athletics."7
Robinson started the 1960 season with San Diego again. The Padres had been affiliated with the Cleveland Indians before he went into the service but had a working agreement with the Chicago White Sox when he came out. In 101 games for the Padres in 1960, Robinson hit .318 (.404 OBP) with 13 homers and 48 RBIs. He was summoned to the big leagues on August 6 and debuted with the Sox on August 10, 1960.
The White Sox under manager Al Lopez had won the American League pennant in 1959, losing the World Series in six games to the Los Angeles Dodgers. Lopez was still at the helm and they were very much in the hunt when Robinson joined the team, replacing outfielder Joe Hicks. On August 8 the Sox were just half a game out of first place, trailing the New York Yankees. They lost to the Yankees the next day, then Robinson started in right field on the 10th.
Facing Art Ditmar, Robinson didn't get the ball out of the infield that first day with a grounder to short, popup to third base, and a strikeout. The Yankees won, 6-0. "I don't suppose any rookie ever broke in under tougher circumstances," said Ralph Kiner. "Floyd was used to playing before 1,500 people at Westgate Park and now all of a sudden he was playing before 51,000 and was meeting the Yankees in the thick of a pennant race."8
Robinson later said, "I was scared to death. I never saw a major-league game before I went to Chicago." He said he'd been more worried about doing something wrong in the outfield than he had been in stepping up to the plate.9
He had to wait a while for his first major-league base hit. It didn't come until more than a month later, in his 12th game, on September 18. In six of those 12 games, he had been a pinch-hitter and in one a pinch-runner. Though he didn't get a hit, he did reach first base four times by working walks, and he scored twice.
September 18 was a big day. Robinson played both halves of a doubleheader in Detroit. He was 2-for-3 in the first game, with his first run batted in (and a stolen base, too), and 1-for-3 in the second game. He scored once in each game. The RBI was his only one of the season, but he got on base with a .431 OBP, walking 11 times, batted .283, and scored seven runs.
For the next six seasons, Robinson was a starting outfielder for the White Sox, appearing in an average of 143 games per season. Most of the time, he played right field—though in 1962 the bulk of his work was done in left field. When not in the field, he pinch-hit or pinch-ran in about 10 games. Al Lopez remained his manager for all but the last of Robinson's years with the White Sox.
Robinson placed third in Rookie of the Year voting in 1961, behind Don Schwall and Dick Howser. He had hit for a .310 average, had 69 runs scored and 59 RBIs. His first career home run was on May 13 against Kansas City. Asked afterwards who he'd hit it off, he said, "I hate to admit it, but I don't remember." He said he had never thought he'd make the big leagues, having often been told he was too short.10
How had his fielding been? He fell just two games short of ranking as the top outfielder in the American League. His .99118 fielding percentage was very slightly above Jimmy Piersall's .99117, but he had only appeared in 106 games and the cutoff was 108 games.11
In January 1961, after leaving Venezuelan winter ball because of a hand that hurt him too bad to play, it was learned that he had actually broken his hand during the 1960 season and didn't know it. He promptly had an operation to fix the problem.12
In spring training 1961, Robinson had been one of four "Negroes" on the White Sox who had not been able to stay in the same Sarasota team hotel as the rest of the team. They had had to stay at the Terrace Motel about a mile away, and the motel owner there even had to face down pressure from the local Ku Klux Klan.13 For 1962, the White Sox bought the motel, and segregation was overcome so the whole team could stay together.14
Robinson got off to a terrific start in 1962, driving in 22 runs in April alone. His biggest single day on offense was on April 17 in Minneapolis, when the White Sox beat the Twins, 8-0. Seven of those runs were driven in by Floyd Robinson, with one homer and two doubles among his four hits. He had captured the attention of many in the city, and even had a Little League organization named after him. By season's end, he had 109 RBIs (fourth in the American League), a .312 batting average, and a league-leading 45 doubles. On July 22 he was 6-for-6 (all singles) in a nine-inning game, as Chicago beat the Red Sox in Boston, 7-3. Robinson placed 10th in the MVP voting.
He probably should have made the All-Star team, but had only four home runs at the time the selections were made, and though he had better overall stats than Roger Maris, Maris was still riding high on the 61 homers he had hit the year before. Robinson had 20 RBIs more than Maris and was hitting 60 points higher at the time. "He should have been on the All-Star team. The kid does everything well," said Al Lopez. "Besides his hitting he's one of the best outfielders in either league, has a strong arm and very good speed."15 The Chicago Tribune wrote that Robinson had driven in the winning run in 15 of the club's 85 wins.16
In 1963, the White Sox finished second, but it was a distant second, 10 ½ games behind the Yankees. Robinson was second on the club to Pete Ward in RBIs (71) and batting average (.283), but his numbers had clearly dropped off significantly since the year before. He did add a couple of homers, hitting 13. He never had tried for home runs, he explained early in the year: "I could hit maybe 20 to 25 homers a year if I tried but if I did it would take 30 to 40 points off my batting average."17 His first half of the season was strong, but he seemed to lose some steam in midyear.
Robinson's cousin Tommie Reynolds went to different schools in San Diego (Lincoln High and San Diego City College) but played eight years in the major leagues starting in 1963 as an outfielder with the Kansas City Athletics.
In 1964, with Robinson's salary the same as in 1963, he nudged his average up to .301 — the last time he would hit that high — but his RBI production dropped to 59. He hit fairly consistently throughout the year, and the .301 batting average put him in fifth place in the American League. Wendell Smith of the Pittsburgh Courier dubbed Robinson "the quiet man," offering a glimpse into his personality in a late August column.18 The team finished in second place, just one game behind the Yankees (and one ahead of the Orioles). The 10-team league had not been broken into divisions and there was no wild card. This was as close as Robinson ever came to postseason play.
His 1965 season saw him hit 14 homers — a career high — but hit much lower for average than he had to this point, just .265. He still won several games for the team — for instance, a sacrifice fly in the 11th inning of the September 17 game against the Indians. He drove in 66 runs, up seven from the year before. Nonetheless, it appears that he may have settled for a bit of a pay cut for 1966.19
It's noteworthy that Robinson often seemed to be one of the last players to sign his contract, and that — as Jerome Holtzman once wrote of the under-publicized outfielder, who at the time had nearly a .300 lifetime batting average: "He gets most of his newspaper writeups during January and February, which is the contract-signing season." Robinson agreed: "Probably half the writeups I get, or maybe more than half, usually come at contract time."20
In 1965, Robinson married. His wife Sandra had graduated from San Diego's Lincoln High School.
Robinson got off to a strong start in 1966, collecting one or more hits in every one of his 13 games in April and was batting .408 at the end of the month. Then he simply lost it. Manager Eddie Stanky used him less frequently, and as a pinch-hitter, Robinson was 0-for-19.21 He wound up the season at .237. He hit five homers and had only 35 runs batted in. "I got off to a good start," he said later, "and then had an injury. After that, I began to be a spot player. I don't know. I guess he [Eddie Stanky] didn't like my style of play."22
On December 15 the White Sox traded him to the Cincinnati Reds for left-handed pitcher Jim O'Toole. Like Robinson, O'Toole had enjoyed exceptional years from 1961 through 1964, but then saw his performance decline rather rapidly. Edward Prell of the Chicago Tribune wrote, "If the White Sox had become disenchanted with the stocky little outfielder, the Reds were in the same mood toward O'Toole, their one-time ace lefty who has suffered through two losing campaigns."23
The Reds used Robinson as a pinch-hitter almost as often as in the outfield, in some 21 games. He was batting .240 when injured in the July 18 game, wrenching his right knee while batting. A week later, he started the game in right field but came out after three innings with another twisted knee. His one at-bat had resulted in a groundout, and his season was over, with a .238 average. He was placed on the disabled list and saw no more action.
On November 21 the Reds traded both Robinson and right-handed pitcher Darrell Osteen to the Oakland Athletics as the players to be named later for minor-league righty Ron Tompkins, who had been sent to Cincinnati on October 20.24
Back in the American League, Robinson hit a pinch-hit two-run homer in the top of the ninth at Yankee Stadium, giving Oakland a 4-3 win in the April 16 game. It proved to be the last home run of his major-league career. On June 19, he hit a pinch-double that drove in two runs to break a tie and create a 5-3 win over Baltimore. On July 24, he pinch-hit in the top of the ninth and singled, driving in a run; the Athletics beat the White Sox, 2-1
Robinson played in 53 games for the Athletics and was batting .247 with 14 RBIs. On the last day of July, the Boston Red Sox purchased Robinson's contract from Oakland. Boston primarily used him as a pinch-hitter. He had 28 plate appearances in 23 games, with a .125 batting average and a .250 on-base percentage. The only game in which he posted run statistics was on August 27 against Cleveland — he drove in two runs and scored one. Those were his totals for the Red Sox: two RBIs and one run scored. The Red Sox released him to their Louisville farm club at the end of October.
Robinson's last year in professional baseball was in 1969. He was signed as a free agent by the Pacific Coast League's Hawaiian Islanders in late December.25 He played in 140 games, with 591 plate appearances. He hit .266 with 10 homers and drove in 53 runs, scoring 82 runs.
In July 1970 the San Diego Union reported that he had opened Floyd Robinson's Liquor Store in the city at 58th and Market.26 The shop also sold groceries. He sponsored three Little League teams from the store as well as a men's softball team and a bowling team.
After 15 years, Floyd and Sandra sold the store, seeking something more fulfilling in life. "He was more of a social worker at the store," Sandra Robinson said. "People in the neighborhood would come by and say, 'Mr. Robinson, I can't pay my electric and gas bill this month.' He would hand them money over the counter."27
The Robinsons had begun to invest in real estate and apartment buildings. It took them five years of planning, applications, and meetings to secure a $2.8 million loan from banks to finance the construction of Golden Age Garden, a 76-unit low-income apartment complex in San Diego, whose residents received HUD subsidies to help them with housing they could not otherwise afford. "I guess it was just something in me," Robinson said. "My great, great, great grandfather was a slave who bought property in Arkansas after the Emancipation Proclamation."28
In 2007 they established the nonprofit Floyd Robinson Foundation. The foundation, based in Lemon Grove, California, provides "premium college grants to the most hardworking and deserving graduating high school students from all over San Diego County."29        
In 2009, Robinson was inducted by both the San Diego Hall of Champions and the Breitbard Hall of Fame, both honoring athletic accomplishments by San Diegans.
Last revised: June 20, 2018
Acknowledgments
This biography was reviewed by Norman Macht and fact-checked by Mark Sternman.
Sources
In addition to the sources noted in this biography, the author also accessed Robinson's player questionnaire from the National Baseball Hall of Fame, the Encyclopedia of Minor League Baseball, Retrosheet.org, Baseball-Reference.com, Rod Nelson of SABR's Scouts Committee, and the SABR Minor Leagues Database, accessed online at Baseball-Reference.com.
Notes
1 The amount of the bonus was reported by Phil Collier, "Pitchers All Look the Same to White Sox' Robinson," San Diego Union, May 21, 1961: 121.
2 "Robinson Bags Prep Loop Bat Homers — .508," San Diego Union, June 6, 1954: 55.
3 "Floyd Robinson, McAnany Share Helms '54 Award," San Diego Union, June 12, 1954: 17.
4 Ed Sainsbury, UPI, "White Sox Best Investment for $500, Robinson," Chicago Daily Defender, September 20, 1961: 22.
5 Steve Snider, "Sox Youngster Sticks to Facts," Chicago Daily Defender, April 30, 1962: 24.
6 Robinson To Be Drafted," San Diego Union, March 12, 1954: 17.
7 Bill Center, "Robinson A Hero in a Less Hectic Era," San Diego Union, July 2, 1975: 29.
8 Phil Collier, "Kiner Squelches Rumors Then Starts '61 Planning," San Diego Union, August 18, 1960: 15.
9 Phil Collier, "Pitchers All Look the Same to White Sox' Robinson."
10 Ibid. See also Edgar Munzel, "Floyd Pack Dynamite on Small, Wiry Frame," The Sporting News, November 10, 1962: 3. The pitcher's name was Jerry Walker. It was the first of 11 homers Robinson hit in 1961.
11 Associated Press, "Piersall Top Fielder in AL," Omaha World-Herald, December 21, 1961: 28.
12 Steve Snider, "Sox Youngster Sticks to Facts."
13 Lee D. Jenkins, "Threatens Motel For Housing Six Tan Sox Players," Chicago Daily Defender, March 15, 1961: 22.
14 Minnie Minoso, Juan Pizarro, and Al Smith were the other three players who resided at the Desoto Motel through spring training. "White Sox Buy Hotel," Milwaukee Journal-Sentinel, November 10, 1961: 42.
15 George Langford, "Floyd Robinson Has Come Into His Own on Diamond, But A Novice As Publicist," Chicago Daily Defender, July 19, 1962: 22.
16 Richard Dozer, "Sox 1-2-3 in Chicago Star of Year Vote," Chicago Tribune, December 30, 1962: B5.
17 Paul Zimmerman, "Floyd Robinson, Once Ignored, Big Man in White Sox Outfield," Los Angeles Times, April 6, 1963: A3.
18 Wendell Smith, Floyd Robinson Is A 'Quiet Man' Whose Bat Talks When His Is Needed," Pittsburgh Courier, August 29, 1974: 24.
19 Lawrence Casey, "Robby's Fast Start Spurs Sox," Chicago Daily Defender, April 21, 1966: 44.
20 Jerome Holtzman, "Floyd Robinson Hits Headlines — At White Sox Contract Time," The Sporting News, February 19, 1966.
21 He did collect one hit after being inserted as a pinch-runner and remaining in the game.
22 Robert Markus, "Flayd's Star Fading, But It Isn't Out Yet," Chicago Tribune, July 3, 1967.
23 Edward Prell, "Sox Trade Robinson for Jim O'Toole," Chicago Tribune, December 16, 1966: E1.
24 Associated Press, "Athletics Get Floyd Robinson," Chicago Tribune, November 23, 1967: D3.
25 Associated Press, "Islanders Sign Robinson," Seattle Daily Times, December 25, 1968: 59.
26 Frank Rhoads, untitled column, San Diego Union, July 7, 1970: 14.
27 Tom Shanahan, "Mr. Robinson's Neighborhood," Voice of San Diego, November 4, 2008. https://www.voiceofsandiego.org/topics/opinion/mr-robinsons-neighborhood/
28 Ibid.
29 See http://www.floydrobinsonfoundation.com
Born
May 9, 1936 at Prescott, AR (USA)
If you can help us improve this player's biography, contact us.
https://sabr.org/sites/default/files/Robinson%20floyd.jpg
600
800
admin
/wp-content/uploads/2020/02/sabr_logo.png
admin
2018-06-19 22:06:13
2021-01-30 12:59:48
Floyd Robinson