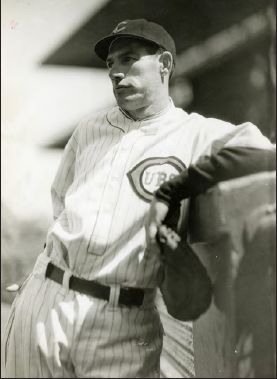 ---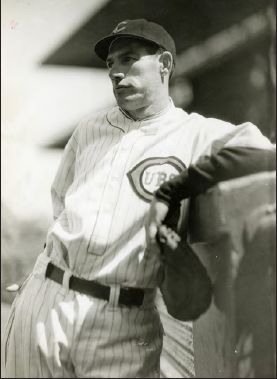 Imagine you're one of two widget-winders working in the same factory and that you have to compete for the Number One job with one of the greatest widget-winders in history.  That is exactly the situation that Clarence "Footsie" Blair found himself in when he played second base for the Chicago Cubs.  That is, he played when the other guy, future Hall of Famer Rogers Hornsby, didn't.
Clarence Vick Blair was born in Enterprise, Oklahoma, approximately 130 miles east of Oklahoma City, on July 13, 1900.  He was the oldest of three children born to Charles H. Blair, originally from Arkansas, and Cora E. Blair, from Tennessee. Charles Blair held a number of jobs over the years.  He is known to have worked as a night watchman at a mill and as a fireman in an oilfield.
Blair grew up in Texarkana Ward 4, Bowie, Texas.  He didn't receive much education, leaving school after completing the seventh grade.1  Blair began his professional career close to home in 1924 with the Texarkana Twins of the Class D East Texas League, where he batted an undistinguished .245 in 88 games as an infielder, including 36 games at second base.
There are no records of where Blair played in 1925, but by1926 he had moved up to the Class A Southern Association with the Little Rock Travelers, a team that included future New York Yankees catcher Bill Dickey, himself a future Hall of Famer.  Blair appeared in only 41 games that year, all at shortstop.  Offensively, he hit a respectable .284, but his defense had highs and lows; of the three shortstops on the team that year, he had the most errors, 23, and the lowest fielding percentage, .896.
Blair's mediocre season resulted in his demotion to the Columbia (South Carolina) Comers of the Class B South Atlantic League for 1927.  It seems that returning to a lower level and going back to a more natural position at second base agreed with him.  He got a lot more playing time, appearing in 128 games, and his batting average shot up to .301.  He committed the same number of errors as the previous season, 23, but in more than three times as many chances (759 compared with 221 in 1926).  Blair finished the season with an excellent .970 fielding percentage and a return engagement to Little Rock for 1928.
This time he was ready.  His batting average dipped slightly, to .294, but he hit a career-high nine home runs, only one fewer than he hit in his three major-league seasons combined.  He dazzled with the glove as well, committing only 13 errors in 121 games at second base for an excellent .983 fielding percentage.  These numbers were good enough for a ticket to "The Show" with the Chicago Cubs in 1929.
In baseball, as in life, timing is everything.  Unfortunately for Blair, he arrived in Chicago at the same time as the aforementioned Hornsby, considered by many the greatest right-handed hitter of all time.  With the Boston Braves in 1928, the 32-year-old Hornsby had led the National League in batting average (.387), on-base percentage (.498), and slugging average (.632).  A 28-year-old rookie like Blair couldn't expect much playing time backing up an all-time great, and he didn't get much, a mere 77 plate appearances and a smattering of starts at first base and third (seven at each), along with two appearances at second base.  He did bat .319 and hit one home run, but he spent a lot of time riding the pines. He had one plate appearance in Game One of the 1929 World Series against the Philadelphia Athletics, but the only positive aspect about it was that he wasn't one of Howard Ehmke's record-setting 13 strikeout victims. 
One could have forgiven Blair for having a feeling of déjà vu when the movie 42nd Street came out in 1933.  That's the famous movie where the leading lady of a Broadway show broke her leg just before opening night and plucky Ruby Keeler went out in her place as a nobody and came back a star. 
In Blair's case, the star second baseman, Hornsby, broke his ankle sliding into third base in the first game of a doubleheader on May 30, 1930, against the St. Louis Cardinals. Blair replaced Hornsby in the first game, and was the Cubs' leadoff hitter in the second game. He wowed the audience, going 3-for-5 with a home run and six RBIs.
The similarity to 42nd Street ends there, unfortunately for Blair, because he went out in Hornsby's place as a nobody and came back as, well, still a nobody.  Granted, he took full advantage of his playing time.  In 134 games, he batted .273 with six homers and 59 runs batted in.  But his 1930 season didn't have a Hollywood ending because he simply didn't get on base enough to be the offensive catalyst a good leadoff hitter should be. His batting average was mediocre for the top spot in the order, and his .306 on-base average was the lowest among the starting eight in the Cubs' lineup. True, he crossed the plate 97 times, but three teammates had substantially higher run totals, including Kiki Cuyler (155), Woody English (152), and Hack Wilson (146).  Even accounting for these players having played more games than he did, Blair's total was low, especially for a player hitting at the top of the order for a good offensive team. 
Research indicates that 1930 is also the year that Blair got his nickname of Footsie.  In his book on baseball nicknames, J.K. Skipper says that the sobriquet stems from a quote in a 1930 article in the Chicago Tribune, which reads, "Blair is a speedy fellow despite enormous contact with the ground, which accounts for his nickname."2
Blair probably knew his playing time would be limited when spring training for 1931 rolled around.  Not only had Hornsby's ankle healed, he was now the Cubs player-manager, having replaced Joe McCarthy with four games left in the 1930 season. The Cubs also had a blue-chip prospect in 21-year-old Billy Herman, who gave a hint of his own Hall of Fame career to come by hitting .327 in 25 games.  For the 30-year-old Blair, his .258 batting average in 86 games simply didn't cut it. 
To Hornsby's credit, he did sit himself down when he was mired in a 1-for-26 slump in early June 1931 and had Blair play in his place.  At the time, Hornsby's average had fallen to .297. By the third game of Hornsby's self-benching, Blair's average for the season was at .191, so Hornsby figured the team was better off having himself in the lineup.  The rest no doubt did the Rajah some good because he ended up leading the team in home runs (16) and RBIs (90), and tying for the team's highest batting average (.331).  Blair's last major-league appearance came in the final game of the 1931 season, when he pinch-hit in the fifth inning for starting pitcher Guy Bush.  He struck out.
The Cubs sold Blair to the Los Angeles Angels of the Pacific Coast League in March 1932.  It seems the Texarkana resident didn't much like the California sunshine.  He played 46 games for the Angels and then quit the team abruptly in June after fans got on him for his play.
"Fans had been riding Blair since he committed four errors in one game, then threw the ball into the grandstand at his caustic critics," wrote the San Jose News.3
Not surprisingly, the Angels suspended Blair for the remainder of the season, then sold him to the Cincinnati Reds.  As training camp for 1933 approached, Blair, who had to pay his own way to spring training, as did all other players, couldn't get any money out of his bank because of the Great Depression.  He wired the Reds about his predicament, and they arranged for a train ticket on credit for him to get from Texarkana to Tampa, Florida, by rail.  Blair didn't make the Reds during spring training and was sent to the International League's Jersey City Skeeters.  He never reported to the Skeeters, perhaps because they were a financial disaster.  The club was in such dire financial straits that each of the other International League clubs had to supply it with players.4
The Skeeters scooted up to Syracuse to become the Chiefs before the 1934 season started, and Blair did play for them that year. He had an undistinguished season, batting .266 with two home runs, although he tied the Rochester Red Wings' Tom Winsett for the league lead in triples with 13.
That number was unlucky for Blair because the Boston Red Sox, the Chiefs' parent team, demoted him to the Class A Southern Association's Knoxville Smokies for the 1935 season.  He began a three-year stint with the Smokies (1935-37) that began the winding down of his professional career.  His batting averages declined with each season, from .293 in 1935 to .285 in 1936, then to .263 in 1937.  In 1938 Blair went down to the Jackson (Mississippi) Senators of the Class B Southeastern League.  He had a good year, batting .318 in 127 games with a .418 slugging average.
The following year in Jackson, Blair added the manager's title to his business card and still managed to get into 108 games, batting .275 with three home runs — his highest total in three years — and a .379 slugging average.
The following two years Blair played some for the Senators, 12 games in 1940 and 50 games in 1941, but he devoted himself primarily to managing, and the results showed. The Senators won the Southeastern League championship in 1940 and lost in the league final the following season.  The 1941 season was his last in baseball.
After his diamond career ended, Blair returned to Texarkana, where he ran a service station. He and his wife, Lois, had three children, six grandchildren, and one great-grandchild.  He died in Texarkana just 12 days shy of his 82nd birthday, on July 1, 1982.
Clarence Blair's baseball career may not have been distinguished, and he may not have spent much time in the big leagues.  But he was probably the only player in major-league history who could honestly boast that the great Rogers Hornsby the manager benched Rogers Hornsby the player in favor of him.  A great story for the grandkids.
Sources
BaseballReference.com
Texarkana (Texas) Gazette, July 3, 1982
Tuscaloosa(Alabama) News, September 25, 1940, and September 17, 1941
Notes
1 1940 US Census.
2 J.K. Skipper, Baseball Nicknames:  A Dictionary of Origins and Meanings (Jefferson, North Carolina:  McFarland and Company Inc., 2011), 23.
3 "Suspend Blair, Angels Outfielder," San Jose News, June 22, 1932, 4.
4 "Brief Bits of Gossip," The Sporting News, December 28, 1933, 3.
Born
July 13, 1900 at Enterprise, OK (USA)
Died
July 1, 1982 at Texarkana, TX (USA)
If you can help us improve this player's biography, contact us.
http://sabr.org/sites/default/files/FootsieBlair.JPG
600
800
admin
/wp-content/uploads/2020/02/sabr_logo.png
admin
2012-01-04 20:49:22
2020-10-12 11:53:28
Footsie Blair