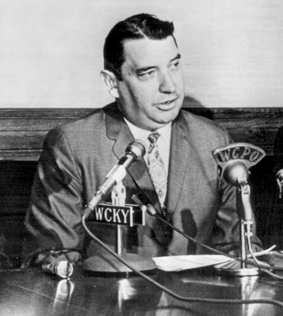 ---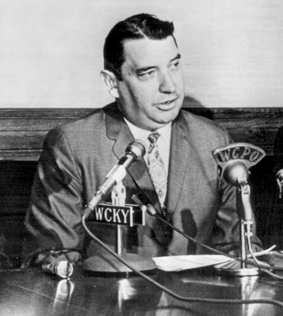 As far as we know he never played baseball. He certainly was a fan, but America's pastime was never his greatest passion. Even when he owned a club that won two National League pennants, Francis Dale had more irons in the fire, serving simultaneously in several unrelated enterprises. His name is omitted from most of the standard baseball reference books. If he is remembered at all, it is for his accomplishments in business, politics, and government service, rather than for his contributions to baseball.
Francis Lykins Dale was born in Champaign, Illinois, on July 13, 1921. He was the youngest of the four children of Sarah Evaline Lykins and Charles Sherman Dale. His parents were both born in Northern Kentucky and spent most of their lives in that area. As a young man Sherman Dale was a school teacher in Tollesboro and Maysville. He was probably attending graduate school at the University of Illinois when Francis was born. Later he served for many years as high school principal in Portsmouth, Ohio.
Francis spent most of his youth in Portsmouth. He attended college at Duke University in Durham, North Carolina. A few weeks after the attack on Pearl Harbor, he was commissioned as an ensign in the United States Navy on January 18, 1942. He trained at the U. S. Submarine Chaser Training Center in Miami, Florida. On December 18, 1943, he was assigned to a destroyer, the USS Pillsbury, DE-133, on which he served for the duration of the war. Dale was promoted to lieutenant, junior grade, on January 1, 1945.1 Shortly after his promotion he was given command of the Pillsbury and was in charge when the destroyer captured a German submarine, U-546, on April 24, 1945, two weeks before Germany surrendered.
After the war Dale returned to Durham, where he married Kathleen Watkins on March 20, 1947. The couple had twin sons, Mitchell and Myron, born in 1949, and two daughters, Holly, born in 1955, and Kathleen, the youngest. In 1949 Dale received a law degree from the University of Virginia. He and his family moved to Cincinnati, where he became a partner in the law firm of Frost and Jacobs. The firm served as general counsel to the Cincinnati Enquirer. In 1965 Dale became publisher of the Enquirer. He retained his partnership in the law firm for 20 years, while pursuing a variety of other vocations.
In the mid-60's there was agitation to move the Reds to a larger market. Owner Bill DeWitt refused to make a commitment to keep the club in Cincinnati. Dale organized a group of 13 local businessmen and corporations who bought the franchise from DeWitt on December 5, 1966, and vowed not only to keep the club in the Queen City but also to build a new stadium.2 Dale became president of the Reds and followed through on his promises.
In a lengthy interview with Associated Press sports reporter Will Grimsley, Dale explained his civic-minded approach. "In my judgment, ours is the most unique franchise in all of baseball, perhaps in the history of baseball," he said. "We got a group together who did not enter to make money. They entered as a civic project to keep the franchise here and help build a stadium. I'm strictly serving as a volunteer. I've never taken any pay."3
As the club president Dale took a hands-off approach to the day-to-day operations of the club. "We went out to hire in our judgment one of the best franchise managers there is, Bob Howsam. He runs a tight ship, and we make money. We'll make money no matter what the variation of attendance because he'll cut the pattern to fit the cloth….As in anything else management is the name of the game."4 Maybe his group didn't buy the franchise to make money, but it certainly sounds as though Dale was very interested in money-making.
Dale spearheaded the building of multi-purpose Riverfront Stadium. An expansion team in the American Football League, the Bengals, shared the stadium with the Reds. While president of the Reds from 1967 to 1973, Dale was a busy man. He was publisher of the Cincinnati Enquirer from 1965 to 1973. He helped organize and served as chairman of Richard M. Nixon's Committee to Re-elect the President (CREEP) in 1972. In 1973 President Nixon appointed him as the presidential representative to the United Nations in Geneva, Switzerland, with the rank of ambassador. During most of this time he remained a partner in the Frost and Jacobs law firm.
In 1977 Dale left Cincinnati to become publisher of the Los Angeles Herald-Examiner and a vice-president of its owner, the Hearst Corporation. His former associate, Thomas Plate, said of him, "Frank Dale was a huge cheerleader for the Herald-Examiner at a time when it had one foot in the grave, and he did everything he humanly could to make it work. Everyone who worked under him basked in his enthusiasm."5 He kept the newspaper alive during his tenure. Its demise came in 1989. By then Dale was long gone.
He left the newspaper in 1985 to become commissioner of the Major Indoor Soccer League. "This will be about my sixth career," he said. "Almost every seven years or so I decide I'm going to shift. I believe in that as a way of staying young"6
Dale didn't last five years with the soccer league—far from it. After just one year he became president of the Music Center of Los Angeles County, promising to expand the center and make it America's foremost performing arts center. "By the year 2000 this (Los Angeles) will be the capital of the world," he said. "That's got to be in the arts, as well as the economy."7 When criticized for his lack of background in the arts, Dale replied, 'I don't have to be able to hit high C to manage this center. Management is management. You're managing people."8 Experience has shown that allowing people to run an enterprise they don't understand has caused many a failure in education, government, and business, but Dale was undeterred.
Dale kept adding jobs to his resume with ever-increasing frequency. From 1988 to 1990 he served as president of the Mike Mansfield Foundation at the University of Montana. In the next three years he held the titles of president of Water and Power for North America, president of the Republican Associates, and senior associate of Moxham Carver Inc. Fundraising. How many of these positions he held simultaneously is not reported.9
Perhaps the most interesting of these endeavors was his involvement with the North American Water and Power Alliance, a Los Angeles-based project to divert to the Western United States and Mexico waters from Alaska and Canada that now flow into the Arctic Ocean. Dams built along the rivers could generate electricity and the diverted water could be used for irrigating the arid lands of the West, among other uses. Former Senator Alan Bible (D, Nevada) called the proposal "a bold, grandiose, highly imaginative, awesome concept."10 From the standpoint of engineering, the project would have been possible, although it would have cost billions of dollars and taken decades to complete, but it was not feasible politically.
On November 28, 1993, Francis Lykins Dale, age 72, died of a massive heart attack while on a trip to Victoria Falls, Zimbabwe. His body was brought back to the United States for memorial services in Cincinnati and also in Pasadena, California, where he had lived most recently. He was survived by his wife, four children, and 11 grandchildren. The family asked that memorial donations be made to the Methodist Hospital Foundation of Arcadia, California.11 Dale was buried in Spring Grove Cemetery in Cincinnati. In an eventful life, he had traveled the world and lived in many places, but Cincinnati was chosen as his final resting place.
Sources
In addition to the sources listed in the Notes, the most useful sources were:
Photo credit: ToddRadom.com
Notes
Born
July 13, 1921 at Champaign, IL (US)
Died
November 28, 1993 at Victoria Falls, (ZIM)
If you can help us improve this player's biography, contact us.
http://sabr.org/sites/default/files/DaleFrancis.png
600
800
admin
/wp-content/uploads/2020/02/sabr_logo.png
admin
2016-03-02 18:44:39
2016-03-02 18:44:39
Francis Dale