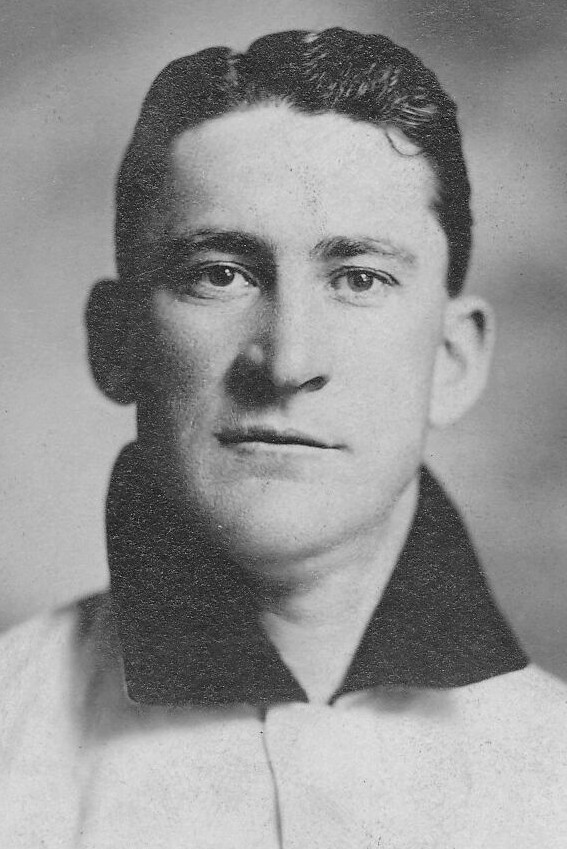 ---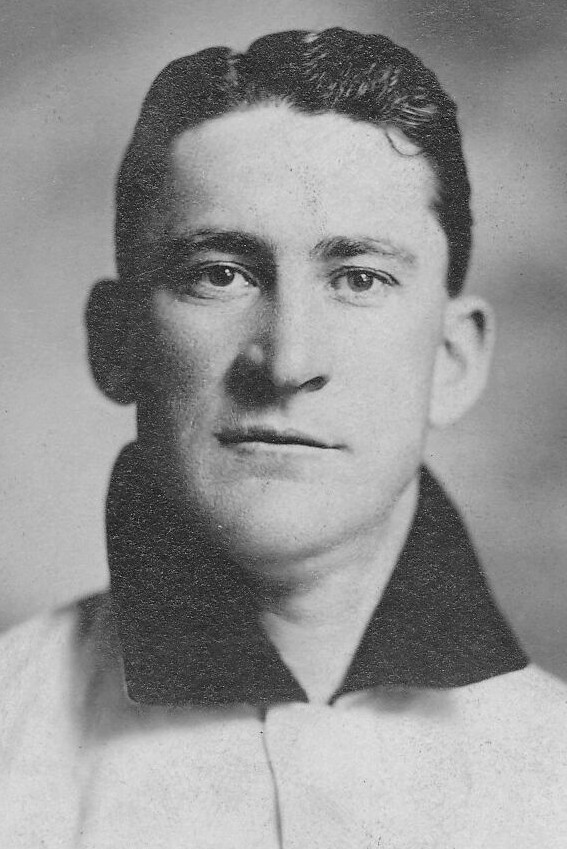 Frank McManus was a turn-of-the-century catcher who saw brief tours of duty with four major league teams. A substandard batsman, McManus was a first-rate defensive backstop with an exceptional throwing arm. At various times during his career, observers wondered why, given his talents, McManus seemed unable to secure a place on a big league roster. In the beginning, his audition and quick release by major league clubs was deemed based on circumstances and/or his temperament. Later, however, McManus's real problem became public: He was a serious drinker.
A 1909 contract offer required McManus to "agree to have $100 held from his check each month to insure his staying on the water wagon."1 When he and a like-minded teammate went AWOL the following season, a Western League newspaper observed that "when Burnum and McManus are together and there is a drink to be found, baseball playing is not to be considered."2 McManus finished his 16-year professional career in 1910, playing Class D ball in Iowa. He then receded into alcohol-fueled oblivion until September 1923, when he was found beaten to death in a Syracuse flophouse. The life story of our ill-fated subject follows.
Francis Edward McManus was born on September 23, 18743 in Lawrence, Massachusetts, a small textile mill city located about 30 miles north of Boston. He was the sixth and youngest child born to mill worker William McManus (1834-1878) and his wife Elizabeth (née McNiece, 1839-1910), both Irish Catholic immigrants.4 Following William's death in 1878, the family relocated to Lewiston, Maine, another small New England mill city. Little is known about Frank's early years apart from the fact that he was a gifted young acrobat and that he followed his older brother John, who also became a professional ballplayer, onto Lewiston-area diamonds. The first newsprint mention of Frank McManus, however, had nothing to do with baseball. Rather in October 1893, he was convicted of unlawful assembly and sentenced to a 30-day jail term for unlawful conduct arising from a management-union labor dispute in nearby Auburn, Maine.5
McManus began his professional baseball career in 1894 as a catcher-first baseman for the independent Rockland (Maine) Unions.6 He likely made his debut in Organized Baseball late that season as emergency first baseman for the Portland club in the minor New England League, going 2-for-4 in an August 13 game against Bangor.7 The following spring, the Portland roster included: "Frank McManus, catcher, aged 21 years, born in Lewiston (sic), about 5 feet, 10 inches in height and weighs about 145 pounds."8 In time, McManus would fill out considerably, playing at 175-180 pounds when in shape, heavier when not.9 A right-handed batter and thrower, the new Portland recruit was reportedly "a sure backstop, and a quick thrower. He is also a good hitter."10
McManus lasted only a month in Portland, released in late May much to the consternation of team fans who had taken a liking to the youngster.11 Happily for him and supporters, McManus was quickly signed by a league rival, the Augusta (Maine) Kennebecs.12 Shortly thereafter, he disappointed his boosters by jumping Augusta for a better-paying semipro engagement, much to the dismay of the Portland Daily Press. "The Kennebecs will miss McManus. It is to be regretted that so promising a young player should jump his contract in the first year of his experience in the league. It will do him no good in the future."13
As it turned out, dire predictions were wrong. McManus returned to the New England League without repercussion in 1896, signing with the hometown Lewiston club.14 But neither club nor player made it through the campaign. Lewiston disbanded in mid-August. Even before that, McManus abandoned the club for another semipro engagement outside Organized Baseball. Yet he again went unpenalized for his unfaithfulness to the NEL, signed for the 1897 season by the Fall River (Massachusetts) Indians. And it was here that McManus began to attract notice for his ballplaying, instead of his contract-jumping.
Among McManus's admirers was influential Boston sportswriter (and New England League secretary) Jacob Morse. "(Jack) Rupert will manage and captain the [Fall River] team when right. Frank McManus, the right fielder, will play behind the bat when necessary. He is a fine young ballplayer," observed Morse during spring training.15 With Rupert frequently sidelined by injury, Fall River was fortunate to have "a fine young catcher in McManus, who is very fast on his feet, is a fine thrower, and a lively ballplayer," reported Morse in late August.16 By season's end, Morse deemed McManus "the fastest backstop in the league."17 This notwithstanding a .217 batting average in 96 games.
Frank returned to Fall River in 1898, and hit even less. His batting average stood at a meager .197 in 54 games when the New England League ceased play in early July. He then briefly performed scab duty in the Atlantic League, serving as a one-game replacement player for a striking member of the Newark Colts. Thereafter, McManus finished the season with another Atlantic League nine, the Allentown (Pennsylvania) Peanuts, the team that would serve as launching pad for McManus's first audition in the major leagues.
Previously docile, the McManus bat unexpectedly erupted in 1899. In 55 games for Allentown, Frank hit a robust .333, with a .418 slugging average. He also stole 18 bases, and was considered the best defensive catcher in the Atlantic League. Such good work did not go unnoticed. In late August, McManus was selected in the minor league player draft by the talent-starved Washington Senators, headed toward completion of a dismal (54-98, .355) season and an 11th-place finish in the bloated 12-club National League. McManus was among four new players to be auditioned by the Senators, and his arrival was greeted warmly by the local press, the Evening Star informing readers that "catcher McManus arrived yesterday afternoon and will probably play today. He is a fine looking fellow, and if appearances count for anything, he will 'make good.'"18
Soon-to-be-25-years-old Frank McManus made his major-league debut on September 14, 1899, against the Cincinnati Reds, and did not disappoint. He handled veteran Washington hurler Gus Weyhing expertly behind the plate, and chipped in a base hit off Reds left-hander Frank (Noodles) Hahn in a 7-3 Senators triumph. Locals were impressed, with the Washington Post, Times, and the Evening Star all singling out McManus's work for commendation.19 The following day, Frank got in several more innings behind the plate, relieving first-string backstop Malachi Kittridge during a 14-3 drubbing of the hapless Cleveland Spiders.20 McManus and the other new Washington recruits were left behind when the club traveled to Brooklyn. Once the Senators got back home, however, McManus returned to action. And again, his work impressed. In six games, he registered seven hits (including a double), scored three runs, and drove in two others. He also stole three bases, and turned in creditable defensive work. But with a week still left on the schedule, a foul tip fractured the forefinger of McManus's throwing hand and brought his 1899 season to an abrupt end.21 He finished with an eye-catching .381/.435/.429 slash line in seven major league games. In so doing, he made himself an object of contention between his two most recent employers, Washington and the Allentown Peanuts.
In a head-scratching move, the Senators "withdrew" their draft of McManus after the season ended.22 The prospect of losing his new batterymate alarmed staff ace Weyhing. In his opinion, McManus "was one of the best players ever coming out of the minor leagues … and the most promising young catcher now playing ball."23 Such fears were allayed, however, when Washington expressed its intention to enforce a contract for the 1900 season that it had signed McManus to.24 Allentown, unpaid the draft price for McManus yet deprived of its erstwhile employee, immediately cried foul and filed a grievance with the National Board of Arbitration, Organized Baseball's official referee of player rights disputes. Washington countered that the Allentown claim had been forfeited when the Atlantic League ceased play without completing its 1899 season. On March 9, 1900, the Board rendered a decision in Allentown's favor. Almost simultaneously, National League club owners rendered the decision moot. The league effectuated its long-rumored plan to contract to an eight-club circuit for the 1900 season, liquidating the Washington, Baltimore, Cleveland, and Louisville franchises in the process. This relegated McManus to Allentown by default.25
The Atlantic League regrouped for the 1900 season, but failed to make it past early June. In its fire sale of club assets, Allentown dispatched McManus to the Chicago White Stockings of the top-tier minor American (née Western) League.26 Seven games into McManus's Chicago tenure, club boss Charles Comiskey "loaned" his new receiver to a catching-strapped AL competitor, the Kansas City Blues.27 In 39 games combined for the two clubs, Frank batted a modest .234, but his catching (.965 fielding average) was solid.28 At season's end, he was returned to Chicago and placed on the Sox reserved list.29
The erratic behavior that would mar his professional career manifested itself publicly in early 1901. The American League's newly-announced and self-declared status as a major league offered a chance for advancement to scores of high minor leaguers like McManus. Yet he seemed to do whatever it took to keep himself from moving up. Without objection by Chicago, Connie Mack reportedly signed McManus for his Philadelphia A's, and then tried to ship him to the American League Washington Senators.30 Other reports had McManus signed directly by Washington.31 But either because "McManus didn't like the idea of being shoved from pillar to post"32 or because he "is one of the few players who isn't enthusiastic over the American League,"33 he refused to report to Washington. Instead, McManus joined the Syracuse Stars of the minor Eastern League.34
McManus's time in Syracuse was eventful. While there, he burnished his reputation as "one of the greatest throwers in the baseball business."35 He also escaped with only minor injuries in a Syracuse street car accident that left several teammates badly hurt.36 Meanwhile, the Syracuse franchise itself was in difficulty, teetering on the brink of insolvency by midseason. Then, amidst reports that he was about to jump the Stars for an unnamed American League club, McManus refused to accompany the Syracuse team on a road trip to Montreal.37 McManus, however, delayed departure for his supposed new job as he needed a few days "to get himself into better condition,"38 the first discovered newsprint insinuation that Frank had a drinking problem—conditioning problems being a widely understood sportswriter euphemism for alcohol abuse. As it turned out, McManus never left town. And he remained a Syracuse team member when the franchise was relocated to Brockton, Massachusetts, on July 25. The catcher completed the 1901 season there, giving the lie to widespread rumor that his contract had been sold to the New York Giants.39
With the Brockton club disbanded after the season, McManus joined another Eastern League squad for 1902: the Jersey City Skeeters. He reported to camp some 35 pounds lighter than his previous season's playing weight,40 and thereafter endeared himself to club fans by playing well despite recurring injuries. In addition to the expected defensive excellence—McManus was considered by EL players "one of the craftiest backstops in the business"41—some pop returned to his bat, as reflected in the three home runs lifted over the left field fence at West Avenue Grounds. In 84 games for Jersey City Frank batted .269 and became a great fan favorite in a venue packed with fellow Irish-Americans.
His performance earned McManus a second major-league shot in 1903. Signed by the National League Brooklyn Superbas, Frank was put to the test early in the season—and failed. Twice-paired with right-hander Roy Evans in mid-April contests against the New York Giants, McManus proved unable to stop enemy baserunners from stealing at will: seven thefts in as many attempts. And he was helpless with the bat, going a combined 0-for-7 facing future Hall of Famer Joe McGinnity. Before the month was out, McManus was released back to Jersey City.42 There, another solid year—McManus "easily leads the other catchers in the [Eastern] League"43—garnered the backstop yet another look at the big league level. Over the winter, he was signed by the AL's Detroit Tigers as a backup for regular catcher Fritz Buelow.44
In mid-March 1904, a Detroit sportswriter put a previously unspoken but growing question about Frank McManus into newsprint. "There seems to be a mystery regarding this man's baseball career. He is the equal, if not the superior, of many catchers in the big league, yet when the season gets started in proper style, McManus is always with a minor league organization. If he keeps in good condition and his health remains as it is at present, there seems to be no reason for him going back to the minors this trip."45 Whether McManus failed to keep "in good condition" or for some other reason, his time in a Tigers uniform was exceedingly brief. On April 16, 1904, he started the season's second game against the St. Louis Browns, but was lifted before he got a turn at bat. He never made another appearance for Detroit, and was sold to the Montreal Royals of the Eastern League shortly thereafter.46
McManus's numbers in Montreal (.247 BA in 66 games) were nothing remarkable, but as luck would have it, the New York Highlanders were in need of late-season catching insurance. Locked in a dogfight with the Boston Americans for the AL pennant and with only aging Deacon McGuire on hand to relieve regular backstop Red Kleinow, New York purchased McManus from Montreal in late August. But as before, he failed to distinguish himself, going hitless in a four-game tryout. McGuire was thereafter restored as Kleinow's backup. McManus's last appearance in a major league game came in the late innings of a 13-2 loss to Boston on October 8. Two days later, the Highlanders' pennant hopes expired with staff ace JackChesbro's famous ninth-inning wild pitch.
His release the following February brought the major league career of Frank McManus to a close. Although a member of four teams, he had seen action in only 14 games total. His eight base hits, all registered with Brooklyn in 1899, in 35 at-bats translated into a .229 batting average. His catching stats were also pedestrian: a .925 fielding average in 53 chances. No longer a prospect, but without other employment options, the now-30-year-old McManus returned to the minors where the toll of more than a decade of catching and alcohol abuse began to take its toll. He returned to the now-officially Class A Eastern League, with stops in Buffalo (1905-1906), Jersey City (1907), and Montreal (1908). While with Buffalo, McManus went on a bender in Providence that ended with himself, teammate Ed Murphy, and manager George Stallings getting arrested for public intoxication.47 Thereafter, he instigated a short-lived player revolt against the strict discipline of team captain George (Heinie) Smith.48 McManus remained a fan favorite in Jersey City despite being "notoriously indifferent to his work"49 in 1907, and was released by Montreal the following August after being "incapacitated during the greater part of the season."50
Having worn out his welcome on the Eastern seaboard, McManus moved all the way to the Pacific Northwest, signing with the Portland Beavers of the Class A Pacific Coast League for the 1909 season. His reputation preceded him. "From all accounts, Portland has picked up another Larry McLean in McManus, the catcher secured from Montreal," reported the Seattle Times. "McManus can catch all right—in fact, he is a high-class performer—but he has a reputation back East of being a bad actor, and that is why he didn't stick in the big league."51 The contract extended to McManus by Portland owner-manager Walter McCredie contained an express sobriety clause, but in the end, the catcher started the season a half-continent away with the Topeka (Kansas) Jayhawks of the Class A Western League. The Midwest press was similarly unenthralled, Topeka fans being advised that "McManus is one of the best catchers in the league but is a hard proposition on managers."52After he took an unscheduled "vacation" from the club, the Topeka State Journal put the matter more bluntly: McManus "is the best catcher in the league when he is broke and incidentally sober. But whenever payday comes around McManus hits the pavement hard with his quick fall off the water wagon. He … has been under suspension for the most part of the entire season [and] on the last trip it took him ten days to get over one fall."53 Topeka released McManus in mid-July only to see him picked up by a circuit rival and the eventual 1909 Western League pennant winner, the Des Moines Boosters. He finished the season with a paltry .195 batting average in 68 games combined.
Des Moines brought McManus back in 1910, but not for long. In early June, he was optioned to the Keokuk (Iowa) Indians of the Class D Central Association.54 After their new acquisition went 4-for-33 (.121 BA), Keokuk shipped McManus back to Des Moines.55 The final outpost for McManus was another Central Association club, the Burlington (Iowa) Pathfinders. Sold there, he enjoyed the modest satisfaction of catching a no-hitter thrown against the Keokuk club that had recently jettisoned him, and of ending his season with a 23-for-76 hitting outburst that pushed his Central Association batting mark up to a combined .208.56 The close of the 1910 season marked the end of McManus's 17-season minor league career.
His playing days behind him, McManus quickly receded into the anonymity of private life, his name rarely appearing in newsprint. When he registered for World War I military service in early 1918, the 43-year-old McManus was living in Bath, Maine, and employed as a common laborer.57 He then disappears from view until turning up in the 1923 Syracuse city directory, the resident of a low-rent boarding house with no occupation listed. It was later ascertained that the near-destitute McManus was eking out an existence via working on a local highway construction gang.
On September 1, 1923, the body of 48-year-old Frank McManus was found in a room above a Syracuse dive called the City Tavern, triggering police investigation of "the most mysterious murder case in years."58 According to tavern help, a disheveled and bloodied McManus had appeared days earlier, complaining that he had been mugged on the street. He was given a room above the bar, but medical assistance was not summoned for fear that authorities would discover the unlicensed flophouse being operated on the premises. McManus died unattended in that room two days thereafter. At autopsy, the cause of death was determined as intracranial bleeding from a fractured skull. In the coroner's opinion, the matter was a homicide.59
The City Tavern proprietor, bartender, and porter were taken into custody for questioning but soon cleared of involvement in McManus's death. With the exact time, place, and means of injury undiscovered, the investigation quickly reached a standstill. In fact, the police were not even positive that the death had been a homicide, being unable to rule out the possibility that McManus had simply struck his head in a fall during a drunken stupor.
Eventually, the case was closed without an arrest. In the meantime, the deceased's remains were transported to his birthplace for interment at St. Mary-Immaculate Conception Cemetery, Lawrence, Massachusetts. Never married and without issue, he was survived by elder siblings Mary Ann, James, and John McManus.
Acknowledgments
This biography was reviewed by Andrew Sharp and Joel Barnhart and checked for accuracy by SABR's fact-checking team.
Sources
The biographical information recited include the Frank McManus file at the Giamatti Research Center, National Baseball Hall of Fame and Museum, Cooperstown, New York; the McManus profile in Major League Baseball Profiles, 1871-1900, Vol. 2, David Nemec, ed. (Lincoln: University of Nebraska Press, 2011); US Census reports and McManus family data accessed via Ancestry.com., and certain of the newspaper articles cited in the endnotes. Unless otherwise noted, stats have been taken from Baseball-Reference.
Notes
1Seattle Times, February 8, 1909: 11.
2 "Baseball Gossip," Topeka (Kansas) State Journal, April 22, 1910:3. McManus and left-handed pitcher Fred Burnum were teammates on the 1909-1910 Des Moines Boosters of the Class A Western League.
3 Following the mistaken lead of a brief profile of McManus published in the New York Clipper, February 17, 1900, baseball reference works have long given him an erroneous September 21, 1875, date of birth. Efforts to change this and other errata in reference work entries on McManus were ongoing when this profile was submitted.
4 Frank's older siblings were Mary Ann (born 1857), James (1859), William (1862), John (1866), and Thomas (1872).
5 See "The Law Steps In," Boston Journal, October 6, 1893: 1; "An Injunction," Portland (Maine) Daily Press, October 6, 1893: 2; and "The Court Interferes," Worcester Daily Spy, October 6, 1893: 1.
6 As noted in games accounts published in the Portland Daily Press in June-August 1894. See also, "The New Comers Are Expected to Be Good Cards," Boston Journal, April 15, 1895: 3.
7 As reported in "New England League," Boston Journal, August 14, 1894: 3. Although less likely, it is possible that the McManus in the Portland lineup that afternoon was older brother John McManus, rather than Frank.
8 "Field of Sports," Portland Daily Press, April 25, 1895: 3. Modern baseball reference works erroneously list the good-sized McManus as 5'7"/150 lb.
9 While McManus was playing for Jersey City in 1902, a local newspaper observed that "Frank McManus is about 35 pounds lighter in weight than he was last year. In ability, McManus is still a heavyweight." The (Jersey City) Evening Journal, May 8, 1902: 12, re-printing comment previously published in the Worcester Daily Spy.
10Portland Daily Press, April 25, 1895, above.
11 The local press rushed to management's defense, maintaining that "while everybody here liked McManus as an earnest conscientious player, yet it was generally agreed that the only thing to do was release him" as McManus was deemed too green for the club. See "Base Ball Notes," Portland Daily Press, June 8, 1895: 3.
12 As noted in "Struck Out," Boston Herald, June 2, 1895: 32, and "Personal," Sporting Life, June 8, 1895: 4.
13 "Base Ball Notes," Portland Daily Press, July 5, 1895: 3.
14 As reported in "Base Ball Notes," Boston Journal, May 11, 1896: 6.
15 Jacob C. Morse, "New England League," Sporting Life, March 13, 1897: 9.
16 Jacob C. Morse, "New England League," Sporting Life, August 28, 1897: 7.
17 Jacob C. Morse, "Hub Happenings," Sporting Life, September 25, 1897: 7.
18 "Base Ball Briefs," Washington Evening Star, September 14, 1899: 8.
19 See "Reds Defeated Again," Washington Post, September 15, 1899: 8; "Senators Win the Last," Washington Times, September 15, 1899: 7; and "Clevelands Today," Washington Evening Star, September 15, 1899: 10.
20 The 1899 Cleveland Spiders posted a ghastly 20-134 (.130) record that has never been matched for ineptitude.
21 As reported by the Washington Times, October 8, 1899: 10, which described the injured McManus as "playing a magnificent backstop" for the club.
22 Per" Players Drafted," Sporting Life, November 4, 1899: 4, and "News and Comment," Sporting Life, November 11, 1899: 4.
23 "Louisville Lines," Sporting Life, November 18, 1899: 11.
24 Washington's signing of McManus for the 1900 season was noted in "New Players in League," Washington Times, October 22, 1899: 11.
25 See "An Eight Club Circuit," New York Tribune, March 9, 1900: 9; "Will Have an Eight-Club Circuit," Springfield (Massachusetts) Republican, March 9, 1900: 3. See also, "The McManus Case," Sporting Life, March 17, 1900: 3.
26 As reported in "Base Ball Notes," Washington Evening Star, June 9, 1900: 9; "Right Off the Bat," Scranton (Pennsylvania) Tribune, June 12, 1900: 8.
27 As noted in "Fourth Shutout for Katoll," Chicago Record, June 23, 1900: 6. See also, "Hard Luck for Comiskey," Chicago Daily News, August 8, 1900: 2.
28 Per American League stats published in the 1901 Reach Guide, 85, 88. See also, "President Johnson Gives Out Official Averages," Denver Post, February 18, 1901: 3.
29 Per "Players on Reserve List," Cleveland Plain Dealer, October 8, 1900: 3.
30 According to "Baseball Gossip," Boston Herald, May 1, 1901: 8.
31 See e.g., "Manning Has 15 Signed," Boston Herald, March 20, 1901: 8. See also, "Sporting News," Topeka State Journal, April 2, 1901: 3, and "The Roster," Sporting Life, April 6, 1901: 4. Washington manager Jim Manning had been McManus's boss the previous season in Kansas City and was anxious to have the backstop on his new club.
32 "Baseball Gossip," Boston Herald, May 1, 1901: 8.
33 "Baseball Notes," Worcester Daily Spy, May 1, 1901: 12.
34 As reported in "The Eastern League To-Day," Springfield Republican, April 25, 1901: 3, and elsewhere.
35 Per "Providence Loses Again," Pawtucket (Rhode Island) Times, June 27, 1901: 2.
36 See "Trolley Car Wrecked," Worcester Daily Spy, June 6, 1901: 1; "Hits and Misses," Boston Herald, June 9, 1901: 13.
37 See "Sun-Baked Fanlets," Cincinnati Post, July 17, 1901: 2: "McManus To Join American League," Worcester Daily Spy, July 14, 1901: 1.
38 "Base Ball Notes," Washington Evening Star, July 20, 1901: 10.
39 See e.g., "Giants Beaten," New York Daily People, August 22, 1901: 1; "Sporting Notes," Worchester Daily Spy, September 7, 1901: 3.
40 As noted in "Tom Burns Signing Players," The Evening Journal, February 9, 1902: 22.
41 "Sporting Notes," Worcester Daily Spy, August 25, 1902: 2.
42 As reported in "Jersey City Gets McManus," Baltimore American, April 24, 1903: 10; "Brooklyn Lets McManus Go," Boston Herald, April 24, 1903: 16, and elsewhere.
43 In the non-objective estimation of The Evening Journal, September 25, 1903.
44 As reported in "Detroit Scoops Catcher McManus," The Evening Journal, December 18, 1903: 7; "American League Notes," Sporting Life, December 26, 1903: 3. Detroit bought the rights to McManus from Brooklyn which had retained an option on the catcher during his stay with Jersey City.
45 John R. Robinson, "Detroit Delighted," Sporting Life, March 19, 1904: 3.
46 According to The Evening Journal, May 13, 1904, the McManus sale price was $1,000.
47 As reported in "Baseball Players Get in Trouble," Pawtucket Times, September 1905: 2; "Buffalo Players Drunk," Springfield Republican, September 21, 1905: 3, and elsewhere.
48 See "Dissensions in Buffalo," Baltimore American, June 16, 1906: 16
49Trenton Evening Times, March 22, 1908: 17.
50 "Baseball Gossip and Comment," Washington Evening Star, August 7, 1908: 11. See also, "Eastern League Events," Sporting Life, August 15, 1908: 13.
51 "Skillman to Pitch for Spokane," Seattle Times, January 26, 1909: 17.
52 "Western League Notes," Topeka State Journal, July 5, 1909: 3. Western League umpire Brick Owens considered McManus "probably the best minor league catcher in the business today" but handicapped by "a funny disposition" and a dislike of "big [league] company." "Baseball Talk," Topeka State Journal, February 5, 1908: 3.
53 "Are on a Hard Trip," Topeka State Journal, July 7, 1909: 3.
54 As reported in "Backstop Coming from Des Moines," (Keokuk, Iowa) Daily Gate City, June 1, 1910: 3.
55 Per "M'Manus Back to Des Moines," Daily Gate City, June 27, 1910: 3.
56 Per Central Association stats published in the 1911 Reach Guide, 505.
57 Per the WWI Draft Registration Card for Frank Edward McManus accessed via Ancestry.com.
58 Per "Three Are Held by Police in Investigation of Murder," Syracuse Post-Standard, September 2, 1923: 2. The details regarding the death of Frank McManus and the ensuing police investigation of the matter have been taken from the Syracuse Herald, Syracuse Journal, and Syracuse Post-Standard, September 2-4, 1923. For providing this reportage, the writer is indebted to Librarian Dan Smith, Local History/Genealogy Department, Onondaga County Public Library, Syracuse, New York.
59 As reflected in the death certificate contained in the McManus file at the Giamatti Research Center.
Born
September 21, 1875 at Lawrence, MA (USA)
Died
September 1, 1923 at Syracuse, NY (USA)
If you can help us improve this player's biography, contact us.
/sites/default/files/McManusFrank.jpg
600
800
admin
/wp-content/uploads/2020/02/sabr_logo.png
admin
2020-03-18 13:27:50
2020-06-23 17:22:37
Frank McManus