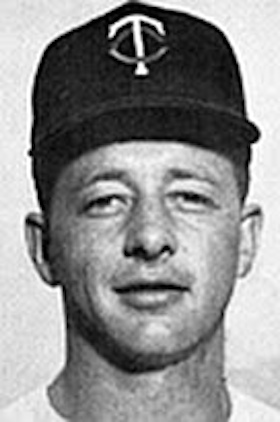 ---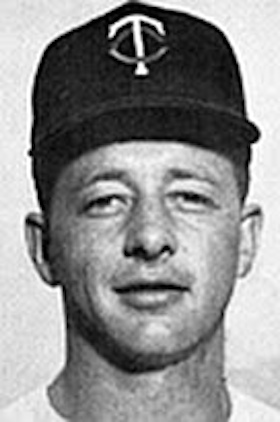 Eddie Lopat rightly earned the nickname the Junkman. The All-Star hurler may not have appeared pretty when getting the job done but, as 166 wins over a 12-year career testified, he found a measure of success. After the southpaw retired, he worked as the pitching coach for the Washington Senators and, following the franchise move west, the Minnesota Twins. Right-hander Fred Bruckbauer, a highly prized prospect, fell under his tutelage. In 1961 the Junkman looked at Bruckbauer and said, "Maybe he's like I was. They wonder how he gets them out but he does."1
Possessing at best a mediocre fastball, Bruckbauer constructed a brilliant collegiate career on curves and changeups. In 1959 he was coveted by a number of major-league clubs before signing with Washington. After one year in Class B the "can't miss" prospect was assigned to the Senators' 40-man roster. But a shoulder injury in 1960 took away what little velocity Bruckbauer owned, making his offspeed pitches far less effective. Provided a cup of coffee in the majors in 1961, Bruckbauer faced four batters and surrendered three runs without collecting an out in his only big-league appearance. Through 2015 he remained one of only 18 major-league pitchers with a lifetime ERA of infinity. Of those 18, two—Bruckbauer and Doc Hamann – hail from New Ulm, Minnesota.
Frederick John "Fred" Bruckbauer was born on May 27, 1938, the elder of two sons of Wendelin Anthony and Delores Alice (Krambeer) Bruckbauer, in the small Brown County city 90 miles southwest of Minneapolis. He was the great-great-grandson of Eastern European immigrants. The Bruckbauer family arrived in the United States in 1866. Within a decade they had laid down stakes in the sparsely populated agrarian county. By the mid-20th century Fred's grandfather had established a jewelry and engraving store in the city of Sleepy Eye, near New Ulm. Wendelin worked as a watchmaker in the store.
Fred attended St. Mary's Catholic High School in Sleepy Eye. An extraordinary athlete, in his senior year he was co-captain of the football team and an All-Conference and All-Region basketball player. But baseball was where Bruckbauer particularly excelled. The crafty pitcher played four years of varsity ball, leading the St. Mary's Knights to three conference championships and three consecutive trips to the state tournament while earning individual honors as an All-State and All-Conference player. Bruckbauer's prowess was not limited to the prep school diamonds. During his teen years southwestern Minnesota was a hotbed of semipro baseball. Fred found success on these town teams, setting down former minor leaguers and major leaguers in the Western Minny and Southern Minny Leagues as easily as he had retired high-school opponents.
After high school, Bruckbauer earned a baseball scholarship to the University of Minnesota. Under the guidance of legendary baseball coach Dick "The Chief" Siebert, the crafty righty constructed a 15-3 record2 while leading the Golden Gophers to consecutive Big Ten titles in 1958 and 1959. In the latter year he was named an All-Big Ten and All-American pitcher. "Siebert compares Bruckbauer … favorably with Paul Giel, a Minnesota graduate who was given a whopping bonus by the [New York] Giants several years back. 'Bruckbauer is a better pitcher than Giel and has more potential,'" said the Philadelphia Athletics' former All-Star first baseman.3 "[He already] has a major league change."4
Siebert was not the only one to notice Bruckbauer's spectacular changeup. In the spring of 1959 major-league scouts galore came to the Golden Gophers' games. Bruckbauer had barely finished his junior year when he was inundated with tryouts in Baltimore, Detroit, and elsewhere. The Senators appealed to him to come to Washington to pitch against a squad composed of injured reserve players and minor-league prospects. Accompanied by his father, who served as the 21-year-old's adviser in contract negotiations, Bruckbauer delivered three innings good enough for him to walk away from Griffith Stadium with a $30,000 bonus contract.
After signing with the Senators on June 10, 1959, Bruckbauer was shipped to the Fox Cities Foxes (Class B Three-I League) in Appleton, Wisconsin. Despite his late arrival he quickly got up to speed. On August 2 Bruckbauer tossed a four-hit, 1-0 shutout against the Lincoln Chiefs. Twenty-nine days later he blanked the Cedar Rapids Braves with a nine-strikeout, six-hit performance. The "red hot prospect"5 paced the Jack McKeon-led Foxes with 12 wins against five losses. "According to scouts in the Three-I, the pitcher's record with Fox Cities [the lowest scoring club in the circuit] would have read 16-1 instead of 12-5 if he had gotten his share of the breaks in four low-score games," a sportswriter noted.6 Bruckbauer led the league in shutouts (4) while placing among the pack in ERA (2.89) and WHIP (1.329, including a mere four homers surrendered in 140 innings). He garnered Rookie of the Year honors and earned recognition among the circuit's All-Star hurlers. In September he was called up to Washington but did not make an appearance.
In 1960 Bruckbauer was placed on the Senators' 40-man roster. He reported to spring training among a corps of rookie hurlers that included Jim Kaat and Jack Kralick. The youngsters were looked upon to bolster a staff that contributed to the club's three consecutive last-place finishes in the American League. Bruckbauer's deceptive motion quickly "captured the imagination of the Washington bosses."7 Manager Cookie Lavagetto, reportedly "smitten with [Bruckbauer's] potential,"8 said, "He's a smart one with a good chance to make good."9 Bruckbauer was named the Senators' fifth starter. But when shoulder problems surfaced after a Grapefruit League outing against the Milwaukee Braves, Lavagetto was forced to rescind the appointment. "I don't remember hurting it … but my fastball was more or less gone," Bruckbauer recalled years later. "It … went downhill after that. I had to pitch much differently. … My curveball was not as snappy. … I really became kind of a junk pitcher."10 Just days before the start of the 1960 season, Bruckbauer was assigned to the Charlotte (North Carolina) Hornets in the Class A South Atlantic League.
Cortisone shots became a part of Bruckbauer's regimen as he fought through the pain. He made fewer appearances (17) during the full Class A season than he did during the half-season in Wisconsin (20). The hurler who specialized in control surrendered 46 walks in 76⅓ innings as he managed a middling record of 4-5, 3.66. The Senators' faith – perhaps hope – in the prized righty was still evidenced by a call-up in September (though he did not make an appearance).
Hope springs eternal when teams report to training camp. This was certainly the case in February 1961 when The Sporting News identified Bruckbauer among a promising crop of rookies featuring future Hall of Famers Carl Yastrzemski and Billy Williams. The club, renamed the Twins after its move to Minnesota, looked anxiously to youngsters Bruckbauer and Ralph Lumenti to bolster the pitching: "[The two bonus babies] figure prominently in Twin plans."11 Encouragement abounded as Bruckbauer appeared to have recaptured his old form. In his first eight innings of Grapefruit League play, he surrendered two runs on just four hits. On March 25 he delivered a six-strikeout, four-inning performance against the Philadelphia Phillies. With a nod toward his mediocre fastball, Bruckbauer was recognized as "the least impressive but most effective of any of the rookie hurlers."12 His spring performance earned him a spot on the major-league roster.
On April 25, 1961, Bruckbauer made his major-league debut, against the Athletics in Kansas City's Municipal Stadium. The third of seven Twins hurlers used in a 20-2 thumping, Bruckbauer entered in the fourth inning with a five-run deficit. The first batter he faced, rookie shortstop and future major-league skipper Dick Howser, stroked a double to left field. A single, another double, and a walk followed, and three runs scored with still nobody out. Lavagetto mercifully removed the righty. "[I]t was bad," Bruckbauer recalled years later. "[By that point] I knew my arm wasn't good."13 He never returned to a major-league mound, placing him in select – albeit dubious – company. Through 2015 Bruckbauer remained the last pitcher14 with a career ERA of infinity. He was also the only player in Twins' history to appear in just one game.
Bruckbauer remained with the Twins until May, when rosters were cut and he was assigned to the Syracuse Chiefs in the Triple-A International League. Bruckbauer's season was periodically interrupted by trips to the Mayo Clinic in Rochester, Minnesota, as the Twins tried to salvage what they could from their hefty investment. Occasional glimpses of his former brilliance were spied; on July 30 he shut out the Charleston Marlins on two hits. But this was too often countered by less successful outings like that 10 days earlier when Bruckbauer surrendered five first-inning runs to the Rochester Red Wings without retiring a batter. He finished with a disappointing 7-10, 4.71 record in 30 appearances (20 as a starter).
Once again the promising careers of Bruckbauer and Ralph Lumenti became intertwined. Teammates in Syracuse, in 1962 the bonus babies were demoted to the Twins' Class A affiliate in Charlotte. Though Bruckbauer got off to a more successful start than his left-handed counterpart, the desire to continue had dissolved. "I need to quit and get on with my life," Bruckbauer told the club. "[T]his isn't going to work. It's getting worse."15 On May 10, 1962, the organization reluctantly released Bruckbauer and Lumenti. Bruckbauer packed up his belongings and made the long trip home to Sleepy Eye to reunite with his growing family.
Bruckbauer had married his hometown sweetheart, Kathleen Fay Olsen, in Sleepy Eye on December 28, 1959. (Bemidji, Minnesota, native and San Francisco Giants pitching prospect Clark Johnson served as his best man.) Bruckbauer resumed his college pursuits and in 1963 got a master's degree at Mankato State University (30 miles southeast of his native New Ulm). He spent a year teaching and coaching baseball at Mankato High School. In December 1966 the New York Mets sought to hire him as vice president of the club's newly affiliated short season-A team in Mankato in the Northern League. He turned this down, apparently to pursue a path in sales with the John Deere Company. His long career with Deere was spent primarily in Great Falls, Montana, and in Wisconsin. In the late 1990s Bruckbauer retired to Naples, Florida, where he pursued his lifelong passions of hunting and fishing. He became a member of the Major League Baseball Players Alumni Association.
In 2005 Bruckbauer returned to Sleepy Eye for induction into the inaugural class of the St. Mary's Catholic School Alumni Hall of Fame. Two years later, on October 14, 2007, Bruckbauer died in Naples, five months after his 69th birthday. He was buried in St. Mary's Catholic Cemetery in Sleepy Eye, survived by his wife and four children.
In 1922 New Ulm native Doc Hamann became the fifth pitcher in major league history to exit the game with an ERA of infinity. His fellow New Ulm hurler duplicated this unflattering feat 39 years later. Undoubtedly much more was expected from both. In Bruckbauer's instance a shoulder injury – one that surely would have been easily repaired had it occurred decades later – served to foil a once-promising career.
Acknowledgments
The author wishes to thank Len Levin for review and edit of the narrative.
Sources
In addition to the sources cited in the Notes, the author consulted the following:
Ancestry.com.
ageconsearch.umn.edu/bitstream/14089/1/p06-01.pdf.
sesmschool.com/hofprogram2005.pdf.
sabr.org/research/university-minnesota-baseball.
gophersports.com/sports/m-basebl/spec-rel/minn-m-basebl-career-pitching-records.html.
startribune.com/stu-s-hunt-down-former-twins-pitcher-fred-bruckbauer/204890741/.
alt.obituaries.narkive.com/yYKCNsK6/fred-bruckbauer-69-pitched-in-one-innning-for-the-61-twins.
Notes
Full Name
Frederick John Bruckbauer
Born
May 27, 1938 at New Ulm, MN (USA)
Died
October 14, 2007 at Naples, FL (USA)
If you can help us improve this player's biography, contact us.
http://sabr.org/sites/default/files/BruckbauerFred.jpg
600
800
admin
/wp-content/uploads/2020/02/sabr_logo.png
admin
2016-02-09 14:53:25
2016-02-09 14:53:25
Fred Bruckbauer