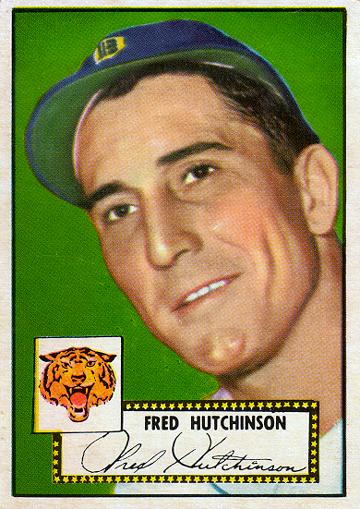 ---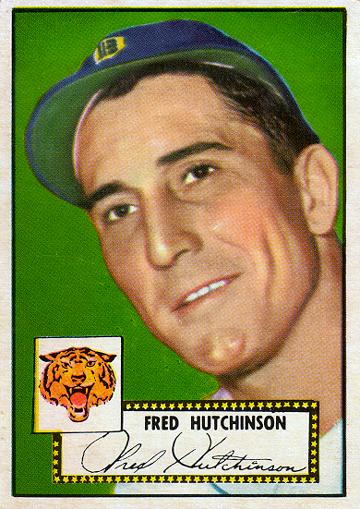 In the sizzling summer heat of the 1957 National League pennant race, Fred Hutchinson turned philosophical. "Baseball doesn't have many naturals, a lot less than you might imagine," said the Seattle-born-and-bred skipper of the St. Louis Cardinals. "The ones who work the hardest are the ones who make it, the ones who win. Sometimes that''s the only difference. If you don''t work hard at this game, you might as well hang them up. Sweat is your only salvation."
It was such a telling utterance that Emmett Watson — his close friend and high-school catcher, who had subsequently become Seattle's preeminent newspaper columnist — used it to end a lengthy profile of the stone-faced "Hutch" that ran in the August 26 edition of Sports Illustrated.
At no time did Hutch build a better case for his own admonition than in coping with his major-league debut 18 years earlier. Just 19 years old and steeped in a manly Pacific Northwest upbringing, Hutch had become the quintessential local boy made good. After graduating from Franklin High School, where he had racked up four sterling years as a pitcher, outfielder and hitter, and triggered countless "Hutch" headlines in the city's three newspapers a generation before the Pilots and Mariners landed in Seattle, he crafted a storybook season in 1938. Pitching for the newly minted Seattle Rainiers of the Double-A Pacific Coast League in his professional debut, Hutch went 25-7 with 29 complete games and a 2.48 ERA, leading his team to second place and prompting The Sporting News to name him the country's minor-league player of the year.
But in 1938, even the "American Idol" of baseball needed to attract the contract offers of major league teams from the Mississippi River east to reach the peak of pro success. Near season's end, the New York Yankees' Col. Jacob Ruppert rejected a demand by Rainiers owner Emil Sick for $250,000 and 10 players in exchange for the rookie. The off-season scramble to sign Hutch tempered only a bit, as the Detroit Tigers outbid the Yankees, Pittsburgh Pirates and Chicago Cubs, securing him for a still whopping $50,000 and four players. As spring training opened in 1939, the hype for Hutch, nicknamed "the Iceman," built to proportions that were literally Ruthian. In the March 11 Liberty magazine, Royal Brougham of the Seattle Post-Intelligencer, said Hutch possessed "the pitching magic of a Christy Mathewson" and christened him "a second Ruth come to judgment."
Judgment, indeed. Under deep pressure, Hutch, strictly a control pitcher in his Rainiers stint, had lost his control. His first action as a Tiger — three innings in an intra-squad game in Lakeland, Florida, and one day after Liberty hit the newsstands — was inauspicious. Hutch couldn't find the corners of the plate, giving up five runs and six hits, including two triples and a homer. Though writers predicted otherwise ("Much of the success of the Detroit pitching situation depends upon young Freddy Hutchinson," opined Wind Up magazine), Hutch endured a weary wait for his official big-league entrée. A full two weeks after opening day, Hutch finally got into a game — one for the ages.
It was Tuesday, May 2, 1939. Making their first western swing of the season, the Bronx Bombers had boarded a train to Detroit, where star Joe DiMaggio would not be patrolling center field at Briggs Stadium, owing to a strained ankle. But their first contest against the Tigers was to be far more notable for the absence of another Yankee star. After a jaw-dropping record 2,130 consecutive games, first baseman Lou Gehrig finally sat out. Fired up, the New Yorkers devoured Detroit pitching, scoring six runs in the first inning, and led 13-0 by the top of the sixth when, with two outs, the call went to Hutch. He ended the sixth, but got just one out in the seventh, giving up four hits, five walks, and eight more runs, resulting in a Yankee rout with the football score of 22-2.
The next day, the Tigers banished Hutch to their Double-A team 60 miles south, the Toledo Mud Hens. "I've never had trouble like this before," Hutch told the New York Herald Tribune. "Control is the one thing which never bothered me." He refused to admit that pressure could crack his code of determination. "I'm not trying too hard to live up to all those headlines," he said. "I just cannot explain it."
"He should get plenty of work at Toledo," Tigers' skipper Del Baker told The Sporting News. "That's what he needs to regain control."
The strategy eventually worked. Over the next two and a half months, Hutch went 9-9 for the last-place Mud Hens, emerging as the team's lone American Association All Star. He rebounded to Detroit on July 21, posting a 3-6 record for the fifth-place Tigers. Thus began his lengthy major league ascendance.
Never blessed with a blazing fast ball, Hutch used his control and domineering glare to amass a 95-71 record (3.73 ERA) in ten seasons with the Tigers, pitching in a World Series (1940) and an All-Star game (1951). An anchor of the pitching-rich, postwar Tigers, he notched 18- and 17-win totals in 1947 and 1950, respectively, and for every three of his 591 strikeouts, he recorded only two walks (388). He completed nearly half the games he started (81 of 169). He was versatile, his .263 batting average reflecting and justifying Hutch's frequent use as a pinch-hitter. In his last game as a pitcher, in 1953, he homered.
As a manager, Hutch rode a similar arc. Plucked at age 32 in mid-1952 to lead the last-place Tigers, he continued as their skipper through 1954, when he nudged the team to fifth place. After a triumphant return to Seattle, leading the Rainiers to the 1955 PCL pennant, Hutch bounced back to the bigs, piloting the St. Louis Cardinals for nearly three years and becoming NL Manager of the Year in 1957 when his Redbirds finished second.
The zenith of his time as a field general was yet to come. Hutch again helmed the Rainiers in 1959 but was tapped mid-season to lead the parent Cincinnati Reds, elevating the second-division team to the 1961 NL crown. The Reds lost the World Series in five games that year, but the berth earned Hutch esteem greater than even his phenom status of 23 years earlier. He posted three more winning seasons for Cincinnati, coming within one game of the pennant in 1964, his final year, and as a skipper ended up three games over .500 (830-827) lifetime.
The story of Hutch, however, is far more than his stats. His most memorable feats were those of character. Of an athlete driven to win. Of a tempestuous gentleman who embodied every element of that dichotomy. And, in the end, of a mortal who lived the final year of his life with the countenance of an everyday hero.
Hutch's die was cast in the southern section of Seattle, in a part of town bordering Lake Washington called Rainier Beach, where he was raised in a three-story hillside home by his parents, Joseph and Nona Hutchinson. The boy's father was a respected family physician and surgeon with a neighborhood storefront and who did hospital work downtown. A dignified goatee decorated his no-nonsense, tobacco-chewing persona. The legendary story that defined him had "the old doctor" airing his ire over a streetcar fare hike by stubbornly walking the last half of its route in front of the car on its track, impeding its progress for the afternoon. In his dad's work-related absences, Fred's older brothers Bill and John became deep influences. They groomed the imposing Fred for physical, if not emotional prowess. Though he was a natural righty, they posted him against a garage door and pelted him with tennis balls while he wielded a broomstick left-handed, hoping to give their slow-footed brother a jump in getting to first base.
To some young peers, he was a bully, "a brutal son of a bitch," says neighbor Roland Watson, who bitterly recalls fierce soccer games. "He kicked hell out of me and everyone else with those big boots." Fred even was expelled from his grade school for punching a shop teacher who chided him for an inability to make square corners on a wooden trivet. To others, however, Fred became a loyal protector. One friend, a news carrier whose daily batch of papers was delivered by streetcar but was continually short because the motorman stole a few copies, gleefully recalls a Saturday morning at the Rainier Beach streetcar switching station when Fred locked the motorman in an outhouse.
Though all sports beckoned, baseball soon became Fred's passion, and his family's admonition was to win and never be satisfied with less. A catcher, he sparked his grade school teams to city championships, and he did the same at Franklin High as a pitcher. His first official mound work came after his freshman year in 1934 for Palace Fish, an American Legion squad consisting of Franklin players that went undefeated through the summer's city, state and Northwest regional playoffs.
"He could throw it where he wanted," recalls one of Fred's catchers, J.B. Parker. "He couldn't throw fast, he didn't have a great curve ball, but he had good control, and he was such a competitor that he just made himself a pitcher. I was always trying to find the weakness of the batter and work on the guy's weakness. We could find it, and Fred would exploit it."
Fred's fierceness sanded down a batter's confidence. "If a batter started to dig in with his back foot, he immediately got one thrown right at his chin," says Parker, who signaled Fred for a knockdown pitch by flicking his thumb. "The first pitch Fred would throw would be right under the guy's chin, and down he'd go, and the next time he'd get in the batter's box, he wasn't digging around with that back foot. But if it looked like he was going to, he got another one under his chin. Fred would never, never allow anybody to come in and dig in on him."
Such determination lent Fred the reputation of a "Boy Wonder Pitcher," the label used in the Chelan Valley Mirror for a visit by Palace Fish. His temper flared as well when the team finally fell in its march to the national Legion championship during the Western U.S. playoff in Topeka, Kansas. There, Fred won the first game (his 14th straight). But the next day, though he batted 4 for 4 with two doubles and pitched credibly in relief after the team fell behind 8-1, he couldn't single-handedly eke out a victory.
Seattle papers labeled Fred's effort heroic but overlooked what followed. At Topeka's Jayhawker Hotel, Fred, barely 15, led his 16- and 17-year-old teammates in a tantrum. He fed coach Ralph "Pop" Reed's straw skimmer hat into a circulating fan, dropped water balloons on passers-by from his third-floor window, tore framed pictures from the walls and slipped them under rug runners where they were crushed underfoot, and tried to steal the hotel's parrot-shaped water pitchers by hiding them in players' suitcases.
"It was nothing really malicious," Parker recalls. "But we were so discouraged and disgusted losing that game that we just took out our frustrations on what was close and what was there, and Fred was the ringleader. It was a frustration that he couldn't control, I guess. The thought of losing was just abhorrent to him."
Posting a 60-2 record at Franklin and dominating the summer Legion contests (his no-hitter for Gibson's Carpet Cleaners included 22 K's and hitting 4-for-6), Fred was a natural for the PCL's Seattle Indians, renamed the Rainiers early in 1938. Signing for $2,500 and 20 percent of any sale to a major league team, Fred — already dubbed "Hutch" by friends and writers alike — was ruggedly handsome, with looks likened to those of actor Spencer Tracy. The rookie was easily the biggest draw at beer baron Emil Sick's sparkling new stadium, built not much farther than a stone's throw from Hutch's alma mater.
Sick's Stadium thus became the site for a legend in the making. In July, the city learned of Hutch's brash act 180 miles south in Portland, where he halted a tense game with the bases loaded, one out, and two capable hitters, Johnny Frederick and Harry Rosenberg, on deck. He walked off the mound and into the Rainiers dugout, leaned over the water fountain, washed his face and took a drink. Returning to the mound, he struck out Frederick and induced Rosenberg to pop out. Why, L.H. Gregory of The Oregonian asked him later, had he interrupted the action for a drink of water? His reply was the self-assured stuff of allegory: "I was thirsty."
So at Sick's Stadium on August 12, when Hutch sought his 19th win on his 19th birthday, a PCL-record crowd showed up. Turnstiles recorded an overflow turnout of 16,354, some fans filling the bullpens and lining the outfield fence as the first batter, San Francisco Seals center fielder Dom DiMaggio, ripped a single off Hutch. But one hour and 55 minutes later, Hutch had thrown a five-hitter, striking out three and walking six on the way to a gutty 3-2 victory, with DiMaggio flying to left for the final out.
By the next morning, the journalistic mythmakers had Hutch squarely in sight. "The historians WHO DON'T KNOW will probably tell you he was 'cool as the proverbial iceberg.' Don't you believe one word of it," wrote Cliff Harrison of the Seattle Star. "The big boy was fired like one of the Queen Mary's Scotch boilers." Ballyhoo over Hutch naturally spilled over into talk that he should demand a hike in his $250 monthly pay. But the response of Hutch's father underscored his son's youth as much as the family's integrity. As Emmett Watson later reported, when the doctor heard of the salary speculation, he roared at his son, "By the Lord, you're a Hutchinson! You made a bargain, and you'll stick to it, or you can pack up and move out right now."
If Hutch's Seattle season was a fairy tale, it closed with an incident that hinted at the reality of his life to come. On Friday night, Oct. 7, 1938, a barnstorming major league team of mostly Cleveland Indians rolled into Seattle to play the Rainiers. The starters were Hutch and a 19-year-old fireballer who five days earlier had set a new American League record by striking out 18 batters in a game — Bob Feller. Six thousand fans streamed into Sick's for the so-called "schoolboy" duel, which fizzled midway through. Feller tossed five-plus innings, while Hutch left after six, trailing 6-3. (The visitors eventually won, 9-8, in 10 innings.) The road ahead for Hutch was to be similarly spotty.
As Hutch stumbled in Detroit and proved fallible in Toledo the following year, his woes made for banner news back in Seattle. Royal Brougham quoted anonymous wags: "The kid's lost his nerve." "Maybe his arm has gone dead." "He is just an overrated pitcher who didn't have anything but a prayer and a million dollars worth of luck." Brougham even half-seriously suggested that Emil Sick buy him back. "Maybe all Hutch needs is a few of Ma Hutchinson's home-cooked meals and a friendly pat on the shoulder. If Del Baker is tired of looking at him, we'll take the boy off his hands, won't we, mates?"
Hutch's 1940 performance was not much better: 3-7 with Detroit, and the reverse for the Buffalo Bisons, the Tigers' new Double-A affiliate. Even his one-inning stint in the World Series, while not crucial to the Tigers' 4-0 sixth game defeat or the overall outcome, was marred by a homer over the left field fence by Cincinnati hurler Bucky Walters.
Talk turned to whether Hutch should revert to his childhood positions of outfield or first base, so that he might play daily. But then came a 1941 Bisons season in which he bettered his Rainiers record: 26-7, 31 complete games, 171 K's against only 47 walks, and a 2.44 ERA. Hitting in 72 games, twice the number in which he pitched, Hutch batted .392, with 14 doubles, a triple, two homers and 23 RBI. The International League MVP was a sure bet to join the Tigers full-time in 1942.
But as with Bob Feller, Hank Greenberg, and scores of other big leaguers, that was not to be. After the Pearl Harbor attack, Hutch sidestepped the draft by joining a Navy physical conditioning program led by heavyweight boxing champ Gene Tunney. (Look for Hutch's uncredited enlistment cameo with Feller in newsreel footage in the 1992 film "A League of Their Own.") As one of the Navy's "Tunney fish," Hutch played for four years on teams in Norfolk, Seattle and Honolulu. (He also married a high school girlfriend, Patsy Finley.) Playing outfield as much as he pitched, he told The Sporting News, "When the war is over, I want a real try for about three or four years just to see whether or not I really can pitch major league ball. If I can't pitch, and if I'm not too old, then I'd like to try it in the outfield. … I like to hit that ball, you know, but I like to throw it, too. It's a lot of fun to fool a smart batter."
With World War II's end, Hutch plunged into such fun. Joining other servicemen in returning to former teams, Hutch entered the most stable period of his playing career, sticking with pitching and winning 87 games for the Tigers (against 57 losses) from 1946 to 1951. With Hal Newhouser, Dizzy Trout, and Virgil Trucks, Hutch anchored a powerful staff and pitched many crucial games. Perhaps his biggest was a startling, 8-0 home victory over New York on July 18, 1947 — his first start in a month due to shoulder pain — a gem in which Hutch faced 28 batters, gave up two singles, struck out eight, walked none, batted 3 for 4, and denied the Yanks an American League record 20 consecutive wins. Such performances stirred Steve O'Neill, Hutch's manager at Detroit in 1946-48, to unqualified praise. "If I needed one game upon which my whole season was based, if my career depended on that one victory," O'Neill said, "I'd pick Hutch to pitch it for me."
Tenacity became Hutch's identity and his "angry scowl," as Emmett Watson labeled it, a fearsome calling card. After a bad outing, the dozen light bulbs lining the narrow tunnel to the Briggs Stadium clubhouse fell victim to his fists. He unleashed similar fury at other ballparks. "I always know how Hutch did when we follow Detroit into a town," Yankees catcher Yogi Berra classically observed. "If we got stools in the dressing room, I know he won. If we got kindling, he lost."
Nicknamed "The Bear," Hutch earned the moniker in part from a spring-training incident in Lakeland in which he wrestled the real thing. "They had a little sideshow circus at the ballpark, and they had a bear there," recalls Virgil Trucks. "This bear was staked out by the trainer, but the bear broke the stake and got loose and was coming toward Fred — and Fred just grabbed him by the throat and the neck, had an arm around his neck. He probably didn't weigh any more than Hutch did, but you know bears, they got claws and everything else they can retaliate with. But that didn't bother Fred. The trainer came over and said, 'Hey, man, you let go of my bear. You gonna kill him.' He probably would have, but Fred said, 'You get him away from me. He might kill me, too.' But he held on to him. That bear couldn't do nothin'. Oh, he was really strong."
Hutch's strength was endorsed in 1947 by his teammates, who elected him their delegate to the fledgling player union, and in 1948 by his foes, who elevated him to AL player rep. In four-plus years in that post, he helped secure from owners a $25-per-week spring-training expense fund, a $5,000 minimum salary, and designation of radio and TV All Star Game and World Series proceeds to the players' pension fund.
His player-rep stint ended only because of a further promotion in July 1952, to management. He had pitched three innings in the previous year's All-Star Game, and the press was enamored of his control, Lyall Smith of the Detroit Free Press tagging him "baseball's most amazing modern pitching personage." But Hutch was undergoing the worst arm trouble of his career as the Tigers stagnated in last place. Five weeks shy of his 33rd birthday, Hutch was hired to replace popular skipper Red Rolfe. Though he pitched and pinch-hit in 21 more games through the 1952 and 1953 seasons, Hutch largely devoted himself to managing, inching the cellar dwellers to sixth place in 1953 and fifth in 1954, and nurturing promising rookies, such as 18-year-old future Hall of Famer Al Kaline.
"The one thing he demanded was a 100 percent effort, no alibi-ing at all," recalls Kaline, who never played a game of minor league ball. "He was a guy who didn't like to be embarrassed, and maybe that one word might be what he really stood for. He wanted his teams to be competitive and not embarrass themselves when they play. If they lose, fine. Lose in the right way. But don't embarrass yourself… When you played for him, you knew what to expect. There was no behind the back. He let you know, and you knew where you stood all the time, which is really what anybody really likes to know. He was an up-front type guy."
Up front for fans to see was Hutch's fiery temper, vented not at his or opposing teams' players so much as at the men in blue. The Sporting News delighted in reporting that Hutch's first managerial beef with an umpire came just 26 minutes into his first game on the job. Hutch lost the appeal but stayed in the game — which was not his fate in countless later beefs in which umps gave him the boot. When Hutch resigned his Detroit post after the Tigers denied him a two-year contract at the end of 1954, he embraced an offer by Seattle GM Dewey Soriano, a childhood pitching chum, to manage the team on which he earned his first national fame in 1938. Aware of Hutch's famous fury, Soriano installed at Sick's Stadium a heavy punching bag on which was painted the glowering cartoon face of an umpire. "The punishment the bag took was comparatively light," joked The Sporting News, because despite 67 player transactions and no 20-game winner or .300 hitter, Hutch pieced together a ragtag Rainiers team that ran away with the 1955 PCL title.
Nevertheless, Hutch ached to return to the bigs. He switched to the National League when he hired on as St. Louis skipper from 1956 through 1958, witnessing landmark feats of future Hall of Famer Stan Musial, including his NL record-breaking 823rd straight game. Plans for another Musial milestone wound up altered by Hutch's winning resolve. On May 13, 1958, the Cardinals had opted to sit "The Man" from the last game of a series at Chicago's Wrigley Field so that he could record his 3,000th hit back home. But with the Redbirds trailing 3-1 in the sixth, Hutch needed a pinch-hitter. Musial obliged with a double to left field, igniting a rally that turned the game in St. Louis' favor. Stopping play and jogging to second base to congratulate Musial on his feat, Hutch beamed.
He steamed, however, in his relationships with St. Louis GM "Trader" Frank Lane, a loose cannon with the press, and hands-on team owner and beer baron August "Gussie" Busch. As revealed by Emmett Watson, Hutch didn't hesitate to call his bosses onto the carpet. In July 1957, Lane fumed when Hutch stuck with lefty Vinegar Bend Mizell to pitch to righty Gil Hodges, who homered to trigger a Brooklyn win. In a closed meeting, Hutch lashed out, "I've got to be left alone to do my job. It's hard enough to fight the opposition on the field every day without answering to my own front office in the newspapers. Criticize me all you want. Second-guess me in private. I get paid to take that. But when your criticism hits every newspaper in the country, it can wreck the morale of this ball club. That's one thing we can't stand."
One year earlier, Busch had ordered Hutch to insert awkward first baseman Tom Alston into the Cards lineup, and the manager refused, telling the owner during a meeting with Lane, "Mr. Busch, do you want me to say what I really think or what you want to hear? If I wanted to play a clown, I'd go hire Emmett Kelly." After Hutch left the room, Lane told Busch, "That man is worth a million dollars to you because he always tells the truth."
The sad truth, however, was that by the end of 1958, the Cardinal team that had climbed to second place under Hutch the year before had slumped to fifth, and ten games before the season's end Hutch became Busch's sacrificial lamb. Welcomed back to Seattle, he took the helm of the PCL Rainiers in 1959 and was cajoled to serve as GM as well. By this time, though, long-independent Seattle had linked with the Cincinnati Reds, and when the parent team foundered in seventh place in July and the brass wanted to replace Mayo Smith, they called on Hutch.
Hutch's years with Cincinnati were to be both his most challenging and triumphant. He failed to take a team loaded with talent above fifth place in 1959 or sixth in 1960. Relatively inexperienced and indifferent about racial sensitivity, he forged ties with African-American stars Vada Pinson and Frank Robinson that were labored and distant. But on the plus side, the Reds were ready for a surprise.
"I like to win," Hutch told players his first day at Crosley Field (as quoted by pitcher and author-on-the-side Jim Brosnan). "That's the only way to play this game. To win. We're all like that. … Some people say you've been playing a little too conservative, that you don't bump heads enough on the field. All I got to say to that is if somebody bumps your head, the only thing to do is bump back. Now, I'm not going to say to you pitchers that you should knock somebody down just because they're takin' a shot at you. I can't say that, and I won't say that. But I don't care if you brush a hitter back once in a while. Just to let 'em know you're out there. … I'm glad to be up here with you. We're going to start winning. We might as well start tonight."
When they truly started winning was in 1961. No one had pegged them as contenders, but Hutch achieved "my biggest thrill in baseball, so far" by leading the Reds to a 93-61 season and the NL flag. The club was led on the field by great seasons from center fielder Vada Pinson (.343) and right fielder Frank Robinson, the league MVP. The night of the clincher, more than 30,000 people mobbed Cincinnati's Fountain Square as an ebullient Hutch stepped off the team bus, hoisted the arm of General Manager Bill DeWitt, and joined a players' party at the nearby Netherland Hilton. Once again, he was named NL Manager of the Year.
The celebration was short-lived, though, as in the World Series the Reds ran into one of the best-ever Yankee teams, sparked by the Maris/Mantle home-run derby that resulted in the asterisked breaking of Babe Ruth's season record. Cincinnati dropped the tilt 4-1, but Hutch nevertheless strode to the Yankee dressing room to congratulate winning skipper Ralph Houk. The AP photo of the encounter, which ran in hundreds of newspapers the next morning, said it all — Houk giddy with laughter, and Hutch in equal parts grin and grimace. Given his mental makeup, Hutch's expression was as brave as humanly possible.
The Reds carved a record equally impressive during the new, 162-game schedule of 1962 yet fell to third place. In 1963, when Hutch guided Pete Rose to Rookie of the Year, the team won ten more games than it lost but slipped two slots to fifth. Attention turned to the singular personality of Hutch — headlined as "Baseball's Angriest Man" in a lengthy Climax magazine profile, "explosive" in a Sport magazine feature, and "Angry boss of the Reds" in a Look magazine photo essay. Writers also enjoyed toying with a quote about Hutch that Emmett Watson first brought to national attention in 1957: "He's really kind of a happy guy inside," observed broadcaster and former catcher Joe Garagiola, "only his face doesn't know it."
The finality of fate marked his face and brought him back to Seattle in December 1963. A week before New Year's, Hutch felt soreness and swelling on the right side of his neck. From the home he had made in Florida for 15 years, he flew to his hometown to be examined by his surgeon brother, Bill. The diagnosis was unequivocal: the 44-year old Hutch, a smoker of three to four packs of cigarettes a day since his Navy stint two decades prior, had inoperable lung cancer. To many, the notion that this relatively young and burly, 6-foot-1, 210-pound "Bear" could be so easily cut down was inconceivable.
His honesty and courage were reflected in a January 3 press conference in the Seattle office of his old friend Dewey Soriano. There he divulged his disease to the world, and — just eight days prior to the first Surgeon General's Report on Smoking and Cancer — it became big national news. As Hutch spoke, his matter-of-fact tone belied his heartbreaking words. "It's like having the rug jerked out from under you," he said. "You're feeling fine, then somebody tells you that you have cancer. You just don't know what to think. … Naturally, with the thing like this, you're bound to be concerned. But you don't feel you're alone in it, either."
He was anything but alone in 1964. Fitting in radiation and rest, Hutch surrounded himself with Reds players and staff. To supervise at spring training, he perched in a lifeguard chair and tooled around in a golf cart. In the regular season, Cincinnati became a contender, with Hutch a resolute presence, moving all who saw or came in contact with him to introspection or tears. "I have a hunch that God sends cancer only to those who can handle it," wrote columnist Bill Gleason of the Chicago American, "those like Hutch, who, in their handling of it, ennoble us all."
Hutch's gradual weight loss and emaciation were hard to miss. By his 45th birthday on August 12, when the Reds feted him with a 500-pound cake and color TV in a pregame tribute, his left eye, drooped by a distended tumor, jarringly did not match his right. "What a lucky man I am," he intoned into a microphone that carried his voice to the 18,000 fans. The next day, he officially took a leave of absence, as coach Dick Sisler stepped in as acting manager.
The same month, Hutch graced True magazine with an "as told to" essay co-written by Al Hirshberg, "How I Live with Cancer." Stunningly detailed and frank, the 6,000-word article traced Hutch's discovery of the disease, his treatments, and his attitude toward it all. Laced with humility and gentle humor, the piece was comforting, as Hutch professed to worry more about the Reds' chances in 1964 than his own diagnosis: "If I was going to die, of course, worrying wouldn't save me. And if I was going to live, worrying was a waste of time. One thing was sure. I wasn't going to worry myself to death." The article was yet another courageous act in the face of certain demise. He even donated the $1,000 fee to a cancer research fund.
Hutch returned to Crosley Field on October 4, when, in a 10-0 drubbing by the collapsed Philadelphia Phillies, his Reds lost the 1964 pennant. In the clubhouse afterward, Sisler nodded in Hutch's direction and told reporters, "I'm only sorry we couldn't have won it for that gentleman there." Perhaps coldly but true to the winning drive he tried to instill, Hutch replied, "I'm only sorry they couldn't have won it for themselves."
Little more than a month later, on November 12 at a hospital near his Florida home, Hutch died. His body was flown to Seattle for a November 16 funeral at Rainier Beach Presbyterian Church across the street from his boyhood home and burial in nearby Renton.
But Hutch lives on. In February 1965, Sport magazine named him "Man of the Year." Sportswriters created the Hutch Award, whose first winner was Mickey Mantle. Honoring perseverance in the face of adversity, the Seattle based award luncheon raises hundreds of thousands of dollars each year for the renowned Fred Hutchinson Cancer Research Center, founded in Hutch's name and opened by his brother, Bill, in 1975 with Joe DiMaggio and President Ford as guests. Bob Feller, who has twice graced Hutch Award festivities, uses Hutch-like bluntness to describe the beneficiary: "Nothing does more public good."
When Seattle's Safeco Field opened on July 15, 1999, a diamond-shaped banner that featured Hutch in his 1938 pitching form covered the infield. Hutch's 5-1/2-year-old grandson Joey, in a bright red replica 1955 Rainiers hat and jersey, became the first person to run the bases. Also unveiled that day were stanchions at the end of every row of the posh stadium's seats — with Hutch in mid-windup depicted permanently in bas-relief on each one.
Five months later, on December 24, the eve of the new millennium, the Seattle Post-Intelligencer named Hutch the city's Athlete of the 20th Century, an eye-popping pick given that he was a pro player and manager in Seattle for just two and a half years. "No local athlete has been more revered than Hutch," reported Dan Raley. "Hutchinson was a leader, and there was never a question. He led people to championships. … He led us to tears, sharing his own struggle with cancer in a very public and heroic manner." Seattle Mariners center fielder Ken Griffey Jr., who had belted 398 homers but had crudely demanded to be traded to a "winner," placed second to a man many would consider the game's preeminent winner.
For more information on Fred Hutchinson and the cancer research center that was named for him, please visit its website.
Sources
A version of this article originally appeared in the 2006 SABR publication Rain Check: Baseball in the Pacific Northwest, edited by Mark Armour.
The author has been researching the life of Fred Hutchinson for many years. Besides the numerous sources enumerated in the text, this story is based on dozens of interviews with people who knew Hutch, and newspaper research in Seattle and other cities where Fred played. The author's book on Hutchinson is forthcoming.
Photo Credits
The Topps Company
Full Name
Frederick Charles Hutchinson
Born
August 12, 1919 at Seattle, WA (USA)
Died
November 12, 1964 at Bradenton, FL (USA)
If you can help us improve this player's biography, contact us.
http://bioproj.sabr.org/bp_ftp/images/HutchinsonFred1952.jpg
600
800
admin
/wp-content/uploads/2020/02/sabr_logo.png
admin
2012-01-04 20:32:31
2022-05-17 12:46:55
Fred Hutchinson