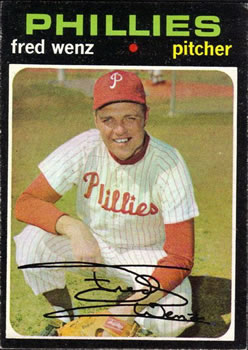 ---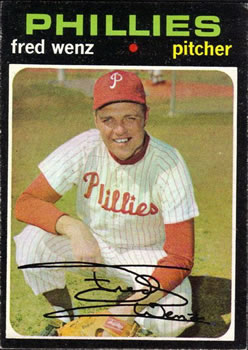 "Fred Wenz Provides Red Sox Mysticism" — how can the reader resist responding to a newspaper headline like that? The article in a 1969 issue of Boston Herald Traveler discussed "the Wenz enigma — a situation which has found Fireball Fred blinding minor league hitters and then getting bombed in the majors."1
It wasn't the first time and wouldn't be the last time that a pitcher had success in the minors but came up short in the big leagues. Nonetheless, Red Sox farm director Ed Kenney said, "I simply can't believe there is that much difference between pitching in the majors and Triple A baseball. There used to be, I'll grant you, but not now."2
Making the major leagues in the first place is an accomplishment only dreamed of by millions of boys all over the world. A very select few ever get that far.
This right-hander was Frederick Charles Wenz, born on August 26, 1941, in the borough of Bound Brook, New Jersey, on the Raritan River in Somerset County, more or less between Newark and Trenton and a bit further west. "I was raised by my grandmother," Wenz said in an April 2018 interview. "Katherine Wenz. From the day I got out of the hospital, I was raised by her. It was just me and her."3
His dedicated grandmother made her home in nearby Somerville, New Jersey, and Fred graduated from Somerville High School in 1959, the MVP of the school baseball team. He was signed to his first contract by scout Frank "Chick" Genovese of the San Francisco Giants and pitched two years in the low minors. He had nine starts that year — 1959 — for the Hastings Giants in the six-team Class-D Nebraska State League; he was 3-5 with a 6.88 earned run average and a WHIP of 1.804. There were standout moments, however, such as the four-hitter he threw on July 28, striking out 12 (including seven in a row) and showing good "defensive agility" with two putouts and three assists.4
The Giants stuck with him in 1960, and he pitched in New Mexico for the Artesia Giants (Class-D Sophomore League), for whom he was 4-9, 6.03, walking 87 batters in 91 innings (his WHIP was 2.011. But he struck out 82 batters and that potential — the fireball — kept them interested into 1961.
Wenz began the '61 season in the Giants system, starting one game — which he lost — for the Belmont (North Carolina) Chiefs in the Class-D Western Carolina League. In 19 games for the Class-C Pocatello (Idaho) Bannocks, he was unable to get a win (he was 0-7, with an ERA of 8.47). He was released by the Giants and signed for the Red Sox by Bobby Doerr.5 Wenz was frank about why he had been cut loose. "I had no idea where the strike zone was. I could throw the ball hard but couldn't get it over the plate. So, they got rid of me. I guess they didn't think I'd ever learn to control my stuff."6
The Red Sox sent him to Class-D Olean in the New York Penn League, where he was 2-3 (7.62) in five starts.
In 1962, Wenz was back with Pocatello for the full year. The Pioneer League team was now a Boston farm club named the Chiefs, still in Class C. Wenz started 16 games and appeared in 15 others. His ERA was still far from impressive (7.43). His record was 3-9. In 109 innings, he struck out 139 batters, but he was wild and walked 142 batters. His WHIP was 2.330 and it's difficult to win many games if you're putting more than two batters on base in each inning. One of the losses at least provided an interesting anecdote. On May 19, Idaho Falls beat Pocatello in 10 innings, 8-7, scoring the winning run without a base hit. Wenz walked Idaho Falls batter Leroy Reaves, saw him steal second base and advance on to third base due to a wild throw by Wenz's catcher. "Relief Pitcher Fred Wenz then uncorked a wild pitch, enabling Reaves to cross the plate."7 Wenz was still only 20 years old at the time.
In 1963 he was advanced to Class A, and had more success there. He split the season between Waterloo, Iowa and Winston-Salem, North Carolina — all but four of the games at Waterloo. His combined season stats were 4-3, 6.06.
In 1964 and 1965, he continued to improve as he climbed the ladder to higher classifications. Both seasons were in the Double-A Eastern League. In 1964 he was with the Reading Red Sox (4-7, 4.01), and in 1965 with the Pittsfield Red Sox (10-9, but with a very impressive 2.38 ERA.) Manager Eddie Popowski understood Wenz's problem and converted him to a relief pitcher. As Wenz himself later explained it, "I didn't make it as a starter because I used to run out of gas after three or four innings. I didn't have any stamina. Once I got tired I lost whatever control I had."8
He worked exclusively out of the bullpen, appearing in 55 games. Wenz struck out 129 and only walked 40, by far his best season in that regard. Pittsfield finished first in the league. "And wouldn't have done it but for the great job he [Wenz] did in relief."9 This was the year Bill MacLeod finished with a record of 18-0.
His next two seasons were both with Boston's Triple-A Toronto team, again working exclusively in relief. In 42 games in 1966, he recorded an ERA of 4.16 and was 3-3. He was the winning pitcher for Toronto in the final game of the International League Governor's Cup playoffs.
In 1967 he worked in 44 games, with a 3.30 ERA and a 4-4 record. In 60 innings, he struck out 76 batters.
The Red Sox were hoping for a lot from Wenz. After the 1967 World Series was over, and the Sox were looking ahead to 1968, manager Dick Williams — who had been Wenz's skipper in Toronto in 1966 — answered his own rhetorical question: "How much do we think of Wenz? We think so much of him that we may trade John] Wyatt."10 He had already been given the nickname "Fireball" and was being dubbed another Dick Radatz.11
Part of the reason for the comparison to Radatz was Wenz's size — he stood 6-foot-3 and was listed at 214 pounds.
The Red Sox' Triple-A team beginning in 1968 was the Louisville Colonels. Though he'd been envisioned for the big-league club, Wenz had several rough outings in spring training and was sent to Deland, where the Colonels were taking spring training, on March 21. He was called "the biggest disappointment of the Florida training season."12
He showed his stuff in Louisville, working in 30 games with a low ERA of 1.06. In midseason, after John Wyatt was sold to the New York Yankees, he had his major-league debut. The date was June 4, in the second game of a doubleheader against the visiting Detroit Tigers. Dick Williams brought him in to pitch the top of the ninth. The Tigers were leading, 2-0, both runs scoring off starter Gary Waslewski. Not a single Tiger got a hit off Wenz. He walked the opposing pitcher, Pat Dobson, then struck out Dick McAuliffe. Mickey Stanley walked, but with runners on first and second, Wenz struck out Jim Northrup and Norm Cash. All three strikeouts were with the batter looking, while plate umpire Cal Drummond rang them up.
The two games of the doubleheader were somewhat parallel. The Red Sox had won the first game, 2-0, a game that took two hours and 18 minutes. The second game was also 2-0, in favor of the Tigers, and lasted two hours and 17 minutes.
This was Wenz's only appearance in the big leagues in 1968. Arm trouble struck him. Sportswriter Fred Ciampa was a bit unkind: "Fred Wenz has pitched a grand total of one inning of major league baseball after a wait of nine years in the minors, and he's got a sore arm."13 What Ciampa didn't know was that when he was given a cortisone shot, the doctor had apparently punctured a blood vessel, creating clotting which could have been life-threatening.14
Wenz was returned on option to Louisville on June 22. It was, Wenz said, the first sore arm he'd ever had. He seemed to have been given conflicting medical advice and was irritated at being sent to Louisville rather than being seen at a hospital in Boston.15 He continued to relieve, maintaining that exceptionally low earned run average.
In August 1968, he also finished up six years of service in the U. S. Army Reserve.
Wenz played winter ball in Puerto Rico, pitching for San Juan. Because he recognized it seemed to take him a longer time than many to get into throwing shape, he traveled to Florida a couple of weeks early and began to throw every day. In a bylined column for the Boston Globe, Carl Yastrzemski wrote that Wenz "threw every day to get his coordination down right. He has a hard time with coordination."16 Yaz was referring to Wenz's unique throwing style, one which Dick Williams had said evoked the image of an octopus. "He must look like all arms and legs to the batters. He's got a great fastball, and sometimes goes with a three-quarter delivery. Sometimes he's straight up. Other times he appears to be throwing sidearm. He could look like an octopus from the batter's box. Or at the very least, a guy with five legs and four arms."17
Yaz wrote of the 1969 spring season, "The only real disappointment all along has been in Fred Wenz. I shouldn't say disappointment. I should say that we just can't figure him out." Yaz nonetheless hoped he'd prove the sleeper in short relief that he felt the Red Sox needed.18
In 1969, despite being bombed a couple of times and having back x-rays at one point during spring training, Wenz broke camp with Boston. He relieved in eight games, four in April and four in May. In between, he was optioned back to the minors, placed with Pittsfield for just 10 days before being recalled.
After the first five, he had an ERA of 1.80. On May 3, facing the Tigers again, he picked up his first major-league decision, a win, working three innings. He gave up a solo home run to Al Kaline, but otherwise held them scoreless while his teammates racked up five runs to take the game, 7-5. In fact, Wenz scored the go-ahead run. First up in the bottom of the eighth in a 5-5 game, in the only plate appearance he had had in the majors, he drew a walk off Don McMahon. With one out, he took second on a Mike Andrews single, and then took third when Carl Yastrzemski forced Andrews at second base on a ground ball to first. With Tony Conigliaro at the plate, early in his comeback year, the Red Sox surprised everyone. While the Tigers brought in a new relief pitcher, Conigliaro discreetly sent the Red Sox batboy down to third base and had him tell Wenz to look out for the bunt.19 On the first pitch he saw from Fred Lasher, Conig laid down a perfect squeeze bunt to the left of the mound, and Wenz came pounding home, putting the Sox ahead, 6-5. Reggie Smith then doubled in Yaz for an additional insurance run.
The gopher ball got Wenz in his next two outings. Though not saddled with a loss, he gave up three homers on May 18 and two on May 24. All the homers were solo jobs, but his ERA ballooned to 5.73. In his 11 innings, he'd given up seven homers and walked 10. "I know he's trying too hard," said Dick Williams, "but we just can't have this."20 The next day, Wenz was sent to Louisville. "I'm a late starter and I need more work," he allowed.21 When he'd said the same thing in 1968 (reported as "I don't usually get in a groove until June"), Williams had said, "Come back in June," and shipped him out.22
Wenz later said, "I was happy to leave Boston. I won a game for Williams, then I didn't pitch for 17 days. I can't play for that guy."23
Farm director Ed Kenney said, "Since Wenz was sent down to our Louisville club, he's done a fine job. And yet when he had his chance with us [in Boston], he got clobbered by home runs. And not just by people like Frank Robinson. Hitters like Ray Oyler and even Seattle pitcher Mike Marshall teed off on him."24
Nothing seemed to dampen Wenz's outlook on life, though, Claflin reported. "Wenz is a delightful chap. Unfortunately, the major leagues seem to be a bit beyond his reach. No matter how many homers were hit off him, Fred never lost his big grin or his knack for enjoying himself wherever he was."25 Indeed, when he returned to Louisville, he had just the one decision in his big-league career (1-0) and he had reached base and scored in his only plate appearance.
The June 15 trading deadline passed and he was still with Louisville. (A trade had apparently been arranged to a National League club, but five American League clubs reportedly declined to give waivers.)26 He had another very good year, appearing in 31 games with a 2.57 ERA, and just one decision with the Colonels (1-0). He was credited with 14 saves. After the season was over, his contract was purchased by the Phillies for an undisclosed amount of cash on November 26.27 The transaction may have been an element in completing a September deal in which Boston had acquired Gary Wagner.28
He was going to get a fresh start with another organization, but he expressed bitterness regarding Dick Williams: "I resent Williams making me spend the best three years of my baseball life down in the minors. He kept me down purposely because we had a run-in in 1966-67 in Toronto. He had to bring me up in '67 because of pressure from management. I was pitching real well, and then my arm went sore from throwing endlessly in the bullpen. He had to find a way to get rid of me and that was it."29 Wenz worked in the offseasons as a liquor salesman.
In 1970, Wenz joined the Phillies but was not used in the early part of the season and was instead optioned to Eugene, Oregon, and relieved in 13 games (1-1, 2.81) for the Pacific Coast League Eugene Emeralds. He was called up to the majors in early July and finally had the opportunity to get in an extended stretch of big-league work. Wenz appeared in 22 games, closing 11 of them, and throwing 30 1/3 innings. He won two games (on July 19 and August 2) and lost none, and was credited with one save and two holds. He struck out 24 and only surrendered two home runs. His ERA was 4.45.
Wenz was dissatisfied with the contract he was offered for 1971; he said it was for $2,000 less than in 1970. He elected to retire from baseball and concentrate on the wholesale liquor business. His statement was articulate regarding the realities of baseball economics at the time. "I think the time has come when I have to establish a degree of security, and there is little or none in baseball." He said he'd not considered retiring until he received the reduced contract offer, but that it seemed time to "pursue a normal business career. Even though a baseball career seems glamorous, the disruption of a normal family life, constant travel and mental torment, such as knowing that my baseball fate lies in the hands of one or two people, making it a demanding and fatiguing job." He added, "The average sports fan may not realize that signing a contract does not guarantee employment — if I were released in spring training I would get only 30 days pay and after that nothing, regardless of the figures stated in my contract. Because of the reserve clause, I have no power to negotiate with any other club that may want my services. In other words you take their offer or you don't play. I find the situation unsatisfactory. Therefore, I am retiring from baseball."30
He left with a perfect 3-0 record, albeit a 4.68 ERA. He'd lost the perfect 1.000 on-base percentage he'd had after his time with the Red Sox. In five at-bats with the Phillies, he struck out all five times.
After baseball, Wenz continued his work in the liquor business. "I was a liquor salesman for 18 years. I was working for a wholesale distributor."
Just as he got out of baseball, he had another idea, one that he started working on part-time but eventually built into a very successful business. "I came up with the idea of portable storage sheds. You see them on every street corner now. That was originally my idea, in 1970. You can believe that or not, but I was the first one to come up with that idea. It got bigger and bigger and bigger, and I finally quit my liquor job and it's worked out very good. I bought a garden center where I was originally selling them at.  I bought the garden center and then I expanded it to 10 other places. I leased them; I just owned the one. After a while, I just decided to go with the one place that was doing the most business, the one I owned."
Wenz's company is named Garden Oaks Specialties and is located in Bound Brook, New Jersey. The company's website showcases the products:  www.gardenoaks.com.
He'd worried about going fulltime, but it had grown. "I was doing well with the liquor, but finally it got to the point where I couldn't do both, so I gave up the liquor. My goal was to sell 50,000 barns –and I might accomplish that this year [2018]. I said I'd retire when we sold 50,000. We're within a couple of hundred of that."
Fred met his wife Madeline in high school. "She was my childhood sweetheart. I was a jock and she was the head cheerleader." They had two children in 1963 — twins James and Lisa. James became a very successful doctor, head of orthopedics at Johns Hopkins in Baltimore. He was also a consulting team orthopedist for the Baltimore Orioles from the late 1990s.31 Tragically, James and his wife, child psychiatrist Dr. Lidia Wenz, were killed in a January 2004 automobile accident. Lisa works at Garden Oaks Specialties and together they're closing in on that 50,000 barn target.
Fred Wenz died at the age of 79 on October 6, 2020, at his home in Branchburg, New Jersey.
Acknowledgments
This biography was reviewed by Norman Macht and fact-checked by Alan Cohen.
Sources
In addition to the sources noted in this biography, the author also accessed Wenz's player file and player questionnaire from the National Baseball Hall of Fame, the Encyclopedia of Minor League Baseball, Retrosheet.org, and Baseball-Reference.com.
Notes
1 Bill Liston, "Fred Wenz Provides Red Sox Mysticism," Boston Herald Traveler, June 15, 1969: 56.  
2 Ibid.
3 Author interview with Fred Wenz on April 12, 2018. All quotations from Fred Wenz that are not otherwise attributed are from this interview.
4 "Young Giant Struts Stuff," The Sporting News, August 12, 1959: 38.
5 Bill Liston, "New Monster in Sox Bullpen," Boston Herald, February 27, 1968: 43.
6 Ibid.
7 "Walk, Steal and Wild Heaves," The Sporting News, June 2, 1962: 41.
8 Bill Liston, "New Monster in Sox Bullpen."
9 Ibid.
10 Larry Claflin, "Sox Will Make Trade, Wyatt To Go," Boston Record American, November 27, 1967: 3.
11 John Gillooly, "Sox Set To Unveil Another Monster," Boston Record American, February 19, 1968: 30.
12 Pat Horne, "Sox Recall Pitcher Wenz To Fill Reliever Gap," Boston Record American, June 1, 1968: 12.
13 Fred Ciampa, "Sox Fail to Get Hurler To Aid Desperate Straits," Boston Record American, June 22, 1968: 10.
14 Author interview with Fred Wenz on June 1, 2018.
15 Ray Fitzgerald, "Sox' Wenz, Sent Down, Hoped for Medical Aid," Boston Globe, June 23, 1968: 60.
16 Carl Yastrzemski, "Sox Have Power; Right-handed Relievers A Problem," Boston Globe, March 19, 1969: 40.
17 Bill Liston, "New Monster in Sox Bullpen," Boston Herald, February 27, 1968: 43.
18 Carl Yastrzemski, "Sox Have Power; Right-handed Relievers A Problem."
19 Clif Keane, "Sox Surprise Tigers, 7-5, on Tony's Bunt," Boston Globe, May 4, 1969: 93.
20 Fred Ciampa, "Sox Due to Axe Wenz, May Call Roggenburk," Boston Record American, May 25, 1969: 17.
21 Larry Claflin, "Fireball Leaves Sox With Perfect Record," Boston Record American, May 26, 1969: 38.
22 Tim Horgan, "Williams Was Right; Players Just Love Him," Boston Herald, November 22, 1987: 67.
23 "International League," The Sporting News, June 14, 1969: 38.
24 Bill Liston, "Fred Wenz Provides Red Sox Mysticism."
25 Larry Claflin, "Fireball Leaves Sox With Perfect Record."
26 Joe Calabrese, "Wenz Happy To Be A Phil; But Resents Dick Williams," Trenton Evening Times, November 30, 1969: 69.
27 UPI, "Sox Sell Hurler Wenz to Phillies for Cash," Boston Record American, November 27, 1969: 23.
28 "Long Relief Answer?" Boston Herald, March 2, 1970: 22.
29 Joe Calabrese, "Wenz Happy To Be A Phil; But Resents Dick Williams."
30 Joe Calabrese, "Wenz Bids Farewell To Phils, Baseball," Trenton Evening Times, March 5, 1971: 38.
31 E-mail from Bill Stetka, Baltimore Orioles, April 17, 2018.
Born
August 26, 1941 at Bound Brook, NJ (USA)
Died
October 6, 2020 at Branchburg, NJ (USA)
If you can help us improve this player's biography, contact us.
/sites/default/files/Wenz%20Fred.jpg
600
800
admin
/wp-content/uploads/2020/02/sabr_logo.png
admin
2018-06-27 13:01:09
2022-04-04 13:52:46
Fred Wenz