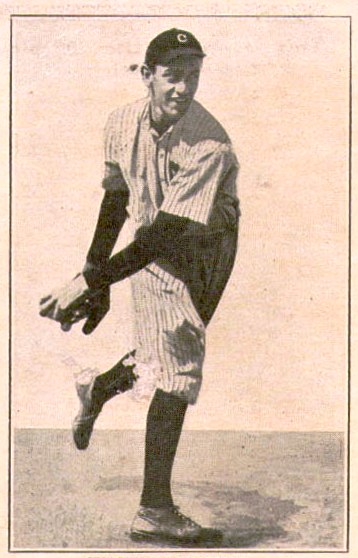 ---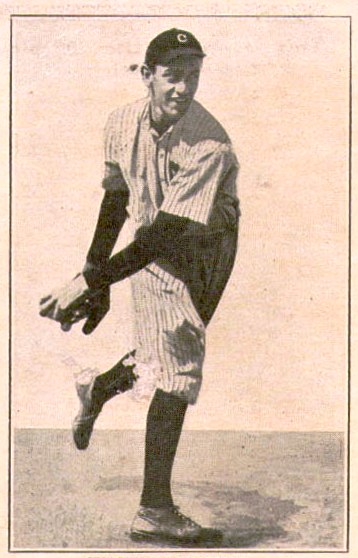 In the first years of the 20th century, almost anyone with the given names Frederick Nicholas had a good chance to be nicknamed "Fritz," and so it was with Fritz Coumbe, though his ancestry was British rather than Teutonic. But most of the papers of the day called him Fred.
Fred's father George Coumbe had arrived from England in 1855 and had become a glass worker in Corning, New York by the time of the 1900 United States census. His wife Mary (Johns), also a native of England, had arrived two years earlier. She worked as a housekeeper and a cook, at different times. The couple had three children—William, George, and Freddy. William was 18 at the time and had already gone into the glass works. The other two were at school, but by the time of the 1910 census, Fred was also employed in a glass works. Frederick had been born in Antrim, Pennsylvania on December 13, 1889. He attended elementary school in Corning, spending six years at the Corning Free Academy. That was the extent of his formal education. In June 1912, Coumbe married Ida May Kelce, and the couple had two children, Dorothy Evelyn and Jack Edwin.
Coumbe was a left-handed pitcher who the record books say stood an even six feet tall, though he himself reported his height as 5-foot-10 on the questionnaire he completed for the National Baseball Hall of Fame. At any rate, he could not be described as a big guy: his playing weight hovered around 152 pounds. He began playing organized ball in 1913, pitching for the Utica Utes in the New York State League.
His first game was "one I'll never forget," he told a reporter. "It went 11 innings. I was pitching against Albany. I lost it, but won the next six. That was my season record."[1] [The game against Albany was on August 16.] From 1911 through the first part of 1913, he'd pitched for the Canisteo Athletics, a semipro team in upstate New York. Utes manager Mike O'Neill signed him in August and he indeed put up that 6-1 record, in the process attracting the attention of scout Patsy Donovan of the Boston Red Sox, who recommended him to the team he used to manage. Coumbe was acquired by the Red Sox on September 15, on the strength of the total of seven professional appearances.[2] The Boston Globe described him as a southpaw who "varies his pitching with an underhand shoot. He has speed and curves and, what is an unusual asset for a left-handed pitcher, control."
Coumbe's first major-league appearance was in a 9-9 tie game played on April 22, 1914, at Fenway Park in Boston against Connie Mack's reigning world champion Philadelphia Athletics. The A's scored first, off starter Hugh Bedient, but Boston held a 5-1 lead after four innings. In the top of the fifth, after the starter got shelled, manager Bill Carrigan called on Coumbe in relief. He did OK for a couple of innings, but in the seventh he "went to the bad," the victim of an error and a play that some felt the umpire botched. Rattled, he walked the next two men and Carrigan gave him the hook. Three inherited runners scored and were charged to Coumbe, but all the runs were unearned.[3] He started five games for Boston and appeared in a dozen more, finished ten. He was 1-2, with a 1.44 earned run average, the one win a 7-1 three-hit victory over Herb Pennock and the Athletics on July 2. The only Philly run came in after Coumbe muffed a ball he should have caught while covering first base. He hit .111 at the plate. Near the end of July, he was packaged with Ben Egan and Rankin Johnson and traded to the Cleveland Naps for Vean Gregg. (It proved to be a bad trade for Boston; Gregg was coming off three consecutive 20-win seasons but never won more than four games in a season for the Red Sox.)
Coumbe finished out 1914 with last-place Cleveland with a 1-5 record and an ERA of 3.25. He stuck with the Indians, as they were called from 1915 forward, through the 1919 season, running up a record of 34-31 and a 2.83 ERA. His best year was clearly 1918, when he was 13-7 (3.06) in an even 150 innings. Coumbe's first winning season was 1916, when he was 7-5 despite a stellar 2.02 ERA (the Indians were even at 77-77). The 2-0 two-hit shutout he dealt the White Sox on October 1 eliminated them from the race, allowing the Red Sox to win the pennant for the second straight year. By the end of his eight seasons in major-league ball, he held an even 38-38 record, with a very strong 2.80 ERA.
More often than not, the Indians used Coumbe in relief, though he was versatile enough to average over a dozen starts from 1915-18. He also helped with coaching duties when not on the mound. One altercation with umpire Brick Owens earned him a five-day suspension for not leaving when ordered from the grounds.
Used only sparingly in 1919 (1-1, in eight games), Coumbe's single loss, on July 18, cost Indians manager Lee Fohl his job. In the top of the ninth inning in Cleveland, the Red Sox had the bases loaded with two out, and Fohl brought in Coumbe to pitch to Babe Ruth hoping to hold a 7-4 lead. Ruth swung wildly at the first pitch, but slammed the second one over Dunn Field's right-field screen, over Lexington Avenue behind that, and nearly over the houses on the other side of the street.[4] That was Fohl's last day managing the Indians.
Coumbe was dealt to the St. Paul Saints of the American Association in time for the 1920 campaign. He performed well there, 19-7 (3.14), helping Mike Kelley's team win the pennant. And earning him a job with the Cincinnati Reds, who bought his contract from St. Paul on September 7. He went 0-1 for the Reds in 1920 getting into only three games in relief. But he pitched 86 2/3 innings the next year, with six starts, and compiled a 3-4 record and a 3.22 ERA. The next year he moved to the Pacific Coast League pitching for the San Francisco Seals. He was 10-7 for the Seals and was sold to the Salt Lake City Bees in early December.
Coumbe pitched three seasons for Salt Lake, 1923-25, the first two under former Red Sox teammate Duffy Lewis, with steeply declining appearances from 56 the first year to just two in 1925. His numerous appearances early on reflected a lack of pitchers on the team—Coumbe claims that at one point he pitched in 10 straight games—but later he took on an increasing role as a position player.[5] In 1924, he played 95 games in the outfield, and in 1925 he played 144 games at first base. Although his major-league batting average was just .206, in the four years he spent in the PCL his average steadily increased from .262 to .290 to .297 to .331. He developed some power, too, hitting 12 homers in 1924 and 21 in 1925.
In 1926, the Salt Lake City team moved to Hollywood and eventually became the Hollywood Stars. Coumbe suffered a severe attack of influenza in the spring, but later joined the club as its regular first baseman, appearing in 101 games, though falling off badly in his hitting, all the way down to .251 with just seven home runs.
After the 1926 season, Coumbe was sold to Birmingham in the Southern Association, but the Barons traded him to Chattanooga on April 2. His "hustling attitude" impressed Birmingham, but they coveted slugger Elliot Bigelow, whose 143 RBIs led the league that year, and Coumbe was expendable.[6] The Lookouts moved him back to the mound, and in a season pitching for both Chattanooga and Mobile, he put up a 7-15 record (4.37).
Coumbe remained a pitcher for the final five years of his career: in 1928, he was 12-13 (4.14) for the Baltimore Orioles in the International League, and for the following four years he bounced back and forth between the Orioles and the Elmira Colonels (New York Penn League). His best year came in 1929, at age 39—he was 15-5 for the Orioles, with a mediocre 4.70 ERA. He didn't get nearly as much work in 1930 (5-3, with a 6.57 ERA); in 1931 he was released by Baltimore in January and played for Elmira and finally for the York White Roses (also NYPL). His minor-league ERA was almost two runs higher than his major-league one, 4.75.
In early August 1935, Coumbe took over as manager of the Elmira club when Emmet McCann had to leave due to ill health.[7] Managing the Spears Colts in the Tioga County League in 1941, he sustained what was probably his most serious baseball injury when he was knocked unconscious by a thrown ball.[8] After the war, he managed a factory team in Corning composed of workers from Local 1000 of the American Flint Glass Workers' Union. [9]
Coumbe was most proud of his skill at fielding his position. He told a Hall of Fame interviewer that he considered a year he claimed to have picked 22 men off second base his most outstanding achievement in baseball.
After baseball, Coumbe worked as a carpenter for the Corning Glass Works, retiring to Whittier, California, in 1955. He and Ida celebrated their 50th wedding anniversary in 1962—with former manager Lee Fohl one of the invited guests—and their 65th in 1977. On March 10, 1978 Coumbe fell climbing out of bed to go to the bathroom at 2:00 AM, fracturing ribs on his right side. He was taken to the Feather River Hospital in Paradise, California, where after a few days, he developed pneumonia and died late on the evening of March 21 at the age of 88.
Sources
In addition to the sources noted in this biography, the author also accessed his player file at the National Baseball Hall of Fame, the online SABR Encyclopedia, Retrosheet.org, and Baseball-Reference.com.
---
Full Name
Frederick Nicholas Coumbe
Born
December 13, 1889 at Antrim, PA (USA)
Died
March 21, 1978 at Paradise, CA (USA)
If you can help us improve this player's biography, contact us.
http://bioproj.sabr.org/bp_ftp/images4/CoumbeFritz.jpg
600
800
admin
/wp-content/uploads/2020/02/sabr_logo.png
admin
2012-01-04 20:49:21
2012-01-04 20:49:21
Fritz Coumbe