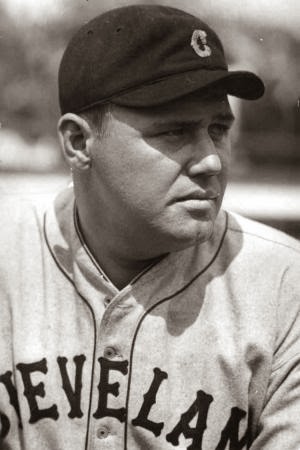 ---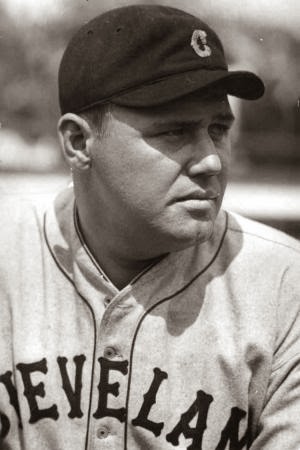 Imagine the right guard from your favorite NFL team pitching for your favorite MLB squad. Nearly a century ago that scenario was played out by Garland "Gob" Buckeye, who opened holes for the Chicago Cardinals and threw fastballs for the Cleveland Indians. Garland's size was often mentioned in the press. Over the years he was listed at anywhere from 6 feet tall to 6-feet-6. Reports of his weight varied from a svelte 175 to 260. When he first signed with Washington's Clark Griffith, a scribe noted that he "looks about as broad as tall."1 Listed by Baseball-Reference.com at 6 feet tall and 260 pounds,2 Buckeye was not the biggest man on Cleveland's roster in 1927-28. That honor went to Jumbo Brown, who stood 6-feet-4 and weighed in at 295 pounds.
Many a thesaurus was perused by writers as they searched for adjectives to describe Buckeye. The obvious choices of huge, gigantic, heavyweight, and hefty quickly gave way to dreadnought, ponderous, mammoth, mountainous, and mastodon or mastodonic. Arguably the cruelest depiction came in a 1927 spring-training cartoon in which the artist suggested that Buckeye's shadow might cause a game to be called on account of darkness. A columnist added that Buckeye was rounding into shape, "and if you've ever seen Mr. Buckeye's belt line, you'll realize that rounding is the proper word."3
While Buckeye's size was a frequent topic of conversation, fans and opposing batters also took note of his "fine southpaw speed … and wide sweeping curve."4 His first taste of professional baseball came in 1918 with the Washington Senators. Signed off the sandlots of northern Indiana, Buckeye spent about three weeks with the Senators and saw action in one game before being released. He returned to the pro game in 1925 with Cleveland. He did not get his first taste of the minor leagues until 1928 and left the pro ranks in 1931. His professional football career — from 1920 to 1924 — filled in between his two stints in major-league baseball. Only in 1926 did he play professional baseball and football back-to-back.
Born on October 16, 1897, in Heron Lake, Minnesota, Garland Maires Buckeye was the oldest of five children born to Knute and Minnie (Maires) Buckeye. Knute's parents had come from Norway. Minnie's family was of Scotch-English descent and had been in Minnesota for a few generations. The couple wed on Christmas Day in 1895. At the time of Garland's birth, Knute was farming but he later went into the manufacturing business. He died in 1915.
When Garland was about 10, the family moved to Joliet, Illinois. The blue-eyed lad with brown hair graduated from Joliet Township High School in 1916. After high school Buckeye is reputed to have attended Wabash College but that seems erroneous.5 He moved to Gary, Indiana, and held a job as the Western representative for the Newburgh (New York) Shipyards. It was reported that Buckeye saw service in the Navy and that is the source of his nickname, Gob. He never saw military duty and his job with the shipbuilding firm was most likely the source of the nickname. While Gob was used frequently, Buck also became a popular nickname for him.
Buckeye made quite an impression playing semipro ball in Gary and Hammond, Indiana. A Gary sports editor, Jack Baytomas, recommended him to Griffith. It was reported that Buckeye had played four games with Gary, winning them all and fanning 55 batters.6 Buckeye joined the Senators on the road in Cleveland and was given his first action on June 19 in New York. With Washington down 5-0, Buckeye entered the game to start the seventh inning. "The mountainous southpaw was plainly nervous performing … before 4,500 spectators."7 He opened the frame by walking opposing pitcher Allen Russell. Three more walks and two singles plated three runs for the Yankees. In the eighth he walked two more and surrendered a single for another run. Griffith sent Walter Johnson into the game to pinch-hit for Buckeye in the ninth.
Buckeye remained with the team for two more weeks but did not see action. There was speculation that he might get a start as fans seemed eager to see him, but Griffith chose not to use him. Griffith's reasoning became clear when he told a reporter on July 7 that "Buckeye is too wild, so he goes home tomorrow."8
Garland returned to his job with the shipyards and renewed his semipro career. In 1919 he played for Hammond before relocating to Chicago. He eventually took a job with the Illinois Trust Company. An industrial accident that nearly severed a finger may have hastened his change of profession.9
The independent Midwest League was in full bloom in the 1920s. Buckeye played with the Normals in 1920, teaming with Shorty Des Jardiens. In the coming seasons he spent time with the Marquettes, Pyotts, and Cermak. He also played in the Bankers League and led his Trust Company team to titles.
In 1920 the American Professional Football Association was formed in Canton, Ohio. Buckeye joined the Chicago Tigers for the inaugural season. The following year he joined Paddy Driscoll on the Chicago Cardinals. (The franchise has shifted locations and now performs in Arizona.) The Cardinals finished 3-3-2. One of their most intense games was against the Green Bay Packers. The affair ended in a 3-3 tie when the two coaches, Driscoll and Curly Lambeau, drop-kicked field goals for their respective squads.
The league became the National Football League in 1922 and the Cardinals finished third with an 8-3 record. They shut out their city rival the Bears twice but lost two games to the Canton Bulldogs. The Cardinals went 8-4 and 5-4-1 in the ensuing seasons. In 1925 Buckeye was in the major leagues and opted not to sign with the Cardinals. He mentioned to reporters that he'd go back to the bank and "keep in shape by playing handball a few times a week."10
In February 1925 Buckeye was signed by the Cleveland Indians. He had established quite a reputation in the Chicago area as a powerful pitcher and equally talented hitter. He was sent to Hot Springs, Arkansas, to get into shape for the season and immediately drew the attention of the sportswriters. They reported that he "quakes the beam at 255, wears a 19 collar, a plus 12 shoe and has a belt line like Babe Ruth himself."11 The Plain Dealer played up the Babe Ruth angle with a photo spread in its March 14 edition. It featured Buckeye pitching but also showed him in a left-handed-batting pose looking suspiciously like Ruth. The headline dubbed him "The Indians' Bambino."
Buckeye was a switch-hitter, but some former players claimed he was essentially a one-handed batter. Whether the stood to the right or left of the plate, "he used only a left-handed swing."12 Using one hand or two, he knew how to handle the lumber. On September 10, 1925, while tossing a complete-game 7-2 win against Detroit, he slammed two home runs and drove in five runs. On June 5, 1926, he fell behind in his start against the Yankees when Ruth smacked a two-run homer. Buckeye responded with some fireworks of his own and collected two singles, a double and finally a home run in his 15-3 win. For his career he batted .230 with a .368 slugging average, gaudy statistics for a pitcher.
Manager Tris Speaker was pleased with what he saw from Buckeye in spring training in 1925. It was obvious that the 27-year-old rookie had learned how to pitch on the sandlots, and he had "one of the best curve balls anyone ever looked at."13 Speaker did not hesitate to get Buckeye plenty of work in spring training. Buckeye won the season opener against the Browns when he hurled scoreless middle relief in a 21-14 slugfest.
Buckeye got a spot start in May before joining the rotation in July. He impressed the fans with four consecutive complete-game wins in which he allowed only four earned runs. His last start of the season was a 5-0 shutout of Boston. He posted a 13-8 record that tied him for the team's wins lead with George Uhle and made him the percentage leader for the Indians.
In 1925 Buckeye made 18 starts and led Tribe lefties with 14 relief appearances. He dropped his ERA to 3.10 but posted an unimpressive 6-9 record. His most noteworthy day came on September 16 against the Yankees, when he tossed a two-hit shutout. He quieted Ruth's home-run swing by walking him each of his four at-bats; part of the 10 walks Buckeye issued in the game.
In 1926 the Indians gave Buckeye permission to play football, hoping "it might prevent him from taking on too much weight over winter."14 He joined the Chicago Bulls in the American Football League. They showed very little offensively, often winning on field goals. They dropped both contests against Red Grange's New York Yankees.
The following season Jack McCallister took over as Cleveland manager and the Indians fell to 66 wins and a sixth-place finish. Buckeye was second on the team in ERA at 3.96 and tossed over 200 innings for the first time. His 10 wins tied him for second on the team, but his 17 losses led the team. His most memorable game came on May 31 in Detroit, He allowed a first-inning run but then shut down the Tigers. In the ninth inning Glenn Myatt pinch-hit for Buckeye and walked. The next batter singled but then Homer Summa lined the ball to first baseman Johnny Neun, who turned an unassisted triple play.
Buckeye reported to spring training in good shape in 1928 but developed a sore arm in late April. After missing nearly a month, he returned to work on June 23 but struggled. When his ERA rose over 7.00, the Indians gave him his unconditional release. The New York Giants signed Buckeye but after he surrendered six runs in his only appearance, they released him to Casey Stengel and his Toledo Mud Hens. Buckeye went 6-5 in 88 innings with the Mud Hens.
A popular tale about Buckeye grew out of the sore-arm period. He reportedly joined Uhle and Sherry Smith in a visit to Bonesetter Reese in Youngstown, Ohio. When the threesome returned to Cleveland, they each showed off how their range of motion had improved. In Buckeye's case he "took a full swing with his right arm and allowed as how it never felt better." The unanswered question was whether Reese had treated the wrong arm or if Buckeye was being a jokester.15
Buckeye started the next season with the Hens but was sold to the Atlanta Crackers in early June.16 He made two starts for Atlanta, allowing 10 runs in just over six innings. His next stop was with the Minneapolis Millers.
In 1930 Buckeye left the pro ranks to join the Racine Belles in the independent Wisconsin State League. After his release on August 1 he played semipro in Chicago. The American Association Milwaukee Brewers signed him in 1931 as a relief pitcher but after he posted an 0-2 record in 14 games, they released him on July 17. He still had enough talent to pitch at the semipro level and spent the next three seasons in the Wisconsin-Illinois League with the Chicago Mills, Madison Blues, and Racine.
Some players fade into anonymity when they leave the field. Buckeye had a way of keeping his name in the newspapers; unfortunately, it was not always for good news. In 1926 he was dating the future Mrs. Buckeye, Mildred Schwab, when he had an auto accident and she was injured. She filed a civil suit asking for damages. In the meantime, the couple were wed on August 9, 1928. This led to the odd spectacle in 1930 of the couple sitting side by side in court as a verdict for $1,408 was awarded to Mildred.17
The couple settled in Wisconsin in Waukesha County, just outside Milwaukee. Their daughter, Mary Lee, joined the family in 1932. Buckeye made headlines twice in 1934. He ran for assessor in his village and won with nearly 90 percent of the vote. He was also the victim of a theft that saw a young thief steal $3,000 worth of diamonds from Buckeye's home. 18
The family moved north to Rhinelander, Wisconsin, for Buckeye to work as a salesman and then sales manager for the Rhinelander Brewery. In his spare time he hunted and was a breeder and judge of hunting dogs, most notably pointers. He and some friends formed a business association that placed slot machines around the area. In 1938 they were arrested and brought to trial as part of a wide-ranging case looking into corruption and gambling in the county. They were convicted and sentenced to six months jail time.
In 1941 Buckeye and his co-defendants were finally ordered to jail to serve their six months. They had "obtained five stays of execution to enable them to testify as state witnesses in other cases."19 A few days later, a Circuit Court judge ruled that they did not have to serve the sentence. In early February Governor Julius Heil issued pardons and commuted some sentences but refused to offer executive clemency in the corruption case.20
Buckeye returned to his work with the brewery and managed the baseball team in Rhinelander. He left the company in 1945 and moved to Toledo, where he went into the automobile sales business. In 1950 he opened a General Motors dealership called Buckeye Motors. Mildred died in April 1954. About a year later, Buckeye retired and moved back to Gray, Indiana.
Buckeye had a second marriage to Alveretta D. Alexander on May 15, 1957, in Indiana. She died of breast cancer in 1972. In his later days he spent time with Mary Lee, his daughter with his first wife, and her family in Richmond, Indiana, and summered in Wisconsin. Whether he maintained a residence in Gary after Alveretta's death is uncertain. He was stricken with a heart attack at his Stone Lake, Wisconsin, home and died on November 14, 1975. He was buried in the Ottawa Hills Memorial Park in Toledo, Ohio.
In the 1950s Mary Lee Buckeye married a man named Herb Pomeranz. Their son Mike was an all-state high-school baseball player in Richmond who learned valuable lessons from his grandfather. Mike in turn passed along his talent and love of baseball to his two sons, Stuart and Drew, both pitchers. Stu Pomeranz, a right-hander, played for Baltimore in 2012; Drew, a left-hander, broke into the major leagues in 2011 and signed a free-agent contract to play in San Diego in 2020.
Acknowledgments
This biography was reviewed by Andrew Sharp and Len Levin. It was fact-checked by Kevin Larkin.
Notes
1 Jack Keene, "Sport Dope," Topeka (Kansas) State Journal, June 26, 1918: 4.
2 In Buckeye's file at the Baseball HOF Buckeye twice listed himself as 6-feet-1. He also mentioned that he played football at 270 pounds and then got down to 250 when in baseball shape.
3 James E. Doyle, "The Sports Trail," Cleveland Plain Dealer, February 22, 1927: 17.
4 "Russell Shuts Out Senators," Bridgeport (Connecticut) Evening Farmer, June 20, 1918: 9.
5 Baseball Reference lists him as attending Wabash while Football Reference lists him with no college. On his questionnaires for the HOF, he twice listed that he did not attend college.
6 "Griffith Has Picked up Another Johnson, Maybe," Washington Evening Star, June 16, 1918: 51.
7 Denman Thompson, "Break Between Big Leagues Over Perry Case Is Unlikely," Washington Evening Star, June 20, 1918: 19.
8 Louis Dougher, "Hovlik and Waldbauer Join Griffs This Week," Washington Times, July 8, 1918: 16.
9 "May Not Hurl Again," Lake County Times (Hammond, Indiana) March 27, 1922: 8.
10 "Pro Football Contract Passed Up by Buckeye," Cleveland Plain Dealer, September 10, 1925: 21.
11 "Buckeye," Cleveland Plain Dealer, February 25, 1925: 6.
12 "Buckeye Stunned Yankee Chieftain, Then Beat Team," Rhinelander (Wisconsin) Daily News, January 28, 1945: 6.
13 Henry P. Edwards, "Speaker Worries Over Hurlers Wane," Cleveland Plain Dealer, March 29, 1925: 22.
14 "Indians Must Win to Cinch Second," Cleveland Plain Dealer, September 27, 1926: 18.
15 "Players Like to Believe They're Helped," Knoxville (Tennessee) News-Sentinel, February 21, 1939: 8.
16 "Big Buckeye," Atlanta Constitution, June 6, 1929: 19.
17 "Wife of Ball Pitcher Wins in Friendly Suit," Kenosha (Wisconsin) Evening News, February 27, 1930: 8.
18 "Confesses to Stealing Gems from Friend," Wisconsin State Journal (Madison), January 22, 1934: 6.
19 "Slot Machine Operators Must Serve Sentences," Appleton (Wisconsin) Post-Crescent, January 24, 1941: 14.
20 "Pardons Granted Two by Governor, Three Terms Cut," Oshkosh (Wisconsin) Northwestern, February 8, 1941: 11.
Born
October 16, 1897 at Heron Lake, MN (USA)
Died
November 14, 1975 at Sand Lake, WI (USA)
If you can help us improve this player's biography, contact us.
https://sabr.org/sites/default/files/Buckeye-Garland.jpg
600
800
admin
/wp-content/uploads/2020/02/sabr_logo.png
admin
2020-03-02 12:45:42
2020-04-09 14:37:25
Garland Buckeye