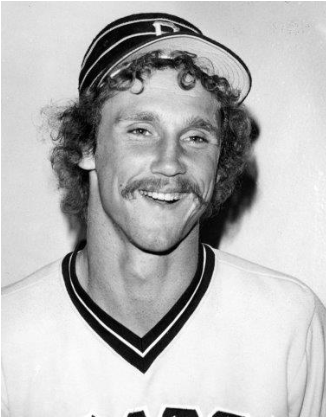 ---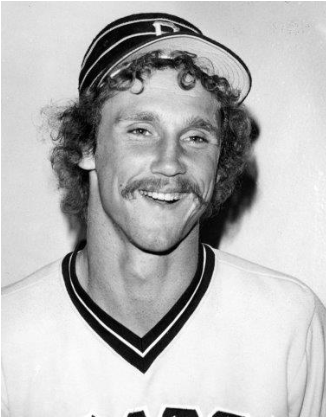 Immortalized in the movie Field of Dreams, Archibald "Moonlight" Graham stands as the embodiment of the soul of a baseball player. His dream to simply play in at least one major-league baseball game and forever etch his name into the annals of baseball history is one shared by baseball players and fans alike. Graham took over in right field for the New York Giants during the last two innings of a game against Brooklyn on June 29, 1905, and never played again in the major leagues. Gary Hargis stands as a modern-day Moonlight Graham, carving his name in the baseball annals forever in 1979.
Gary Lynn Hargis was born on November 2, 1956, in Minneapolis to Harold Lynn and Patricia Lorraine (Orbeck) Hargis. Harold was an Air Force veteran of the Korean War. The family moved in 1971 to Lompoc, California, where he worked as a safety specialist for several nuclear-reactor industry companies. Gary Hargis grew up with four sisters. He excelled in baseball at Cabrillo High School in Lompoc. In his senior season, the Cabrillo team went 22-6.
In the star-studded 1974 amateur draft, the Pittsburgh Pirates selected the 17-year-old infielder Hargis in the second round. (In the first round, a Cabrillo High teammate, outfielder Kevin Drake, was selected by the Houston Astros.)
After signing a contract for a bonus described as "enough to buy a new car,"1 Hargis was assigned to the Gulf Coast League Pirates of the Rookie League where he played in one game with one plate appearance. Shortly he was re-assigned to the Niagara Falls Pirates of the short-season New York-Penn League. In 62 games, Hargis batted .295 with two homers and 28 RBIs at shortstop. He demonstrated good speed by stealing 20 bases in 23 attempts.
In 1975 Hargis was assigned to the Salem (Virginia) Pirates of the Class A Carolina League, where he played in 134 games at shortstop and part of one contest at third base. Hargis hit .268 for Salem with two home runs, 53 RBIs, and 17 stolen bases. Hargis's fielding was the most telling line in his statistical summary, but not for a very impressive reason: He made 45 errors in 618 chances at shortstop.
The spring of 1976 saw Hargis moving up the minor-league ladder, playing for the Shreveport Captains of the Double-A Texas League. In 130 games playing second base and shortstop, he hit .272 with three home runs, 39 RBIs, and 19 stolen bases. He showed considerable improvement defensively, cutting his errors to 17 in 658 chances at the two middle-infield positions.
Hargis reached Triple A in 1977, playing for the Columbus Clippers of the International League. His hitting still showed he was a prototypical weak-hitting utility infielder: .252 in 104 games with four home runs and 52 RBIs. On July 24 Hargis notably hit two home runs including a grand slam for six RBIs in a 7-6 victory over Charleston. Not known for his power, Hargis commented, "That's the first time in my life I ever hit two homers in a game — except for Little League."2 He made 17 errors in 412 chances, predominantly at shortstop, and stole 13 bases.
Hargis returned to Columbus for the 1978 season, and the second season at Triple A seemed to be good for him. Getting used to the pitching at that level, he responded with a .283 batting average, 10 home runs and 45 RBIs in 107 games played at second, third, and shortstop. He made 18 errors in 407 chances. On June 28 Hargis went 6-for-7 in a doubleheader against Rochester. He had lost his regular game bat and was forced to use his batting-practice bat, which was an ounce heavier. He was 6-for-6 in the twin bill until he lined out in his final at-bat of the night. After the season, because of a history of shoulder injuries, Hargis spent time in winter ball working on a low side-arm throwing motion.
In the spring of 1979 the Pirates took a long look at Hargis at their major-league camp. He played in 10 spring games at second base, third base, and shortstop, primarily as a backup to Rennie Stennett. That spring Hargis commented, "I feel like I've spent my time in Triple A. I'd rather sit on the bench in the major leagues than play another year in the minor leagues."3
That season the Pirates relocated their Triple-A affiliate to Portland of the Pacific Coast League. Hargis was assigned once more to Triple A. In the first inning of his first PCL game, he smacked a two run-homer in Portland's 5-4 win over Tacoma. For the season, he hit .277 with five home runs and 42 RBIs, and made 11 errors in 464 chances at second and short.
Although his 1979 minor-league numbers were not overwhelming, they were good enough for Hargis to get the call he'd been waiting for. When the rosters expanded in September, the Pittsburgh Pirates, fighting to make the playoffs, called up Hargis.
Hargis's only major-league game was a crucial one. On September 29 the Pirates faced the Chicago Cubs in Pittsburgh. The starting pitchers were Dennis Lamp for the Cubs and future Hall of Famer Bert Blyleven for the Pirates. The Pirates were in first place in the National League East entering the game with a 97-63 record and two games left to play. The Montreal Expos were two games behind the Pirates in the NL East Division with a 94-64 mark, and the Pirates' magic number to clinch a spot in the postseason stood at two.
The Pirates staked Blyleven to an early lead when Willie Stargell hit a first-inning two-run single and Bill Madlock's sacrifice fly made it 3-0. The Cubs got a run in the fifth. Blyleven was lifted with two outs in the sixth inning after allowing the Cubs to take a 4-3 lead with two doubles, a single, and a walk. The Cubs scored twice more after Blyleven left, and with a 6-3 deficit it seemed that Pittsburgh was in deep trouble. But the resilient Pirates got a run back in the bottom of the sixth and two more to tie the game in the seventh.
The game went on to extra innings. The Cubs took the lead in the top of the 13th, scoring an unearned run on Stargell's throwing error. In the bottom of the 13th, with two outs, shortstop Tim Foli singled off Cubs pitcher Bill Caudill. Pirates manager Chuck Tanner sent Hargis in to run for Foli. The Expos had already defeated the Phillies by this time, so the magic number for the Pirates to clinch a playoff spot remained at two. Dave Parker's infield hit put Hargis at second with Stargell coming up. Stargell would go on to share the NL MVP award with Keith Hernandez, but this day he struck out to end the game, stranding Hargis at second and Parker at first.
The next day the Pirates clinched the NL East crown as they defeated the Cubs, 5-3, and the Phillies downed the Expos, 2-0. The Pirates went on to sweep Cincinnati in the NLCS and win the World Series in seven games over the Baltimore Orioles. For his efforts, Hargis received a World Series share of $250.
After the 1979 season, Hargis spent time in the instructional league learning to play center field. His history of injuries and a questionable arm for playing shortstop prompted the move. Chuck Tanner had given Hargis high praise in the spring of 1979, saying, "He's a scrappy, tough kid who plays baseball hard. A Phil Garner type."4
But when the 1980 Pirates headed north from spring training, it was without Hargis, who was the final player cut from the roster. Sent back to Portland, he played a few games at shortstop, second base, and third base, but most of his playing time was in the outfield. On May 1 in a 13-3 win over Ogden, Hargis made two outs in an 11-run first inning in which every other Portland player reached base at least once. "I just couldn't believe that I'd made two outs in an inning. I've never done that," Hargis said. "If I'd made all three, I'd never have taken the field on defense."5 For the season, Hargis hit .278 with 5 home runs and 43 RBIs.
On February 28, 1981, Hargis married Brenda Beach of Santa Barbara, California. That season he split time between Portland and Buffalo of the Double-A Eastern League. Overall he played in 87 games as an infielder and outfielder, batting .272 with two home runs and 33 RBIs. It was his final season in Organized Baseball; he and his wife settled down in Southern California. His final minor-league statistics, embracing eight seasons during which he played in 812 games, were a respectable .273 batting average with 33 home runs and 335 RBIs. He stole 88 bases in 112 attempts and made 130 errors, the majority at shortstop.
One can't help but to compare Hargis's major-league career to Moonlight Graham's. Neither player had an official plate appearance but their names will forever be listed in baseball records as major-league players. Asked in 2005 about the comparisons, Hargis said, "You keep thinking, 'Just let me get in one game so my name can get into the book.' When you do, it's just like the movie. Your eyes light up, you never want the night to end. You just want to play ball, like you did when you were a kid."6
Thanks to Bill Mortell for his assistance and research.
Notes
1 Charlie Feeney, "Playing Games," Pittsburgh Post-Gazette, March 8, 1977: 13.
2 "International League Index," The Sporting News, August 13, 1977: 33.
3 Ron Cook, "Bill Robinson Finds Bat," Beaver County Times, March 28, 1979: B1.
4 Phil Musick, "Scrappy Rookie Hargis Impresses Tanner," Pittsburgh Post-Gazette, March 14, 1979: 19.
5 "Portland's Parade," The Sporting News, May 24, 1980: 39.
6 AP, "'Moonlight' Graham's One-Game Career Brought Plenty of Fame," Lubbockonline.com, Lubbock Avalanche Journal, June 26, 2005.
Born
November 2, 1956 at Minneapolis, MN (USA)
If you can help us improve this player's biography, contact us.
https://sabr.org/sites/default/files/Gary%20Hargis.png
600
800
admin
/wp-content/uploads/2020/02/sabr_logo.png
admin
2012-01-04 20:30:10
2021-05-04 12:13:29
Gary Hargis