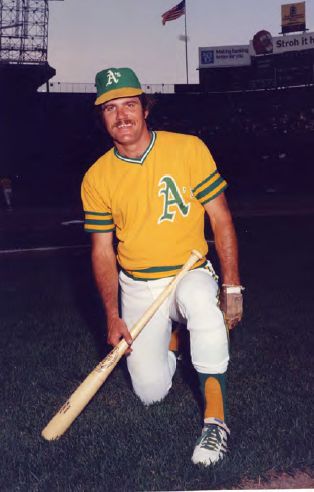 ---
Baseball lifer Gaylen Pitts knows all about perseverance, patience, hard work, and fulfilling a dream. He toiled as a versatile infielder for ten years in the minor leagues and missed almost two full seasons serving his country during the Vietnam War before he got a chance on the big stage as a midseason temporary call-up to the Oakland A's in 1974 and as a September call-up the following season. He parlayed 44 at-bats in 28 big-league games and 13 years in the minors into a career spanning four decades as a respected manager, coach, scout, and talent evaluator, most notably in the St. Louis Cardinals organization.
Gaylen Richard Pitts was born on June 6, 1946, in Wichita, Kansas, the first of three children (all boys) born to Kansas natives Carl and Dessie (Duncan) Pitts. Carl worked as a produce manager at a grocery store, but yearned for more. In 1952 the family moved to Mountain Home, Arkansas, a picturesque small town in the Ozark Mountains, located near the Missouri border, where the family had regularly vacationed. They purchased a resort, Fisherman's Lodge, situated on Norfolk Lake, a local tourist attraction.
"As a kid I played catch with my father in the back yard," said Pitts of his introduction to baseball.1 "And then I got involved in the town's Little League program and played through Babe Ruth and American Legion. I was always a shortstop in my youth and in high school." Gaylen was a natural athlete, gifted with speed, agility, and strength. At Mountain Home High School he starred as the quarterback of the football team and also played basketball. However, baseball was his passion since grade school, when he spent afternoons playing on local sandlots and learning about the St. Louis Cardinals through the voice of its legendary broadcaster, Harry Caray. "You couldn't help being a Cardinal fan growing up where I did in a small town in northern Arkansas," Pitts told the author. "We listened to all their games on the radio. It was Cardinal territory."
The right-handed Pitts distinguished himself as a strong-armed, sure-handed shortstop in high school for coach Don Riggs, who was also a bird-dog scout for the Cardinals. "Riggs was instrumental in my development as a player," Pitts said. He began attracting the attention of big-league scouts in his junior year thanks to glowing reports by Riggs. "Fred Hahn, the head scout of the Cardinals, who happened to live in Fayetteville in northern Arkansas, came over and started following me," Pitts said. Brooks Robinson's father (Brooks Sr.), a scout for the Houston Astros, followed me too. And there were also scouts from the Reds."
Pitts recalled that his parents were extremely supportive of his decision to pursue a career in baseball even though that meant declining a full scholarship to play football at Arkansas State University in Jonesboro and getting an education. Immediately after graduating from high school in 1964, Pitts had the opportunity he had been dreaming about. "Hahn took me to St. Louis to the old Busch Stadium-Sportsman's Park to work out on a Sunday afternoon with the Cardinals. I took BP and infield," he said. Following the teenager's impressive performance with big-league players in front of team brass, the Cardinals signed the 18-year-old Pitts at his parents' home. "I got an $8,000 bonus which I thought was a heck of a lot of money back then," Pitts said with a chuckle almost 50 years after that life-changing day. "The Cardinals also gave me an incentive bonus if I made Triple-A or Double-A."
Pitts began his professional baseball career as a shortstop with the Cardinals of the Sarasota Rookie League in 1964 (it was renamed the Florida Rookie League in 1965 and then renamed the Gulf Coast League in 1966). "It was a big transition," he said. "I came from a small town and a small high school, and I had never been away from home. I had to drive down to Sarasota where I didn't know anybody. But the Cardinals made me feel at home. I knew right away that I had to step up my game because everybody was so good." Pitts played in 56 of the team's 60 games, batting .227. He moved up to the Class A Cedar Rapids (Iowa) Cardinals of the Midwest League in 1965. He improved his batting average to .243 while playing in 98 of the team's 114 games.
From the outset of his professional career, Pitts was exposed to the "Cardinal Way" of playing baseball with a stress on fundamentals, situational hitting, and a cerebral approach to the game. "George Kissell was there overseeing all instruction," said Pitts. "You got taught the right way." Kissell, a renowned baseball instructor and Redbird legend, influenced practically every player who went through the Cardinals' system from the 1940s through the 1980s. "I had excellent coaching with the Cardinals and got started out on the right track. St. Louis had good minor-league managers who had played in their system." said Pitts. "My first manager was Fred Koenig and then I had Ron Plaza the next two years." Pitts said Kissell, Koenig, and Plaza were patient, yet demanding, and credited them for his eventual rise to the big leagues.
Pitts's third professional season was interrupted after he had played just 15 games for Cedar Rapids in 1966 when he was drafted into the Army. "I couldn't get into a Reserve unit even though I was going to school part time at Arkansas State in the offseason," he said. The Vietnam War affected minor-league and big-league rosters across the nation as players were drafted or had seasons interrupted to serve in the National Guard or Reserve. Pitts was initially stationed at
Fort Ord, California, where he trained as a radio operator. He was sent to South Vietnam in 1967 and was stationed in Qui Nhon on the central coast for 5½ months, seeing active combat as a specialist.  He applied for a special early release through the Army's seasonal employment program and was discharged three months early in order to report to spring training in St. Petersburg in 1968. "The Army made me grow up," said Pitts candidly. "Even though I didn't want to go, I was glad I did because I didn't have to go into the reserves and miss time during the baseball season."
Pitts was reunited with Ron Plaza in 1968 with the St. Petersburg Cardinals in the Class A Florida State League after an almost two-year absence from competitive baseball. "It was a tough transition at first," he said, "but I was able to make adjustments rather soon." He was in excellent physical shape, but needed to hone his timing at the plate and in the field. After a month in Florida, Pitts was reassigned to the Modesto Reds in the Class A California League. Modesto was filled with young talent, including future big leaguers José Cruz, Willie Montañez, and Ted Simmons, but finished under .500. Pitts batted .259 and displayed the versatility that would later be his ticket to the big leagues, however briefly, by playing shortstop, third base, the outfield, second base, and first base.
Pitts progressed through the Cardinals' system, playing for the Double-A Arkansas Travelers of the Texas League in 1969 and the Tulsa Oilers of the Triple-A American Association in 1970. "Shortstop was my natural position, but I started to grow and get bigger. So I was moved to third base when I got to Double-A. I played a little second, too. They didn't think that I had the range to play shortstop anymore. I had a little power, so third base seemed like a good position." He clouted 11 home runs with Arkansas, followed by nine for manager Warren Spahn at Tulsa, ranking third on the team each season. The St. Louis Cardinals purchased his contract at the end of the 1969 campaign and added him to their 40-man roster.
In preparation for what turned out to be his first and only spring training with a big-league club, Pitts participated in the Florida Instructional League, where he worked closely with Kissell. Pitts laughed when the author asked him about his first impressions of the Cardinals players in camp in 1970. "Red (Schoendienst) was the manager. And we had all of those guys I followed as a kid. It was a little overwhelming. I lockered next to Dal Maxvill and we became close friends. He kind of took me under his wing and made me feel at home and relax." Pitts's stay with the Redbirds, coming off their worst season since 1959, was brief. "Back in those days you did not stay with the big-league club long, maybe about two weeks," he explained. "Teams wanted to set their roster a lot earlier than they do today."
Assigned to Tulsa, Pitts saw his tenure with the only organization he knew come to a conclusion in July 1971 when he was shipped to the Oakland A's for journeyman pitcher Dennis Higgins. "I went to Des Moines, Iowa, the A's Triple-A club in the American Association and played for Sherm Lollar. He was a real jewel to play for," said Pitts. Pitts played for the Iowa Oaks and Lollar again in 1972, clubbing 10 home runs, but batted just .220. He was moved back to shortstop to make room for hot prospect Phil Garner.
Pitts chuckled when asked to compare the A's and Cardinals' farm systems. "They were quite a bit different because of Charley (Charles O. Finley). He was the owner and ran things. You never knew what he was going to do," said Pitts. "Everyone had mustaches and long hair, but they let you play."
Beginning his ninth year in the minor leagues, the 27-year-old Pitts was at a crossroads in 1973. He was assigned to the Tucson Toros, the A's new affiliate in the American Association.  With prospects Garner at third base and Manny Trillo at second base, Pitts was relegated to the role of supersub for the first time in his life. He played 43 games at short, 15 at second, seven at third, and even four in the outfield. Praised by manager Lollar for his "clutch hitting," Pitts batted a career-high .287 in 202 at-bats.2
After he started the 1974 season with Tucson, Pitts's long wait to debut in the major leagues finally came to an end.  "The A's had three guys get hurt at the same time, (second baseman) Dick Green, shortstop Maxy (Dal Maxvill), and (third baseman) Bando. The A's needed an infielder who could play several infield positions," said Pitts of the confluence of injuries that prompted his call-up.
"We were playing Albuquerque in Tucson and Sherm Lollar called me in and told me I was going up. I caught an early flight the next morning to Oakland – they were playing an early-afternoon game. My debut was on Mother's Day. I got to the ballpark, but didn't expect to play. (Manager) Al Dark said, 'You're playing.' I didn't even have the chance to take BP. I got dressed, got acclimated to the signs, and was out there playing second base."
Batting ninth and playing second, Pitts struck out his first two at-bats, and then lined a single that drove in Ray Fosse in the A's 9-2 victory over the Minnesota Twins on May 12. Described by A's beat reporter Ron Bergman as a "refugee from the bush leagues," Pitts started the next day at third base, went 1-for-3 and scored two runs in the A's 11-2 win over the Kansas City Royals.3 "Aging Rookie Gives A's an Even Break" read a national headline on May 14 after Pitts stroked three hits in four at-bats and drove in the only two runs in the second game of a doubleheader.4 In the bottom of the tenth inning, he belted his second double of the game off starter Lindy McDaniel to drive in Ted Kubiak for a dramatic walk-off, game-ending hit, giving the A's an exciting 2-1 victory over the Royals. Pitts held his own during his six weeks on the A's roster, going 10-for-41 in 18 games, including eight starts at third base and three at second base. He also served as a defensive replacement at third, second, and once at first.
Sent back to Tucson in June, Pitts platooned at shortstop with Tommy Sandt and filled in at third and second. He batted .246 in 67 games. He acknowledged that not many minor leaguers with a .250 batting average persevere 11 seasons hoping for a shot in the big leagues. "Usually you don't stick around that long. But I was single and stuck it out. I was in Triple-A a long time. But it was worth it – I'll tell you that."  Asked to describe the atmosphere and team cohesion on the 1974 A's, he said, "I felt comfortable with the A's. … Those guys were characters, but when it came time to play, they played. It was the best ballclub I was ever on. I was lucky to be there. They made you feel at home. We played hard, and played the game the right way. And we partied hard, too."
Despite his early season call-up in 1974, Pitts was not invited to the A's spring training in 1975. The jack-of-all trades played all four infield positions for Tucson and batted .268 in 135 games.  He was called up in September when rosters expanded. He played in ten games, typically as a late-inning defensive replacement, but did not start. In his last official at-bat in the big leagues, Pitts doubled off Nelson Briles in the ninth inning, driving in Matt Alexander, and then scored on Jim Holt's home run in the A's 16-4 thrashing of the Royals on September 20.
Oakland began to groom Pitts for a future coaching or managerial position. He was known for his serious and studious approach to the game, and his success and longevity were products of his versatility and sheer desire to compete. "I was not playing every day anymore," he said of the 1976 season with Tucson. "I had the chance to sit back on the bench and digest everything. I wanted to get into coaching. I was like a player-coach for manager Harry Bright and threw BP. When he was fired I took over the club for three days before Lee Stange came in." Pitts batted .261 in 106 games, and was still viewed as an ideal veteran role player, especially for teams like the Seattle Mariners or Toronto Blue Jays. "[Pitts] can play any position on the team [and] would be an asset to one of the expansion clubs," opined The Sporting News.5
Pitts was traded to the Chicago Cubs for outfielder Jim Tyrone on March 15, 1977, and was subsequently assigned to the Wichita Aeros of the American Association. "I asked for my release from the Cubs organization because I really wasn't playing anymore," said Pitts who batted just 12 times in the first six weeks of the season.  "I knew Rene Lachemann, manager of the San Jose Missions, from my playing days. So I called him up and signed. I wound up playing every day." The oldest player on the roster, Pitts played in 92 games (mainly at third base and first base), batted .237, and served as an unofficial coach.
At the end of the season Pitts hung up his spikes for the last time as a player. "It was the right time to transition into coaching," said Pitts, whose big-league career consisted of 28 games in which he batted .250 (11-for-44).  In his 13-year minor-league career he batted .248 in 1,249 games. 
Weeks after retiring, Pitts began preparing for his first managerial position, with the Modesto A's, Oakland's affiliate in the Class A California League.  "Back then you didn't have any coaches in the lower levels," said Pitts. "You were on an island by yourself and had to learn on the fly." After two losing seasons with weak rosters, he decided to take a year off. "The A's farm system wasn't run very well," said Pitts candidly. "[Farm director] Norm Koselke didn't have any baseball background [he was Mrs. Finley's cousin]. The whole system was in turmoil."  The notoriously cheap Finley ran a remarkably understaffed front office without a scouting director.
Pitts returned to the Cardinals organization in 1981 when he was named manager of the Arkansas Travelers of the Double-A Texas League. "The Cardinals had a coaching philosophy," he said. "George Kissell, the field coordinator and guy who had been with the organization the longest, would take guys that had played in the organization and bring them in as coaches in the tail end of their career. Then they get a chance to manage in the Florida Instructional League. The coaches and managers all knew the Cardinals philosophy."
After two years with Arkansas, Pitts "stepped back" from managing to serve as Jim Fregosi's coach with Triple-A Louisville in 1983-1984. "I learned a lot from Fregosi in those two years," he said. "The time with him really shaped my managerial career going forward." Pitts skippered five different Cardinal farm teams over a six-year period (1985-1990), and guided the Travelers to the Texas League championship in 1989.
In 1991 Pitts made it back to the major leagues. "Dal Maxvill was the general manager of the Cardinals and we were friends," he said. "I didn't know manager Joe Torre, but Maxy told [Joe] that I'd be a good fit, so I was hired." Pitts served on Torre's staff for five years as a bench, third-base, and bullpen coach (1991 to 1995), during which time the Cardinals had three winning seasons in a period marked by labor unrest and a baseball strike. Walt Jocketty replaced Maxvill after the 1994 season and Torre was fired during the 1995 season. Pitts interviewed unsuccessfully for a position on manager Tony La Russa's staff in 1996.
After serving as the Cardinals minor-league field coordinator for a year, Pitts resumed his managerial career in 1997. He piloted the Louisville Redbirds for one season, then followed with a five-year tenure as the skipper of the Memphis Redbirds of the Pacific Coast League (1998-2002). Affectionately called Chief by his players, Pitts was a hands-on teacher who stressed fundamentally sound ball like his mentors Kissell, Koenig, and Plaza. Given his experience as a minor leaguer, he could empathize with his players' frustrations, fears, and struggles. In 2000 he guided the Redbirds to the league championship. In anticipation of facing tough left-handers in the playoffs, Pitts encouraged Mike Jorgenson, the Cardinals farm director, to promote right-handed slugger Albert Pujols in his first year of professional ball from A-level to Triple-A for the team's playoff run. Pujols played in three games in the last week of the season for Memphis, then batted .302 in 11 postseason games and hit the pennant-winning home run in the 13th inning against the Salt Lake City Buzz.6
"I was just worn out," said Pitts of his decision to resign after the 2002 season. "My hips were hurting and I thought I'd gradually get into something else, like scouting. It was probably a mistake. I should have returned to Triple-A Memphis." But the pull of baseball was too great to ignore. After interviewing for bench coach under manager Ned Yost of the Milwaukee Brewers, Pitts served as hitting coach for manager Cecil Cooper with the Indianapolis Indians, the Brewers' affiliate in Triple-A, in 2003. He was out of baseball the next two years in order to have both hips replaced.
Pitts made a successful return to managing in 2006 when he led the Class A Staten Island Yankees to the championship of the New York-Pennsylvania League. "The Yankees job intrigued me," said Pitts. "For one it was the Yankees. And secondly, I knew they had good players in their system and had some good drafts. And the pay was good." The Yankees wanted him to return in 2007, but the lure of returning to the Cardinals organization was too much. "GM Jocketty and I were friends and I knew the organization. It was like going home." Pitts piloted the Palm Beach Cardinals of the Class A Florida State League for two seasons. At the age of 62, Pitts retired from managing after the 2008 season. Over the course of 19 seasons, his teams posted a .511 winning percentage.
In 2009 Pitts was named assistant to player development for the Cardinals, and still held the position as of the end of 2013. "I go to all seven clubs during the season and to spring training," said Pitts, who still retained his youthful enthusiasm for the game. "I work with the players and the managers. A lot of them either played or coached for me. I'm another set of eyes on the players. I file reports on what I see. I report directly to GM John Mozeliak and Gary LaRocque, the farm director. I can work out of my home in Arkansas and travel by car to many of the teams."
As of 2013 Pitts resided in Mountain Home, Arkansas, with his wife, Julia (Ray) Pitts, a former schoolteacher originally from Denver. They met in 1984 when Pitts was coaching with Louisville, and married in 1985. They have one child, Travis.
"I was lucky," said the ever humble and modest Pitts about his 50-year career in baseball. "It doesn't always work out that way."
Acknowledgement:
The author expresses his gratitude to Gaylen Pitts, who was interviewed on October 22, 2013. Mr. Pitts also supplied additional information by email and read the final version of the biography to ensure its accuracy.
Sources
Baseball-Reference.com
Retrosheet.com
SABR.com
The Sporting News
Notes
1 Author's Interview with Gaylen Pitts on October 22, 2013. All quotations are from this interview.
2 The Sporting News, September 1, 1973, 27.
3 The Sporting News, June 1, 1974, 15.
4 Press Dispatches, "Aging Rookie Gives A's an Even Break," Milwaukee Journal, May 14, 1974, 2.
5 The Sporting News, October 2, 1976, 31.
6 Dennis Abrams, Albert Pujols (New York: Infobase, 2008), 42.
Born
June 6, 1946 at Wichita, KS (USA)
If you can help us improve this player's biography, contact us.
http://sabr.org/sites/default/files/GaylenPitts.JPG
600
800
admin
/wp-content/uploads/2020/02/sabr_logo.png
admin
2012-01-04 20:27:01
2020-12-05 09:12:58
Gaylen Pitts