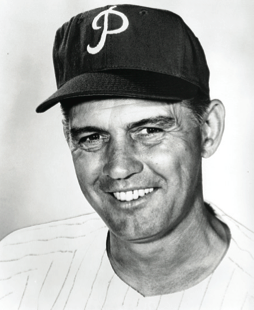 ---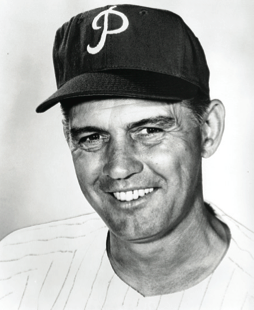 Even as an 18-year-old, Brooklyn Dodgers rookie shortstop Gene Mauch aspired to become a manager one day and his inspiration was his manager, Leo Durocher. Mauch emulated Durocher's play-to-win style. He achieved recognition in the minor leagues as a fiery utility infielder but never made the grade in the major leagues during nine seasons—he never played more than 72 games in a season. Instead, he made his reputation as a clever, arrogant major-league manager who managed the most years (26) and the most games (3,940) of any manager who never nabbed a pennant. Three times his squads almost captured the flag, only to come up short.
Gene William Mauch was born on November 18, 1925, in Salina, Kansas, but he grew up mostly in Southern California, to which the family moved in 1937. Gene's father, George William Mauch, owned a bakery in Salina and Gene's mother, Mamie, worked as a baker there until the Great Depression hit and the business folded. After a few years of shifting the family around Kansas and finding only hardscrabble jobs in the oilfields, Gene's father set out to find work in California. He eventually wound up in Los Angeles as sales manager of a car dealership and then sent for the family. The elder Mauch encouraged young Gene in baseball, as the precocious 12-year-old had shown both talent and self-confidence in the sport. Gene had a sister, Jolene, three years younger, with whom he was very close.
In Los Angeles Gene commuted across town to attend John C. Fremont High School, which had a reputation as the best baseball school in town. He also played basketball and was on the wrestling team. He played American Legion baseball for the Sunrise Post of Los Angeles, the 1942 national champion. Mauch picked up the nickname Skippy or Skipper, which was later shortened to Skip. In 1943 he was one of eight players from the Legion team who were signed to minor-league contracts. Gene was scouted by Tom Downey of the Brooklyn Dodgers, and signed personally by Branch Rickey.
The 17-year-old Mauch was sent to the Dodgers' Durham Bulls farm club in the Class B Piedmont League, and the 5-foot-10-inch, 165-pound athlete's early play foreshadowed his signature brand of baseball: "small ball," or as Mauch himself once called it, "little ball." It meant utilizing every means possible to score runs and not depending on base hits. Techniques like bunting, hitting behind runners, hitting to the opposite field, and, when all else failed, interfering with a player so he would not be able to make the play. Maury Allen wrote, "He was almost always described as 'brash,' a baseball term that seems to mean pushier than your humble ability would normally allow for."[fn]Maury Allen, Bo: Pitching and Wooing (New York: Dial Press, 1973), 12."[/fn]
With his aggressive style, it didn't take long for Mauch to gain notoriety. In a game against Portsmouth on June 30, 1943, he ran into the second baseman to break up a double play. Fisticuffs ensued, then a bench-clearing brawl. Once order was restored, the men in blue ejected Mauch. In the major leagues, Mauch was ejected five times as a player and 43 times as a manager. He hit .322 in 32 games for the Bulls and was advanced to the Montreal Royals of the International League, where he batted just .169.
In early April 1944, sports scribes were buzzing about the Brooklyn Dodgers' Leo Durocher's return to the field as a player-manager. Leo the Lip was to start the season at second base to steady a young rookie — Mauch, who was playing shortstop. Mauch had been promoted to the parent team because of a shortage of players caused by World War II. But those designs went astray when Durocher was injured in a preseason exhibition contest at Ebbets Field. Playing against the Boston Red Sox, Mauch was trying for a force play and he let go an errant throw that broke Durocher's thumb and ended his comeback ideas. Far from being angry about the injury, Durocher presented Mauch with a new topcoat.[fn]Ron Fimrite, "A Man Has to Care." Sports Illustrated, October 7, 1985."[/fn]
Shortstop Mauch made his major-league debut against the Philadelphia Phillies on Opening Day, April 18. He was 0-for-2 in the 4-1 Dodgers loss at Shibe Park in Philadelphia. Mauch picked up his first hit the next day, and also had two RBIs in a 5-4 Dodgers win, but he lasted only three more games; he had a total of 15 at-bats with a .133 batting average before he was sent down to Montreal.
Mauch left civilian life in May when he was summoned into the military. He served in the Army Air Corps at Marana Army Air Field in Arizona, where he played baseball for the Marana Hosses in the Tucson Semipro League. Later Mauch was sent to the Cadet Training Corps and was learning to fly an airplane when the war ended. He was honorably discharged in the spring of 1946 and returned to professional baseball. He was assigned to St. Paul in the American Association, where he played shortstop and batted .248.
On May 3, 1947, Brooklyn dealt Mauch along with Hank Behrman, Kirby Higbe, Dixie Howell, and Cal McLish to the Pittsburgh Pirates for Al Gionfriddo and $100,000 cash. Mauch, by now 21, did not start regularly, but he got into 16 games as a Buccaneer, starting seven. He also played second base for the Pirates' Indianapolis farm team, and in 58 games he compiled a .300 batting average. That December, the Pirates swapped Mauch back to the Dodgers with Billy Cox and Preacher Roe for Dixie Walker, Hal Gregg, and Vic Lombardi.
The 1948 season commenced and Mauch got to wear Dodger blue in 12 games (he started three). He batted just .154 before he was placed on waivers on June 7 and claimed by the Chicago Cubs. Mauch henceforth would primarily be known as a second baseman although he would be called on to play shortstop or third base when needed. He was employed by manager Charlie Grimm as a leadoff hitter, and appeared in 53 games, had 138 at-bats, and hit .203. Mauch, a right-handed hitter, belted his first major-league home run on June 30, off right-handed pitcher Jim Hearn of the New York Giants during a 9-1 Cubs win. Mauch would remain good friends with Cubs teammate Peanuts Lowrey for the rest of his life. They were both excellent golfers, and Lowrey served as a coach for Mauch when Gene became a majorleague manager.
Mauch toiled as a utility infielder for the Cubs in 1949, and then was dealt to the Boston Braves for pitcher Bill Voiselle. In his two seasons in Boston, Mauch was probably best known for committing an error that made a loser out of Warren Spahn, after Spahn had pitched 152⁄3 innings against the Dodgers on April 23, 1951. By July of that year Mauch was hitting just .100 and was rarely seeing any action so the Braves demoted him to their farm team in Milwaukee.
On November 19, 1951, the New York Yankees selected Mauch from the Braves in the Rule 5 major-league draft. He appeared as a Yankee in The Winning Team, a movie released in 1952 about Hall of Fame pitcher Grover Cleveland Alexander that starred Ronald Reagan as Alexander. Mauch, his friend Lowrey, and four other major leaguers were used as extras.
Before the 1952 season began, the St. Louis Cardinals claimed Mauch o waivers from the Yankees. As a Redbird, Mauch played in only seven games with three at-bats and no hits. On May 21 St. Louis released him, and the same day he re-signed with the Braves, who assigned him again to Milwaukee. The Brewers went on to the American Association playoff finals against Kansas City and in a seven-game series captured the league championship. Mauch vividly displayed his competitive intensity in the third game, when he got into a "knockdown drag-out fistfight" with Kansas City catcher Roy Partee."[fn]The Sporting News, October 1, 1952, 39. [/fn]
As 1953 approached, Mauch had been in "The Show" with five major-league teams and had never secured a safe roster spot or a starting role. Yet opportunity was to beckon for the utility infielder. The Braves made him the manager of the Atlanta Crackers of the Southern Association, their Double-A club. Red Smith of the New York Times recalled that Branch Rickey had tagged the teenaged Mauch as a future manager, remembering that the Mahatma had said, "Look at him and you think he's 16. Talk to him and you think he's 26. Talk baseball with him and you think he's 36."[fn]Richard Goldstein, "Gene Mauch, perennial contender, Dies at 79," New York Times, August 10, 2005.[/fn] Mauch had wanted to become a manager since his first year in the big leagues playing for Leo Durocher.
During the season, Mauch fought with his players and umpires. As a player-manager he appeared in 111 games and batted a respectable .268. Also on his squad were Art Fowler, who went on to become a major-league pitcher and pitching coach, and Chuck Tanner, who became a major-league outfielder, coach, and manager. Mauch's Durocher-like intensity may explain why he did what he did at season's end. Although he managed the Crackers to a third-place finish, Mauch resigned as the manager. He later said that he felt he wasn't ready to manage at that time. The Braves released him, and he signed with the Chicago Cubs.
For the next three seasons Mauch played second base for the Los Angeles Angels of the Pacific Coast League, the Cubs' top farm team. His best season was 1956, when the Angels won the PCL pennant, Mauch hit .348 with 20 home runs and 84 RBIs, and was named to the league all-star team. In September the Cubs sold him to the Boston Red Sox, and as a September call-up he batted .320 in seven games.
In 1957 Mauch recorded 222 at-bats in 65 games with the Sox and hit .270 with ten doubles and three triples. His final game as a major leaguer came on September 28 against the visiting Yankees when he singled as a pinch-hitter before 19,063 of the Fenway faithful. Although 1957 was Mauch's last as a big-league ballplayer, it was also his best year in the majors — 28 of his 68 major-league RBIs came in that season.
In 1958 Mauch accepted the managerial spot with Boston's American Association affiliate, the Minneapolis Millers. On the Millers' roster that year besides Mauch were 25 past or former major leaguers, hurler Bill Monbouquette, who later played for the Red Sox and Yankees, and Pumpsie Green, who broke the color line on the Red Sox. Mauch put himself in the lineup for 65 games and managed the team to a 4-0 sweep in the Junior World Series over the Montreal Royals of the International League.
The next season Mauch again steered the Millers to the Junior World Series against the Havana Sugar Kings. SABR member Stew Thornley wrote of the event, "Not only were two contests, including the decisive seventh game, decided in the last of the ninth inning and another two in extra innings, but it was the only Junior Series in which the submachine guns outnumbered the bats."[fn]Stewthornley.net/millers_havana, accessed May 7, 2013."[/fn]
The series began shortly after Fidel Castro deposed dictator Fulgencio Batista. Castro and his guntoting rebels made their presence and baseball team allegiance known. The Sugar Kings were managed by Preston Gomez, who in the early 1980s became Mauch's third-base coach with the California Angels. Havana's roster included future major leaguers Luis Arroyo, Mike Cuellar, Cookie Rojas, and Tony Gonzalez. (The latter two would play for Mauch on the 1964 Phillies team.) The first three games of the Junior World Series were scheduled for Minneapolis, but after the first two games, which the teams split, snow forced the contest back to Cuba. Castro and his armed troops attended the remaining games. A young Minneapolis Miller infielder, Carl Yastrzemski, wrote in his autobiography, "We had been warned not to leave the hotel… With the noise and the guns it was just scary."[fn]Carl Yastrzemski and Gerald Eskenazi, Yaz: Baseball, The Wall, and Me (New York: Doubleday, 1990), 51.[/fn]
Yaz's passage was confirmed by Mauch, who said, "Our players were truly fearful of what might happen if we won."[fn]Stewthornley.net."[/fn] Before the start of the decisive seventh game, Castro walked by the Millers bullpen, openly patted his revolver, and said, "Tonight, we win." Havana did, 3-2.
In 1960, as Mauch geared for a third Millers season, he was offered the Philadelphia Phillies managerial post. Realizing that managing the Phillies would entail a long season, manager Eddie Sawyer had resigned after the team's opening game, saying "that he was 49 years old and wanted to live to be 50."[fn]Donald Honig, The Philadelphia Phillies, an Illustrated History, (New York: Simon and Schuster 1992), 167."[/fn]
Mauch was 34 years old when he accepted the job, at the time the youngest manager in the major leagues. Thus began his 26-year odyssey as a manager in major-league baseball. With the Phillies, he managed 1,331 games, won 646 and lost 684—all franchise records at the time.
The 1960 Phils went 59-95 and ended in the NL basement. In 1961 the team amassed 107 losses. The cellar dwellers were 46 games behind the firstplace Cincinnati Reds, and 17 games behind the seventh-place Chicago Cubs. They lost 23 consecutive games, yet Mauch kept his job.
The next season, 1962, the club began to turn things around with an 81-80 record, thanks to the production of the young Phillies players who were obtained when their former clubs gave up on them too soon—players like Johnny Callison and Tony Gonzalez. Also, Don Demeter and Clay Dalrymple had career years. The Associated Press writers' poll named Mauch the 1962 National League Manager of the Year. The 1963 Philadelphia team kept winning under Mauch's leadership at 87-75 and earned a fourth-place finish. Losing was not something Mauch took lightly, though. On September 22, 1963, the Phillies were leading the Houston Colt 45's 1-0 in the ninth inning when 5-foot-7 Houston rookie Joe Morgan, playing in his second major-league game, got a hit to beat the Phillies in the bottom of the ninth, 2-1. Mauch reacted afterword by overturning a table full of food in the clubhouse, and ruining two players' suits — which he reimbursed them for. After the incident however, the Phillies lost only one game in their final six, all road games against the Giants and the pennant-winning Dodgers.
In September 1964 Mauch's team seemed headed for the franchise's first flag since the 1950 Whiz Kids club. The Phillies were 90-60 and 61/2 games up on St. Louis and Cincinnati with 12 games to go. Then the September Swoon occurred. Mauch overused his two top twirlers, Jim Bunning and Chris Short. The aces were started in eight of the last 12 games, with four of those starts on two days' rest. On September 21 Chico Ruiz of the Reds stole home in a 1-0 Cincinnati win and the Phils dropped the next nine contests. With the collapse the Phillies ended one game behind the Redbirds in the standings. Some label this Philadelphia near-miss of a pennant as the "Phold," and the decade still draws criticism of Mauch.
Bobby Wine, who played 12 seasons under Mauch, recalled, "I don't know of a better strategist… One time Jim Bunning was having trouble with a baseball. The umpires would not give him a new one. Gene came out to the mound, dropped the ball on the ground and spiked it with his shoe. Bunning got a new baseball."[fn] Ken Peters, Associated Press,"Longtime MLB Manager Mauch dies at 79," July 8, 2005, USA Today.com/Sports. Accessed May 6, 2013, at usa30.usatoday.com/sports/ baseball/2005-08-08-mauch-obit_x.htm."[/fn]
Mauch was also one of the first managers to use double switches. Wine recalled, "I was playing shortstop and Gene came out to take out the pitcher. He told me I was out of the game, too. I said, 'Why me? I didn't give up the home run.' It was the first time I was involved in a double switch."
Despite the collapse, Mauch won the Associated Press polling for 1964 Manager of the Year.
Perhaps Larry Shenk, the Phillies' longtime vice president for public relations, summed up Mauch best: "Listening to Gene talk baseball was like listening to the Philadelphia Orchestra. Pure entertainment. He carries the burden of the '64 Phillies but if it wasn't for Gene's managing, we would never (have) been in position to win the thing."[fn]Ibid."[/fn]
From 1965 to 1967 the Phillies played better than .500 ball. In the 1965 All-Star Game, Mauch, managing because Johnny Keane, who had managed the Cardinals to the pennant, but then moved to the Yankees, directed the NL All-Stars to a 6-5 victory. The stern tactician maintained his intense passion to win. During the 1966 season, Jerry Grote of the New York Mets chased a foul ball into the Philadelphia dugout. He never made the catch—Mauch slugged him, preventing him from catching the ball. The incident prompted a rule change.
On June 15, 1968, 54 games into the season with his .500 ballclub, the Little General was discharged. The Phillies replaced him with 36-year-old Bob Skinner, their San Diego farm club manager. Upon his departure, Mauch had the most wins of any Phillies manager in the team's history, 646. (He was overtaken by Charlie Manuel's 727 wins and still counting as of 2013.)
In 1969 Mauch was given the helm of the majors' inaugural foreign team, the Montreal Expos. On August 22 the 39-87 Expos extended Mauch's contract for two more years. Montreal finished 52-110, which included a 20-game losing streak. Mauch remarked on the number of club records that had been set—most bases on balls, most wild pitches, most passed balls, most hit batters, saying something along the lines of "We can't be this worse again." He promised the club would win at least 70 games the next year.
Indeed, the 1970 Expos went 73-89. Mauch's pact was further extended. In 1973 he topped the league champion New York Mets skipper Yogi Berra for his third Sporting News National League Manager of the Year award. On October 1, 1975, after Montreal finished with a record of 75-87, Mauch was fired. Reporter Bob Dunn wrote, "When called to be told he was gone Mauch was playing golf near his home at Palm Springs, California. He returned the call, received the message, talked to the people involved, and went back on the golf course for another 18."[fn]Bob Dunn, "Expos Seek 'New Touch,' Send Mauch Packing," The Sporting News, October 18, 1975, 31."[/fn]
Calvin Griffith selected Mauch to command the 1976 Minnesota Twins. With contact hitter extraordinaire Rod Carew, the Twins seemed to be a team to fit Mauch's little-ball scheme. Yet, in his five years the club never got to the top of the American League West Division. Mauch resigned in August 1980 and joined the California Angels as director of player personnel in February 1981. He once said that he would never pound a desk, and he lived up to his word. In May he was made the manager after Jim Fregosi was fired. A strike-torn season resulted in a 51-59 record, fifth best in the AL West.
California got to the postseason in 1982, but buckled. Mauch's Halos captured the division crown and nabbed the first two games of the American League Championship Series but could not hold off the Milwaukee Brewers. Again pitching decisions blotted Mauch's reputation and during the Hot Stove season people chattered about the collapse. Fans, and moreimportantly the front office, particularly general manager Buzzie Bavasi, second-guessed Mauch's decision to bypass 13-game winner Ken Forsch to start Game Four of the ALCS. Mauch relied on Tommy John and Bruce Kison, both with three days' rest, for the last two games of the series. A two-run single by the Brewers' Cecil Cooper was the difference in the deciding Game Five. A few days later the Angels announced Mauch would not be back in 1983.
Even as Mauch was contending with health problems, baseball remained in his blood. In October 1984 the Angels rehired him as their manager. The 1985 Angels, who finished second in the AL West, one game back, resembled a prototypical Mauch club: small-ball players with a single power-hitter, and one intense skipper. Over the years the names of the sluggers changed: the Phils' Dick Allen, the Expos' Rusty Staub, and the Angels' Reggie Jackson. But the pattern remained the same.
One strike separated Mauch from a pennant and a trip to the World Series in 1986. In the ninth inning of Game Five of the 1986 ALCS, with the Red Sox on the verge of elimination, Boston's Dave Henderson powered a ninth-inning home run off Angels closer Donnie Moore. Boston won the game in extra innings, and the remaining two games to take the series. Mauch said, "For a few weeks after that, every morning when I woke up, I felt it in my stomach like a hot dagger in my belly button."[fn]Attributed to Dave Anderson, New York Times, March 1987 in Goldstein, "Gene Mauch, perennial contender."[/fn] In 2005, famed manager Joe Torre, then an Angels television analyst, said about Game Five, "I felt so badly in '86. I could still see it now, Reggie standing next to Mauch in the dugout waiting for the last out to be recorded. It wasn't to be."[fn]Ken Peters, "Longtime MLB Manager."[/fn]
Mauch managed the Angels to a 75-87 record in 1987. During spring training 1988, Mauch, 62 years old and a chain smoker, took ill and retired. At the time, he ranked fourth all-time in games managed. He told the sports scribes he found it "harder to cope with losses."[fn]Goldstein, "Gene Mauch, perennial contender."[/fn] In 1995 Bob Boone was named manager of the Angels, and he hired Mauch as bench coach. It was the last season the little general suited up.
In 2004 Mauch was inducted into the Pacific Coast League Hall of Fame. On August 8, 2005, he died at Eisenhower Medical Center in Rancho Mirage, California, at 79, after a long bout with lung cancer. Mauch was survived by his second wife Jodie, and a daughter, Leeanne.
This biography is included in the book "The Year of the Blue Snow: The 1964 Philadelphia Phillies" (SABR, 2013), edited by Mel Marmer and Bill Nowlin. For more information or to purchase the book in e-book or paperback form, click here.
Sources
National Baseball Hall of Fame player file card. National League Service Bureau file card.
Allen, Maury. Bo: Pitching and Wooing (New York: Dial Press, 1973).
Karst, Gene and Martin J. Jones, Jr. Who's Who in Professional Baseball (New York: Arlington House, 1973).
Russo, Jim with Bob Hammel, Super Scout: Thirty-Five Years of Major League Scouting (Los Angeles: Bonus Books, 1992).
Thorn, John, Pete Palmer, and Michael Gershman. Total Baseball: The Official Encyclopedia of Major League Baseball, 6th edition (Kingston, New York: Total Sports Publishing, 1999).
Carchidi, Sam, "Gene Mauch: A Strategist, An Innovator, A Great Manager," Baseball Digest, December 2005, 76.
Also consulted were baseball-almanac.com, baseballlibrary.com, baseball-reference.com, courant.com, wikipedia.org, espn.go.com, guardonline.com, int.com, minorleaguenews.com, nytimes.com, philadelphia.about.com, retrosheet.org,
The Sporting News, stewthornley.net, thetoolsofignorance.com, and the Washington Post.
Born
November 18, 1925 at Salina, KS (USA)
Died
August 8, 2005 at Rancho Mirage, CA (USA)
If you can help us improve this player's biography, contact us.
http://sabr.org/sites/default/files/Mauch_Gene_1.png
600
800
admin
/wp-content/uploads/2020/02/sabr_logo.png
admin
2012-01-04 20:08:53
2012-01-04 20:08:53
Gene Mauch