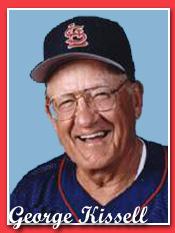 ---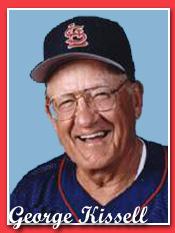 Joe Torre stood facing the outfield wall like a child in a time-out. Behind him, a short, blocky man fired a baseball against the concrete wall. Torre, standing six feet away, tried to field the rebound. Cardinals coach George Kissell was teaching the catcher to play third base, teaching the quick reactions the position demands. In 1971, his first full season at third, Torre won the National League Most Valuable Player Award.
"I learned more baseball from George Kissell than from anyone else in my life," Torre told the St. Petersburg Times in 1997, after he won the first of four World Series championships as manager of the Yankees. "A lot of people can play the game, but not as many people can teach the game. And George, to me, was the ultimate. Is the ultimate."1
Torre succeeded Mike Shannon as the Cardinals' third baseman. Kissell had used the same drill to convert outfielder Shannon. Shannon succeeded Ken Boyer. Kissell had used the same drill to train Boyer, a minor-league pitcher who became the 1964 MVP at third base.
More than 30 years after Kissell taught Boyer, he used a different method to introduce outfielder John Mabry to infield play. He told the young player to drop his glove and get down on his knees. "Basically, he just took me out there and beat me to death with a fungo," Mabry said. "I'd be on my knees just looking at the ball coming off the bat — with no glove."2
The Cardinals under Branch Rickey created the modern farm system. Kissell tilled more acres than any other man for nearly seven decades, spending most of those years in the bus leagues of the low minors. "He looks after details," Rickey said. "He is a 'cleaner-upper.' First man out, last man in."3 Kissell joined the organization when Stan Musial was a Class-D pitcher and stayed until he died, when Musial was a statue and Tony La Russa was the manager. La Russa, Torre, Earl Weaver, Sparky Anderson: Hall of Fame managers, students of George Kissell. "He could teach a snake to box," Anderson said.4
He loved the game and those who played it. In Kissell's personal papers, writer Howard Megdal found thank-you letters from former players ranging from All-Stars Keith Hernandez and Andy Van Slyke to unknown minor-league wash-outs. "He not only taught me how to play, he taught me how to live," Mike Shannon said.5
George Marshall Kissell became a Cardinal-for-life because of a rainout. He was born on September 9, 1920, in the village of Evans Mills, New York, near the shore of Lake Ontario. His parents, Helen (Van Duesen) and Ward Nicholas Kissell, owned a dairy farm. George's father was evidently a baseball fan; he took his son all the way to Washington, DC, in 1937 for the major league All-Star Game, where they saw Dizzy Dean suffer the broken toe that was the beginning of the end of his career.
George was a high school star, but a 5-foot-8 shortstop attracted little notice from the few scouts who ventured into the sparsely settled hills of western New York. He enrolled at Ithaca College, still clinging to his baseball dream. At home on the farm during the summer of 1940, he wanted to go to a Cardinals tryout camp in Rochester. The day before the tryout brought rain, leaving the fields too wet to cut the hay, so Ward Kissell cranked up his '36 Ford and drove his son to his future.
After the tryout, Cardinals scout Pop Kelchner asked George how much it had cost him to attend. The father and son calculated that, counting a night in a hotel, they had spent $19.80. Kelchner handed the boy a 20-dollar bill. A 20-cent bonus.
Starting at the bottom, Kissell hit .350 playing shortstop for Class-D Hamilton, Ontario, in 1941 and .308 at Class-B Mobile the next year. He began writing down his thoughts about the game. Returning to college to complete his degree, he wrote his senior thesis on how to play and teach baseball.
Then World War II interrupted his life. Kissell enlisted in the Navy in January 1943 and was commissioned as a lieutenant junior grade in the Seabees. Before shipping out to the Pacific theater, he married his hometown girlfriend, Virginia Caroline Colligan, in March 1944. He spent the rest of the war on Guadalcanal, arriving there after the bloody battle for the island was over.
When he returned home and reported for spring training in 1946, the Cardinals offered him a choice of continuing his playing career or taking a player-manager job. Kissell was only 25, but the organization had already recognized his leadership qualities. He agreed to manage Class-D Lawrence, Massachusetts, in the New England League.
It was the beginning of a 22-year slog through the bushes, from Class D to A: Lawrence and Lowell in Massachusetts; Hamilton, Ontario; Winston-Salem and Raleigh, North Carolina; Omaha, Nebraska; Columbus and Brunswick, Georgia; Lynchburg, Virginia; Peoria, Illinois; and Johnson City, Tennessee.
While managing Winston-Salem to the Carolina League pennant in 1950, Kissell got the call to the majors. The Cardinals wanted him as a September infield sub. He turned down the promotion, electing to stay with his young team, which included left-handed pitching ace Vinegar Bend Mizell and second baseman Earl Weaver.
During his grand tour of North America, George and Ginny made their offseason home in Sackets Harbor, New York, on Lake Ontario, where they raised their son, Dick, and daughter, Kay. Ginny taught home economics at the local high school, and George, who had earned a master's degree from Ithaca, worked as a substitute teacher. The couple loved fishing in the lake for northern pike. George and Dick took their beagles out to hunt rabbits. At the end of the school year in summer, the rest of the family joined George at his latest baseball address.
By 1960, baseball had become Kissell's year-round job. He managed the Cardinals' entry in the Florida instructional league in the fall and winter. After their children finished high school, George and Ginny moved permanently to St. Petersburg. Dick graduated from the University of Rochester and played for his father for one season in the rookie Gulf Coast League as an all-star outfielder before he entered medical school. "If I could have run as fast as he can and he could hit as well as I did," George said, "we might have — between us — made a big league ballplayer."6
In 1965 Kissell got off the managing treadmill to become a roving instructor in the St. Louis farm system. His duties included managing the short-season rookie league team in Florida and drawing up the major-league club's spring training plan every year for manager Red Schoendienst. He finally reached the majors in 1969 when Schoendienst made him the Cardinals' third-base coach. His seven years in the job qualified him for a baseball pension. One of his former pupils, Sparky Anderson, wanted him as a coach with Cincinnati, but Kissell wouldn't leave the Cardinals. "I'll never take the birds off my chest," he said. "When I take them off, that's my last day in baseball."7
General manager Bing Devine put him back on the road in 1976 as a troubleshooter. With the title of field coordinator, he roamed throughout the system. He advised a minor-league second baseman, Scott Boras, to find a different way to make a living (Boras became the game's most prominent player agent) and offered another longtime minor leaguer, Tony La Russa, a managing job in rookie league. La Russa found a better landing spot with the White Sox' Double-A Knoxville club of the Southern League. As he approached retirement age, Kissell had to connect with a generation of players young enough to be his grandchildren. Surveying their shaggy hair and beards, he said, "If you can hit, I don't care if your hair is to your navel."8 He warned them against the night life — "You can't hoot with the owls and soar with the eagles"9 — and peppered them with "Georgisms" that some remembered for decades:
"Being a baseball player means you need to be a sponge. If you're not, you're a rock, and you sink. We can't be rocks."
"Destroy the first pitch before it destroys you."
"It's a Cardinal sin to make the first or last out at third!"10
The players were new and different, but Kissell's lessons were time-tested, straight from the Rickey school. His first rule was "Don't copy. You have a body of your own and you have to adapt to your own style." He pointed to Musial: "Nobody would tell him to bat the way he did and probably nobody will bat that way again. But look what it did for him."11
"George is the only man I know who can talk for fifteen minutes about a ground ball," said 1980s Cardinals manager Whitey Herzog.12 Managers and general managers came and went, new stadiums replaced old, and the Anheuser-Busch brewery sold the franchise. Kissell endured.
When La Russa became the Cardinals manager in 1996, Kissell was cool toward him at first because La Russa had replaced one of his star students, Joe Torre. The two lifers soon bonded. "George treated him like another son," Kissell's son, Dick, said. La Russa invited him to sit in the dugout in uniform during games, but one opposing team objected to his presence because he wasn't a coach. Dick wrote to Commissioner Bud Selig, who decreed that Kissell could sit anywhere he wanted to.13
Kissell's grandson, Tommy Kidwell, was the Cardinals' 33rd-round draft pick out of Yale in 1998. The infielder played for three years in the minors and then managed for two more in the rookie Appalachian League at Johnson City, where his grandfather had managed more than four decades before.
The Cardinals dedicated a bronze plaque with Kissell's likeness outside Busch Stadium in 1999. A year later he was hit by a line drive during batting practice and knocked cold. He was back on the field before game time with one eye swollen shut. He began to talk about retiring, but when pitchers and catchers reported to spring training in 2001, the 80-year-old was there to put them to work. "Remember Noah, the guy in the Bible?" Cardinals coach José Oquendo said. "Kissell was the one organizing the animals to load them onto the boat."14
The Missouri Sports Hall of Fame inducted Kissell in 2003. The Cardinals named their spring training clubhouse in Jupiter, Florida, after him. La Russa chose him as a coach for the 2005 All-Star Game in Detroit, and Kissell took the lineup card to home plate.
Kissel was 85 years old when he encountered baseball's analytics revolution. He proved that he was 85 years young. The Cardinals' first hire, post-Moneyball, was Jeff Luhnow, a former management consultant, the analytical pestilence that baseball lifers wanted to exterminate. "He came up to me and started asking me questions," Luhnow recalled, "and I thought, 'This is the oddest thing in the world. This is the guy that knows everything and I don't know anything and he's asking me questions.'"
"I learn something new every day," Kissell told the interloper. "It doesn't matter who it's from. It doesn't have to be someone that's gotten more experience who knows more. I learn something every day."15
On the evening of October 6, 2008, Kissell was riding with his daughter, Kay Kidwell, in Tampa when her car collided with another. He died of his injuries the next day. He was 88.
"He did more for me than baseball," La Russa said, "he made me a part of his family. George's fingerprints, his footprints are all over the institution that is our game. His stamp is literally there to see every day, every game that we play."16
Starting early in his career, Kissell had recorded his ideas in a loose-leaf notebook that he carried in his left back pocket. It became the basis for "The Cardinal Way," a manual for players and coaches. The team was still using it a decade after his death.
Dr. Dick Kissell compiled some of his father's Georgisms into a leather-bound book. He printed fewer than a dozen copies and gave them to Cardinals instructors who had known George. One copy went to Mike Schildt, a minor league coach and manager who became the Cardinals manager in 2018 despite never having played professional ball.
Schildt had run the spring training camp in 2008, Kissell's last spring. "I said, 'Mr. Kissell, we're not going to change anything, we're going to keep moving forward. He was real gracious, but he came to me later on the back fields and said, 'Let me tell you something: You better change something, you better make it better. It's pretty good, O.K., but gosh darn it, if you do it the same way, you're going to get passed. We've got to keep ahead of 'em.'"17
Photo credit
Courtesy of the St. Louis Cardinals
Acknowledgments
Dr. Richard Kissell of Springfield, Missouri, shared memories of his father in a telephone interview on April 16, 2019. This biography was reviewed by Rory Costello and Jan Finkel, and fact-checked by Chris Rainey.
Notes
1 Mike Wilson, "The Professor of Baseball," St. Petersburg (Florida) Times, March 16, 1997: 6A.
2 Wilson.
3 Branch Rickey papers at the Library of Congress, quoted in Howard Megdal, The Cardinals Way (New York: St. Martin's, 2016), 23.
4 Wilson.
5 Megdal, 27.
6 Bob Broeg, "Professor Kissell Excels in Classroom and on Field," St. Louis Post-Dispatch, February 26, 1969: 5B.
7 Derrick Goold, "George Kissell: 1920-2008," Post-Dispatch, October 8, 2008, online archive.
8 John Garrity, "The College of Cardinals," Sports Illustrated, August 13, 1989: 70.
9 Quoted by Mike Shannon at Kissell's induction into the Cardinals Hall of Fame, 2015. https://www.youtube.com/watch?v=vjuZ54_Xz4U.
10 Goold, "George Kissell."
11 Tom Kelly, "Cardinals' Mr. Fixit Builds Better Ball Players," The Sporting News, March 11, 1967: 7.
12 Richard Goldstein, "George Kissell, 88; Taught the Techniques of Baseball," New York Times, October 8, 2008: B16.
13 Dr. Richard Kissell, interview by author, April 16, 2019.
14 Rick Hummel, "Cardinals Insider," Post-Dispatch, February 25, 2001: D14.
15 Megdal, 86.
16 Goold, "Students Pay Tribute to Kissell," Post-Dispatch, October 9, 2008: D1.
17 Tyler Kepner, "The Cardinals Morph Into the Cardinals," New York Times, September 12, 2018: B9.
Born
September 9, 1920 at Watertown, NY (US)
Died
October 7, 2008 at Tampa, FL (US)
If you can help us improve this player's biography, contact us.
https://sabr.org/sites/default/files/KissellGeorge.jpg
600
800
admin
/wp-content/uploads/2020/02/sabr_logo.png
admin
2019-05-20 12:27:55
2020-04-09 14:37:34
George Kissell