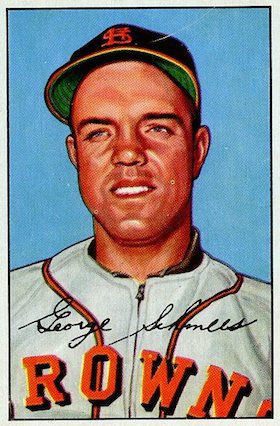 ---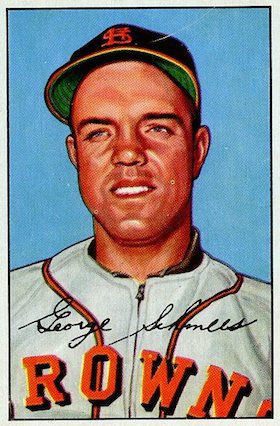 In the one season he played baseball at the major-league level, George Schmees played right field in 20 games, center field in 19 games, left field in nine games, and first base in four games. And he even pitched in two games. He committed one error in right field, one error in center field, one error in left field, and one error at first base. But he didn't commit any errors at all while pitching.
As a minor leaguer, over 12 seasons, Schmees demonstrated his talents in Hollywood, Nashville, and Montreal, and even Ogden. After baseball, he went into food processing.
George Edward Schnees was born in Cincinnati on September 6, 1924. His father was a truck driver – Bernard Schmees, a Kentucky native born to two Ohio parents. Bernard and his wife, Mary, an Ohioan herself, had three children – Marian, George, and William.
During the Second World War, George spent two years at high school and won nine letters at Woodward High in basketball, football, and baseball. A column in the Los Angeles Times said he had also played at San Jose State.1 He served in the US Navy. He is found in the newspapers playing left end for the Pleasanton Naval Personnel Distribution Center Blue Jackets team in September 1943. The team beat the University of San Francisco, 13-0, and Schnees stood out. The San Francisco Chronicle noted that Seaman Second Class Schmees was "only a boy himself, at 19, but he was the best man on the field on either side by 16 lengths and it was his speed and alertness that produced the second touchdown, the one that broke the back of the Dons half a minute before the close of the first half. … Schmees was of course the hero of the piece."2 He played basketball for the team in the winter.
By June 1945, when he was batting .400 at Camp Shoemaker, Schmees was reportedly being looked at by his hometown Cincinnati Reds for delivery after the war.3 In March, he had married Miss Elva Burtis in San Jose. They had two daughters, Carol Ann and Maryann.
After discharge from the Navy, Schmees was signed by scout George Kelly for the Cincinnati Reds and assigned to Ogden, Utah – their farm in the Class-C Pioneer League, the Ogden Reds. He played right field, primarily, in 92 games.
The deal the Reds offered Schmees was that if he was still with the club on September, he "would receive a big fat bonus. On September 3, George Schmees was leading the club in batting with a .316 mark, he had hit 20 doubles, 10 triples, 9 home runs and had driven in 66 runs. That day the Cincinnati farm club handed him his unconditional release! Three days before the bonus was due."4
It was a raw deal, but there were alternatives and another ballclub that was interested. Discouraged, Schmees had returned home to San Jose – only to find Brooklyn Dodgers scout Howie Haak waiting for him. Schmees was given a bonus to sign with the Dodgers, "this time in cash on the spot."5
Schmees was bumped up to Class B in 1947 – and played for the Spokane Indians in the Western International League. He played in 139 games and hit 20 homers (with 16 triples and 27 doubles), though his average fell to .277. In 1948 he was promoted again, to the Double-A Texas League, where he played for the Fort Worth Cats. He hit .293 in 138 games, though his homers dropped to four. He also pitched once in 1948, throwing three innings of scoreless one-hit ball. Fort Worth finished atop the league standings, then won both rounds of the playoffs. Manager Bobby Bragan hit a two-run homer, and Schmees hit a solo home run, in the deciding 4-0 win over the Tulsa Oilers. He also homered in the Dixie Series against Birmingham, but the Barons won that competition.
Montreal was Schmees' home ballclub for 1949 and the start of the 1950 season. Playing for the Montreal Royals, he hit .285 with 22 homers and 118 RBIs in 1949.
Schmees didn't have as good a year in 1950, playing in 98 games for Montreal but with a .254 average and just 9 home runs and 65 RBIs, when he was moved to the Hollywood Stars (another Dodgers farm club) on August 2, to replace outfielder Bill Antonello, who'd been called up to Brooklyn. Hollywood manager Fred Haney was looking for a left-handed-hitting outfielder and Schmees looked to fit the bill.
Schmees stood an even 6 feet tall and was listed at 190 pounds.
In 48 games for the Stars in the Pacific Coast League, he batted only .174 with a pair of home runs. He was playing with a bad arm, shoulder, and back, all injured in a collision with a ballpark wall during a game at Syracuse just before he'd been sent west.
In 1951 Schmees made up for that. After a terrific spring training, he just kept on going. He drove in 100 runs, homered 26 times, and batted .328. He had some speed on the basepaths, too, and even stole home in the eighth inning of the May 3 game against Oakland, giving Hollywood a 1-0 win.6 Rogers Hornsby was managing the Seattle Rainiers and saw Schmees in action, effectively calling him the best outfield prospect in the league.7
During the major-league Rule 5 draft in December, Schmees was the first player drafted, selected by the St. Louis Browns, "hand-picked" by Browns manager Rogers Hornsby.8 He called Schmees a "sure-shot" to make the majors.9
Hornsby thought about trying to convert Schmees into a first baseman.10 He worked him out at first base during spring training but the experiment was not rewarding. Schmees did appear twice at first base for the Browns, but was typically employed in the outfield or as a pinch-runner or pinch-hitter.
He debuted for the Browns on April 15. He was hitless that day, but tripled in a run the very next day for his first big-league hit. Though he'd hit .328 for the Hollywood Stars in 1951, he didn't exactly tear up Sportsman's Park; he appeared in 34 games for the Browns but was hitting just .131 (8-for-61, with one double, the aforementioned triple, and three RBIs – one of which won the June 15 game in the 11th inning) when St. Louis put him on waivers.
Rogers Hornsby was gone by then, fired after a 22-29 start. Schmees had changed his tune on Hornsby: "I would have gone to the end of the earth for that man (Hornsby) because he gave me my chance to play in the majors, but now that I know him I wouldn't go to his funeral."11 Browns players were so pleased that owner Bill Veeck had fired Hornsby that they had a trophy made up, delivered to Veeck by Schmees and pitcher Gene Bearden. The inscription read, "To Bill Veeck, for the Greatest Stroke of Freedom Since the Emancipation Proclamation."12
The Red Sox claimed Schmees on June 30, paid the $10,000 waiver price for him on July 1, and put him in a game playing right field on July 3. Arthur Siegel of the Boston Traveler wasn't impressed with the acquisition, writing that "his batting average looks like a thermometer reading."13 Schmees was 0-for-2 in his Red Sox debut, but had a nice 2-for-4 day on July 4. He had an opportunity to get some playing time in July after center fielder Dom DiMaggio suffered a groin injury. He played a little first base later in the season, but never hit any better than he had with St. Louis.
There was an unfortunate game against the Senators on September 5, when Schmees was picked off second base, killing an eighth-inning Red Sox rally, then dropped a throw to him at first base in the bottom of the eighth, permitting the Senators to score their second run in a game they won 2-0. After the game, Washington manager Bucky Harris sent Schmees a note joshingly offering to buy him a beer.14
Come September, Schmees was even asked to pitch.
Manager Lou Boudreau didn't just stick Schmees into a lost-cause game; he gave the left-hander a start on September 17 against his former team. Schmees had been working on his pitching in practice for some time. The game in St. Louis drew just 1,250 – the smallest gate of the year – and it might have been smaller yet but for the novelty. Rocky, as George Schmees was known, gave up four hits and two earned runs in two innings of work before he was replaced by Ike Delock. The Browns won, 10-4, as the Red Sox used five pitchers in all. Both Delock and Hersh Freeman gave up more runs. Schmees got a single his only time up. He'd been hit in the pitching hand with a batted ball, with the score tied 2-2. Boudreau pulled him out of the game when the Red Sox still had a chance to win.
Why did Schmees get a start? The Red Sox staff was a little overworked, but newspaper accounts don't indicate them as being that fatigued. The Associated Press wrote: "Manager Lou Boudreau took a long chance here when he chose as his pitcher George Schmees, an outfielder without previous major league experience as a hurler. Schmees, a lefthander, has been such a disappointment as a batter than Boudreau was willing to take the pitching gamble. Schmees pitched only briefly back in the low minors, five years ago."15 If being a disappointment as a batter was the only criterion, Boudreau would have had a large pool of available talent.
Boudreau did say he was "satisfied" with pitcher Schmees, that he "did okay. He was a little nervous, but he was getting the ball over the plate."16 Three days later, Boudreau put his man in again, this time in relief, pitching the last four innings of a game in Washington, won by the Senators, 10-6. Schmees was again 1-for-1 at the plate, and scored. He walked two, struck out two, kicked off a 1-6-3 double play, and allowed five hits – but he didn't allow a run.17
In early December the Red Sox sold Schmees to the Seattle Rainiers. He started off the 1953 season nicely, with three home runs in an exhibition game at Palm Springs, and won a starting job for the next couple of years, batting .279 in 1953 and .297 in 1954.
Schmees began the 1955 season with Seattle, but after appearing in 57 games (batting .261), he was obtained by Tulsa in early July, apparently through some arrangement with the Rainiers. For Tulsa, in the Double-A Texas League, he hit .290 in 54 games. At the end of September, Seattle sold his contract outright to the Nashville Volunteers (Southern Association).
Schmees played two full seasons (142 and 145 games) for Nashville, batting .307 and .287 in 1956 and 1957. And – even though his contract had been sold to Havana in mid-October 1957 – he was back with Nashville in 1958, batting .269 in 66 games. On June 22 his contract was sold to Salt Lake City (Pacific Coast League). He hit .219 in his last 60 professional games. There was one incident in August when Schmees went into the stands after a fan who was razzing him, followed by "most of the Salt Lake players … perhaps to keep Schmees from committing an indictable offence."18
In January 1959 the Memphis Chicks purchased George's contract. He did not play with the Chicks, and retired from baseball.
Schmees continued to make his home to San Jose and for 32 years he worked at Bernard Food Industries, finishing up his career there as food processor foreman.
George Schmees died on October 39, 1998, in San Jose. He is buried in the city's Oak Hill Memorial Park.
Sources
In addition to the sources noted in this biography, the author also accessed Schmees's player file and player questionnaire from the National Baseball Hall of Fame, the Encyclopedia of Minor League Baseball, Retrosheet.org, Baseball-Reference.com, Rod Nelson of SABR's Scouts Committee, and the SABR Minor Leagues Database, accessed online at Baseball-Reference.com.
Notes
Born
September 6, 1924 at Cincinnati, OH (USA)
Died
October 30, 1998 at San Jose, CA (USA)
If you can help us improve this player's biography, contact us.
/sites/default/files/SchmeesGeorge.jpeg
600
800
admin
/wp-content/uploads/2020/02/sabr_logo.png
admin
2016-12-13 16:14:12
2016-12-13 16:14:12
George Schmees