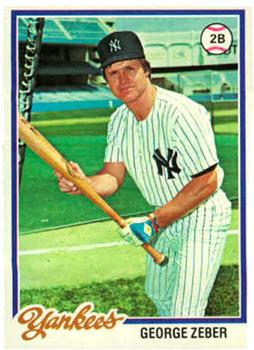 ---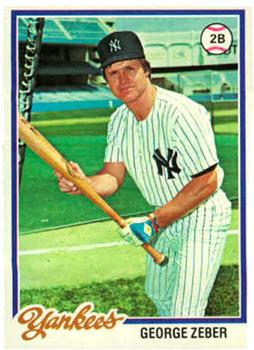 Yankee Stadium, October 12, 1977, World Series, Game 2: The Yankees were trailing the Los Angeles Dodgers, 5-1, but had runners on first and second with only one out. Yankees public address announcer Bob Sheppard, "the Voice of God," surely intoned his usual introduction, "Now batting for the Yankees, pinch-hitter, number 25, George Zeber, number 25."And probably numerous fans, even among the partisan Yankee crowd, wondered, "George Who?" This was understandable. since Zeber, although he had been with the Yankees all season, had appeared in only 25 games. But, more important, Yankees manager Billy Martin knew who Zeber was, and also that the utility infielder had made the most out of his extremely limited playing time during the season.
Unfortunately, Zeber didn't deliver a dramatic World Series hit: he struck out looking against Burt Hooton, who then retired Mickey Rivers on a fly ball to left to snuff out the Yankees' nascent rally as the Dodgers evened the World Series with a 6-1 victory. Zeber garnered one additional at-bat as a pinch-hitter in Game Five, but he suffered the same fate, striking out swinging against Don Sutton in a 10-4 loss at Los Angeles. Although his two plate appearances in the Fall Classic were unsuccessful, he still became a World Series champion after Reggie Jackson blasted his way to "Mr. October" fame with three home runs in the Yankees' clinching 8-4 triumph in Game Six.
While Jackson's fame has been as lasting as Zeber's brush with glory was fleeting, as a season-long member of the Yankees, Zeber still received a full share of the winners' World Series money, a cool $27,758.04. It was a nice windfall for the lowest-paid player on baseball's highest-paid team, who had earned only the league-minimum $19,000, for the season. But in addition to the money, he would always have the distinction of being a member of what has become one of baseball's most fabled championship teams, the '77 Yankees of "Bronx Zoo" notoriety.1
George William Zeber was born to George and Jean Zeber on August 29, 1950, in Ellwood City, PA, 30 miles northwest of Pittsburgh. In 1951, the Zeber family, which also included older sister Valerie, moved to Anaheim, CA. Shortly after their arrival there, Zeber's father, a carpenter by trade, died at the youthful age of 56 on July 11, 1956; his mother eventually remarried a man named Morris Davis. According to Zeber, his stepfather "[w]as a wonderful person, got me into baseball and took care of the family." Davis hardly could have anticipated that, by introducing his stepson to baseball, he was setting him on the path to a future career. But that became the case when the Yankees selected Loara High School's switch-hitting 17-year old shortstop in the fifth round of the 1968 June amateur draft. 2
Zeber began his long association with the Yankees franchise as a member of the Johnson City (TN) team in the rookie-level Appalachian League, where he split time evenly between shortstop and second base while batting .254 (43-for-169) over 50 games. Though he struggled at the plate, he had the top fielding percentage on the team at both positions, besting three other second baseman and two shortstops.3
He began his gradual progression through New York's minor-league system the following year, 1969. He spent 37 games in the Florida Instructional League before finishing the season with the Class-A Kinston Eagles of the Carolina League. He settled in at second base, where he started 128 of his 132 games played. But again he struggled to a .242 batting average while posting the top fielding percentage of any middle infielder on the Eagles.
Although his offense was lagging, Zeber was still considered a big-league prospect because of his defensive ability, and he was invited to spring training in Florida with the parent club in 1970. It was a short stay. He soon joined the ranks of the many 19-year old men drafted into the U.S. armed forces during the Vietnam War era. For the first year of his two-year hitch in the Army, Zeber was fortunate enough to be stationed stateside, but inevitably he was ordered to Vietnam in March 1971.
Going to war put more than just his baseball career in jeopardy, as Zeber well knew. "Sure, I was scared. I was petrified when I received my Vietnam orders," he admitted. He spent five months at Quang Tri, near the demilitarized zone. During that time Zeber saw combat as a member of an assault helicopter group. Although breaks in the fighting lessened the immediate danger to his life, they did not improve conditions in any way. "The most fun we had in Vietnam," he recalled, "was going to our hootch, turning on the light, and seeing how many cockroaches ran for cover."4
Zeber was discharged from the Army in September 1971 and was free to resume his baseball career. After his harrowing experiences in Southeast Asia, he observed in March 1972, "I guess the biggest change over that I had to make was going from a GI to a professional baseball player again and it wasn't easy." More than 30 years later, he stated more precisely, "It was quite a while before I could pick up my life and get my head straight after serving in Vietnam."5
The Yankees welcomed Zeber home with a promotion to their West Haven team in the Double-A Eastern League in 1972. He had lost 30 pounds in the Army, which he thought would make it easier for him to get back in shape for baseball. However, he soon realized, "My legs were not in shape and this caused me problems" and confessed, "I don't feel comfortable in the field. . . . I just don't feel as agile as I did before going into the Army." Playing for future Hall of Famer Bobby Cox, then in his second season as a manager, Zeber returned to second base, where he played 109 of his 118 games that season. He posted the highest batting average of his career to this point, .267 (105-for-393) with eight home runs and 27 RBIs; however, the lack of agility he experienced early in the season likely contributed to the 29 errors he made in the field.6
On the heels of his successful 1972 comeback, Zeber was promoted to the Triple-A Syracuse Chiefs in the International League for the 1973 season. Cox had also been promoted to Syracuse as well, and Zeber again was his starting second baseman. He struggled at the new level, batting .171 in 67 games, before encountering the next obstacle in his career path: a right-knee injury that required surgery. Long after his career had ended, Zeber reflected, "It was a severe injury, and the rehab took quite a while. It wasn't until 1975 or 1976 that I really could move normally. It never was quite the same." Zeber's 1974 stats attest to the difficulty of his comeback from the knee injury. He began the year at Syracuse, batting only .157 in 40 games, before being demoted to West Haven in June, where he hit .243 in 73 games over the remainder of the season.7
In 1975 Zeber played mostly at third base for Syracuse in spring training and thought he had put up a good showing in his effort to make the team. However, when the squad departed for its first road series, Zeber was left behind with instructions to rejoin the team for its second series at Tidewater. Upon arriving there, though, "Cox told him he wouldn't play for a while." In his first start for the Chiefs on April 25, Zeber went 0-for-3 at the plate and committed three errors in the field. Despite the inauspicious season debut, Zeber regained his starting spot at second base in May, though he remained mystified by the odd start to his season. "I still don't know why I was left behind" he said in July. As the season progressed, his batting average improved to .251, and he regained his fielding prowess at second base. Taking events in stride, he said, "I'm just concentrating on doing the job here and not thinking about the future. Two years ago here I was uptight. I knew [the Yankees] needed somebody. But I can't think like that anymore."8
In the offseason, Zeber did begin to think more about his future. Discouraged by his demotion in mid-1974, he knew that he would be battling with Billy Parker, who had suffered an ankle fracture in 1975, for the starting position at second base in 1976. Besides feeling as though his career might be stalling out, a new business opportunity came his way during the break. His stepfather had started a successful home-rebuilding business in Tustin, CA, and Zeber now took part in the flourishing operation. "We're making so much money at it," Davis claimed, "George says he may not go back to Syracuse to play triple-A ball this year. He says he may stay around this spring and help me rebuild houses."9
Zeber later admitted that quitting baseball had crossed his mind on several occasions after 1974 and credited his wife Duskie (née Keller) with dissuading him from taking such action, saying, "She kept telling me how much time I had invested in baseball and just to give it another try."
So he did, returning for another season under Cox's tutelage at Syracuse in 1976. He held the starting second baseman job all season but, although again solid in the field, he batted only .249. It appeared he would advance no further than Triple-A. However, appearances can be deceiving, and Zeber was once more invited to spring training with the parent Yankees. General manager Gabe Paul confirmed that he was going to be given a legitimate opportunity to make the team. Martin validated Paul's words by starting Zeber in almost every game during the grapefruit league season. "Billy really helped my confidence down there," Zeber recounted. "I didn't get a hit in the first couple of games and Billy pulled me aside and told me not to worry about it and to keep swinging the hell out of the bat." He did exactly that and won the Yankees' James P. Dawson award, given annually to the team's top spring training rookie. Along with the award, he also received a spot on the team's 25-man roster. His perseverance had paid off: at the age of 26 years and seven months, he was finally a New York Yankee.10
Zeber even earned Martin's praise, as his new manager asserted, "I like George's attitude . . . He's a real hard-nosed guy." Cox, Zeber's longtime manager at Syracuse and now one of Martin's coaches, also extolled his player's courage, saying: "You have to admire him. George was a great prospect, and then after the knee thing, he was just holding on. A lesser man would have quit. As a manager you try not to get too close to any player, but there isn't any player that I ever had that I rooted for as hard as I rooted for George."11
Zeber's joy at making the team was tempered almost immediately when the Yankees obtained Bucky Dent in a trade with the Chicago White Sox on April 5. "Before we got Bucky, I was hoping to get quite a bit of playing time," he conceded. "Now, who knows? With another infielder added, my playing time has got to be reduced."12
Zeber was prophetic. He did not appear in a single game in April, and The Sporting News reported in mid-May, "He fears he'll be traded and is itchy to get into the lineup just once so he can one day prove to his grandchildren that he was a Yankee." He finally entered his first game in May and then saw a dramatic increase in action the following month.13
Zeber's versatility allowed him to fill in at second, third, and shortstop; he played each position at least once in the ten games in which Martin used him in June. The month that accounted for 40 percent of his playing time naturally provided some personal highlights as well. On June 5, at Comiskey Park, the Yankees engaged in a slugfest with the White Sox in which the Bronx Bombers launched six balls over the fences in an 8-6 victory; it was the first time the Yankees had hit as many as six homers in a game since April 14, 1974. Zeber's leadoff blast off lefty Dave Hamilton in the fourth inning—his first major-league home run—provided the game-winning run for the Yanks. Martin, whose own first homer had come against the same team in the same city in 1950, the year of Zeber's birth, commented on the similarity between his early career and Zeber's current role. "A three-run homer before 40,000 people," he said. "The next day I didn't play and tomorrow he won't either."14
Though Martin used Zeber sparingly, he was in the lineup again just four days later at Milwaukee's County Stadium. He was hitting well enough that Brewers starter Moose Haas issued him an intentional walk that loaded the bases, preferring to face light-hitting backup catcher Fran Healy instead. Healy made Haas pay by stroking a two-RBI single to right field on which Zeber was thrown out while trying to advance to third. Zeber redeemed his evening as he ended up 1-for-3 with two walks and two RBIs in New York's 10-1 shellacking of Milwaukee.
At the end of the month, Zeber started both games of a June 28 doubleheader against the Blue Jays in Toronto. The Yankees lost the opener, 8-5, but Zeber hit his second round-tripper against right-hander Dave Lemancyzk, giving him one homer from each side of the plate. In the nightcap, he garnered two singles as New York prevailed, 5-1, in 11 innings.
After an active June, Zeber's playing time began to tail off. On July 14, in the second of only three games for him that month, he again victimized the Brewers with his third homer—a two-run shot from the right side against Jerry Augustine—in a 6-3 Yankees triumph. He appeared in five games in August, and two each in September and October for the remainder of the regular season. His two pinch-hit at-bats against the Dodgers in the World Series were his only post-season appearance.
Zeber had performed well in his limited role in 1977, going 21-for-65 for a .323 average with 3 doubles, 3 home runs, and 10 RBIs. He believed he had proven his worth to the team, and during winter contract negotiations with Yankees president Al Rosen tried to have his 1978 salary raised to $35,000. Rosen balked at that figure and reminded Zeber that he was a role player: "Don't you know that garbage men in New York make $35,000 a year?" Zeber shouted across the desk to Rosen."Yeah, I know it," Rosen replied calmly. "Do you want to start bagging it?" In the end, Zeber settled for a pay increase to $30,000, but that wasn't his only disappointment in 1978.15
Zeber did not make the team out of spring training and had to start the season with the Yankees' new triple-A affiliate in Tacoma, WA. The big league club purchased his contract from Tacoma on May 12, but he only appeared in three games, including two as a pinch-hitter against Baltimore on May 31 and at Oakland on June 3. His June 14 home start at second base against the Seattle Mariners turned out to be his last major-league game. In the second inning, Zeber misplayed a ball off the bat of Leroy Stanton, an error which opened the floodgates to a five-run inning, four of which were unearned. Although the Yankees came back to win the game, 11-9 in 10 innings, Zeber was sent back to Tacoma afterward.
This was a disappointing setback as well as the handwriting on the wall for the end of Zeber's baseball career. The move confused him. "I can't figure them out. I used to be able to think with the organization—but not anymore." But one thing he did think he had figured out was where to cast the blame. "It's no secret that Billy Martin doesn't like young players," he said. "He can't stand for a young player to make a mistake." These sentiments were a far cry from the mutual respect the two had expressed for one another the previous year.16
Zeber batted .235 in 65 games over his two separate stints that year with Tacoma in 1978, at which point he decided to leave baseball. Earlier, on May 24, Duskie had given birth to their first child, a son named Ryan, which made his decision to walk away from the game much easier. Zeber had long been preparing himself for life after baseball by taking courses in real estate and working for different real estate companies in the Santa Ana, CA, area, and he eventually opened his own home building company.17
Ryan briefly followed in his father's footsteps after he was drafted by the Toronto Blue Jays in 1996. He spent four years in the minors with affiliates of the Blue Jays, Cincinnati Reds, and Anaheim Angels before the game. George and Duskie also had a daughter, Lindsay, but their marriage eventually ended in divorce.
In time, Zeber remarried to Theresa (Terry) Possemato, a fellow member of Loara High School's class of 1968. Although he has found fulfillment in his family and business, Zeber has struggled with heart issues since the mid-1990s. In 1995, he had a heart attack and had two stents installed. After his sister Valerie died of an aortic aneurysm in 2010, Zeber's doctor informed him that the risk of such a condition can be inherited and recommended that he should get an angiogram. Zeber was thankful for that advice, revealing, "Sure enough, I had a large aneurysm, too, in the same spot as my sister." The timely diagnosis enabled him to undergo life-saving surgery.18
As Zeber faces whatever new challenges may come his way, he can always look back with satisfaction at his brief tenure as a New York Yankee. He has reflected upon his time with the Bronx Bombers in 1977, saying, "Getting the opportunity to play in a World Series in my hometown in L.A. was a thrill. I have no regrets about my career."19
Last revised: February 6, 2019
Acknowledgments
This biography was reviewed by Tom Schott and fact-checked by Kevin Larkin.
Author's note
In spite of the best efforts of all SABR authors, fact-checkers, and editors, a mistake sometimes may be found in an article, especially in instances where original source material also stands in error; such was the case with the original version of this biography. This author wishes to thank former MLB infielder Greg Pryor, a member of the 1985 Kansas City Royals' championship team, for reaching out and helping to correct inaccurate information. It was interesting to hear about the strivings of Yankees minor-league prospects circa 1977 and the machinations of the George Steinbrenner-owned franchise at that time. Best of all, our conversation has resulted in erroneous information being removed from this biography.
Notes
1 "Saga of Series Swag … $1,182 to $27,758," The Sporting News, December 3, 1977: 57.
2 Maury Allen, Yankees Where Have You Gone? (New York: Sports Publishing LLC, 2004), 224.
3 Some sources, including Allen's book, erroneously list Zeber's starting point as Johnson City, Texas. Although Texas does have a city by that same name, Zeber's minor-league career began in Tennessee.
4 Barry Levine, "Zeber Goes From Vietnam to Yanks," Central New Jersey Home News, March 4, 1972: 7; Jim Benagh, "Rich Man, Poor Man: George Zeber Isn't Rolling in Yanks' Wealth," Detroit Free Press, June 22, 1977: 49; Levine, "Zeber Goes From Vietnam to Yanks." A hootch is a soldier's makeshift thatch hut.
5 Levine, "Vietnam to Yanks"; Allen, Yankees Where Have You Gone?, 224.
6 Levine, "Vietnam to Yanks."
7 Allen, Yankees Where Have You Gone?, 224.
8 Joe Robbins, "Zeber's Gotten Confidence," Post-Standard (Syracuse, New York), July 26, 1975: 15.
9 Stan Oftelie, "Orange County's Other Fallen President Lives in Obscurity," Santa Ana Register, December 28, 1975: 15. This story, beginning on the front page, is an account of Davis's role in an attempt to create a tax-free utopia named Minerva on a tiny South Pacific atoll; Davis was elected president of the 'country.' After the venture failed, he formed his successful home-rebuilding business.
10 Previous paragraphs from Barry Levine, "Yankees' Zeber swaps grenades for baseballs," Central New Jersey Home News, April 8, 1977: 13.
11 Ibid.; Phil Pepe, "Long-Shot Zeber a Hot Shot in Pinstripes," The Sporting News, June 25, 1977: 17.
12 Levine, "Yankees' Zeber swaps grenades for baseballs."
13 Dick Young, "Young Ideas," The Sporting News, May 14, 1977: 14.
14 "A. L. flashes," The Sporting News, June 25, 1977: 36; Pepe, "Long-Shot Zeber a Hot Shot in Pinstripes," 26.
15 Allen, Yankees Where Have You Gone?, 224-25.
16 "N. Y. Yanks keep tapping Tacoma," Seattle Times, June 27, 1978: D3.
17 Allen, Yankees Where Have You Gone?, 225
18 St. Joseph Health, "Stepping up to the plate saved this Yankee's life," https://www.stjhs.org/healthcalling/2015/june/stepping-up-to-the-plate-saved-this-yankees-life/, accessed February 17, 2018.
19 Craig Davis, "George Zeber: Vietnam vet joined Reggie in the spotlight," [Fort Lauderdale] South Florida Sun Sentinel, March 7, 1991: 66.
Born
August 29, 1950 at Ellwood City, PA (USA)
If you can help us improve this player's biography, contact us.
https://sabr.org/sites/default/files/ZeberGeorge.jpg
600
800
admin
/wp-content/uploads/2020/02/sabr_logo.png
admin
2018-05-31 17:38:07
2020-04-09 14:40:19
George Zeber