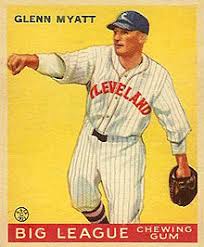 ---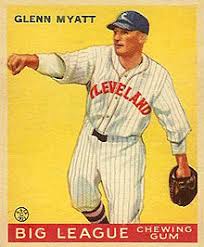 Glenn Myatt spent 16 years in the majors, 13 with the Cleveland Indians. The Indians released him in 1935 when he was 37 years old. Thinking he still had some game left in him, Myatt sent out telegrams to other teams looking for a job. Bill Terry of the New York Giants signed him. His first action came on May 31 when he entered an 8-0 Giants blowout of the Braves in the seventh inning. He came to bat in the eighth with two runners on and launched a drive to deepest center field for a triple. He remembered it as "the most gratifying hit of my life."1
Glenn Calvin Myatt was born on July 9, 1897, in Argenta, Arkansas. Argenta is now a historic district in the city of North Little Rock. Glenn was the fifth of seven children born to Louis and Carrie (Terry) Myatt. Louis Myatt was the son of English immigrants who first settled in South Carolina. They moved west into Texas where he married. He worked as a fireman for the railroad.
The family moved to the Houston area after Louis was killed in an accident in 1903. The children attended school through the elementary years and then went to work to support the family. Glenn grew to be 5-foot-11 and weighed about 165 pounds. Like so many others, he developed his baseball skills on the sandlots and found himself playing for the better teams in the city. In 1916 the Houston Post declared him "the most promising catcher" in town.2
In June, Myatt traveled north to Crockett and joined their team in the Class D East Texas League for nine days.3 In 1917 he played for the Peden Iron Works team. Doak Roberts, a longtime Texas player and manager, saw him in action and signed him to play with the Class B Houston Buffs of the Texas League.4
He made a brief appearance in 1918 with the Buffs before leaving for naval training in California. He honed his baseball skills at the San Diego Naval Station; never seeing service overseas. He was discharged on January 17, 1919, and quickly signed with the Buffs for the 1919 season where he split the catching duties with Eddie Noyes. His best offensive showing came on April 28 when he hammered two home runs in a loss to Beaumont.When a teammate became ill from swallowing his chewing tobacco, Myatt was forced to play center field. For the remainder of the season he split time between catching and the outfield. He even batted lead-off on August 25 and played left field.
Charles Comiskey of the White Sox liked Myatt and offered $2500 for him. The Buffs turned him down and on July 28 sold Myatt and pitcher Slim Harriss to Connie Mack's Philadelphia A's, to report the following spring. At the time of the sale Myatt was suffering with an abscessed tooth. He was finally sent to an oral surgeon for lancing and extraction. He played 113 games and batted .259 for the Buffs, who finished fourth.
Myatt joined rookies Johnny Walker and Lena Styles in a battle to back-up veteran catcher Cy Perkins. Aided by the tutoring of onetime catcher Ira Thomas, the scout who had recommended him to Mack, Myatt made an early impression in camp at Lake Charles, Louisana.5 Hitting three batting practice home runs over the center field fence also drew attention. In the exhibition and intra-squad games he played first base and outfield in addition to catching. On April 9 he received word that he had made the roster largely because he was the best thrower among the rookies. He debuted unsuccessfully as a pinch-hitter against the Yankees on April 15, 1920.
Myatt's first action behind the plate came on April 19 in Washington. The Senators' Al Schacht tossed a nine-hit shutout. Myatt had two singles after relieving Perkins. His first start came on June 1 in the second game of a doubleheader in Boston. He had two hits, including a triple, and three RBIs.
The A's were struggling and only the Tigers' ineptitude kept them out of the cellar early on. Injuries mounted to the point that Connie Mack was forced to use Myatt in the outfield starting on June 10. Myatt's main attribute as a catcher was his fine throwing arm. One of his major detriments was an inability to handle foul pop-ups.6 He showed a good glove and strong arm that first game in right field. With the runner from first going on the pitch, Myatt snagged a shot to right field and tossed to first for the double play.
On June 17 while playing right field again, Myatt went 3-for-4 and raised his average to .341. When rookie outfielder Frank Walker arrived, Myatt was returned to back-up catcher. He spent three weeks in July without even seeing pinch-hitting action as Mack tweaked his roster and line-up constantly.
On August 27 he returned to right field and the sixth spot in the lineup. He played 16 consecutive games, but his bat was not up to the challenge. A 1-for-19 stretch dropped his average to .231. He closed out the year with three straight two-hit games to finish his rookie season batting .246. He had 36 starts in the outfield and only six behind the plate. The A's finished last, 13 games behind the seventh-place Tigers.
Before spring training in 1921, Glenn wed Luella Ann Glass on February 1. They lived with her parents in Houston. The couple had two daughters, Luella (born 1930) and Barbara (1933).
Mack was pleased with the roster he had at the end of 1920. His 1921 lineups reflected this with the notable exception that Johnny Walker took over at first base from Ivy Griffin. Cy Perkins started 141 games at catcher. The A's finished last again while winning five more games than in 1920. With a stable outfield, Myatt found himself with little playing time. With only 69 at bats, he hit .203. Late in the season the A's traded for Joe Hauser from Milwaukee in the American Association. The following spring Myatt and Griffin were sent to Milwaukee to complete the deal.
Myatt turned in a stellar season for the fourth-place Brewers. He led the team with a .370 batting average. It was the best average in the circuit but with only 370 at bats, most sources recognize Beals Becker's .367 as the league's best. Myatt showed power with double-digit doubles, triples and homers. His .586 slugging percentage placed him fifth in the league.
His fabulous hitting drew attention away from some lackluster defensive numbers. In 111 games behind the plate his fielding percentage was in the bottom 25 percent. His assist total (91) was well behind the league leaders. Teams were willing to overlook the defensive shortcomings and focus on the batting. On New Year's Eve he was swapped to the Cleveland Indians for a fistful of players and $50,000.7
In February some scribes reported that Myatt was going to leave baseball. Supposedly he was staying in Houston and beginning a career as a sheet metal salesman working for his father-in-law. The Indians' brass seemed to think this all a ruse.8 They were correct. Myatt was in camp on time and even a little underweight from an illness that sidelined him early in camp.9 He shook off his physical problems and earned the back-up spot to veteran Steve O'Neill.
Myatt's first start with Cleveland sent varied messages. Before 7000 fans on April 19, the left-handed batter managed one hit in five trips. Touted as having a strong throwing arm, he rifled throws to Joe Sewell and Rube Lutzke on steal attempts only to see them drop the ball. The Indians made nine errors in the 6-5 win. Myatt contributed to that total when he dropped a throw from the outfield on a play at the plate. The inability to make plays at the plate was one of his weaknesses throughout his career.
His first heroics came the following week in Chicago on April 27. He entered the game as a pinch-runner for O'Neill in the fifth. He came to bat in the seventh with two runners aboard and the game tied, 6-6, and launched a triple to center field for the 8-6 win.
A three-hit game on May 15 raised his average to .425. Manager Tris Speaker made the obvious move to platoon the lefty Myatt and the righty O'Neill. The plan was sound from an offensive perspective, but Myatt's defense forced an end to the arrangement. Too many of his powerful throws to second wound up in the outfield. Only former teammate Cy Perkins made more errors (17 vs 16) and Perkins played twice as many games. Myatt's .934 fielding percentage sat at the bottom of the league.
Myatt's bat continued to make headlines. He pinch-hit in the morning game of the July 4 twin bill. His tenth inning drive over the right center field fence gave Cleveland a 10-7 win over the Tigers. His finest day with the stick came on August 31 in an exhibition against the Milwaukee Brewers. The Milwaukee fans presented him with a traveling bag on his first trip to the plate. He returned their generosity with two singles, a triple and home run in the 17-3 rout. When his bat went cold in September and produced only four hits, his batting average dropped below.300 and ended at .286 in 92 games.
Cleveland swapped Steve O'Neill to Boston before the 1924 season. Myatt was teamed with rookie Luke Sewell. Myatt started twice as many games at catcher as in 1923. He cut his errors down to seven. The Indians struggled and spent nearly the whole season in the second division, finishing in sixth place. Myatt's season was cut short by knee surgery in mid-September.
As a team the Indians batted .29799 in 1924, just behind the Tigers .29803. Myatt enjoyed his finest season with the bat, hitting .342 and leading the team in slugging at .518.10 His OPS of .919 was second to Speaker. Most impressively, he drove home 73 runs, the most ever by a Cleveland (AL) catcher until 1961, when Johnny Romano drove in 80.
The emergence of Luke Sewell as a superior defender and decent hitter forced Myatt into the back-up role for the remainder of his career. Speaker led the team to a second-place finish in 1926 by seldom using his bench and going with a set lineup. Myatt was the only player besides the starters to have over 100 at bats. Had Sewell not had a finger smashed by a Curly Ogden pitch on June 9, Myatt would not have had 17 starts in June and early July. He closed out the year batting .248.
The Indians franchise would struggle during the remainder of Myatt's time. He provided a solid left-handed bat off the bench and was a capable back-up to Sewell through the 1932 season. He found his way into the history books on May 31, 1927. He pinch-hit for pitcher Garland Buckeye to lead off the ninth trailing the Tigers 1-0. Myatt walked, then went to second on a single by Charlie Jamieson. Homer Summa lashed a pitch towards right and Myatt sprinted from second intent upon scoring the tying run. He did not see that Tigers' first baseman Johnny Neun had caught the line drive, tagged Jamieson and was now trotting down to second to retire Myatt. The Neun unassisted triple play was one of only 15 that have been executed in the majors.
In 1930 Myatt set a personal-best with 23 doubles, batting .294 in 86 games. The Indians traded Sewell to Washington in 1933 for catcher Roy Spencer. Spencer won the starting job with Myatt and Frank Pytlak in reserve. Spencer hit poorly and eventually lost the job to Pytlak.
The following year, with Walter Johnson the new manager, Myatt was one of four holdouts. He finally agreed to terms and joined the team in New Orleans on March 12. Spencer was also a holdout and found himself in Johnson's dog house, giving Myatt more playing time.
He was enjoying a hot streak that saw him get hits in 16 of 18 games from June 30 through July when his season came to a crashing halt; he broke an ankle and dislocated his knee while sliding into the plate on July 31. He closed the season batting .318.
After working hard over the off-season to rehabilitate himself, to the surprise of many he opened the 1935 season as the number one catcher despite being 37 years old. The Indians won nine of his 10 starts, but his .083 batting average forced Johnson to bench him and then release him.
Myatt caught on with the New York Giants, but started only one game at catcher. He was used as a pinch-hitter and had only 18 at bats, hitting .222. He opened 1936 with the Montreal Royals, but joined the Tigers in mid-July when injuries struck their catching corps. He started 17 games and batted .218. After Detroit released him, he signed with his hometown Houston Buffalos in February 1937.
Platooning with right-handed batter Bob Scheffing, Myatt became a fan favorite in Houston. He was third in the All-Star game voting.11 He served briefly (June 17-25) as acting manager for Johnny Watwood, then decided to call it a career, announcing his retirement on June 30. He batted .185 in 46 games.
Myatt went directly to the semipro scene in Houston. He played with the American Iron and Machine Works Team for a couple of seasons. After that he confined his playing to occasional old-timers' games in Houston.
His father-in-law had passed away, so the sheet metal business was gone. Myatt found work in the cotton industry. Later he became a clerk in a steamship warehouse. He and Luella continued to live in her family's home. Glenn passed away on August 9, 1969, after a long illness. He was buried in Forest Park Cemetery in Houston. His wife joined him there in 1995.
Acknowledgments
This biography was reviewed by Norman Macht and fact-checked by Kevin Larkin.
Notes
1 Glenn Myatt Obituary, The Sporting News, August 23, 1969: 40.
2 "Foley Feds vs. Braves," Houston Post, March 12, 1916: 19.
3 "Glenn Myatt Has Always Played Behind the Bat," Cleveland Plain Dealer, Match 14, 1923: 19. The article praises his work on pop-fouls which was considered one of his weak points later in his career.
4 George Williams, "Sale of Myatt and Harris was First of 1919 Season from Minor to Major Club," Houston Post, July 30, 1919: 5.
5 Ibid.
6 Myatt Obit, Ibid.
7 "Myatt Declares He is Through with Baseball," Cleveland Plain Dealer, February 14, 1923: 17.
8 Francis Powers, "Early Stuff Not of any Benefit," The Sporting News, February 22, 1923: 2.
9 Francis Powers, "Indians All Check in at Florida Camp," The Sporting News, March 15, 1923: 1.
10 For reasons unknown, Baseball-Reference lists his average as .342, but in the game log shows it as .338. The game log total has added an at bat (343) and subtracted a hit (116). The game log also credits him with 76 RBI. https://www.baseball-reference.com/players/gl.fcgi?id=myattgl01&t=b&year=1924 Accessed September 24, 2018.
11 "Texas Fans Voting for Favorites in All-Star Battle," Abilene Reporter-News, July 1, 1937: 18.
Born
July 9, 1897 at Argenta, AR (USA)
Died
August 9, 1969 at Houston, TX (USA)
If you can help us improve this player's biography, contact us.
https://sabr.org/sites/default/files/Myatt%20Glenn.jpg
600
800
admin
/wp-content/uploads/2020/02/sabr_logo.png
admin
2018-10-18 15:05:10
2020-04-09 14:38:40
Glenn Myatt