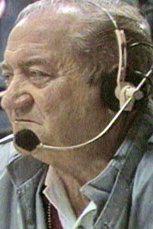 ---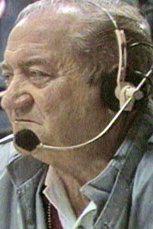 Harry Coyle taught us how to watch baseball on television. As the director of 36 World Series telecasts, beginning with the first one in 1947, he invented many of the images that shape our view of the game. One of his innovations, the center field shot showing the pitcher, batter, catcher, and umpire, became the staple of every TV broadcast. Coyle wrote the book on how to televise a ball game, a 14-page manual for technical crews. NBC called it "Harry's bible."1
"With all due respect to Reggie Jackson, Harry was the first 'Mr. October,' " said John Filippelli, who learned under Coyle and became the coordinating producer of Fox Network baseball telecasts. "He had a great instinct for the drama of the moment in the postseason."2
Mel Allen, Curt Gowdy, and Vin Scully were the iconic faces and voices of the Fall Classic, but the TV director calls the shots. Jackie Robinson dancing off base, Don Larsen's perfect game, Bill Mazeroski's home run, Carlton Fisk's home run, Kirk Gibson's — those indelible memories are Coyle's gifts. "If I had my druthers," he said, "if I had the perfect situation, I would say a Harry Coyle game would make the person at home have the same feeling as the person in the stands."3 He was the eye of the fan.
Coyle had just three cameras for his first World Series, but at least one of them was usually on the blink. Viewers tried to follow the action on 10- or 12-inch screens showing a snowy black-and-white picture. For Coyle's final Series, 41 years later, he deployed 14 color cameras, plus slow-motion replays.
His 36 World Series is one baseball record that's not likely to be broken. In addition, from 1947 through 1989 Coyle directed 28 All-Star Games and hundreds of Game of the Week broadcasts. He had no offseason. He directed the sudden-death NFL championship game between the Colts and Giants in 1958, the game that made pro football. He worked the first Super Bowl, 11 other NFL championships, 30 Rose Bowl games, and 10 U.S. Open golf tournaments.
Henry James Coyle Jr. was born on January 7, 1922, in Ridgewood, New Jersey, the only child of Henry Coyle and the former Florence Timmerman. He grew up in Paterson, New Jersey, where his father owned a gas station, and attended William Paterson College for two years before joining the Army Air Force in 1942. Coyle flew 35 combat missions as a bomber pilot in World War II. He believed his experience commanding a 10-man flight crew at the age of 21 taught him how to lead a team of TV technicians.4
After his discharge from the Army, Coyle went to work for WABD-TV, the New York station owned by DuMont, a manufacturer of television sets. The development of TV had been halted during the war; only six stations were on the air at the beginning of 1946.
Early stations and networks needed sports more than vice versa. Sports events were live, dramatic, and cheap to produce. DuMont, the low-rent network, filled prime time with three nights of wrestling and two nights of boxing. It was also the first to televise weekly NFL games when the NFL was still minor league.
New York's three major league baseball teams began telecasting some or all of their home games in 1947. Video connections for road trips were either nonexistent or prohibitively expensive. The 25-year-old Coyle was assigned to direct Yankees games.
Baseball greeted the new medium with suspicion, just as it had been wary of radio in its early days. Team owners had come to realize that radio broadcasts were free advertising and created new fans, but they feared that those fans would stay away from the ballpark if they could see the action at home. The Yankees "were the worst bastards," Coyle remembered. He wasn't allowed to put a camera in the grandstand because it would block two seats that the team could sell for $4. "There was no sense in complaining, because TV didn't generate [much] money."5
Two sponsors, Ford and Gillette, paid $65,000 to televise the 1947 World Series between the Yankees and Dodgers. (The Mutual network paid $175,000 for radio rights.) All three fledgling networks — NBC, CBS, and DuMont — carried the games, but they reached just four markets: New York, Philadelphia, Washington, and Schenectady, New York, headquarters of manufacturer General Electric. Viewers with tall rooftop antennas could pick up the signals in nearby cities such as Baltimore and Wilmington, Delaware.
Only about 100,000 TV sets were in use, compared to 80 million radios.6 Coyle didn't own one; a 12-inch RCA Victor model cost $375, equivalent to almost $4,000 in 2017.7 The announcement that the World Series would be on TV spurred a boom in sales.
Many of the buyers were taverns. Some New York bars reserved their front-row seats for customers who bought scotch, with beer drinkers pushed to the back of the room.8 Even with the limited reach, the 1947 Series was seen by more people than any other sports event in history. Billboard magazine estimated the audience at 3.9 million, but that was little more than a guess.9
WABD handled Games Two, Six, and Seven at Yankee Stadium. The announcer was Bill Slater, a veteran of Yankees and Giants radio and host of the radio quiz show 20 Questions. "When we asked for a spot in the press box, the Yankees laughed at us," Coyle recalled.10 He and his 15-man crew were "just a bunch of amateurs," making do with what they had and inventing the rest. "Placing a cardboard cone on a lens and making the most of rubber bands and masking tape, we tried to create a split-screen shot."
With the cameras breaking down repeatedly, "We had the 'Please stand by' sign on the screen almost as much as the ball game." When the cameras were working, the contrast between bright sunlight and afternoon shadows defeated them.11
The Series was historic for Jackie Robinson's October debut, and exciting, featuring a near no-hitter by the Yankees' Bill Bevens and Al Gionfriddo's running catch of Joe DiMaggio's long drive. The television coverage drew applause. The Associated Press critic declared, "Few if any of the thrills were missed, including closeups of nip-and-tuck plays far into the outfield."12 The New York Times's B.W. Stewart thought the cameras provided a better view than a box seat at the ballpark, but he cautioned, "Even in close-ups a thrown or batted ball is a most elusive object to the eye."13
Viewers, like the TV crews, were novices. Following a game on the tube could be confusing. "You would be looking at a play from behind home plate," Herbert Johansen wrote in Popular Science magazine. "Suddenly you were shifted around to behind third base. Before you could orient yourself, the same play came on the screen as if you were sitting in another part of the stands." Coyle cured that problem by putting all three cameras on the same half of the field, the third-base side, so they were all looking in the same direction. He reasoned that the fan in the stands doesn't change seats: "He stays put, more or less. So why shouldn't television do the same?"14
In that 1949 analysis of televised baseball, Coyle voiced the complaint that has vexed TV coverage from the beginning, no matter how many cameras and how much pizzazz a director brings to bear. "[T]he action is not concentrated and there's so much of it," he said. "…And if only they played baseball with a football or basketball instead of a pill."15
NBC hired Coyle as a freelancer to direct another New York-Brooklyn World Series in 1949. This time he placed one camera in right field — that's as far as his cable would stretch. In the ninth inning of Game One, Tommy Henrich's winning home run flew directly at the camera, a dream shot. But the operator turned into a fan and tried to catch the ball instead of following it with his lens.16
With NBC and Gillette buying exclusive rights to the Series beginning in 1951, Coyle became the regular director. The Fall Classic was seen live coast-to-coast for the first time that year, after AT&T extended its video cable to California. More than half of all TV homes watched some of the games during the 1950s. "The World Series is the greatest advertising force on earth," said Gillette vice-president Craig Smith.17
Coyle joined NBC full time in 1955 and began directing the All-Star Game every summer. Two years later NBC followed CBS into weekly broadcasts on Saturdays and eventually Sundays, although the games were blacked out in major league cities.
Announcers had to learn a new way of calling games. "Ball one, strike one," Vin Scully recalled. "We were always told to be quiet."18 Many radio voices hated the transition to television, none more than the Dodgers' Red Barber. "On TV it's the director's show, and the broadcaster is an instrument of his, like a camera," Barber wrote. "On radio, it's my show, where my knowledge and experience and taste and judgment decide what goes and what doesn't. On radio, you're an artist. On TV, you're a servant."19
Coyle agreed that baseball is "a director's sport," and the toughest for television to cover.20 "Football and basketball are obvious," he said. "You know they're either gonna run or pass, and it's obvious when they're gonna pass…. Basketball just goes up and down. In baseball, you don't know where the hell the ball is gonna go."21
"You have to anticipate, to know what's wrapped up in a double steal, where the shortstop is on a relay throw, who's backing up, for example, and that means you have to know the game."22 He knew the game. "By the end of a World Series Harry would sometimes know a catcher or coach's signs," said Michael Weisman, an NBC producer who worked alongside him. "He called steals and pitchouts before they happened."23
Technical improvements drove innovation. Cameras delivered sharper pictures and shrank so an operator could carry one on his shoulder; zoom lenses enabled tighter closeups. NBC introduced color TV at the 1955 World Series, but it spread slowly. Color cameras need more light than black-and-white, so the ball disappeared in shadows, and night games were impossible until ballpark lighting improved. Color did not become standard until the mid-60s.
Coyle's best-known innovation, the center field shot, was invented two or three times. WGN in Chicago first used it on Cubs games in the early 1950s, but WGN was not yet a superstation, so its broadcasts were only seen in the local area. WPIX in New York claimed to be first with the shot on its Yankee telecasts. Coyle said he got the same idea while watching a softball game, where the umpire stood behind the pitcher to call balls and strikes.24
Until then the usual shot to start each play came from the "high home" camera behind the plate. Ball clubs resisted and sometimes banned the center field view, claiming that opposing teams would steal the catcher's signs. Club owners didn't want the television product to be too enticing; a better view from the couch might discourage fans from buying tickets.
Coyle introduced the shot on the network at the 1955 All-Star Game, but it took a decade before the center field camera became the default for every pitch. He still preferred the high-home shot, which can follow the action as a play unfolds, but the center field vantage provides a more intimate view of the confrontation between pitcher and batter
Of all the technological advances in his four decades in the game, Coyle thought the zoom lens, the hand-held camera, and instant replay were the most important.25 When Ampex Corporation invented the videotape recorder in the 1950s, the machines were bigger than a refrigerator. CBS director Tony Verna had one of the behemoths hauled into his mobile unit and devised a method to show taped replays. He first used it on the 1963 Army-Navy football game. Coyle brought it to baseball in the 1965 World Series.26
Replay produced the moment that may have been rerun more times than any other in baseball history. The sixth game of the 1975 Series between Cincinnati's Big Red Machine and the Boston Red Sox went into extra innings with the score tied at 6. Boston's Carlton Fisk, leading off the bottom of the 12th, lofted a fly ball down the left-field line. Announcer Dick Stockton cried, "If it stays fair…"
The image of Fisk bouncing up and down waving the ball fair, praying it fair, has been replayed so often that many fans don't realize it wasn't seen live.
The Fisk shot was an accident. Cameraman Lou Gerard, stationed inside Fenway Park's Green Monster in left field, was supposed to follow the ball, but it was a misty night and he couldn't find it. He was distracted by a big rat running around at his feet. "See, Lou has one eye on the rat and one eye on the camera," Coyle said.27 The camera stayed on Fisk.
That nine-second shot changed the way television covered sports. Coyle revised his bible to instruct camera operators to hold their shot of the player after the end of the play, to catch his reaction. The reaction shots brought home the emotion of the game. Eventually, that led to look-at-me end-zone celebrations after every one-yard touchdown run.
Many analysts believe the Sixth Game sparked a resurgence of baseball's popularity. The next night an estimated 75.9 million viewers watched Game Seven, then the biggest audience ever to see a sports event.28 The Washington Post's Shirley Povich wrote that "baseball was being joyously rediscovered by America."29
NBC won an Emmy for its 1975 Series broadcasts, but the following year ABC ended NBC's monopoly on baseball, showing Monday night games and taking the World Series in alternate years. ABC Sports, under the brilliant executive Roone Arledge, had become the leading innovator with its Monday Night Football and Olympics coverage. It won 32 of the 34 national sports Emmys in 1976.30
ABC brought an energetic new style to baseball telecasts, adding more cameras and flashy computer graphics. It also brought Howard Cosell, the lightning-rod announcer who had often trumpeted his disdain for baseball. Many baseball fans expressed equal disdain for Cosell.
Faced with aggressive competition and criticism that its coverage had grown stodgy, NBC hired an Arledge protégé, Don Ohlmeyer, to head its sports division, and replaced its lead baseball announcer, Curt Gowdy, with Joe Garagiola. But Ohlmeyer didn't replace the maestro in the truck. He later called Coyle "the greatest baseball director of all time."31 Coyle won an individual Emmy for directing the 1978 World Series, and NBC began featuring him in press releases promoting its long experience covering the game.
As he became an icon in the television industry, Coyle stuck to his roots. "Instead of eating in the team executive room, he would be happier with a Big Mac and a Coke, sitting in the truck with his boys," said executive producer Michael Weisman. "He called his cameramen his boys, and he was very much one of them." Some of the boys worked with him for more than 20 years.
Coyle's usual game uniform was a nylon windbreaker and a freebie golf shirt. "As a matter of fact," Weisman said, "I don't think Harry ever paid for a shirt in his life." He never would have made it as an announcer; he had a way with pictures, not words. In one close game, he remarked, "I love these cliff-dwellers." He advised one of his cameramen, "You can pick up the tickets from the consommé." He asked the Jewish producer if he wore "one of those Yamahas" to his son's bar mitzvah.32
In 1983 Dodgers announcer Vin Scully came aboard as NBC's baseball voice, a pairing of legends. The network tried to match some of ABC's innovations, occasionally with tongue in cheek. After ABC advertised its "Super Slow Mo" in the 1984 League Championship Series, NBC countered with "Super Duper Slo Mo" in the World Series.
The 1984 Series was "a pinnacle for televised sports," Jack Craig wrote in The Sporting News. "…[A]fter more than three decades covering the World Series, director Harry Coyle was still able to come up with something fresh — the eyeball-to-eyeball view of baserunners as they led off first base."33 For the second time, the Directors Guild of America honored Coyle for the best sports directing of the year.
The combined artistry of Coyle and Scully created a landmark moment in the 1988 Series. The Dodgers' MVP, Kirk Gibson, hobbled by leg injuries, was not in the lineup for Game One. The Oakland A's took a 4-3 lead into the bottom of the ninth with their near-invincible closer, Dennis Eckersley, poised to nail down the last three outs. NBC field reporter Bob Costas spotted Gibson in the trainer's room, and Coyle had a camera scanning the Dodgers dugout, building suspense, as Scully wondered aloud whether Gibson might pinch-hit. The Dodgers put the tying run on base with two away.
"And look who's coming up," Scully said, then let Coyle's cameras tell the story as Gibson limped to the plate.
The 1988 Series was a fitting climax to Coyle's career. Before the year was over, NBC lost the rights to baseball, outbid by CBS. Under the new contract, the Saturday Game of the Week became the Game of Some Weeks.
Coyle, 67, retired from NBC in 1989. He had married Ramona Sharp, who was called Peggy, in 1966. The marriage brought him an instant family; Peggy was divorced with three children. In retirement the couple moved to Marshalltown, Iowa, where her two sons lived.34
But Coyle wasn't done. His career came full circle when he directed some Yankees games for the Madison Square Garden network in 1992. The next year the Directors Guild presented him with its Lifetime Achievement Award.
Coyle had a stroke on Valentine's Day in 1996, and died five days later at 74.
Several of his colleagues and competitors have argued that he deserves the National Baseball Hall of Fame's Ford C. Frick Award for broadcasters. "He literally invented the way that every American watches baseball on television for the past five decades," said Dick Ebersol, president of NBC Sports. "He probably brought more sporting joy into more households than any other American."35
The Frick Award winners are chosen by a committee of past winners, historians, and sportswriters. The Hall's criteria say that it goes to "an active or retired broadcaster."36 No one but an announcer has ever been considered.
Television has brought us November World Series games that last until after midnight, among other things. But the tube is the most important factor in spreading the game's popularity and building Major League Baseball into a $10 billion-a-year business. For good and ill, its impact is immeasurable. Harry Coyle's pioneer telecasts set the standard for all who followed.
"My theory is to be a reporter first," he said. "That's why they tuned in — to see a ball game, not a vaudeville show."37
Acknowledgments
This biography was reviewed by Jan Finkel and fact-checked by Alan Cohen.
Video credit: Major League Baseball
Photo credit: Sports Broadcasting Hall of Fame
Notes
Born
January 7, 1922 at Ridgewood, NJ (US)
Died
February 19, 1996 at Des Moines, IA (US)
If you can help us improve this player's biography, contact us.
https://sabr.org/sites/default/files/CoyleHarry.jpg
600
800
admin
/wp-content/uploads/2020/02/sabr_logo.png
admin
2017-08-16 18:34:51
2020-04-09 14:40:33
Harry Coyle