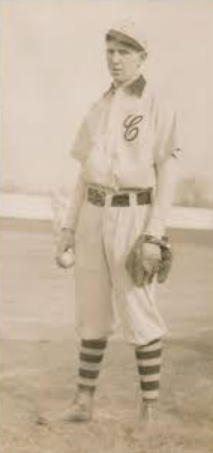 ---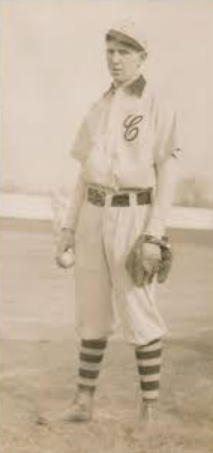 Homer Davidson had been a standout athlete on the diamond and gridiron at Cleveland Central High School in the early 1900s. He "was regarded as one of the best scholastic athletes in the middle west."1 More importantly, he was "one of the best catchers ever turned out in Cleveland."2 His signing with the Cleveland Naps in late 1907 generated enthusiasm and ballyhoo along the lakefront. That enthusiasm was nothing compared with the notoriety he had gained in 1906 as the quarterback and kicker for the Massillon, Ohio, Tigers. Indeed, Davidson's football career was much more extensive and successful than his baseball tenure.
Homer Hurd Davidson was the third of five boys born to Homer E. and Lillie Belle (Hurd) Davidson. He joined the family on October 14, 1884. All the boys, Harry, Lyman, Homer, and Allen became involved with athletics. Harry eventually played baseball and football for Case University. The elder Davidson was a cigar store owner who built the business into a manufacturing facility as well as retail outlet. The family was touched by tragedy when son Dwight (born in 1894) passed away a year later. Lillie died on April 14, 1900, during the Easter season.
Davidson was a quarterback/kicker in football and catcher/outfielder in baseball. In the early 1900s, few high schools fielded teams, so it was not uncommon for high schools to play college squads. In fact, Homer's high school baseball team played his brother's Case University team in 1902. The brothers were the catchers on their respective teams, and Homer outplayed Harry, who committed two passed balls and went hitless. Homer had a hit and scored once for Central in the 6-4 Case win. On the football field Homer was a quarterback, but gained most of his praise as a punter and dropkicker. Early in his career, a field goal counted as much as a touchdown (five points), and a punt that went through the end zone scored a safety.
At 5-foot-10, and 155 pounds, Davidson was considered small for both a catcher and a football quarterback. He lacked bulk, but possessed speed, something that was (and still is) unusual for a catcher. In a high school game against Willoughby in 1903 he stole three bases. On the gridiron, he used his quickness to avoid opposing tacklers.
Because Harry attended Case, there are occasional mistaken references stating Homer went to that school. Homer also is listed in some sources as attending the University of Pennsylvania. The archives at Penn have no record of Homer ever being a student there.3 A retrospective article in the Canton Repository noted that Davidson had not attended any college.4 Instead of furthering his education, Homer entered the workforce, first with a manufacturing firm in Elyria and then as a teller at the First National Bank in Cleveland.
Because he had well-paying, everyday employment, Davidson was in no rush to sign a professional baseball contract. Football was played once a week and did not interfere with his banking post. Baseball required a full-time commitment. He turned down several offers including one for a "splendid salary" from Charlie Carr in Indianapolis for the 1907 season.5 He played semi-pro baseball with a Norwalk team in 1905, Elyria in 1906, and Sandusky in 1907. With Sandusky, he turned an unassisted double play from his centerfield spot. He also coached the Central High School baseball team in 1905 and assisted with the football team.
On the gridiron, he signed with Massillon in 1906. His punting and field goal kicking led to a 12-6 victory over the Canton Bulldogs. The win gave Massillon the mythical professional crown for Ohio in 1906. He shifted to the Shelby Blues for the 1907 season. Shelby is located a few miles northwest of Mansfield, Ohio, so his travel times were extended, but, fortunately for Davidson, there was an extensive railway and traction car system in the state which made his weekend forays possible. In the winters, he played indoor baseball in Cleveland.
In 1908, the Naps had rid themselves of incumbent catcher Howard Wakefield and his weight issues, so the plan was for Davidson to be the third backstop, behind Nig Clarke and Harry Bemis, and to learn from the veterans. Despite playing as much outfield as catcher in the semi-pro ranks he was considered "a very strong thrower… star base runner and good hitter. He is also credited with being there with the 'noodle'"6
Cleveland trained in Macon, Georgia, in 1908 and Davidson reported there in early March. His debut came on March 14, when he batted fifth (behind Nap Lajoie) and lashed two hits against Macon. His fielding performance did not win him raves, as he dropped a foul fly, had two passed balls, and threw wildly on a steal attempt. The following day he was catching again versus Macon and had his hand stepped on in a play at the plate. The injury forced him into inactivity until April 2, but he still made the roster.
Davidson made his major-league debut on April 25 in the ninth game of the season. He was sent in to pinch-run for Clarke in the ninth and scored on a single by Bill Hinchman. Detroit rallied in the tenth to win, 3-2.
On January 22, 1907, Davidson had taken Bessie Nisbel Parker for his bride. She was originally from New Brunswick, Canada, and had moved to Chicago in 1904. The couple had met two years earlier and carried on a long-distance romance. Davidson slipped away from his banking job and wed quietly at the home of the bride's aunt. Bessie was nearing the due date for the couple's first child in May 1908. The Naps were to leave May 10 for an 18-day road trip and the decision was made to leave Davidson behind. Homer Parker Davidson joined the family on May 25.
The Naps returned from their trip for a game with St. Louis on May 29. Davidson was given the start in right field and went 0-for-2. It would be his only starting assignment: He was used as a substitute at catcher in five games and had two other pinch-running appearances before he was sent to Akron after an August 11 pinch-runner appearance. Manager Lajoie had obviously decided Davidson was not a viable option in the outfield. Pitchers Otto Hess and Jake Thielman combined for six outfield starts in June and July.
The Naps' outfield was a source of frustration for Lajoie and he hoped the addition of Wilbur Goode from Akron would help the team. Goode came with a reputation as a hitter, but not much of a gloveman. Davidson joined the Akron Tip Tops7 and was inserted in Goode's spot both in the lineup and on the diamond. In 18 games, he hit .269 for the champions of the Class C Ohio-Pennsylvania League. When their season ended, he returned to the Naps rather than barnstorm with Akron. Davidson saw no action as Cleveland closed out the season a half-game behind Detroit.
That fall Davidson did not play professional football. Speculation was that he was avoiding injury that would jeopardize his baseball career. Cleveland had 42 players reserved for the 1909 season and started to pare down the roster in January with the intent of having 30 players at spring training. Davidson did not figure in the team's plans, so he was released and became manager of the Newark, Ohio, squad in the Class D Ohio State League.
Managers were responsible for assembling their rosters and Davidson brought in seven players from the Cleveland area as well as semi-pro players he had met in Sandusky and Elyria. His youth and lack of connections amongst other baseball managers/owners hampered his ability to gather top-notch talent.
Newark dropped the first game of the season to Portsmouth, 1-0. Davidson threw out four would-be base stealers. Fortunes did not improve much and the team had a 16-24 record when Davidson was released on June 9. The franchise moved to Columbus and ceased operations in late August. Davidson moved to the Class C Ohio-Pennsylvania League, where he played 38 games with the McKeesport Tubers before closing out the season with Youngstown. His professional baseball career ended at this point with fewer than 100 games played.
Considered "one of the greatest punters and kickers in the history of football"8 at the pinnacle of his career, Davidson played professionally for nine seasons in Ohio. The Ohio professional scene was the precursor to the National Football League. He was with the Shelby Blues in 1907 and 1909. In 1910, he became coach/quarterback/kicker of the rival Shelby Tigers. On November 13, he returned a kickoff 100 yards for a touchdown and scored two other times in a 47-0 blasting of East Toledo.
He returned to the Blues in 1911 and joined forces with Ohio football legend Peggy Parratt. Parratt was coach and the duo split the quarterback duties. The team was crowned state champions. Davidson also played with a Youngstown team in the early fall and then with a Cleveland All-Star squad after the Blues' season.
In 1912-13 he coached and played with the Elyria Athletics, the 1912 state champions. He was joined on the squad by his younger brother Allen, who was an end and running back. The following season he rejoined Parratt with the Akron Indians after being the runner-up for the Massillon coaching job. He also became a high school and college football official and would continue refereeing games until the family left Ohio.
In 1915, he returned to the baseball fields as manager and outfielder for the May Company team in Cleveland. In the autumn, he played football for the Massillon Maroons. The following year found him playing baseball for a semi-pro team located in Carrollton, Ohio. He closed out his football career that fall with Parratt's Cleveland team.
Davidson turned his attention to his family and career after his playing days. The years of work in the bank gave him financial savvy and he found employment in the automobile industry as a financial officer. In 1918, the family added a second son, John. The family left Cleveland in 1924 for Flint, Michigan, where Davidson worked as treasurer for the automobile plant. The following year he was transferred to Marion, Indiana, where he served as president of the Indiana Truck Corporation. Davidson's son, Homer P., followed in his footsteps as an athlete and played football and ran track at the University of Wisconsin.
Davidson moved to Detroit in 1930 and joined the Automotive Credit Association. He eventually rose to the directorship of the firm. He was instrumental in the financial reorganization of the Studebaker and Willys-Overland corporations during the Depression.9 Davidson died of a heart attack at his home on July 26, 1948. He was buried in Grand Lawn Cemetery in Detroit.
Acknowledgments
This biography was reviewed by Joel Barnhart and verified for accuracy by the BioProject fact-checking team.
Notes
Born
October 14, 1884 at Cleveland, OH (USA)
Died
July 26, 1948 at Detroit, MI (USA)
If you can help us improve this player's biography, contact us.
https://sabr.org/sites/default/files/DavidsonHomer.png
600
800
admin
/wp-content/uploads/2020/02/sabr_logo.png
admin
2017-06-21 11:55:19
2017-06-21 11:55:19
Homer Davidson