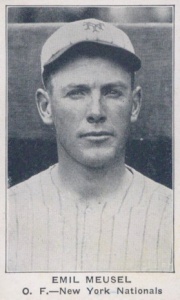 ---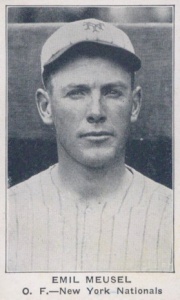 Irish Meusel was the starting left fielder on New York Giant teams that won four consecutive National League pennants from 1921 to 1924. He was one of the leading sluggers of the era, a clutch hitter known for his ability to drive in runs. In 1923 he struck out only 16 times while leading the National League with 125 RBIs.
Emil Frederick "Irish" Meusel (pronounced MEW-zle1) was born in Oakland, California, on June 9, 1893. He was not Irish, but he looked Irish, enough to earn his nickname. His grandparents were born in Germany, and his parents were born in the US: Charles Frederick Meusel in New York, and Mary Ann (Smith) Meusel in Wisconsin. Before 1878, Charles and Mary moved to northern California, where their six children were born.2 Emil was the second youngest of this clan; his brother Robert was the youngest. The family moved to southern California before 1910. Charles worked as a security guard at a Los Angeles paper mill.3 "My father wanted us all to be baseball players," said Robert. "It was the loftiest ambition he had for his offspring. He brought home bats and balls and encouraged us to play."4
As a teenager, Emil played on amateur teams in Los Angeles. In 1913 he batted .306 in 123 games and played left field for the Fresno Raisin Eaters of the California State League, and he appeared in 15 games in October for the Los Angeles Angels of the Pacific Coast League.5 In the offseason he was acquired by the Washington Senators. The Washington Post said "Irish" Meusel is "a vicious hitter" of "the Joe Jackson type."6
Meusel stood 5'11" and weighed 178 pounds. He was a right-handed batter and thrower. At spring training with the Senators in 1914, he demonstrated his "slugging propensities."7 He was a natural hitter but an inexperienced ballplayer, so the Senators sent him to the Elmira Colonels. Meusel helped Elmira win the New York State League pennant in 1914; he led the league in runs and hits, and was second with a .323 batting average.
On October 1, 1914, Meusel made his major-league debut with the Senators and went 0-for-2 in a loss to the Philadelphia Athletics. This was the only game he played for the Senators. He was traded to the Minneapolis Millers in the offseason, but he refused to go to Minnesota and was returned to the Los Angeles Angels.8 After six games with the Angels in April 1915, Meusel went back to Elmira,9 where he had another productive season, hitting .327 in 122 games.
During the winters of 1914-1915 and 1915-1916, Meusel played for the El Centro (California) team of the Imperial Valley League.10 In February 1916 he played center field, while his brother Robert played right field, on the Pacific Electric team of Los Angeles.11
In 1916 Meusel batted .312 and stole 33 bases in 113 games for the Birmingham (Alabama) Barons of the Southern Association.12 One of his teammates was 22-year-old pitcher Burleigh Grimes, a future Hall of Famer. Meusel went to spring training with the Chicago Cubs in 1917, but failed to make the team and was again sent to the Los Angeles Angels.13 This time he stuck with the Angels and batted .311 in 210 games over the long PCL season. Against the Portland Beavers on July 26, 1917, he homered twice and drove in five runs, and threw out a runner at the plate from right field.14 Meusel led the PCL with 69 stolen bases in 1917, and was second in the league in total bases.15 His 44 assists led PCL outfielders.16 It was quite a year; in May 1917 he married Evangeline Proctor in Los Angeles.17
Meusel returned to the major leagues in 1918 as a member of the Philadelphia Phillies, who had drafted him in September 1917. Although the Phillies won the National League pennant in 1915, and finished in second place in 1916 and 1917, the team was a sinking ship, and by 1919, the Phillies were a last-place club. Meusel was one of the few bright spots.
As a rookie in 1918, Meusel batted .279 in 124 games. He tied for third in the National League with 35 extra-base hits, including an inside-the-park grand slam off Dolf Luque of the Cincinnati Reds on August 23. In the offseason Meusel played for a Pasadena (California) club during the influenza pandemic of 1918-1919. On February 9, 1919, "players, umpire and spectators wore 'flu' masks" at a game in Los Angeles; "peering over the edge of his mask," Meusel laced out four hits.18
Meusel developed a sore throwing arm that winter, which affected his outfield play the following season, but his hitting was unabated.19 His .305 batting average ranked seventh in the National League in 1919, and he struck out only 13 times in 521 at-bats, the second best ratio in the league. The next season he was again seventh in the league with a .309 average, and only Rogers Hornsby, Cy Williams, and Ross Youngs recorded a higher slugging percentage in the NL. On August 7, 1920, Meusel went 6-for-8 with two home runs and six RBIs in a doubleheader against the Reds. Four days later, he began a 21-game hitting streak in which he batted .420; the streak was halted by Grover Cleveland Alexander in Chicago on August 31. While Meusel excelled for the Phillies in 1920, his brother Robert enjoyed a fine rookie season on the New York Yankees.
Meusel was named captain of the 1921 Phillies.20 In May he hit solo homers off Alexander of the Cubs and Brooklyn ace Burleigh Grimes, and he slugged a walk-off three-run homer to beat the St. Louis Cardinals. Meusel was hitting like never before. Through games of July 22, he sported a .353 batting average and ranked second in the league with 12 home runs. At this point in the season, the Pittsburgh Pirates were in first place in the National League, 4½ games ahead of the second-place New York Giants, and 31½ games ahead of the last-place Phillies.
Giants manager John McGraw coveted Meusel, and Phillies owner William Baker was willing to part with him for the right price. In 1920 the Giants had paid $95,000 for Philadelphia's star shortstop Dave Bancroft, sparking public outcry against Baker for weakening his team for money.21 This time Baker tried a different tactic. Meusel was benched on July 23, 1921, allegedly for "indifferent playing,"22 and Baker declared: "Meusel's playing days are over. We are out to trade him and already have offered him to New York, Boston and Pittsburgh. The club giving most in exchange will get him. We want players, however, and not cash."23
Two days later, Baker announced that he had traded Meusel to the Giants for Curt Walker and Butch Henline.24 Philadelphia fans were stunned and outraged. Sportswriter Jimmy Isaminger explained: "Nobody believes that the Phils would be foolish enough to send a topnotch player, whose release in the hot pennant fight … would command anything from $50,000 to $100,000, to the wealthy and liberal Giant owners for two minor leaguers."25 Surely cash was part of the deal. According to later reports, the Phillies received between $30,000 and $75,000 in the transaction.26 "In cold blooded fashion," Baker "takes from his team every star that flashes into view and passes it along … in exchange for gold," said sportswriter Frank G. Menke.27
The Brooklyn Daily Eagle said, "It is about time Judge Kenesaw Mountain Landis, high commissioner of baseball, stepped in and called a halt to Manager John J. McGraw's activities in buying another pennant for the New York Giants."28 Landis, though, was preoccupied with the Black Sox scandal. (On August 3, 1921, he banned eight Chicago White Sox players for conspiring to throw the 1919 World Series.) Landis allowed the Meusel trade to stand, but later told sportswriter Fred Lieb that if he had known all the inside details of the transaction, he never would have sanctioned it.29
Meusel batted .195 in his first 19 games as a Giant, but then his bat caught fire and he hit .392 over the next 43 games. His 12th-inning triple knocked in the go-ahead run in Cincinnati on September 13, and he drove in four runs in New York's 5-2 victory over St. Louis on September 25. Meusel's late-season heroics helped the Giants overtake the Pirates and win the 1921 National League pennant. "The former Phil may be said to have turned a dozen ball games for McGraw since his shady departure from Philadelphia," wrote Charles J. Doyle in the Pittsburgh Post-Gazette.30 The Giants had several ex-Phillies on the roster, prompting one reporter to say, "The Giants are probably the best Philly club that McGraw has ever managed."31
The Giants defeated the Yankees in the 1921 World Series. The 28-year-old Meusel played left field, and his 25-year-old brother Robert played right field for the Yankees. The brothers made a bet that whoever had the lower batting average in the series would pay for Thanksgiving dinner.32 Emil won the bet: He went 10-for-29 (.345) while Bob collected 6 hits in 30 at-bats (.200). Emil's seven RBIs led all players in the series. The brothers were "big drawing cards" in southern California that winter; they formed a team known as Meusel's All-Stars and played several games against a team of Negro stars that included three future Hall of Famers: Oscar Charleston, Biz Mackey, and Jose Mendez.33
Meusel batted .331 in 1922, and the Giants won another pennant. He was an RBI machine, driving in a career-high 132 runs. In the World Series, he knocked in seven more runs as the Giants defeated the Yankees for the second year in a row.
In 1923 Meusel drove in 125 runs, including seven runs on July 26 against the Cubs. No player had homered twice in one game off Grover Cleveland Alexander until Meusel did it on June 7. The Giants clinched their third consecutive pennant on September 28 with a 3-0 victory over Burleigh Grimes and the Brooklyn Robins; Meusel went 3-for-4 with two RBIs that day. The Yankees defeated the Giants in the World Series this time, and it was brother Bob who led all players with eight RBIs. Bullet Joe Bush hurled a three-hitter, with Emil getting all three hits – a single, double, and triple – in the Yankees' Game 5 victory.
Meusel's biggest thrill in baseball was playing in three World Series against his brother. He said:
"Bob's family and my family lived in the same apartment building in New York. We'd go home after each Series game in 1921, '22 and '23 and we'd sit down and re-hash the games. The guy whose team had won that day would have himself a good time bragging and the loser would have to stand for some ribbing. Bob and I had some good times."34
With 102 RBIs in 1924, Meusel helped the Giants win a fourth consecutive pennant. There were seven future Hall of Famers on the team: George Kelly, Frankie Frisch, Ross Youngs, Travis Jackson, and rookies Bill Terry, Hack Wilson, and Freddie Lindstrom.35 In the World Series, which was won by the Washington Senators, Meusel went just 2-for-13, but spectacular catches by Washington's Goose Goslin and Sam Rice robbed him of two extra-base hits.36
The Giants finished second to the Pirates in 1925. Meusel batted .328 and led the team in home runs (21) and RBIs (111). Incredibly, he had more home runs than strikeouts (19). No player had homered twice in one game off Burleigh Grimes until Meusel did it on June 1.
Meusel was personable, with an ever-present smile,37 and he had a calm, serene demeanor. Nothing seemed to bother him; he was "as imperturbable as a goldfish," said Thomas Holmes of the Brooklyn Daily Eagle.38 Off the field, Holmes added, Meusel was "the best dressed ball player" he ever saw.39
The Giants slumped to fifth place in 1926. Although Meusel batted .292, it was a subpar season for him. Against the Pirates on July 27, he misplayed two balls in left field, and an exasperated McGraw took him out of the game after three innings.40 With 17-year-old Mel Ott waiting in the wings, the 33-year-old Meusel knew his days with the Giants were numbered. He purchased his release in September and became a free agent.41 However, there was limited demand for a high-salaried, aging left fielder. Meusel joined the Brooklyn Robins in 1927, but was used mostly as a pinch-hitter and was released in July. He finished the season with the Toledo Mud Hens of the American Association.
Meusel returned to the Pacific Coast League, with the Oakland Oaks in 1928 and the Sacramento Senators in 1929. McGraw invited him back to the Giants as a coach in 1930. After seven games with the Omaha Packers of the Western League in 1931, Meusel called it quits. In 18 seasons of professional baseball, he accumulated 2,588 hits and recorded a .311 lifetime batting average. His brother Robert's career average, over 16 seasons, was also .311.
In the 1930s Meusel resided in Glendale, California, and worked as a bartender. One of his neighbors was his good friend and former teammate, Casey Stengel. At nearby Hollywood, Meusel earned small roles in baseball-themed movies, including The Best of Luck (1920), Slide, Kelly, Slide (1927), Fast Company (1929), They Learned about Women (1930), Off His Base (1932), Death on the Diamond (1934), and Alibi Ike (1935).42
During World War II, Meusel worked as a security guard, and managed a baseball team, at the Navy dry docks in southern California.43 He later worked as a security guard at the Santa Anita and Hollywood Park race tracks. After he and his wife divorced, he married Estella R. Dansereau, and the couple resided in Long Beach, California.44 On March 1, 1963, Meusel died of a heart attack in Long Beach, at the age of 69.45
Notes
Born
June 9, 1893 at Oakland, CA (USA)
Died
March 1, 1963 at Long Beach, CA (USA)
If you can help us improve this player's biography, contact us.
http://sabr.org/sites/default/files/MeuselIrish.preview_0.jpg
600
800
admin
/wp-content/uploads/2020/02/sabr_logo.png
admin
2012-01-04 20:37:55
2012-01-04 20:37:55
Irish Meusel