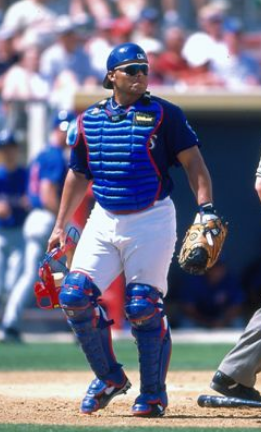 ---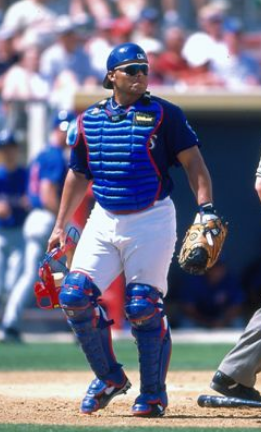 Coming from the dirt fields of Puerto Rico to the heights of the major leagues, Pudge Rodriguez had a long and storied career as perhaps the greatest all-round catcher ever. Revered by Texas Rangers fans for his decade in Arlington, he led the Florida Marlins to a World Series title and was instrumental in re-energizing the Detroit Tigers. With numerous major-league records to his name, he became just the second catcher to be inducted into the Hall of Fame on the first ballot.
Ivan Rodriguez Torres was born on November 27, 1971, in Manati, Puerto Rico. His surname uses the traditional Spanish format, coming from his father, José Rodriguez, and his mother, Eva Torres. The younger of two sons, he grew up in nearby Vega Baja, where his mother taught elementary school and his father worked as an electrician for a construction company.
Ivan and his brother, José Jr., played baseball as children in empty fields around town with a stick and a roll of balled-up tape,1 then in Little League, where he played on the same team as future major leaguer Ricky Otero, and against future Texas Rangers teammate Juan Gonzalez. Ivan started as a pitcher, then moved to third base, and finally to catcher. His father was an amateur catcher in Puerto Rico, and taught his son the position. "My father taught me how to throw when I was younger, and I've learned the rest of it the last couple of years," he said.2 He watched baseball on television, and found a hero there: "Even before I started catching, my favorite player growing up was Johnny Bench. … He did everything well, and he wasn't all that big. So watching him gave me some hope that I might have a shot."3
Rodriguez played on Parcelas Amadeo, an empty block of land with a ballfield on it. Coached by Julio Pabon from age 5 until 13, he started catching when he was about 7, and both Pabon and his father took credit for the move to catcher. Pabon said it was because Rodriguez threw too hard and scared the other kids. "I threw seven no-hitters, two in one day," said Rodriguez.4
Discovered by scouts Luis Rosa and Manny Batista when he was in high school, Rodriguez attended a Rangers tryout camp run by Rosa in 1988. "Pudge was hard-nosed, even then," said Rosa. "He showed leadership at 16 that I'd seen in few kids. He knew where he was going."5 At the tryout camp Rangers scouts put the radar gun on him and showed him throwing 93 mph from the plate to second base. At that point, Rangers scouting director Sandy Johnson made sure they signed Rodriguez before the day was over.
The Rangers decided that the 17-year-old Rodriguez would skip rookie ball, and sent him to Gastonia in the Class-A South Atlantic League in 1989. Rodriguez more than held his own, despite being one of the youngest players in the league. He hit only .238 but impressed with his catching and throwing and was named one of the top prospects in the league. In 1990 the Rangers promoted Rodriguez to Port Charlotte in the Florida State League. This time he hit .287, and again was named one of the best prospects in the league.6
In the minor leagues Rodriguez was given his nickname. "A coach from the minor leagues, his name is Chino Cadagia, he called me Pudge because, at that time, I was small and cocky – you know, like a strong and small guy – and he called me Pudgy. The name just stayed with me," Rodriguez said.7
Rodriguez worked with Benito Santiago in Puerto Rico in the offseason, learning all he could from the Padres catcher. "I go and work with him in Puerto Rico and he tells me about catching and playing in the big leagues," Rodriguez said.8
Promoted again in 1991, this time to Tulsa of the Double-A Texas League, Rodriguez brought his childhood girlfriend, Maribel Rivera, with him from Puerto Rico, having asked her to marry him over the winter. He once again dominated a league where he was one of the youngest players (19 years old), hitting .274 in 50 games and receiving significant attention for his fielding. Rodriguez and Maribel were supposed to be married in an on-field ceremony between games of a doubleheader in Tulsa on June 20, but their plans were derailed when Rangers catcher Geno Petralli was injured. The Rangers reached down to Double A to call up their top prospect on a Wednesday, the day before the wedding was scheduled. They rescheduled the wedding for Thursday morning, (in later years Rodriguez said they actually got married during spring training the following year), then the couple flew to Chicago where Rodriguez made his major-league debut that night.9 In the game he threw out two runners, then got his first major-league hit in the ninth inning, driving in two runs. "I was a little nervous in the first inning, but I felt OK," he said. "I want to stay here. I don't want to go back to the minor leagues."10 "He was a little nervous, a little jumpy. A lot more than he's going to be. He's going to be good," said Rangers manager Bobby Valentine.11
Rodriguez went on to hit in 10 of the 11 games on that first road trip, and then impressed Rangers fans in his first home game by getting four hits. It took a while for his first home run; it wasn't until August 30, more than two months after his call-up, that he hit one, off Storm Davis of the Kansas City Royals. Then he hit two more in the following week.
Rodriguez received a lot of attention for the rest of the season, being the youngest player in the major leagues in 1991. He finished fourth in voting for the Rookie of the Year, and opponents made numerous comments about how he appeared much more advanced than his age. Rangers coach Orlando Gomez said, "The best way to say it is, Ivan was born to be a big leaguer."12
In 1992 Rodriguez continued to progress. "Give him time, he will be a superstar because he has all the tools," said Rangers first baseman Rafael Palmeiro.13 By midseason he was being talked about for the All-Star Game. "I think he could make the All-Star Game this year with his defense alone," said manager Bobby Valentine.14 However, in June Rodriguez was diagnosed with a stress fracture in his lower back, caused by overuse, and spent three weeks on the disabled list. Although the injury was caught early and doctors said it was not career-threatening, it continued to bother him for the rest of his career, causing further DL stints now and then. He was selected as a reserve for the American League in the All-Star Game, and entered the game in the sixth inning, becoming the fourth youngest player to ever appear in an All-Star Game. At the end of the season Rodriguez won his first Gold Glove, beginning a streak of 10 straight years winning the award.
In 1993 Rodriguez continued to make great strides in his game, and tied with Johnny Bench as the youngest starting catcher in All-Star Game history, both making their first start as an All-Star when they were 21 years, 7 months, and 16 days old. "Last year I made the team, but this year I get to be one of the first nine players to start. I'm excited about it," he said.15 Rodriguez went on to help the American League win, 9-3, with an unusual hit. His line drive to left off John Burkett got stuck in a seam of the outfield wall padding, giving Rodriguez a ground-rule double, and he then came round to score the go-ahead run as the AL walked away with the game.
A few weeks later Rodriguez had a couple of weeks to remember: On Monday, July 26, he went 4-for-4 in the second game of a doubleheader. In the next game he also went 4-for-4, for eight straight hits, along with an intentional walk in the ninth inning. The following day he was struck in the face by the backswing of Royals batter Hubie Brooks, and broke his cheekbone. He had surgery the following day, and after being out for just four days, returned to the field. He ended his hitting streak with a groundout, then left the game in the sixth inning with dizziness. Back in the lineup a few days after that, he was behind the plate for a fight between Nolan Ryan and Robin Ventura, and admitted he was thinking about his cheek as he ran out to the mound for the fight.16
The rave reviews continued to come in, although Rodriguez tried to downplay things. "I want to be the best, but I don't like saying, 'I'm the best catcher,'" he said. "Other people can say it, but I am not going to say it because if I say it, I'll go backward and my career will go down."17 On the other hand, Rangers general manager Tom Grieve said that Rodriguez had "met and gone beyond all the high expectations that everybody had for him."18 A few years later Rangers manager Johnny Oates said, "He's probably the best thrower I've ever seen. He gets rid of the ball quick, throws it hard and accurate."19 After a ball got away from Rodriguez one day and he still threw out the runner at second base, Oates said, "No other catcher can make that play."20
On July 28, 1994, Rodriguez caught Kenny Rogers' perfect game in Arlington, and homered in the game. Rodriguez had caught two no-hitters in the minor leagues, but this was on another level. He said, "I'd rather help a pitcher do something like that than hit a thousand home runs. To me, calling a great game and helping a pitcher be at his very best is what being a catcher is all about."21
Rodriguez occasionally talked about his religious faith, and attended his teams' chapel services every week. He also showed his faith on the field every day, which he said he had done since he was a child. He wore a medallion of Jesus under his shirt, and before every at-bat crossed himself and said a prayer. "I talk to Jesus. I always ask him to take of myself, to take care of my family. I never say, 'I want you to give this to me today,'" he said.22
Among other odd quirks, Rodriguez insisted on having a friend or family member accompany him on road trips to help chase away his boredom. "I like having someone to talk to," he said. His wife said he was obsessed with the game: "He watches ESPN when he comes home from the ballpark at night. Then he gets up in the morning, takes a shower and watches ESPN again."23
By the late 1990s Rodriguez was clearly the best catcher in the major leagues. "There's no question he's the top catcher of this era. … If he can duplicate what he's been doing for a long time, he will be in the Hall of Fame," said Bob Boone.24 "He's the best all-round catcher I've seen since Johnny Bench," said Dusty Baker.25 Rodriguez had developed all around, in both hitting and fielding. "He used to be worried about nothing but throwing guys out stealing. Now he's worried about calling a good game for you, and he's worked hard at blocking pitches in the dirt. And he's still got that great throwing arm," said Rangers pitcher Bobby Witt.26 "You can't go to sleep a minute out there when Rodriguez is behind the plate. If he doesn't hurt you with his bat, he'll hurt you with his arm," said Yankees manager Joe Torre.27 In 1996 he got votes for MVP for the first time, as the Rangers went to the playoffs for their first time. "He's a great ballplayer, and I don't think we'll see another catcher like him in the next 10 years," said stats guru Bill James.28
In the spring of 1997 Rodriguez entered the last year of his contract with the Rangers. Negotiations during spring training didn't get far, and the sides agreed to talk again at the end of the season. The Rangers then approached Rodriguez in July to restart talks, in fear that they would lose him to free agency for just a draft pick at the end of the year. Rodriguez agreed to negotiate, and the two sides talked, but were far apart. On July 25 the Rangers made public a letter to Rodriguez's agent, Jeff Moorad, in which they offered more than $38 million over five years. Moorad, who was asking for $45 million for his client, said he thought revealing private talks was just trying to embarrass his client, and that they would table discussions over a new deal.29 "I want to stay here. But it's got to be fair, a contract that I'm happy with and feel comfortable with," said Rodriguez.30
On July 29 the Rangers acquired catcher Jim Leyritz from the Angels, preparing for a rumored trade. However, on the morning of July 31, the trade deadline, Rodriguez took matters into his own hands. The Rangers had essentially agreed a deal with the Yankees, planning to send Rodriguez to New York for pitchers Eric Milton and Tony Armas Jr. and catcher Jorge Posada,31 but the trade was off when Rodriguez himself walked into Rangers president Tom Schieffer's office and negotiated a new contract. The five-year, $42 million deal was midway between what the team had been offering and what Rodriguez had been asking for, but he wanted to stay in Texas. "He said he wanted to be a Texas Ranger his whole career and he wanted to see if he could work out a deal," said Schieffer. Rodriguez said his mother had told him to talk to the Rangers and see if they could solve the impasse, and added, "My mom is right. He listened to me and we did it. … We are all happy."32
After that season Rodriguez played winter ball in Puerto Rico, as he had done for several years. Now that the Rangers had given him a large contract, they were not happy that he was risking himself in winter ball. But he started hot in 1998, attributing it to the fact that he had the extra time in Puerto Rico and came into spring training in better condition, although manager Johnny Oates thought playing every winter in Puerto Rico would shorten Rodriguez's career.33
In 1998 Rodriguez became the first catcher to have three hits in the All-Star Game, and also played several games as the designated hitter; Oates wanted to keep his bat in the lineup even as he rested from his catching duties. As had happened previously though, Rodriguez had back spasms and was forced to miss some time late in the season.
In 1999 Rodriguez broke numerous records. His .332 batting average was the highest BA for an AL catcher since Bill Dickey in 1936. With 35 home runs (a new AL record for a catcher), 116 runs, and 113 RBIs, Rodriguez was the first AL catcher ever to go 30-100-100. He displayed his speed with 25 stolen bases, becoming the first catcher with 20 home runs and 20 steals in a season. Rodriguez also had a 20-game hitting streak from May 8 to June 1, the longest of his career. He ended the season with 199 hits, the highest total of his career, going 0-for-4 on the last day of the season.
On April 13 in Seattle, Rodriguez had a career day, driving in nine runs in a 15-6 win over the Mariners. He had a three-run home run in the first, a two-run single in the second and a grand slam in the third inning. Rodriguez had a shot at the major-league record of 12 RBIs in a game, but flied out with runners on first and second in the fifth inning, singled with the bases empty in the seventh, and was replaced in the eighth by Gregg Zaun, who came up with runners on first and second in the ninth. Asked if he was disappointed that manager Johnny Oates pulled him with a record in sight, Rodriguez said no. "I feel happy with the game I had. But I'm not looking for that. I'm just looking for wins for the team, and that's what we did."34
After batting .332 Rodriguez was named the 1999 American League Most Valuable Player, controversially edging out Pedro Martinez of the Boston Red Sox. Martinez had eight first-place votes to Rodriguez's seven, but Rodriguez finished with 252 points to Martinez's 239. Rodriguez was just the fifth player to win the MVP without getting the most first-place votes. Martinez had been left off the 10-player ballot by two voters who believed that a pitcher should not win the MVP award, and that probably cost him the points he needed to win. Rodriguez wasn't bothered by the commotion, just happy with his win: "That's the dream of every player, to get this award," he said.35 "I felt confident that I had a shot to be MVP, and it came true. I'm so happy for it."36
In 2000 Rodriguez was having an even better season, but on July 24 everything came to a halt when he broke his thumb when it hit Mo Vaughn's bat as Rodriguez threw to second to try to get a runner. "As soon as it happened, my thumb went numb. There was swelling and I knew it was broken and I'd be out for the season," he said.37 When he went down he was batting.347 with 27 home runs and 83 RBIs, on a pace to do far better than his MVP season the year before.
Rodriguez recovered for the 2001 season. The Rangers opened the season against the Toronto Blue Jays in Puerto Rico, taking Rodriguez to his homeland to play. A couple of days before the opener he hit two home runs in an exhibition game against the Blue Jays. He then took several people to his hometown, Vega Baja, where he broke ground for a baseball academy he was building. He went to the field he used to play on as a kid, and told Rangers GM Doug Melvin "This is where I'm from. Right here."38
But again Rodriguez missed the end of the season when tendinitis in his knee required surgery in September. He was unable to work out properly over the winter, and his weight increased. Partly due to that, a herniated disc kept him out almost two months between April and June of 2002. In that time Rodriguez dropped from 232 pounds to 208, suggesting that his extra weight may have been causing the back problems.
In June the Cincinnati Reds played in Arlington for the first time. In a ceremony before a game, Johnny Bench presented Rodriguez with his 10th Gold Glove, which tied Bench for the catcher record.
During the season the Rangers indicated that they intend to slash payroll after the season. They had signed Alex Rodriguez to the largest contract ever, and signed several other high-profile free agents in a push to make the postseason. There was speculation that Ivan Rodriguez's time in Texas could be coming to an end. On December 7 the Rangers made it official, declining to offer him arbitration and making him a free agent, a decision that angered Rangers fans. "This was a very tough decision and certainly one that will be painful for the fans," said Rangers owner Tom Hicks.39
Rodriguez was unable to get a big contract because of his recent injury history. He finally signed a one-year, $10 million deal with the Florida Marlins for 2003, and was able to play in Miami, his adopted hometown. Rodriguez led the team to a world championship, providing veteran leadership for a team that wasn't expected to contend. "He's done a remarkable job with young pitchers and helping develop those pitchers, said Marlins manager Jack McKeon. "In the playoffs he just took over and took charge, showing the strong leadership that we knew he had."40
Rodriguez single-handedly won Game Three of the Division Series, his two-run home run in the first starting things off, and his game-winning two-run single in the 11th providing the 4-3 victory over San Francisco. Rodriguez got at least one hit in each of the four NLDS games, and famously held onto the ball for the final out at the end of Game Four as J.T. Snow tried to knock him down to score the tying run. Then he was named the MVP of the National League Championship Series after setting a record with 10 RBIs in the series as the Marlins beat the Chicago Cubs in seven games. "I'm very happy for my team. Nobody expected us to be in the World Series," he said.41
In Game One of the World Series, Rodriguez hit a sacrifice fly in the top of the first inning to give the Marlins a 1-0 lead and picked off a runner at third base as the Marlins defeated the Yankees 3-2. Years later he said, "I'm pretty sure that's my favorite play of my career. If I don't make that throw and nail Nick Johnson, maybe that run scores and we lose that game, and who knows what happens in that Series? But I got him. And that one felt so good."42 The Yankees won Games Two and Three, but then the Marlins won three straight to win the Series in six games. After the final out in Yankee Stadium, Rodriguez went back out onto the field with his son and walked the bases, then knelt and prayed at home plate.
After the season Rodriguez told the Marlins he wanted a four-year, $40 million contract, but the team offered him a $2 million pay cut from his previous deal. Insulted that they wanted to cut his pay after the team had won the World Series, Rodriguez looked elsewhere. "It wasn't fair, that's for sure," he said. "I was just asking for the same amount of money I made last year, and they still said no."43
Although there was interest from several teams, Rodriguez was a 32-year-old catcher with more than 1,600 games played, and teams were wary of giving him a big deal. Still, on February 6, 2004, Rodriguez signed a four-year, $40 million contract with the Detroit Tigers. The team had won just 43 games the season before, the worst performance in its history, and owner Mike Ilitch was ready to start fresh. He and GM Dave Dombrowski met with Rodriguez and told him they wanted to build a team around him.
Tigers Hall of Famer Al Kaline was skeptical, saying, "There's no way you're going to get a superstar like that to come to Detroit right now." But Dombrowski had done his homework, even checking in with a psychologist to see how Rodriguez would feel going from a World Series team to the worst team in baseball. Reassured, he said that Rodriguez "was driven to be a complete player in handling the (pitching) staff and how important that had now become to him." And it showed in spring training, Rodriguez's work ethic impressing his manager right away. "He has taken the initiative, 'Here, follow me.' That's a beautiful thing," said skipper Alan Trammell.44
For his part, Rodriguez was optimistic. "Everybody asks me, 'Why Detroit?' And I say, 'Why not? Anything can happen."45 Rodriguez hit .334 in 2004 and helped the Tigers improve in the standings by 29 games. More importantly, he helped to give the team a little respect, and slowly other big-name players came to Detroit, beginning the franchise's resurgence in the following decade.
In the winter of 2004 José Canseco released a book in which he claimed that he had injected Rodriguez and two other players, Rafael Palmeiro and Juan Gonzalez, with steroids, while they were teammates on the Rangers in the mid-1990s. All three players denied the accusation, with Rodriguez saying, "Some very serious comments were said that were not true. I didn't use any of that stuff. I don't need it."46 A few years later he was asked if he was on the list of 104 players who had tested positive for steroids during the 2003 season, and replied, "Only God knows."47
Right after Canseco's book was released, Rodriguez came to spring training in 2005 having lost 22 pounds, which some attributed to his having stopping using steroids after Canseco's accusations. "I've been running a lot of sprints on the track and changed my program a little bit," Rodriguez said.48 Others also defended him. Trammell said that Rodriguez had complained in 2004 about being too heavy and having a bothersome hip injury. Rodriguez also began doing 30-minute workouts after games, and changed his diet to avoid late-night meals.49
In 2005 both Rodriguez and the team took a step back, in part because Rodriguez was going through a divorce. Rodriguez's batting average fell 58 points and the Tigers wound up 71-91. Everything got better again in 2006, as the Tigers won 95 games on their way to capturing the pennant. During the season Rodriguez played first base (seven games) and second base (two innings, after a player was injured), the first time in the majors he had played somewhere other than catcher or designated hitter.
With the Tigers in the World Series, the surprising turnaround from being the worst team in baseball just three years before was credited to Rodriguez. "Signing Ivan Rodriguez, without question, was huge for us because it represented the start of what we've done by coming back as an organization," said GM Dombrowski. "Whenever you can add a future Hall of Famer, it can only help you."50 Said manager Jim Leyland, "Quite frankly, I think a lot of people thought I wouldn't get along with Pudge. But it's been totally opposite. He plays hurt, he plays hard, and he comes to beat the other team. That's a manager's dream."51 This time, though, the Tigers lost the World Series, to the St. Louis Cardinals. "I was heartbroken – because we had such a good year," said Rodriguez. "We had the perfect group of players. But everything fell apart. I still think about that one all the time."52
In 2007 the Tigers stumbled again, not making the playoffs, and Rodriguez's production fell off some more, although he did catch his second no-hitter, by Justin Verlander against Milwaukee. But at the end of the season the Tigers exercised their contract option, bringing Rodriguez back for another year at $13 million.
After a moderately disappointing first half of 2008, the Tigers had Rodriguez sharing time at catcher with Brandon Inge. Then on July 30 they traded Rodriguez to the Yankees for pitcher Kyle Farnsworth. The Yankees had just lost catcher Jorge Posada to season-ending surgery, and needed a quick replacement, while the Tigers were desperate for bullpen help. "Guys like Pudge don't come around every day. He's the complete player," said Yankees manager Joe Girardi.53
When Rodriguez returned to Detroit a few weeks later with the Yankees, he received a standing ovation from Tigers fans. "It was great. It means that in the four years I was here, I did a good job and the fans appreciated that," he said.54 However, his time with the Yankees was spent splitting the catching job with José Molina, and he hit just .219 for the rest of the season as the Yankees fell short of the playoffs. At the end of the season the Yankees let him go to free agency.
In the spring of 2009 Rodriguez was again looking for someone to play for, but this time he was a 37-year-old catcher with a lot of mileage. "I still feel I can play three or four more years, to be honest, because of the way I take care of myself."55 He played in the World Baseball Classic for Puerto Rico in early March, in which he showcased himself well, going 10-for-20 with two home runs, then signed a one-year deal with the Houston Astros for $1.5 million, with another $1.5 million in performance bonuses.
On May 17 Rodriguez hit his 300th career home run, off Rich Harden at Chicago's Wrigley Field. "I was telling my father last night that I would love to hit it here because I know the fans are going to throw it," he said, and sure enough a Cubs fan threw it back and Rodriguez got the souvenir.56 A month later there was another milestone: On June 17 Rodriguez returned with the Astros to Arlington, where he received a standing ovation from Rangers fans as he broke Carlton Fisk's record for games caught at 2,227. (His two throwing errors in the game led to two runs and helped the Rangers to win, 5-4.)
A month later, on August 18, Rodriguez was traded to the Rangers for two minor leaguers. The Rangers needed another catcher when starter Jarrod Saltalamacchia went on the disabled list. The highlight of Rodriguez's second stint in Arlington was his first game back, when he got three hits, but he otherwise struggled and the Rangers declined to offer him a new contract after the season.
Rodriguez signed a two-year, $6 million deal with the Washington Nationals, and was expected to back up Jesus Flores, but when Flores could not recover from injury and spent the season on the DL, Rodriguez became the starting catcher. He struggled, hitting just .266 with four home runs, and again spent time on the shelf with back spasms. He did return in June to catch the highly anticipated major-league debut of pitcher Stephen Strasburg, who struck out 14 batters in the game.
At the end of the season Rodriguez was honored by the Rangers, who had him catch the first pitch from Nolan Ryan in the team's first-ever home World Series game.
In his final season, 2011, Rodriguez spent most of his time as a backup, and hit just .218 in 44 games. The Nationals had discussions with several teams about possible trades, but never swung a deal, and Rodriguez sat on the bench at the end of the season as the Nationals gave their younger players more opportunities. He again missed a couple of months through injury, and at the end of the season, even though he still thought he could play, he did not get any contract offers for 2012 until the Kansas City Royals contacted him when their catcher went down with injury. The 40-year-old Rodriguez decided not to sign and opted to retire. "The game had become much more difficult for me," he said in a later reminiscence. "I didn't really want to end my career, but at the same time my mind wasn't ready to go back to another spring training. … I didn't have the same passion anymore. And that's when I decided to retire. It was time.57
On April 23, 2012, Rodriguez officially retired at a ceremony before a game in Arlington. He threw out the first pitch by going behind the plate and throwing down to Rangers second baseman Michael Young. "It's a very hard day for me," he said. "It's been a great, great run." The Rangers said there would be a position for Rodriguez in the organization. "I'm always going to be in baseball the rest of my life," he said.58 The following spring he joined the Rangers as a special assistant to the general manager, where he worked in scouting, player instruction, and team marketing.
Rodriguez and Maribel had three children, Ivan Dereck, born in 1992 and known as Dereck, Amanda (born in 1995), and Ivanna (2000). In the early 1990s Rodriguez bought a mansion in Miami for his family, and lived the life of his dreams on the water, riding in speedboats and enjoying his children. He planned to settle there for the rest of his life, but after his divorce from Maribel in 2005 he sold the home.59 A couple of years later Rodriguez married his second wife, Patricia, and as of 2017 the couple lived in Dallas, Miami, and Puerto Rico.
Dereck was selected in the sixth round of the 2011 draft by the Minnesota Twins. After three seasons in the minor leagues as an outfielder, he was hitting just .216. The Twins suggested that Dereck try pitching, where he had some early success, becoming pitcher of the year in his rookie league in 2015 – and took a no-hitter into the seventh inning of a game that his father attended – but as of the end of the 2016 season Dereck still had not advanced above Class A. Asked why he was an outfielder and pitcher instead of a catcher like his father, Dereck said he wanted to make his own way in baseball. He did not have the desire to be a catcher. He said his father "tells me that as long as I have a uniform on, I'll be fine."60
Ivan Rodriguez was inducted into the Texas Rangers Hall of Fame in 2013, the Texas Sports Hall of Fame in 2014, and the Latino Baseball Hall of Fame in 2015. Having done several stints as a guest on television shows through the years, Rodriguez found he was interested in broadcasting, and in 2014 he joined Fox Sports Southwest as an analyst for Rangers games. He also began expanding his nonbaseball activities, becoming a partner in a Miami investment-capital company, and using his public image in promotional work for several other companies.
When Rodriguez retired he held numerous major-league records for catchers, among them the most games caught (2,427), the most hits (2,749), the most Gold Gloves (13), the most All-Star Game starts (12), and appearances (14, tied with Yogi Berra). He had seven Silver Slugger Awards, second only to Mike Piazza (10). He led his league in caught-stealing percentage nine times, and eight times he threw out more than half of the runners trying to steal against him. He was such a threat to throw out runners that often teams did not even attempt to steal against him. Rodriguez was arguably the best defensive catcher of all time, and combined with his offense perhaps the best all-around catcher ever61. He was fifth all-time in home runs by a catcher (304) and had the most doubles (551), the most runs scored (1,316), and the most RBIs (1,290).
Rodriguez was eligible for election to the National Baseball Hall of Fame in 2017, and was a strong candidate for election as one of the greatest catchers of all time. The whispers of steroid use, combined with the desire of some writers to not even vote for anyone from the steroid era, along with writers who wouldn't vote for anyone his first time on the ballot, meant that he was not as sure of election as he probably should have been based on his career. However, Rodriguez received 76 percent of the vote, joining his childhood hero Johnny Bench as the only two catchers inducted into the Hall of Fame on their first try. For many people, it wasn't even a question of being worthy of the Hall of Fame, but more an argument on where he should rank in the top handful of catchers.
Last revised: January 31, 2017
This biography is included in "Puerto Rico and Baseball: 60 Biographies" (SABR, 2017), edited by Bill Nowlin and Edwin Fernández.
Notes
Born
November 27, 1971 at Manati, (P.R.)
If you can help us improve this player's biography, contact us.
http://sabr.org/sites/default/files/RodriguezIvan.png
600
800
admin
/wp-content/uploads/2020/02/sabr_logo.png
admin
2017-01-31 11:27:28
2017-01-31 11:27:28
Ivan Rodriguez