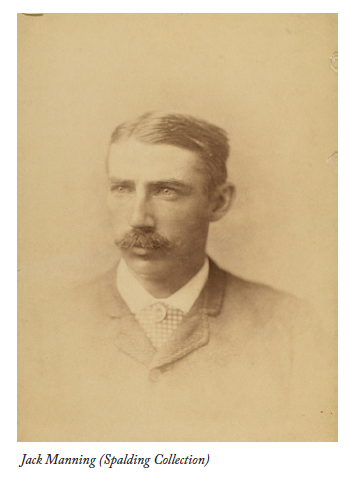 ---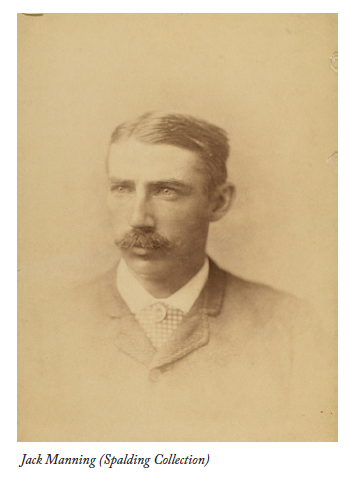 After beginning his major-league career in 1873 as a versatile utilityman with a strong claim to being the first notable relief pitcher,1 in the 1880s Jack Manning developed into an outfielder whose primary asset was his strong arm. In his final four major-league seasons (1883-86) he tabulated 100 outfield assists, ranking him fourth among the leaders during that period, trailing only Hugh Nicol (123), Mike "King" Kelly (122), and Jimmy Wolf (102).
Born on December 20, 1853, in Braintree, Massachusetts, Manning was the son of Irish-born parents James and Mary Manning. At the time of Manning's birth his father was a papermaker, but he later became a stone mason and well-off enough to keep a 14-year-old servant, Mary Boyd, in the family home by 1880. Also still living in the family home at that time were four of the Mannings' six adult children, including Jack, who never married.
In Jack's childhood the Mannings moved to nearby Boston, where Jack attended public schools. Rather than finish his schooling, he left short of graduation from high school to clerk in a store and play baseball for the store team on his days off. After Harry Wright, the player-manager of Boston's National Association powerhouse, discovered the 5-foot-8½-inch, 158-pound Manning playing second base for the highly regarded Boston Juniors amateur nine late in the 1872 season at age 18, he was signed to a contract calling for $800 with Wright's Red Stockings for the following year.2 The right-handed batter and thrower made his major-league debut with Boston on Opening Day in 1873, playing first base and going 1-for-4 on April 23 in an 8-5 loss to George Zettlein of the Philadelphia Whites at Boston.
Manning then spent the next half-dozen years bouncing back and forth between the Red Stockings and other teams, struggling to find a place in the talented lineup of the strongest club in the National Association and later the National League. Although he played a fair amount of infield, he did not really have the defensive skills to excel there in top competition, and in Boston he was primarily employed in right field, where he specialized in throwing runners out at first base on ordinary groundballs and one-hop line drives, plays made possible because outfielders in the 1870s played very close to the infield by modern standards.
Manning also utilized his arm strength to pitch. The rules of the day allowed substitutions only in case of injury, so a replacement pitcher had to be summoned from another position when the situation warranted a change. Harry Wright, an outfielder-pitcher himself, was very aggressive in the use of "change pitchers" (believing, and correctly so, that forcing opposing batters to see a variety of pitching deliveries and styles in the course of a game would keep them off-balance) and frequently brought Manning in from right field to pitch in midgame. So often was Manning substituted for Boston's starting pitcher, usually either Al Spalding or Wright himself, that baseball historian John Thorn credits him with being in all probability the game's first bona-fide relief pitcher.3
Saves were not a statistic in those days, but retrospective calculations credit Manning with a total of 11 saves in 23 relief appearances with Boston during the seasons of 1875 and 1876, by far the leading number for the era. In 1874 Manning spent the season with the lowly Baltimore Canaries after Boston did not tender him a new contract following his rookie 1873 campaign, freeing him to sell his services elsewhere. His record as a pitcher with Baltimore was an abysmal 4-16 in 20 starts, but Wright saw enough promise in his arm to rehire him for 1875. Once back in a Hub uniform, he was 16-2 in 18 starts and added six saves in his nine relief appearances as Boston swept to its fourth consecutive National Association pennant.
The following year, Boston's first as a member of the fledgling National League, which in 1876 replaced the floundering National Association as the game's lone major league, Manning played in all 70 official league games, pitching in 34 of them, 20 as a starter and 14 in relief. Long before the end of the 1876 season, he was dubbed the "saver" by the Boston press4 as he finished with a perfect 4-0 record with five saves and a glittering 0.68 ERA in the 40 innings he worked in relief.
Yet, with all that, no thought appears to have ever been given into turning Manning, who was never more than an adequate hitter, into a full-time pitcher. After the 1876 season, in fact, he was loaned by Boston to Cincinnati in a unique transaction for its time and seldom appeared in the box thereafter. In his 13 pitching appearances in 1877-78 he posted a 1-4 record with just one save and an ERA of 8.48 that was nearly double that of any other pitcher who worked more than 20 innings in that time frame. Earlier Manning had earned a reputation for violating the then-extant rule that required underhand pitching, and it may well be that the rest of the league simply caught up with him once other pitchers acquired the knack of throwing undetected from a higher position and were able to do so with more velocity.
Manning's odd loan to Cincinnati for the 1877 season merits some discussion as it provides insight into how loose business practices sometimes were in professional baseball's infancy, when clubs and even entire leagues struggled mightily to remain solvent. In 1876 Boston's four-year pennant run was interrupted, largely because four of its stars were signed by other National Association clubs midway through the 1875 season for 1876 delivery. The brazen theft played a large hand in the dissolution of the NA and the formation of the National League in its stead. Among the four stars Boston lost after the 1875 campaign was Deacon White, who went to Chicago along with three other Beantown mainstays, Al Spalding, Cal McVey, and Ross Barnes. All were instrumental in bringing Chicago the inaugural NL pennant and were offered Chicago contracts for 1877. White, however, chose to return to Boston but only with the proviso that his younger brother Will be signed as Boston's change pitcher. When Harry Wright acceded to White's demand and Boston then also garnered Ezra Sutton from the disbanding Philadelphia NL club, Manning became a likely bench warmer in 1877 – and a costly one at that as he had been signed in 1876 to a three-year contract at $1,800 per year, according to David Ball's Trade Log.5
To rid itself of at least some unnecessary expense, Boston, as can best be determined at this late date, worked out an arrangement with Cincinnati owner Si Keck whereby Boston would pay part of Manning's salary (accounts differ as to how much) if Keck's club would temporarily take him off Boston's hands. Manning thereupon became a member of the last-place Queen City entry in 1877 and was reclaimed by Boston after he had his last good season at the plate, batting .317 with a .767 OPS, second on the Cincinnatis only to one of the game's greatest sluggers in its early years, Charley Jones.
Back in a Boston uniform in 1878, Manning was once again on a pennant winner but fell off markedly offensively, hitting just .254 with a .585 OPS. When he was not offered a contract renewal and no other NL club showed interest in him, he signed for 1879 with the Albany Capital Cities of the National Association, which had earlier been reformed as a minor league. Except for the 1880 season with the rapidly sinking Cincinnati NL franchise, Manning spent the remainder of the late 1870s and the early 1880s in the minors. His sojourn in the bushes was distinguished only by a postseason West Coast tour he made with Rochester at the finish of the 1879 season after the Flour Cities took the place of the Albany club in the NA.6
In 1883 Manning returned to the majors as the right fielder of the new Philadelphia NL entry. There he was reunited with Harry Wright, who became the Quakers manager in 1884. It was not a happy reunion, however, as the two engaged in acrimonious offseason battles over salary, with Wright publicly denigrating Manning's fielding and baserunning. Manning's defenders replied by suggesting that if Wright valued Manning so lightly he might just as well release him, but Manning remained the Philadelphia right fielder through 1885. At the tag end of the 1884 season he enjoyed his major-league career highlight on October 9 in a game at Chicago when he became the first member of a visiting team to hit three home runs in a game. (His three circuit blasts off John Clarkson at the White Stockings' tiny Lake Front Park were all but for naught as the Quakers suffered a 19-7 shellacking. The 12-run deficit remains the largest ever by a team in which one of its players went deep three times in the contest.)
Just before the start of the 1886 season, Manning escaped Wright at last when he was waived out of the NL and acquired by Baltimore, the American Association's perennial cellar dweller. Manning batted only .223 for Billy Barnie's Orioles, but with an exceptionally weak ballclub playing in a park that heavily favored pitchers, he led the team's qualifiers in hits, total bases, batting, slugging, and on-base percentage. Nevertheless, he was released after the season, probably because of his diminished speed and weakened fielding; his 1.32 range factor was the lowest that year among all outfielders in both major leagues in a minimum of 100 games. His major-league coda occurred on October 14, 1886, at Philadelphia when he played right field and went 0-for-4 in a 5-1 loss to the Athletics' Cyclone Miller.
Manning claimed, possibly with tongue in cheek, that "early piety" had turned his hair prematurely gray, which led managers to think he was older than he really was. Major-league clubs refused to buy his story, however, even though he actually was the age he claimed to be (33), and he finished his career playing for New England minor-league teams. Probably his most memorable post-major-league day on the diamond came on September 15, 1887, when a benefit game was held for him at Boston's South End Grounds between a local club called the Pioneers and select members of Boston's first National League team in 1876, including Manning himself. The Pioneers won 12-5 in a contest abbreviated to six innings in front of a crowd of around 2,000. The affair netted Manning around $1,000.7 Still to be determined is precisely why the benefit was held. Manning, from all outward appearances, was never without work or in need of money; yet Sporting Life in 1889 reported that he was "said to be in very needy circumstances" and Ed Andrews, a former teammate of his on the Quakers, had "started a subscription" for him.8
In any event, soon afterward Manning landed a job as a groundskeeper for the Boston Players League club in 1890 and later worked variously as a clerk, a theater stagehand, and a janitor. On February 2, 1925, he was among the six surviving players from the National League's yearling 1876 season to attend the league's "Golden Jubilee" celebration in New York's Broadway Central Hotel, the same location where the NL had been founded 49 years to the day earlier.9 The lifelong bachelor died in Boston on August 15, 1929, at age 75 and was interred at Boston's New Calvary Cemetery.
Notes
1 John Thorn, The Relief Pitcher: Baseball's New Hero (New York: E.P. Dutton, 1979).
2 Doug Pappas research reported on Baseball-reference.com.
3 William F. McNeil, The Evolution of Pitching in Major League Baseball (Jefferson, North Carolina: McFarland & Co., 2006), 38.
4 Ibid.
5 David Ball's 19th Century Player Transaction Register, SABR site; addenda sent by Ball to David Nemec 2007-11. Thanks to David Ball for help in gathering information used in this biography.
6 New York Clipper, July 31, 1880.
7 Boston Globe, September 16, 1887.
8 Sporting Life, February 6, 1889.
9 Brooklyn Eagle, February 3, 1925.
Born
December 20, 1853 at Braintree, MA (USA)
Died
August 15, 1929 at Boston, MA (USA)
If you can help us improve this player's biography, contact us.
http://sabr.org/sites/default/files/Manning_Jack.png
600
800
admin
/wp-content/uploads/2020/02/sabr_logo.png
admin
2012-01-04 20:50:04
2022-02-09 16:30:39
Jack Manning