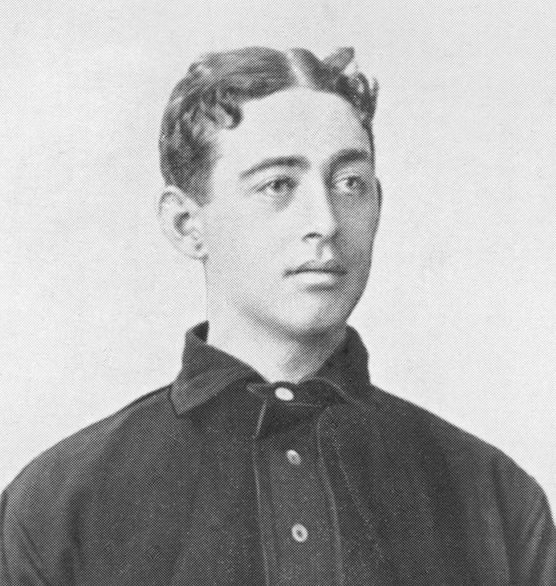 ---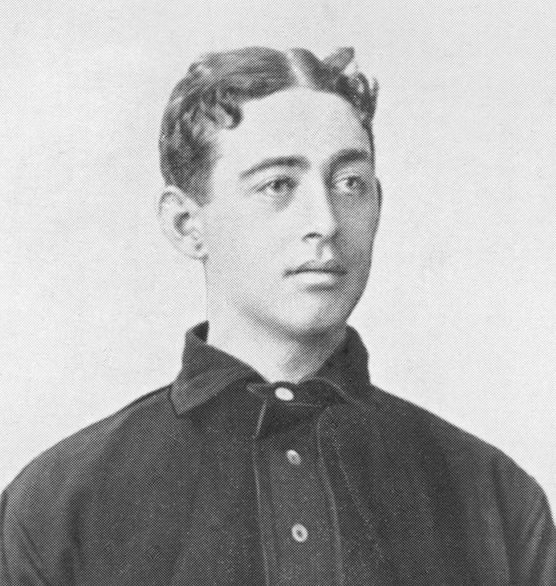 Jack Slattery was the only man on the 1901 Boston Americans who was born in Boston (and, as of 2010, one of only 16 natives of the city to play for Boston's American League team.) Slattery just barely qualified, only getting into a game on the very last day of the franchise's first season. In the first game of a doubleheader against the Milwaukee Brewers, catching George Winter, Jack got up to bat three times and got one hit, driving in Freddy Parent for a run with a third-inning single. He drew a walk in another plate appearance and scored a run later in the game. He handled five chances without an error, three putouts (strikeouts by Winter) and two assists. A foul tip split his thumb in the eighth inning and he was forced to leave the game, Osee Schrecongost taking his place and catching the second game as well. Boston won both games of the doubleheader, 8-3 and 10-9. The team finished in second place.
John Thomas "Jack" Slattery came out of South Boston, where he was born on January 6, 1878. One could say he lived a life devoted to horsehide and leather. His father, John, a merchant tailor in men's clothing, had come to the New World from Ireland. His mother, Ellen, was from Foxboro, Massachusetts. Jack had four brothers and two sisters. Brother Robert worked for a while as a stage manager at a Boston-area theater, Frank worked as a commercial traveler dealing in hay and grain, Mary worked for a while as a tailor, and Marcella was a public school teacher; the others went into the leather business.
Slattery played ball around Boston, and for Boston College in 1896-1898, playing first base and catching. One local area match after school got out was interesting. On June 11, 1898, he led off and collected three hits, stole a base, and scored twice for the South Boston AA team in a 17-6 win over the Bankers and Brokers at the Locust Street grounds. The Bankers and Brokers pitcher was Jack Dooley, father of Lib Dooley. Both Jack and Lib had a long history with Red Sox baseball stretching into the 21st century.1 Slattery graduated from college with a degree in dentistry that he'd begun at Fordham. That's where he caught the eye of several scouts which catching for the Fordham nine in 1899 and 1900. He may have also caught the eye of a Boston scout while catching for Attleboro in the summer of 1901. His batterymate for the July 6 game was Win Kellum, who just a little more than two months earlier had been the starting pitcher in the first game ever played by the 1901 Boston Americans. Kellum's game against North Attleboro was the "finest ever seen on the local grounds," according to the July 14 Boston Globe.
Before December was out, Slattery signed again for the 1902 Americans, and started the season with the team but never saw any action. Manager Jimmy Collins decided to go with Lou Criger and John Warner behind the plate, so Slattery was available for play in the New York State League and was signed to Gloversville in late June.2
In 1902, Slattery was catching in the New York State League, working under manager (and 1901 Boston teammate) Tommy Dowd for the unwieldy-named Amsterdam-Gloversville-Johnstown Jags. The Jags wound up in last place. Slattery and William Stroh shared backstop duties, with Jack hitting .342 in 257 at-bats over the course of 62 games. He started the 1903 season with the Columbus Senators of the American Association, and was called up to Cleveland in early May. He hardly saw any work – 11 at-bats without a hit in four games – and was released on May 29, to keep the roster down to 15 men. A few days later, Charles Comiskey of the White Sox signed Jack up for fill-in duties with Chicago when backup catcher Billy Sullivan underwent an operation for appendicitis. Ed McFarland was the other catcher on the team, but a month later the Chicago Tribune wrote, "Young Slattery has been doing the better work of the two, all things considered."3 Then McFarland became ill, so Comiskey and manager Nixey Sullivan had to add another backup, named Felton, to stand behind Slattery. For the 1903 White Sox, Slattery hit .218 in 63 games. He played first base in a handful of games.
Right at the end of spring training in 1904, on April 13, the White Sox sold Slattery to the Milwaukee Brewers and he spent the season in the American Association. He played a pretty full season of 125 games, batting .263, and had his first three home runs as a pro. In 1905, Slattery doesn't show up in the record books at all, though a July 13 story in the Washington Post said that Clark Griffith had signed him to be ready in a backup role with the Senators. It was to be a two-week rental at $1,000 a week.4 Both stories proved premature. Slattery never came to Chicago. Griffith reportedly went to Milwaukee himself to try to straighten matters out but "found the player so badly enmeshed in a baseball tangle that he decided he did not want to shoulder the trouble."5 Slattery had simply chosen to stay out of Organized Ball rather than report to Milwaukee after the Brewers proffered him a contract that cut his pay from $1,800 to $1,000 a year, and played with the Coatesville ballclub in the outlaw Tri-State League. The National Commission ruled that Slattery was still property of the Milwaukee club, so the Brewers reserved him and the St. Louis Cardinals claimed him in the draft. Once more, the National Commission commented, this time saying the Cardinals had clear title to him. Then the Commission decided Slattery himself needed to apply for reinstatement to Organized Baseball.6
Another report said that Slattery was with the New York Americans "for about two days last summer."7 More than three months later, he'd still not heard from the Cardinals, according to the Boston Globe.
Slattery worked things out and appeared in all of three games, in May, for the Cardinals, but spent most of 1906 with Toronto and Kansas City, not excelling in either location. The 1907 season was split between the Johnstown Johnnies (.203) and the Sioux City Packers (.326 despite being Class A instead of Class B ball). Slattery spent 1908 on the West Coast, playing in the Pacific Coast League for the Oakland Oaks and getting in a full season's work, some 99 games, hitting a sturdy .331. There he primarily played first base, since an arm injury had hampered his throwing to some extent. After the 1908 season, he came back home, playing in 1909 in the New England League for most of the summer – for the Lawrence Colts and the New Bedford Whalers (under Tommy Dowd again).
Joe Cantillon managed Washington in 1909 and gave Jack his last shot at the major leagues. In mid-August he was looking for a catcher and Germany Schaefer told him Slattery was playing well and working out every day in the Boston area, so Cantillon wired him and never heard back — until a day or two later when Slattery turned up unannounced.8 He hit .214 in 56 at-bats. In November, he was told that Washington wouldn't be sending him a contract for 1910.
It was north of the border to Toronto in 1910 and Slattery played in an even 100 Eastern League games, hitting .310. He hit.343 in 15 games for the Maple Leafs in 1911. Why he didn't play more hasn't yet been discerned. He didn't play ball at all, unless it was in one of the outlaw leagues, until 1916 and 1917 when he caught for the Montreal Royals. There was some wild and woolly baseball, and he wrote up a couple of stories – including one where the umpire was thrown in the showers after a game in Williamsport.9 At the time of the column, Slattery had put in his application to manage the Brockton club. He officially retired from the game that year.
Instead of taking up his intended trade of dental work, Slattery coached baseball at Tufts (hired in January 1914 through 1917), spurning offers from Dartmouth and Princeton and building the Jumbos into a team to be reckoned with. Though he still had a couple of years to run on his contract with Tufts, the university let him leave to take a position coaching and scouting for the Boston Braves starting in 1918. That lasted two years, after which Slattery took over from Hugh Duffy as baseball coach at Harvard from 1920 to 1924. During the summers, when college was over, he continued to be a "seasonal scout" for the Braves. In June 1924, he accepted a position to coach Boston College baseball, which he did from 1925 to 1927, when the Braves beckoned again. On November 2, 1927, after Dave Bancroft resigned, Jack Slattery was named manager of the Boston Braves, given a one-year contract – and Hugh Duffy took his place at BC.
Slattery's managerial tenure with the Braves didn't last long. One of the things he did before the season got under way was to name Rogers Hornsby, recently traded over from the New York Giants, to captain the team, and he announced that the two would room together when the team was on the road.10 Strangely, Slattery was called back to Boston just before spring training ended, the first time anyone could recall a manager being summoned back to the team offices at such a juncture. The Braves' owner, Judge Emil Fuchs, said it was to discuss some trades and denied it was because he was replacing his manager before the season began. Hornsby was made interim manager. Everyone denied there was friction between the two, and the season got under way. But on May 23, Slattery resigned and Hornsby was named the new manager. Fuchs said he hoped Slattery would stay with the team. The Braves had gotten off to a bad start, and there was worry that Boston fans were shifting in droves to the Red Sox. When Fuchs hired Slattery, it was before he knew that the more colorful "draw" Hornsby might be available. It was an awkward situation, and Slattery had a lot of support from people around Boston who felt he'd been treated shabbily. It was likely no coincidence that Boston College decided to play its football games at Fenway Park rather than Braves Field.11 For his part, Jack and his brother William took a cruise to Europe (Jack was being paid his contract without needing to work). After the 1928 season was over, Fuchs traded Hornsby to the Cubs for five players – and announced that he himself would manage the team in 1929. That didn't happen, but that's another story. His first act as manager was to invite youth from the area to attend a baseball school that the Braves were sponsoring, which would be run by … Jack Slattery.12
Slattery then spent 20 years working with his brothers William and Robert at the Slattery Brothers leather firm in Boston. They had one sister who married, and another, Mary, who did not and with whom Jack lived in Jamaica Plain until the time of his passing.
Slattery died of pulmonary edema at Boston City Hospital on July 17, 1949. He had been suffering from atherosclerosis (hardening of the arteries) and both chronic bronchitis and emphysema. He never married. The particulars on the death certificate were supplied by his brother Robert.
This biography can be found in "New Century, New Team: The 1901 Boston Americans" (SABR, 2013), edited by Bill Nowlin. To order the book, click here.
Sources
In addition to the sources cited in this biography, the author consulted Jack Slattery's player file at the National Baseball Hall of Fame, the online SABR Encyclopedia, retrosheet.org, and Baseball-Reference.com.
Notes
Born
January 6, 1878 at South Boston, MA (USA)
Died
July 17, 1949 at Boston, MA (USA)
If you can help us improve this player's biography, contact us.
http://sabr.org/sites/default/files/images/SlatteryJack-NBHOF.png
600
800
admin
/wp-content/uploads/2020/02/sabr_logo.png
admin
2012-01-04 20:01:07
2012-01-04 20:01:07
Jack Slattery