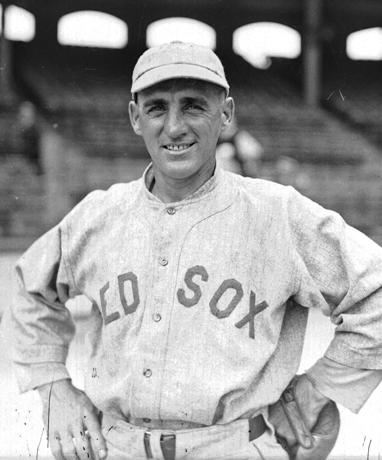 ---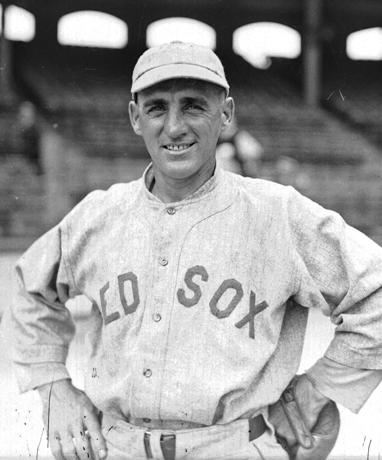 Like the Selective Service System and liberty bonds, Jack Stansbury's brief major league career was a product of America's involvement in World War I. Early in the summer of 1918, while the United States war effort siphoned teams' rosters, Stansbury, until then a fixture in the minors, suddenly became a 32-year old rookie pursuing a pennant with the Boston Red Sox. The former New Orleans Pelicans utilityman failed to distinguish himself during 21 games in the American League, but his month-long stint turned out to be surprisingly eventful. Just days after he joined the Red Sox, he became an accidental participant in a sensational episode involving young slugger Babe Ruth. He also had diamond encounters with four other baseball immortals.
After his brush with fame, Stansbury quietly retreated to the minors, where he completed a serviceable 19-year professional baseball career, moving effortlessly from outfield to infield to catcher. His versatility prompted The Sporting News to call him "a champion all-around man in the field" and "the star of utility men."
John James "Jack" Stansbury began his life on December 6, 1885, in Phillipsburg, New Jersey, a thriving industrial town on the banks of the Delaware River. The youngest of four children born to David and Roseann (Mooney) Stansbury, Jack played amateur ball in the Easton-Nazareth area of Pennsylvania, across the river from Phillipsburg. At 5' 9" and 165 pounds, Jack possessed a valuable combination of speed, strength, and the ability to play a variety of positions.
Scouts recognized Stansbury's array of skills, and Williamsport of the Tri-State League acquired the 22-year-old for the 1908 season. Following a pair of unspectacular years in which he played outfield, infield, and catcher, the man frequently known as "Stansberry" in the box scores (and even "Shrewsbury" on at least one occasion) turned heads in 1910 when he batted a sparkling .294 in 92 games. Yet it was the afternoon of September 5 that likely proved to be the turning point in his career. On that day, the right-hander blasted three home runs over the left-field wall in a doubleheader sweep at Altoona—a gargantuan feat near the midway point of baseball's Deadball Era. The stunning accomplishment against the eventual Tri-State champs received national press coverage.
Propelled by his late-season power burst, Stansbury landed with the Louisville Colonels of the American Association in 1911. There, he logged the best years of his professional career and flirted with making major league clubs. Playing second base and left field early on, he became a regular and quickly proved he could hit the offerings of a pair of former major league stars. On May 5, he went 1 for 3 off Nick Altrock of Minneapolis, then followed it up the next day with a 3-for-4 performance against the Millers' Rube Waddell. George Biggers, Louisville correspondent for The Sporting News, raved about the newcomer's multi-dimensionality and spirited attitude.
"The showing of this little player has been most amusing and still gratifying to everyone concerned…" he said. "So far, he has played left field, second, short and is now going to center. He can also go behind the bat in a pinch. But the beauty part of it is that he is hitting at a .314 clip and rapidly improving. This swatting ability of his will sure keep him on the team. Stansbury is not a center fielder but he is a hard worker, always willing to ask for advice from the older heads and is giving (manager) Del Howard all that he has every minute."
Later, the Colonels moved Stansbury to third base and placed him the leadoff spot, where he thrived. Jack turned out to be a bright spot for the last-place squad. He hit .283 in 569 at-bats, cracking 23 doubles and 10 triples. Late in 1911, he attracted the notice of major league clubs. In August, Charles Murphy, owner of the defending National League champion Chicago Cubs, headed to Louisville to scout the prospect, but decided not to work a deal for him. Murphy instead secured Stansbury's teammate Larry Cheney, a pitcher who went on to dominate the National League the next season, winning 26 games and losing 10.
Though the Cubs passed on Jack, the Cleveland Naps did not. They obtained the services of Stansbury in the fall and took him to spring training in 1912. Jack competed for Cleveland's third base position, but became the first casualty of camp when he was cut and shipped back to Louisville. Again holding down third and leading off, Stansbury got off to a blistering 29-for-64 start before being injured in a freak accident at Minneapolis on May 1. As he sat on the bench, Colonels second baseman Lynn Bell sliced a line drive into the Louisville dugout. "Stansbury threw up his arm to guard his head and the ball struck him on the bone, fracturing it," reported Sporting Life. "He will be out of the game for a month or six weeks."
Stansbury suffered a broken left wrist, but recovered swiftly and returned to the lineup on June 4. He showed no ill effects from the injury. Manning both outfield and infield posts, Stansbury batted .301 for the seventh-place Colonels. This time, the St. Louis Cardinals snapped up the utilityman extraordinaire for their 1913 spring training session. The Sporting News gushed about Stansbury's potential: "If all dope on this Louisville recruit is correct, Manager Miller Huggins will make a mistake in not giving him a full trial. He was a .300 hitter in the American Association last year, with 25 two-baggers to his credit, and is a champion all-around man in the field.…Judging from his ability to cover any position he might even fill Ed Koney's [Ed Konetchy] job at first, though a little light on weight and short on height."
Alas, Stansbury was discarded once again. The tryout with the Cardinals seemed to be his final shot at the big time. Jack's performance dropped off significantly in 1913, and though he rallied in the ensuing year (.278, 96 runs, 182 hits, 26 doubles, 11 triples in 160 games), Louisville dealt him to New Orleans of the Southern Association at the end of the 1915 campaign.
Now 30 years old, Stansbury appeared to have his best seasons behind him. Nonetheless, he remained a valuable player. His versatility was perhaps no more evident than in 1917, when he played 17 games at second base, 19 at shortstop, 22 in left field, 14 in center field, 16 in right field and 16 at catcher and pinch hit in 11 contests as the Pelicans finished second in the Southern Association. Stansbury's ubiquitous ways continued into the next season for New Orleans, when World War I intruded on Organized Baseball and turned Jack's life, and those of many other players, upside down.
A set of circumstances resulting from America's involvement in the war conspired to elevate Stansbury to the major leagues in 1918. The first was the announcement in May of the U.S. government's "work-or-fight" order. This rule, requiring men between 21 and 31 to find "essential" or "useful" employment by July 1, or risk induction into the armed forces, sent some young major leaguers scurrying off to factories and shipyards. Others enlisted. While owners awaited a sweeping government ruling on whether the order would be applied to baseball, the situation forced big-league clubs to seek additional sources of players to offset losses. Several minor circuits, including Stansbury's Southern Association, decided to halt operations near the end of June and in early July due to the war, creating a supply of professional players. At 32 years old—just beyond the age limit of the work-or-fight order—Stansbury suddenly became an attractive commodity. The Red Sox, already smarting from losses of personnel to the armed forces and essential industry, and girding for more, purchased Jack, along with infielding teammates Walter Barbare and Red Bluhm, from New Orleans on June 25.
Sporting a big league uniform at last, Stansbury made his debut at third base in place of the ailing Fred Thomas (who would soon enlist) on June 30 in a road contest against Washington. On the mound for the Senators that afternoon: Walter Johnson. The rookie refused to be intimidated by the future Hall of Famer, who would finish 23-13 in the war-shortened season, with a 1.27 ERA. Although hitless, Stansbury put the ball in play on every at-bat and "laid down a neat sacrifice" his first time up, according to the Boston Post's Paul H. Shannon. The bunt helped produce a run. In the field, Stansbury's fine play on a "hard chance" on a slick surface prevented a game-winning score by Washington in the ninth and allowed the Red Sox to win it in the 10th, 3-1. He had survived his first major league test.
Unbeknownst to Jack, the excitement was only beginning. Two days later, he stood at the epicenter of an explosion by his new teammate Babe Ruth. In the sixth inning of a game against the Senators, Ruth, who was making his transition to everyday player in 1918 and had started in center field, struck out for the second time. When the free-swinging phenom reached the bench, Red Sox manager Ed Barrow lashed into him for jumping too hastily at pitches. The rebuke set off what the Boston Herald and Journal described as a "verbal pyrotechnic debate" between the two men. "I thought he (Barrow) called me a bum and I threatened to punch him," Ruth said. "He told me that would cost me $500, and then I made a few more remarks and left the club."
After Babe's angry departure, Stansbury took over in center field and finished the game. Ruth failed to materialize for the following day's contest in Philadelphia, causing news to spread that he had quit the team. Jack once again replaced the slugger in center and batted cleanup (he went 0 for 4). A choice bit of irony then occurred. At the same time Stansbury was filling in for the Red Sox star, Ruth busily made arrangements to play for the Chester (Pennsylvania) Shipbuilding Company team. (The shipyard was on the Delaware River not far from where Jack grew up.) But it never came to pass. With Boston owner Harry Frazee threatening legal action against the shipbuilding company, and Ruth finally calming down, the home run hitter returned to his squad and played the second game of a Fourth of July doubleheader versus the Athletics. Stansbury substituted one last time for Babe in the opener, going 2 for 5 in an 11-9 Boston victory.
The Ruth incident laid to rest, Stansbury's big league life began to settle down. He started at third base on a semiregular basis (Barbare alternated with him) and batted seventh or eighth in the order as the Red Sox waged a fierce battle with the New York Yankees and Cleveland Indians for first place. Yet Jack never seemed far from an adventure with one of baseball's greats. In a key skirmish with the Indians at Fenway Park on July 9, the rookie third baseman made a sensational sprinting catch in front of the stands of Tris Speaker's "high, wavering, wind-tossed" foul ball. The crowd roared its approval. The Post's cartoonist depicted the play in its next edition, showing an outstretched Stansbury saying to himself, "This is tough on Tris." He got even tougher on the star center fielder the following afternoon. By smothering Speaker's blazing shot to third, Stansbury was able to catch a Cleveland baserunner in a rundown and squelch a rally. He also started a pair of double plays from the hot corner. Jack's defensive gems contributed to a pair of Boston shutouts (1-0, 2-0), helped push the team's lead to 2½ games, and elicited the praise of the Boston press. "Stansbury works like an artist," said the Boston Globe's Edward F. Martin. "He gets them everywhere, shoots the ball away quick and throws true to the mark." His inability to solve major league pitching, however, bothered Barrow, and his 4-for-32 start earned him a spot on the bench for several games.
Stansbury returned to the lineup on July 19 for the opening of a four-game set with the Detroit Tigers at Fenway. The next day, while patrolling third, he had a basepath rendezvous with Ty Cobb. On a double steal attempt in the sixth, the Georgia Peach charged toward Stansbury, who held the ball—perhaps nervously—well in advance of Cobb. At the last moment, the Tiger superstar slid and deftly maneuvered his body to avoid the infielder's tag, reaching the bag safely. The crowd, the largest of the season at Fenway to that point, howled at the seemingly supernatural Cobb.
Despite his meager offensive output— and the little lesson by Cobb— Stansbury's prospects for remaining with Boston for the rest of 1918 appeared bright. While Jack and the Red Sox were scrapping it out with Detroit, Secretary of War Newton Baker, ruling on the draft appeal of Senators catcher Eddie Ainsmith, definitively proclaimed baseball to be a nonessential industry. The judgment guaranteed that draft-age players would face induction into the armed forces under the work-or-fight order unless they found employment deemed vital to the war effort. As a result, more major leaguers left their teams for jobs in factories, shipyards, and the like. Stansbury seemed more valuable than ever.
His hitting even picked up briefly, and on July 26, Jack enjoyed his finest day as a big-leaguer. In a contest against the White Sox at Comiskey Park, he smacked two hits and drove in a run, off one of the game's best hurlers, Eddie Cicotte. He was outstanding in the field, too, collecting six assists and two putouts. Stansbury's moment of glory was short-lived, though. He failed to hit safely in the remaining two Chicago games, and Barrow finally benched him in favor of new recruit George Cochran.
Perhaps more damaging to Stansbury's hopes for big league survival was Secretary Baker's announcement of an extension until September 1 of the deadline of the work-or-fight order to baseball players. Jack's most precious asset—his age—immediately became worthless in the wake of the major-league owners' decision to end the season on Labor Day. Less than a week after Baker's statement on July 26, the Red Sox, on the road for a series with St. Louis, sent Stansbury, Frank Truesdale (34 years old), and Lore Bader home to Boston. They were soon dealt to teams in the International League, Stansbury heading to Newark. Bob Dunbar of the Herald and Journal described the players as "very disconsolate" over their departure from the Red Sox. "It is easy to sympathize these days with a big leaguer who has been sent down to the minors…" Dunbar continued. "Then, too, this trio is deprived of any split (of money) in the world series, if w.s. there be."
Indeed, Boston went on to win the American League pennant in the truncated campaign and defeated the Chicago Cubs in the World Series, four games to two. Fred Thomas returned from naval training long enough to play third for the Red Sox. Stansbury had performed admirably in his month-long stay with Boston. In 21 major league games (one more than record books credit him for), he batted a paltry .154, but committed just one error in 56 chances, making several difficult plays. Certainly, the rookie could proudly point out that he did not hurt the club during his brief tour of duty. When he debuted with Boston on June 30, the Red Sox were percentage points behind the Yankees in the A.L. standings. When he left on July 31, Boston owned a 4½-game first-place lead over the Indians.
His dalliance with the game's elite over, Stansbury eased back into minor league life, spending another eight years in the bushes. In 1919, he made his way back to New Orleans, where he lived with his wife, Edith, and concluded the season with Beaumont of the Texas League. Jack found the oil-rich city near the Gulf of Mexico to his liking and settled there for the next 40 years. Once again playing multiple positions for the Beaumont Exporters in 1922, the 36-year-old Stansbury hit .287 in 592 at-bats, scored 86 runs, and drove in 61. He served another three years in the Texas League, before receiving an offer to be the player-manager of Palestine of the Texas Association in 1926. His endeavor with the franchise was as brief and unsuccessful as his Boston foray. Palestine's president, Thomas M. Campbell Jr., fired the new skipper without explanation after a loss to Austin late in May. "I can not understand why I was released," a crestfallen Stansbury said. "The club was running fine and we are in third place in the league." He wrapped up his 19-year pro career the same season with Tyler-Texarkana of the East Texas circuit.
Jack finally decided to reap some of the opportunities furnished by Beaumont's Spindletop gusher of 1901. He worked as a machinist for the Magnolia Refinery Co. (now part of Exxon Mobil) and plunged himself into the social scene of Beaumont. Despite having no children of his own, Jack maintained strong ties to his family in New Jersey, and developed a close relationship with his nephew, also named Jack.
"My dad said when Uncle Jack was playing ball he would send him balls home and he was the only kid in the early 20s with real baseballs," said Jane (Stansbury) Miller, the daughter of the younger Jack Stansbury. "They were all very proud of Uncle Jack, and though he only played in the majors a short time, it was very exciting to his family. My dad is named after him and he really had great affection for Uncle Jack. He once sent him a glove and my dad thought that was the greatest thing. Uncle Jack received a gold pocket watch for Most Valuable Player. My brother said he remembers my father telling him it was from an industrial league."
After his wife died in 1960, Jack moved back to Phillipsburg in New Jersey to be closer to his family, bringing his life full circle. Stansbury eventually developed Parkinson's disease and died of bronchopneumonia on December 26, 1970, at the age of 85. The man who challenged Walter Johnson at the plate, replaced Babe Ruth in the outfield, met Ty Cobb on the basepaths, and had a small role in helping the Boston Red Sox win a world championship—all in one amazing month in the war-plagued summer of 1918—rests in Fairmount Cemetery in Phillipsburg.
Sources
Books
Creamer, Robert W. Babe: The Legend Comes to Life. (New York: Simon and Shuster,1974).
Cummins, George Wyckoff. History of Warren County, New Jersey. (New York: Lewis Historical Publishing Company, 1911).
Hoppel, Joe. The Series. (St. Louis: The Sporting News, 1988).
Kennedy, David M. Over Here: The First World War and American Society. New York: Oxford University Press, 1980).
Seymour, Harold. Baseball: The Golden Age. (New York: Oxford University Press, Inc., 1971).
Simon, Tom, ed. Deadball Stars of the National League (Washington D.C.: SABR and Brassey's, Inc., 2004).
Thorn, John, Pete Palmer, Michael Gershman, and David Pietrusza. Total Baseball: Fifth Edition (New York: Viking, 1997).
Waterman, Ty, Eric Gustafson, and Mel Springer. The Year the Red Sox Won the Series: A Chronicle of the 1918 Championship Season. (Boston: Northeastern University Press, 1999).
Wood, Allan. Babe Ruth and the 1918 Red Sox. (Lincoln, NE: Writer's Club Press, 2000).
Wright, Marshall D. The American Association: Year-by-Year Statistics for the Baseball Minor League, 1902-1952. (Jefferson, NC: McFarland & Company, Inc., Publishers, 1997).
Wright, Marshall D. The Southern Association in Baseball, 1885-1961. (Jefferson, NC: McFarland & Company, Inc., Publishers, 2002).
Wright, Marshall D. The Texas League in Baseball, 1888-1958. (Jefferson, NC: McFarland & Company, Inc., Publishers, 2004).
Zieger, Robert H. America's Great War: World War I and the American Experience. (Lanham, MD: Rowman & Littlefield Publishers, Inc., 2000).
Correspondence
Jane Stansbury Miller (grandniece). E-mail to author dated May 30, 2007.
Periodicals
Boston Globe
Boston Herald and Journal
Boston Post
Galveston Daily News
Indianapolis Star
Sporting Life
The Sporting News
Washington Post
Archives
National Baseball Library, Cooperstown, New York. Jack Stansbury file.
Web
americanassociationalmanac.com
baseballlibrary.com
baseballreference.com
heritagequestonline.com.
newspaperarchive.com
theoldaa.wordpress.com
paperofrecord.com
retrosheet.org
tsha.utexas.edu/handbook/online/articles/BB/hdb2.html
Statistics
All minor league statistics for this article came from Marshall D. Wright's books listed above and Ray Nemec.
Born
December 6, 1885 at Phillipsburg, NJ (USA)
Died
December 26, 1970 at Easton, PA (USA)
If you can help us improve this player's biography, contact us.
http://bioproj.sabr.org/bp_ftp/images3/StansburyJack.jpg
600
800
admin
/wp-content/uploads/2020/02/sabr_logo.png
admin
2012-01-04 20:10:00
2012-01-04 20:10:00
Jack Stansbury