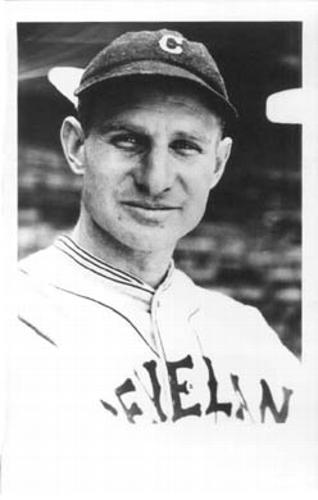 ---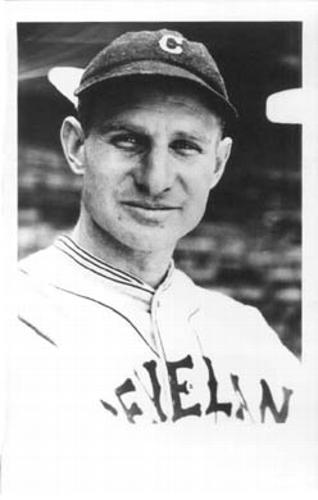 What's in a name? Jacob Walter Miller's nickname was Jake,1 but contemporary sportswriters preferred to call him J. Walter or Lefty. He pitched for the Cleveland Indians from 1924 to 1931. Cleveland Plain Dealer writer Gordon Cobbledick referred to him as Jake on only two occasions, once in 1929 and again in 1931. Miller, a college graduate, was certainly a no-nonsense pitcher who considered the pitcher's mound his office. Jake made him sound like a kid and Lefty conjured images of a gangster. Could it be that the writers used J. Walter because it matched his businesslike attitude?
The Miller family lived in a "crude three-room log cabin" on 100 acres of land about 15 miles east of Columbus, Ohio.2 John Lewis Miller had wed Hester Almeda Miller (her maiden and married surnames were the same) from nearby Fairfield County in 1884 and they made their life together in Etna Township in Licking County. The couple were blessed with 11 children before John, a farmer, died in 1902. Jacob Walter Miller joined the family as the eighth child on February 28, 1898.
Hester Miller was left to raise the children, aged 16 and younger, on her own. A determined parent, she wanted all the children to have the best education possible. They all graduated from high school, Jake in the Class of 1914 at Reynoldsburg High School. By 1922 she had five children in college at Ohio State University including Jake. She moved from the farm to Columbus to "look after them." Her dedication to family was acknowledged and rewarded in 1947 when she was named Ohio Mother of the Year.3
Jake graduated from Ohio State with a degree in civil engineering. While there he was a member of the baseball team and appears in a couple of box scores in 1921. He did not see enough action to earn a letter. Younger brother Russell did earn letters from 1922-24. He went on to play with the Cardinals and Phillies.
The Millers were a family of baseball fanatics. Uncle Emory Miller formed a semipro team that played extensively before World War I. Jake had seven brothers, and all the boys were pitchers at some level. Jake was the only left-hander in the bunch and naturally acquired the nickname Lefty. He served briefly in the war in the student training corps in Columbus. Four brothers also served during the conflict.
Miller began his professional career in 1922 with Terre Haute in the Class B Three-I League. His first action came on July 31 versus Rockford when the 23-year-old rookie relieved Gordon Miller (no relation). He singled and scored in a seventh-inning Terre Haute rally that tied the game. In the seventh he surrendered a run on two hits to give Rockford a 6-5 win.4 On August 3 he again went into the game in relief, this time against Peoria. He pitched a scoreless eighth in relief of Charlie Root, but gave up a home run to veteran Al Platte with no outs in the ninth in another 6-5 game.5 These two game stories and box scores seem to conflict with the 0-1 record that appears in baseball records.
The next year Miller was optioned to Hamilton in the Michigan-Ontario League, where he earned a spot in the rotation a month into the season. He posted a 6-7 record with the last-place Tigers before being recalled to Terre Haute. He made his first start for the Tots on August 12 in a 1-0 loss to Peoria. His teammates made up for their lack of offense in his next outing by besting Moline 15-3. Miller posted a 7-3 mark for the third-place Tots and his Baseball Reference stats show him with a mere two walks in 83 innings. Miller was certainly a control pitcher, but a search of box scores indicate that he issued considerably more free passes than recorded.6
Miller closed out the season with the Rochester Tribe of the International League. He pitched on September 15 against Syracuse and was the lone Rochester pitcher to record a scoreless inning in the Stars' 17-0 blowout. A Rochester sportswriter noted that Miller looked sharp enough to warrant a spring-training trip and that he had "a splendid curve."7 In November he was added to Rochester's reserve list.
But in the spring of 1924 Miller was returned to the Tots, where he teamed with Dutch Levsen to bring a hard-fought pennant to Terre Haute. He led the league with 147 strikeouts while Levsen led the circuit in ERA. Miller won 16 and Levsen 14; each dropped eight decisions. In mid-August the Cleveland Indians purchased Miller's rights and he was instructed to report when the Three-I season ended.
Miller debuted with Cleveland on September 11, 1924, in St. Louis. He started the second game of a doubleheader and went three innings. He surrendered seven hits and three runs in the Indians' 10-6 victory.8 He got a second start 10 days later against the Boston Red Sox at League Park. In an old-fashioned pitching duel against Howard Ehmke, Miller recorded his first major-league loss, 2-0. He earned praise from the local scribes for his composure and talent.9
The leading left-hander in Cleveland franchise history is Sam McDowell, who played parts of 11 seasons on the lake shore. He recorded 122 wins and his 2,159 strikeouts stand second to Bob Feller. Recently Cleveland has had C.C. Sabathia and Cliff Lee on its staff for Cy Young Award seasons. Miller played parts of eight injury-prone seasons in League Park. His 55 wins place him 10th on the all-time wins list for left-handers in Cleveland since 1901. His teammate Joe Shaute was the career leader for lefties with 78 wins until McDowell passed him by.
Miller stood 6-feet-2-inches tall and weighed 170 pounds when he began his major-league career. He threw side-arm and possessed an assortment of curves. He had good control, but never had the speed to make hitters miss. Consequently, he always surrendered more hits than innings pitched.
Considering the lack of quality left-handers in franchise history, it is unusual that the 1925 Indians' squad had seven lefties who started contests. Miller was one of 10 new faces on the team for the season. He began the year in the bullpen, picking up a win, a save, and two losses. When George Uhle went down with an injury, Miller was elevated to the rotation. His first start came on June 2 in Cleveland against the St. Louis Browns. He left after seven innings trailing 2-1. The game ended in an 8-3 Browns victory.
Miller's second start came on an Eastern swing when he pitched in Boston's Fenway Park in the midst of an early heat wave. Despite five errors by his infield and 100-degree temperatures, he tossed a complete-game 8-4 victory. His next outing was in New York. The heat wave was still bearing down on the East, but Miller ignored it and beat the Yankees 4-1. The lone run for the Bombers was a blast by Babe Ruth.
Miller was a "Yankee-killer" his first full season. He faced New York six times and hurled 41⅓ innings. He gave up 33 hits and eight earned runs while posting a 3-1 record. In contrast, he struggled against the Philadelphia A's. In three games, he surrendered 32 hits and 15 earned runs. Miller closed out the season 10-13 with a team-leading 3.31 ERA.
Miller opened the 1926 season with a superb three-hit, no-walk shutout of the White Sox on April 17. Then a foot injury shelved him until May 31. Rejoining the team, he made five starts, including a 1-0 shutout of Boston, before the injury flared again. This time he missed nearly a month. In August Miller tossed another shutout at the White Sox, but arm troubles sent him to the bullpen. In the second week of September, he was shut down for the season. He went 7-4 with a 3.05 ERA in 18 games.
Miller opened the following season in the bullpen. He got his first start on May 26 when he dropped a 10-inning affair 2-1 to the Browns. He ran his record to 10-4 by early September, but a late-season swoon of four consecutive losses diminished his accomplishments.
In 1928 Miller opened the season in the rotation. He was 2-4 when the injury bug bit in June. He gave a glimmer of hope with a win on July 4 but struggled the rest of the season and developed control issues in August. He closed out the season with his highest ERA to date, 4.44.
On October 6, 1928, Miller married Samantha Graham. She was from Manor, Pennsylvania, and had been living and working in Cleveland for several years. The couple took up residence in Cleveland with her parents and Miller again worked in an auto plant over the winter as he had for several years. They would eventually have two children, Samantha Ann and John Fred.
Married life agreed with Miller and he had his finest season in 1929. He won 14 and lost 12 while tossing 14 complete games, including two shutouts, in a career-high 206 innings. He was a fine complement to right-handers Willis Hudlin and Wes Ferrell for the third-place Tribe. His final won-lost total could have been more impressive if the Indians' offense had not averaged just two runs a game for him in August.
Miller left his home in Parma, Ohio, for training camp in 1930 looking for a repeat of the previous season. He was in good physical condition by the time Cleveland broke camp. On the hill he appeared to have mastery of his pitch selection; and his control, his most important asset, was nearly impeccable. But his confidence took a severe blow in an April 11 exhibition against Cincinnati. The Reds drove him from the mound with six hits and four runs in the first.
Miller was an integral part of manager Roger Peckinpaugh's rotational plan for 1930. He was the only veteran lefty who was healthy. As is, he and young Milt Shoffner turned in the only starts by lefties (19 of them) that season. The Cincy breakdown was followed by five runs in two innings in Detroit in his first regular-season start. Peckinpaugh relegated him to the bullpen.
Miller returned to a starting role in late May. He surrendered 22 runs in four starts but posted a 1-1 record. He earned praise on June 27 when he held the Yankees down in a relief role for an 11-7 win. In his eight-inning outing he still surrendered 10 hits and issued an uncharacteristic six walks. His best performance came against the Yankees on August 21 when he closed out a 12-inning affair with four scoreless frames for the win. He managed four wins but posted an astronomical 7.13 ERA. While batters easily hit his offerings, Miller's bat came alive. Entering the season as a career .158 batter, he ripped 10 hits in 33 at-bats to join nine other Indians in the .300 club.
Sportswriter Gordon Cobbledick summed up the season by saying Miller's 4-4 record "doesn't reveal how bad he really was." Cobbledick indicated that he had very little hope of a revival for Miller because of his age (33).10 But Miller and Shoffner were the only lefties again in 1931. Miller got the nod for five starts. Four of them produced 20 runs for the opposition. On May 26 everything fell into place one last time. He scattered seven hits in a home game against the Browns and walked away with a 12-0 triumph. He was optioned to Indianapolis after surrendering six runs to Washington on June 19.
Miller posted a 9-5 record for the third-place Hoosiers, but some wins were far from masterful. He beat Milwaukee on July 8 despite surrendering 17 hits. The Hoosiers invited him to camp in Sarasota the following spring. The Hoosiers had over 15 pitchers in camp and had no complaints when Cleveland opted to send Miller to Columbus for outfielder Pid Purdy.11
Miller made 11 appearances with the Red Birds before being sent to Toronto. He made one appearance for them before being released. Over the winter, Miller wrote to Billy Evans about joining the New Orleans Pelicans for 1933. Nothing came of that effort, but he did find himself in training camp with the Cincinnati Reds in late March. He was pitching well until an exhibition on April 10 when the St. Paul Saints scored five times in three innings. The Reds released him, but the Chicago White Sox, who were desperate for a left-hander, inked Miller on April 28 for $500 a month.12
Manager Lew Fonseca wasted no time getting Miller into action on May 1. Now 35, Jake must have felt at home with the likes of Red Faber (44), Sad Sam Jones (40), and Milt Gaston (37). The only left-hander used by the White Sox that year, he tied for the team lead in shutouts with two. Both came against Washington. Other than those two outings, Miller seldom fooled the hitters. Removing the two shutouts from his statistics leaves him with a 6.78 ERA in his other 24 games.
Released by the White Sox on February 9, 1934, Miller called it a career. His engineering background was in demand and he joined the Works Progress Administration (WPA). He was assigned to projects in southern Ohio. He was working from Zanesville in 1935 and was living in Cambridge in 1940. He left government employment shortly after that and took a job with American Marietta in its concrete pipe division.
The family moved to Cleveland Heights and Miller spent 27 years in the concrete industry. He rose from a position as a civil engineer to sales and production and finally became plant manager. Miller's wife, Samantha, died on April 29, 1959. In 1962 he married Marie Maxwell Bird. She died nine years later.13 He was vacationing in Venice, Florida, when he was stricken with a fatal heart attack on August 20, 1975. His body was returned to the Cleveland area for services and cremation. Six of his siblings survived as well as six grandchildren.
At the close of the 2018 season, Miller's 55 wins with Cleveland placed him 47th on the list of the top 50. He ranked 27th in pitcher's WAR and hits allowed, 28th in fewest walks per nine innings (2.735), and 41st in innings pitched.
Acknowledgments
This biography was reviewed by Len Levin and Fact-checked by Alan Cohen.
Notes
1 Miller listed Jake as his nickname on his Hall of Fame questionnaire. He did not mention Lefty, which was used more often in the press in the 1920s than Jake.
2 "Mrs J.L. Miller Dies, 95; Was Ohio Mother," Cleveland Plain Dealer, May 8, 1959: 46.
3 Ibid.
4Frank Lander, "Rox Vanquish Terre Hautes in Tight Tilt," Rockford (Illinois) Morning Star, August 1, 1922: 10.
5 "Platte's Home Run Beats Tots 6-5," Rockford Republic, August 4, 1922: 16.
6 baseball-reference.com/register/player.fcgi?id=miller006jac. Last accessed November 21, 2018. Miller's worst outing came August 22 when he walked four at Evansville. The Reach Baseball Guide lists him with 26 walks.
7 "Stars Deal Out Mauling to George Stalling's Tribe, Collecting Seventeen Runs," Rochester Democrat and Chronicle, September 16, 1923: 44.
8 "Indians Bat Over Pair of Victories," Cleveland Plain Dealer, September 12, 1924: 18.
9 James E. Doyle, "Indians Go Down Twice, 2-0, 11-5," Cleveland Plain Dealer, September 22, 1924: 18.
10 Gordon Cobbledick, "Hudlin and Miller Due for Comebacks to Bolster Tribe's Pitching," Cleveland Plain Dealer, January 11, 1931: 17.
11 "AA Training Camp Notes," The Sporting News, April 7, 1932: 7.
12 Information supplied by Cassidy Lent at the Giamatti Library at the Cooperstown Hall of Fame. The transaction card for Miller shows no transactions in 1932, which is in disagreement with Baseball Reference's listing of a 1932 swap to Chicago.
13 Ancestry.com. ancestry.com/family-tree/person/tree/56494631/person/370035704035/story. Last accessed November 24, 2018.
Born
February 28, 1898 at Wagram, OH (USA)
Died
August 20, 1975 at Venice, FL (USA)
If you can help us improve this player's biography, contact us.
https://sabr.org/sites/default/files/Miller%20Jake.jpg
600
800
admin
/wp-content/uploads/2020/02/sabr_logo.png
admin
2019-01-15 18:16:03
2020-04-09 14:38:37
Jake Miller