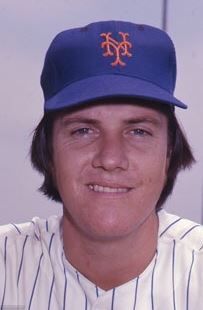 ---
"I will never forget my brief but memorable big league stay."1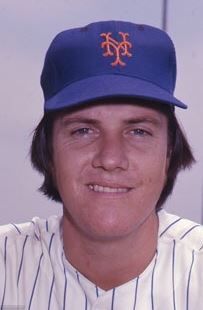 That's what Jay Kleven told author George Rose for the 2004 book One-Hit Wonders. Kleven, a catcher, appeared in two games for the New York Mets in June 1976. He spent less than two weeks in The Show that month and was out of pro baseball after spring training 1978. Though strong on defense and as a team player, he was a light hitter. Nonetheless, Kleven enjoyed a couple of nice moments at the top level. On June 14, 1976, he got two hits against the New York Yankees in the Mayor's Trophy Game, the Big Apple's annual in-season exhibition game of decades past. It earned him his call-up to the majors. Thirteen days later, in his fourth of five big-league plate appearances, he hit a two-run single off eventual Hall of Famer Bruce Sutter.
Jay Allen Kleven was born December 2, 1949, in Oakland, California. His father, Gerald "Jerry" Kleven, worked for the Pacific Telephone Company for more than four decades.2 His mother was Joy (née Hennessy), a homemaker. Jay was the second of four children in the family. He had three brothers named Geoff, Jory, and Jerry.
The Klevens lived in the town of San Lorenzo, which is also in the East Bay, a short drive down Interstate 880 from Oakland. Jerry Kleven Sr. loved baseball and coached each of his sons in Little League.3 "We were a baseball family," said Geoff Kleven.4
Major-league baseball came to the Bay Area in 1958 when the New York Giants moved to San Francisco. Eight-year-old Jay Kleven became a lifelong fan of the Giants. He and his brothers loved all the players, but Jay's big favorite was Willie Mays.5
At the age of 10, Jay was playing Little League ball with 12-year-olds and was good enough to be an All-Star at that level. However, the local rules did not permit that honor.6 Already he was working hard to become a better catcher – "I was throwing him pitches in the dirt so he could learn how to block the ball," said his brother Geoff. 7
Kleven first went to high school at St. Elizabeth's, a Catholic institution in Oakland. He was good enough to play for the junior varsity baseball team as a freshman. As a sophomore, Kleven transferred to San Lorenzo High School, which has produced two other big-leaguers: pitcher Steve Lawson and infielder Tim Ireland. By coincidence, both of them also had just one hit in the majors.
During his high school days, Kleven also played Babe Ruth ball, going on to his local American Legion team, Post 675 in San Lorenzo. In 1966, the American Legion's national champion team was a rival, Captain Bill Irwin Post 337 from Oakland. Post 337's manager was Ken Kleven, Jay's uncle. That squad included two future big-leaguers, Steve Brye and Bernie Williams.8 "But they barely got out of the Bay Area pool," Geoff Kleven recalled. "Jay's team, which had Steve Lawson too, nearly beat them."9
Kleven also played basketball as a guard and football as a quarterback. He didn't have much speed, but he was a good shooter and had a strong arm.10 Thanks to his feats as a baseball player, though, he became a member of both his high school and college Hall of Fame. After graduating from San Lorenzo High, Kleven attended California State University-Hayward. Hayward is right next to San Lorenzo, and the university is now known as Cal State East Bay.
With Hayward, Kleven continued to play basketball as a freshman, but he stood out in baseball. He hit .318 in 1970 and improved to .362 in 1971.11 Both years, he earned first team honors in the Far Western Conference.12 Though not a major program, Hayward's schedule included greater powers such as Stanford, the University of California, and the University of Santa Clara.
Kleven was not drafted at any point. After he graduated, the Mets signed him as an amateur free agent in October 1971. The scout, Roy Partee, was a former big-league catcher himself and liked what he saw. There was no bonus; when Kleven asked about the possibility, Partee replied that he had nothing to give except a plane ticket to spring training the next year and a return ticket if things didn't work out.13 Kleven then went to develop his skills in a Bay Area amateur circuit, the Peninsula Winter League.14
In St. Petersburg, Florida, during the spring of 1972, Kleven competed for a catching job with the likes of Larry Berra, son of Mets coach – and newly announced Hall of Famer – Yogi Berra. Nevertheless, Kleven outperformed the younger Berra.15 For his first professional season, he was assigned to Visalia in the California League (Class A), a few hours' drive southeast of where he grew up. He split the catching duties that season with Ike Hampton, who played in 133 games in the majors from 1974 through 1979. Kleven hit .279 with 2 homers and 31 RBIs in 247 at-bats across 73 games.
Nine members of the 1972 Visalia Mets eventually made it to the majors. One of them was outfielder Benny Ayala, who also later played with Kleven at the Triple-A level in 1975 and 1976. Looking back in 2016, Ayala remembered his teammate well, calling him "a very good person and friend – a true gamer, very smart, and fun to play with. He taught me a lot during my formation to become a major-league player."16
Visalia's manager that year was Joe Frazier. Frazier was also Kleven's skipper in 1974 and 1975, and by the time 1976 came around, he was managing the big club. Clearly, Frazier was a prime reason that Kleven made it to the majors at all – but what impressed all of Kleven's observers was his skill behind the plate. "He was smart," said Geoff Kleven. "He knew how to handle pitchers and how to call a game. He was smooth – umpires also liked to call games with him because he was easy to work behind. He had a quick release. He knew all the little nuances and rarely had passed balls. He was a consummate teammate."17
The Mets invited Kleven to big-league camp as a non-roster player in 1973 – with all the pitchers around, additional catchers were needed to handle them. Kleven got a big thrill because he lockered near his childhood hero Willie Mays, who had come back to New York in a 1972 trade.18
Kleven then returned to Visalia. As the team's primary catcher, he appeared in 107 of the team's 140 games. He hit 5 homers and drove in 35 runs, both single-season highs for him as a professional. "I had warning track power," he later said. In that time, working out with weights was not encouraged in baseball; Kleven believed that with the right training, he might have been able to hit 15-20 homers a year.19
Kleven hit just .215 in 344 at-bats in 1973. Yet he was chosen as Visalia's Player of the Year. In addition, he was named the California League's best defensive catcher.20 Visalia's manager that year, Nolan Campbell, formed a very high opinion of Kleven, viewing him as a model ballplayer.21
In 1973, Kleven married Teresa "Terry" Flores, whom he had met first in high school. They had one child, a son named Jerry. The couple remained happily married until Jay's sudden death in 2009.
Kleven earned promotion to Class AA in 1974. In 1972 the Mets had used their top draft choice on another catcher named Rick Bengston – even though they could have taken a future star pitcher, Scott McGregor, whom the Yankees selected with the next pick. Whitey Herzog, then farm director for the Mets, talked about it in 1986. "We had so many pitchers we took Bengston. He had a head problem: he couldn't throw the ball back to the pitcher."22
As is typically the case with #1 picks, though, the organization was keen to see Bengston develop. Nolan Campbell had both catchers in spring training 1974. He told the brass, even though he knew his view would not be well received, "You can win with Kleven or lose with Bengston."23 Indeed, Bengston never panned out as a prospect. He showed some power but was shifted to various other positions. The farthest he got was Double-A, for part of his final pro season, 1976.
Accordingly, Kleven advanced to Victoria in the Texas League. Again he played under Joe Frazier, a good friend of Nolan Campbell's, and again he was the first-string catcher. In 91 games, he posted another very mild batting line (.218-1-24). Yet his overall performance was still worthy of another promotion – "he seemed to keep getting better each level as he moved up," said Geoff Kleven. "When they pointed to his hitting, Jay said, 'Yeah, but look at my pitching staffs.'"24
Kleven was invited again to major-league camp as a non-roster player in 1975. Noted baseball writer Roger Angell mentioned him briefly in his April 14 column for The New Yorker, "Sunny Side of the Street." Kleven hit two pop flies to center during batting practice, and coach Eddie Yost said, "Try to loosen up that top hand, Jay. Just throw the bat at the ball." Kleven then hit a liner over second base.
The top Mets farm club in those years was the Tidewater Tides, based in Norfolk, Virginia. Ron Hodges played most at catcher for the Tides in 1975, but Kleven still got into 72 games, hitting .255-2-22. During his first four seasons as a pro, though, he attracted no more than passing mentions in The Sporting News.
Kleven played winter ball for the only time in the 1975-76 season. He went to Puerto Rico – "he and Terry loved the experience, even though they had some problems with accommodations," said Geoff Kleven. Jay's team was the Santurce Cangrejeros (Crabbers). Available evidence indicates that he did not get into an official game and that he may have been a practice squad player. Santurce had popular veteran Elrod Hendricks, in his 14th year with the team, as their first-string catcher, along with locals Orlando Sánchez and Gerry Rodríguez.25 Still, Kleven impressed the Puerto Rican fans with his arm. Geoff noted, "They said, '¡Línea!' because his throws to second came in on such a line."26
Kleven returned to Tidewater for the 1976 season. John Stearns, a promising young catcher, had started the season with the Mets. At his own request, he was sent down to the Tides in May so that he could play regularly. That left veteran Jerry Grote and Hodges as the big-league catchers. However, Stearns was playing part-time at third base for Tidewater, so Kleven was still getting action behind the plate.27
On June 12, Hodges left a game in the third inning, having split the middle finger on his right hand (probably on a foul tip).28 Grote, who was suffering from a bad back, was then asked to bear the catching workload.29 However, the Mayor's Trophy Game was set to take place at Yankee Stadium on June 14. By 1976, the series was losing luster; although some stars still played, the lineups also featured many minor-leaguers.30
As it happened, Tidewater had been playing upstate, at Syracuse.31 Thus, Kleven – a known quantity to Mets skipper Joe Frazier – did not have too far to travel, and Grote was able to sit out the exhibition game. Though Kleven had been batting just .204 for the Tides, he singled home the first two Mets runs, walked, singled again and scored a run. After the game, he said, "I go back to Tidewater tomorrow, but I'll take this biggest thrill of my life with me. Playing in front of all those people [the crowd was 36,361] is something I'll never forget. I'm glad I was able to help." The New York Times described him as "stealing some glory for the Mets."32
Grote still needed a backup, though – and the call went not to Stearns but Kleven. After the Mets played on June 15, they announced the move, placing Hodges on the 15-day disabled list.33 Grote, an excellent receiver, paid Kleven a nice compliment on a bus trip around then. He asked to see Kleven's mitt, and exclaimed – one can imagine the Texan's thick accent – "That's the first time I've seen one that I'd use myself in a game. You're a catcher!"34
At the age of 26, Kleven's big-league debut came at Shea Stadium on Sunday, June 20. The opponent that day was his old favorite, the San Francisco Giants. As a result, his family got to listen to the game on the radio – which was extra nice for Jerry Kleven Sr. because it was Father's Day.35 "Lon Simmons and Al Michaels were calling the game," Geoff Kleven remembered. "Lon read out a lot of information from the media guide about Jay."36
Mets starter Jon Matlack didn't have it that afternoon, giving up five runs in the first inning. Kleven pinch-hit for Grote in the second inning and grounded into a double play against Ed Halicki. He stayed in the rest of the way; in two subsequent at-bats against Halicki, he struck out and flied out.
The following Sunday, June 27, the Mets played at Wrigley Field in Chicago. Cubs starter Rick Reuschel was shelled; older brother Paul Reuschel wasn't much better in relief. New York led 10-0 after two innings. In the top of the sixth, Bruce Sutter (the fourth Chicago pitcher of the day), retired Dave Kingman but then gave up two singles and a double. The score was 11-0 when Kleven came to the plate, again pinch-hitting for Grote. As he recalled, he fell behind 0-and-2, barely fouled off a couple of pitches, drew two balls – and then ripped one of Sutter's split-finger fastballs between short and third.37 The single drove in Del Unser and Wayne Garrett to score the Mets' last two runs.
A friend of Kleven's named Fred Trout told a story about that hit in 2004. When the rookie reached base, Cubs first baseman Rick Monday said, "Hey, kid, was that your first major league hit?" Kleven said it was, so Monday asked Sutter to toss him the ball, and Kleven got to keep it. He gave the memento to his father, according to Trout.38 However, Kleven told George Rose that it went to his grandfather, who was celebrating his 76th birthday the very same day. He said, "Family played a big part in my career, so the timing could not have been scripted any better."39
Kleven finished the game as catcher, grounding out in his only other at-bat. The final score was 13-3. Right after that game, Hodges came off the DL (the 15-day count was retroactive to his injury), and Kleven was sent back down to Tidewater. The game story in the Times the next day had a subhead, "Kleven's Farewell Hit."40
Kleven finished the 1976 season hitting just .174 for Tidewater (27-for-155 in 55 games). He returned to the Tides in 1977, but after even colder batting – 7-for-58 (.121) in 21 games – he was released in mid-June.41 A short time later, the Cincinnati Reds organization picked him up.42 Over the remainder of the season, he played in 13 games for the Reds' top farm club, Indianapolis in the American Association. He was 6-for-22.
The highlight of Kleven's time in Indianapolis came on August 4, when Bill Caudill (then a Reds farmhand) fired a one-hitter against Iowa. Caudill needed just 99 pitches – of which only four were curveballs – to dispose of the Oaks. He made one mistake, in the fourth inning, when he hung the second of two successive curves to Tom Spencer and it became a fly ball that carried just far enough to be a homer.43 Caudill expressed amazement at how well Kleven had handled him; the catcher simply responded that he'd been around the game.44
According to The Sporting News, the Detroit Tigers signed Kleven in December 1977 and assigned him to their top affiliate, Evansville.45 As it happened, though, he was back with Indianapolis during the 1978 exhibition season. That April, the Reds offered him a job as a player-coach with their Double-A farm team in Nashville, but Kleven declined. That concluded his baseball career.46 "He had a son then and didn't want to go back to bus rides in the minors," said Geoff Kleven.47
Kleven then returned to his hometown. "He worked for a trucking company for 10 years," said his brother Geoff, "and then, just after he qualified for a pension, he hurt his back. Workman's comp paid for retraining, so he went and got his teaching credentials."48
Kleven spent a year as a student teacher in the Bay Area. In the fall of 1990, he became a special education teacher for Washington High School, in the San Lorenzo Unified School District.49 He did a little ad hoc assistant coaching in baseball and basketball, and coached his son in Little League. He enjoyed being with family and friends, and following the Giants.50
In June 2009, Kleven went to Eden Medical Center in Castro Valley for hip replacement surgery. After the operation, he had a massive heart attack and died unexpectedly on June 30. He was just 59 years old. "He said he felt tightness in his chest, and it seemed to be something minor," said Geoff Kleven. "But there was some defect in the back part of his heart, something that was not detectable. The cardiologist had put him through the paces before the surgery and given the go-ahead."51
The church was full for Jay Kleven's funeral – his brother Geoff gave the eulogy – and he was laid to rest in Holy Sepulchre Cemetery in Hayward. As his obituary put it, "He was a loving, caring man who lived his life to the fullest. . .[he had] many, many great friends."52
Acknowledgments
Special thanks to Geoff Kleven for contributing memories of his brother. Continued thanks to Benny Ayala and John-William Greenbaum for their input.
Sources
findagrave.com
comc.com (baseball card merchant's website with online repository of images)
Notes
Born
December 2, 1949 at Oakland, CA (USA)
Died
June 30, 2009 at San Lorenzo, CA (USA)
If you can help us improve this player's biography, contact us.
https://sabr.org/sites/default/files/KlevenJay.jpg
600
800
admin
/wp-content/uploads/2020/02/sabr_logo.png
admin
2017-04-10 21:05:08
2017-04-10 21:05:08
Jay Kleven