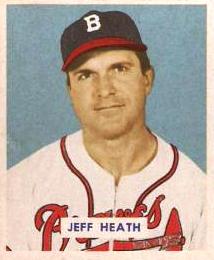 ---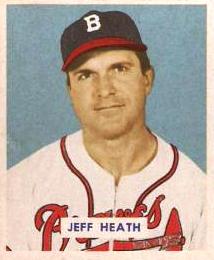 Jeff Heath was 33 years old and in his 13th big-league season in 1948 when he surprised his critics and helped lead the Boston Braves to the National League pennant. Playing in just 115 games under manager Billy Southworth's platoon system, he hit 20 home runs, drove in 76 runs, and batted a resounding .319. He hit a home run in every ballpark in the National League, in the process becoming the first player to accomplish the feat in both leagues; he had also homered in every American League park with the St. Louis Browns in 1947. In addition, he played a near-flawless left field for the Braves, leading the league's outfielders in fielding percentage at .991 and making just two errors.
After more than 1,300 games in the majors, Heath was headed to his first World Series (against his original club, the Cleveland Indians) when misfortune struck. Four games before the end of the campaign, playing in Brooklyn's Ebbets Field, he suffered a gruesome injury when he broke his ankle sliding into home plate. After being tagged out by catcher Roy Campanella, he left the field in agony on a stretcher.
1
Heath's season and, for all intents and purposes his career, were over.
The Braves had acquired Heath from the Browns on December 4, 1947, in a straight cash deal. They were no doubt looking for some extra pop in their batting order to complement third baseman Bob Elliott, who had won the National League MVP award that year with 22 home runs, 113 runs batted in, and a .317 batting average. Heath was coming off a productive 27-homer, 85-RBI season himself with the Browns, although he had hit just .251. He was also coming with a reputation as a difficult personality. The '47 Braves had finished in third place with an 86-68 won-loss record, eight games behind the pennant-winning Brooklyn Dodgers. Although Cal Hubbard, the future Hall of Fame umpire, always said that Heath was the best fastball hitter in the American League2, it is unlikely that even the most optimistic Braves supporter could have envisioned that his acquisition would prove to be a catalyst to a championship in 1948.
John Geoffrey "Jeff" Heath was born on April Fool's Day of 1915 in Fort William, Ontario, making him at least nominally a Canadian. His family, however, moved to Victoria, British Columbia when he was a year old, and shortly thereafter to Seattle, Washington. It was there — where his father operated a hardware store — that Jeff grew up and lived his entire life. He attended Garfield High School in Seattle, where he made the varsity baseball team at 15 as a freshman. He went on to star in baseball and football before graduating in 1934. University of Washington football coach Jimmy Phelan pronounced Heath the best high school running back in the country that year. His prowess as a halfback led to numerous college scholarship opportunities, including offers from the Universities of Oregon, California, Washington, and Alabama, and Fordham University, but he opted to give up the gridiron for a baseball career. According to one source, Heath had his heart set on baseball, and injuries to both ankles and a knee from playing high school football cautioned him about the effects that playing this more physical sport could have on his chosen vocation. He did, however, study business administration at the University of Washington for a couple of semesters before his baseball career took off.
In 1935 Heath signed on with Yakima of the semipro Northwest League, where he hit an attention-getting .390 in 75 games. That performance earned the 20-year-old a spot on Les Mann's All-American amateur baseball team, which toured Japan after the season. He hit a cool .483 on the trip, cementing his decision to forgo college football. When Heath returned to the US at the end of the tour however, US customs would not allow him reentry once they discovered that he was a British subject traveling on a British passport. For two days he was confined to the team's ship, docked in San Francisco. Lefty O'Doul, who had helped arrange the trip, finally interceded and got Heath admitted back into the country. Shortly thereafter Heath became a naturalized US citizen, ostensibly to avoid future such problems.3
Willie Kamm, a former big-league third baseman then scouting for the Cleveland Indians, had had his eye on Heath and signed him to a professional contract shortly after his return from Japan. Jeff reported to his first spring training in 1936 with the New Orleans Pelicans of the Southern Association, but soon developed an infected hand, which temporarily put him out of commission. The Indians eventually assigned him to the Zanesville, Ohio, Greys, their farm club in the Class C Mid-Atlantic League. Heath was a resounding success as the Greys swept to the pennant by 10 games. He compiled a .383 batting average, with 208 hits, 47 doubles, 14 triples, and a whopping 187 runs batted in, in 124 games. His 28 round-trippers placed him third in that category. His eye-popping numbers earned Heath a late season call-up with the Indians all the way from Class C. He proceeded to break into the majors by hitting .341 in 12 games and 41 at-bats. Seven of his 14 hits went for extra bases, including three triples.
A right-handed thrower and a left-handed batter, the muscular 6-foot, 200-pounder was understandably starting to be referred to as a "natural."4 Even so, the Indians decided that a year with the Milwaukee Brewers, their top Double A farm club, would serve Jeff well, particularly since Cleveland was well stocked in the outfield at the time. So after starting the year with the Indians and fighting for playing time, he spent the bulk of the 1937 season with the Brewers — where he hit a lusty .367 in 100 games to finish behind only Enos Slaughter of the Columbus Red Birds in the American Association batting race. While down a bit from the previous year, Heath's power numbers were still formidable: 34 doubles, nine triples, and 14 homers.
All of that set the stage for one of the top debut years in big-league history. In 126 games with the Indians in 1938, Heath slugged 21 home runs, drove in 112 runs, and batted .343, finishing second in the batting title race by just .006 to Jimmie Foxx.5 He led the league in triples with 18 and was third in slugging (at .602) to only Hall of Famers Foxx and Hank Greenberg. It looked as though a Cooperstown career was in the offing, but it was not to be. Instead, Heath became something of an enigma, putting together very solid big-league numbers, but making one wonder what could have been.
Heath's personality could be quirky, and the reports on his effort during his career were mixed. He was a frequent holdout, beginning after his first full season, when he was unhappy with the Indians' contract offer. Although invited by Cleveland manager Oscar Vitt to work out with the team in spring training while he negotiated, Heath refused, catching the workouts at the club's New Orleans facilities from the stands.
This stance annoyed his teammates, and one night in the Roosevelt Hotel, the veteran slugger Hal Trosky reportedly confronted the issue, asking, "Heath, why don't you stop fooling, sign your contract, and get down to work like the rest of us?" Heath was not intimidated and replied, "Trosky, if you could hit like I can hit, you'd hold out all summer."6
Although he finally signed, Jeff remained unhappy through the 1939 season. His batting average fell 51 points to .292 while his home run and RBI totals also plummeted, to 14 and 69. Although he tied a major-league record on July 25 with two pinch hits in one inning, Heath had two particularly forgettable days in a row that summer which showed he had yet to learn to control his temper. First, on August 27, he struck out against the Red Sox' Denny Galehouse and threw his bat in frustration. It bounced about 10 feet in the air and landed in a front-row box seat, where it glanced off Cleveland Press editor Louis Seltzer. Umpire Bill McGowan promptly tossed Heath from the game despite Jeff's protestations that he meant no harm.
When the furious Heath returned to his dugout, his friend and teammate Johnny Broaca tried to calm him down. Heath told Broaca to mind his own business or he'd knock his block off, whereupon Broaca, who had been on the boxing team at Yale, removed his glasses and took up the challenge. Teammate Harry Eisenstat later recalled that the Indians had a tough time separating the two because they were really going at it.7 They almost fought again in the clubhouse, but manager Vitt stepped in and threatened to impose a heavy fine against both combatants.
The very next day, Heath fouled out on a 3-0 pitch with the tying run on third base late in the game. A fan in the front row yelled, "Why don't you throw your bat in the stands again?" Jeff responded by walking over and throwing a punch into the chest of the heckler. Fortunately for Heath, neither the umpires nor his manager saw the punch, so he escaped punishment. Afterward he acknowledged that "it was just another blunder in a season full of mistakes," and even admitted that he hurt his hand when he punched the fan.8
That same lost season Heath took exception to an article by sportswriter Ed McAuley of the Cleveland News suggesting that the outfielder did not always give 100 percent effort and that he was not a very good "team man." The reaction was predictable; Jeff confronted McAuley and advised him that if he ever showed his face in the clubhouse or dugout, Heath would physically remove him. McAuley dutifully reported the threat in the next day's paper and, with cameras rolling, visited the Indians dugout just before the same day's game. Heath greeted McAuley with a big grin and hearty handshake, and all was forgiven. It was later divulged that Alva Bradley, then president of the Indians, had ordered general manager Cy Slapnicka to tell Heath that if he touched a hair on McAuley's head, he would never play another inning of organized baseball.9
The headstrong slugger was not always so restrained, however. Bob Feller, who roomed with Heath on the road for several years, recalled an incident that occurred one evening when they were lounging in their room at the New Yorker Hotel in Manhattan and heard a knock on the door. Jeff opened the door to find a shapely young woman, and a man standing behind her back in the shadows, armed with a camera. Recognizing a scam when he saw one, Heath ordered the lady aside and grabbed the cameraman by the shirt and decked him with one punch. He then shut the door and called the house detective.10
The 1940 season was even more eventful for Heath than 1939 had been. He did not hit, and quickly fell out of favor with the acerbic Vitt, who thought the underachieving outfielder was wasting his talent.11 Vitt had in fact become unpopular with most of the team because of his constant criticism, and in August Heath reportedly led what amounted to a player revolt against Vitt, forcing the manager's ouster.12
According to Braves teammate Clint Conatser, Heath always maintained that he had been unfairly made responsible for the turmoil. As Conatser told the tale, Jeff's outfield mate Roy Weatherly (who was nicknamed "Stormy") approached him with a list of gripes players had voiced about Vitt. Weatherly asked Heath, as the respected star of the team, to present the list to the front office on behalf of the club. But when management held a team meeting to get the full story, Jeff's teammates kept quiet and left him holding the bag. The press naturally targeted Heath as the ringleader.13 Perhaps not surprisingly, given all the turmoil that summer, Heath slumped to .219 in 1940 and appeared in just 100 games, many as a pinch-hitter. In two years his batting average had plummeted 124 points and his RBI total had plunged from 112 to 50.
As the reputed leader of the so-called Cleveland Cry Babies, Heath took a lot of abuse on the road. It was tough to predict his reactions to such taunts or to figure out if and when they were even bothering him. Once, a fan in Griffith Stadium in Washington threw a teddy bear at Jeff on the field. Heath laughed, picked it up, and hugged it. He didn't even punch the guy.
The unpredictability extended to Jeff's career, and the up-and-down years continued in 1941. Under new manager Roger Peckinpaugh, Jeff roared back with another tremendous season and was named the starting right fielder for the American League in the All-Star Game. For the year he batted a resounding .340 with 24 round-trippers and 123 runs batted in, just two RBIs behind league-leader Joe DiMaggio. Heath ranked fourth in the American League in batting, third in slugging (.586), second in total bases (343), second in hits (199), and even third in stolen bases with 18. He also led the league in triples with 20 and became the first American Leaguer to hit at least 20 doubles (he had 32), triples, and home runs in the same season. In the years since, only George Brett (in 1979) and Curtis Granderson (2007) have equaled the feat among AL performers.
Heath never again approached those numbers and thus superstardom eluded him. In the very next season, 1942, for example, he slipped to a .278 batting average with only 10 home runs and 76 runs batted in. In 1943 he hit .274 with 18 homers, good enough to be named to the American League All-Star team in that war-depleted year but still a far cry from '41. He was hobbled by a bad knee in 1944, which limited him to 60 games, and after the season he had surgery to repair cartilage damage. Heath worked at a shipyard in Seattle and in early 1944 he was classified 2-B in the wartime draft as an employee in an essential industry.
As his statistics slipped, Jeff grew increasingly frustrated with Municipal Stadium, where the Indians played most of their home games.14 In the cavernous ballpark, it was 470 feet to dead center field and up to 435 in the power alleys — great for doubles and triples but not for home run hitters. He also continued to squabble annually with the Indians over his contract. During the war the club trained for three years at Purdue University in Lafayette, Indiana, and not once during this period did Heath sign his contract in time to even visit there.15
Heath also had a reputation for not always giving maximum effort.16 One of his Cleveland managers, Lou Boudreau, recalled that although Jeff would often work hard, he could also get frustrated and then sort of give up. According to Boudreau, Heath had difficulty making adjustments at the plate and did not have the drive to excel. In one game Heath, playing left field, made no move to catch a fly ball that dropped in front of him. Boudreau sent him to the clubhouse after the inning but, desperate for a key hit, recalled Jeff to take his spot in the batting order. Heath responded by slamming the game-winning hit. Afterward, a slightly mollified Boudreau approached his slugger and said, "Great stuff, Jeff. But why didn't you try for that ball in front of you?"
To which Heath replied, "Don't ask me, Lou. I was hoping you'd tell me."17
Heath could also challenge Boudreau's patience and authority in other ways. In 1942, when Boudreau was named "boy manager" of the Indians at the tender age of 24, Lou was two years younger than Heath and younger than most of the players on the team. On an early-season train trip, Boudreau and a number of the Indians were in the dining car when Heath began pelting Jim Bagby, who was not known for his good humor, in the back of the head with hard rolls. Whenever Bagby turned around, Heath feigned innocence. Inevitably Bagby caught Heath in the act and reacted by pouring a glass of water on him. Fisticuffs were about to ensue when Boudreau came to intercede from the other end of the dining car, threatening fines if the two didn't cool it.18
Heath's longtime teammate and roommate on the road, Bob Feller, said that while Jeff was not a carouser, he didn't take baseball or life very seriously. Pitcher Harry Eisenstat, another teammate, thought that Heath had trouble accepting failure and tended to dwell on the negative. "If he'd go 0-for-4, he'd complain that the pitcher wasn't really that good," recalled Eisenstat. "He'd keep talking about it. When he had a bad day, he wasn't the nicest guy to have around."19
On the other hand, Heath was generally popular with his teammates and sportswriters, especially when he was hitting well. He was indeed fun-loving and accommodating to fans. He would willingly sign autographs for children after games and sometimes even take a bunch for a ride in his convertible.20
Once during the war, the Indians were playing the White Sox in an exhibition game for the sailors at Camp Grant, outside of Chicago. Manager Boudreau put himself in to pitch to save his regular hurlers, and Heath was playing left field. The field had no fence and only a white flag at the end of the foul line in left. One of the White Sox players hit a gargantuan shot near the line in left but well past the end of the line. Heath raced over and back but had no chance at the ball, so he just picked up the white flag and waved it, to the delight of the sailors in attendance.21
In 1945, Heath held out until early June, and while he did hit .305 in 102 games that year after ending his holdout, the Indians had grown tired of his act. After the season, they traded him to the Washington Senators for outfielder George Case, who although known for his stolen base prowess was battling knee problems.22 Unfortunately, Washington's Griffith Stadium was huge as well, and after Heath hit just four home runs in 166 official at-bats early in 1946, the Senators shipped him in June to the St. Louis Browns for two journeymen, outfielder Joe Grace and relief pitcher Al LaMacchia. Jeff played for the Browns for a season and a half, and improved his power numbers but not his batting average in the more hitter-friendly Sportsman's Park. Before too long, he wore out his welcome in St. Louis as well.
As was his wont, Heath fell into several deep slumps with the Browns, to the consternation of his teammates. One day St. Louis second baseman John Berardino popped up with an important run on third base. When he came back to the dugout, Heath simply said, "Nice hitting, John." With his prolonged slumps Heath was the last person to be criticizing a teammate's hitting, so Berardino took umbrage and hauled off and socked Jeff in the chin.23
As a further sign of his quirkiness, Heath was very particular about his bats and would not allow teammates to borrow them. "There are only so many hits in a bat," he would say. In 1947 the Browns signed Willard Brown, a Negro League star. Brown arrived without any bats because he was told that the Browns would supply them. Brown found that the team's bats were all too lightweight for his taste, but eventually discovered one of Heath's discarded bats that had the knob broken off. Heath used the heaviest bats on the team, so Brown taped the knob back on the bat. The umpire wouldn't let him bat with a taped-on knob, so Brown just cut the taped-on knob off and used the bat anyway. He slugged a home run with it, off Hall of Famer Hal Newhouser no less. It was the first homer by a black player in the American League and what would turn out to be the only home run of Brown's short-lived major league career.
When Brown came back to the dugout after circling the bases, Heath reclaimed his bat and shattered it against the dugout wall.24
The last straw for Browns management occurred on the final day of the 1947 season. The club, mired in last place and desperate for fans, had hired Dizzy Dean to come out of retirement and the radio booth to pitch the last game of the season against the White Sox. After four scoreless innings the Diz retired for good, but the Sox scored five runs against his successor and were ahead 5-0 going into the bottom of the ninth. The Brownies sprang to life, however, and had two runs in and the bases loaded with two outs when it came Heath's turn in the order. The problem was that no one could find him. Manager Muddy Ruel finally dispatched a batboy to the clubhouse and sure enough, there was Jeff singing merrily as he soaped himself in the shower.25
Although the Browns were eager to get rid of Heath, he was greeted with enthusiasm in Boston. He had, after all, slugged 27 homers for a tail-end club in '47, third in the American League, and the 320-foot right-field porch in Braves Field seemed made to order for the lefty slugger. No one could have predicted, however, that he would bat a sparkling .319 — 68 points higher than in the previous campaign — and achieve a .582 slugging percentage (his best mark in seven years). More importantly, given the team's pennant hopes, many of his hits in 1948 were timely. Perhaps none was bigger than that of September 3, when Heath hit a two-run home run against the Phillies to propel the Braves to a 3-1 win and back into first place — where they would remain for the rest of the year.
According to his teammate Clint Conatser, Heath was particularly eager to play in the World Series if his old club won the American League pennant race (the Indians were battling the Red Sox and Yankees to the wire). Conatser related that Heath had always believed he had been wrongfully blamed for the Indians' player revolt of 1940, and harbored a grudge against the organization for accusing him of sabotaging his manager. He repeatedly told his teammates, "If we play the Indians, I will kill them." As Conatser remembers, just before Heath's fateful game against the Dodgers, he had gone to manager Billy Southworth and asked to not play since the Braves had already clinched the pennant. Heath apparently wanted to save himself for the Indians, if they made it to the Series.26
Southworth denied Heath's request, as he did any similar pleas from other players, because he wanted to guard against a letdown by his regulars heading into the Series.27 So Heath played and, according to Conatser, hesitated on the fateful play as he approached home plate, unsure whether he should slide in a meaningless game.28 When he did slide, he did so awkwardly as Brooklyn's Roy Campanella went to tag him. The result was a compound fracture and a stay for Jeff in Brooklyn's Swedish Hospital.
The fallen warrior was fitted for a cast and crutches and allowed to visit with his teammates at the ballpark during the World Series. But while he was always photographed with a wide grin during this period, he was no doubt silently seething. The Indians, in the end, had toppled first the Yankees and then the Red Sox (in a one-game playoff) to make it to the Series. But Jeff would not get his chance at revenge, and it cost the Braves dearly. His teammates hit just .230 with four home runs against Cleveland's vaunted pitching staff, and the Indians captured the Series in six games.
Heath attempted to resume his career in 1949 after recovering from his catastrophic injury. He made his first start on July 15, going 1-for-5 in a 6-1 victory over the Cubs. But the Braves were struggling along and finished fourth, and Jeff was nagged by his injury. For the rest of the season he managed to hit .306 for the Braves in 36 games and 111 at-bats, but his mobility was reduced and his days as a full-time player were at an end. He did go on one of his hitting tears in August, hitting eight home runs in 21 games — including two in successive innings — but had just one homer in all his other contests combined.29 The Braves released him immediately after the season, thus ending his big-league days. He headed back west to play for his hometown Seattle Rainiers of the Pacific Coast League in 1950 (where he was reunited with former Braves teammates Billy Salkeld and Al Lyons as well as old nemesis Denny Galehouse) before hanging up his spikes for good and switching to the broadcast booth as a color commentator for the Rainiers.
For all the controversy Heath generated in the American League, he certainly ended his baseball career on a high note with the Braves. Some late-arriving maturity undoubtedly helped, but the Braves thought him a model professional and had trouble believing the stories they had heard about him. (He had even signed his Braves contracts promptly and without quarrel.) Billy Southworth said, "They told me when I got him from the American League that Heath was a troublemaker. If he is, I'd sure like to have eight other troublemakers like him."
He was also active in the community, and was one of a number of Braves players who visited the Boston hospital room of a child ill with cancer as part of Ralph Edwards' Truth or Consequences national radio broadcast in May 1948 that launched the Jimmy Fund charity of the Dana-Farber Cancer Institute.30 The Braves thought so highly of Jeff that when they released him as a player they offered him a job managing one of their farm teams. He declined, however, thinking he might be able to play for the Rainiers for a couple of years in his hometown.31
For his time in the majors, which spanned 14 years, Heath had batted .293 and slugged 194 home runs. He also connected for 279 doubles and used his surprising speed to twice lead the American League in triples, totaling 102 three-baggers for his career. And although none of these numbers rank high on baseball's all-time lists, his .509 lifetime slugging percentage and .879 OPS (on-base average plus slugging average) are still in the Top 100 — and a strong indicator of his prowess when healthy and focused.
Looking back, Heath showed some introspection in analyzing his time in the game. Asked by Franklin Lewis of the Cleveland Press if he would have done anything different in his career if he had it to do over, Heath said, "I wouldn't gag around as much. I shouldn't have popped off. It's all right for little guys to talk loud, but not a big ox like me." Baseball Digest published an article under Heath's byline a couple of years after his retirement titled "I Did It the Wrong Way!"32 It was the lead article of the issue, the cover of which blared "Jeff Heath Confesses: I was a clubhouse lawyer — and I was wrong!" The article itself, however, does not live up to the hype. Heath does admit to youthful "impulsiveness" and being "headstrong" as his "biggest blunder," but the article is in reality an attempted explanation of his behavior rather than an acknowledgment of it.33
Heath did not exactly mellow, however, after his playing days, and managed to get into more scrapes. In 1956, while broadcasting a Rainiers game, he swore into an open microphone from frustration over some technical glitches. He later apologized on the air but, when confronted by a station manager in the broadcast booth, responded by throwing him down a flight of stairs.34 A year later, in 1957, he was accused of knocking down a Seattle construction worker in a brawl in a café.35 In August of the same year Heath became ill while participating in a children's parade at Seattle's Seafair Festival, and was taken to the hospital with what turned out to be a serious heart attack. He was only 42 years old.
After he recovered, Heath continued to broadcast Seattle ballgames through most of the 1960s. The club's principal sponsor was a hot dog manufacturer, and Jeff became well known for downing hot dogs with gusto throughout the broadcasts.36 He also continued to be the life of any party. Once after a sports banquet, he was enjoying a nightcap with several of the attendees when the subject turned to sliding. Heath lamented, "They just don't slide like they used to. How many of these players nowadays give you the good hook slide anymore? You want to see a good hook slide? Watch this." Whereupon Heath doffed his trousers, revealing flowered boxer shorts, ran a few steps, and executed a beautiful hook slide on the polished floor.37
On an earlier occasion, Heath attended a Hot Stove gathering at which Rainiers' general manager Dewey Soriano introduced Lefty O'Doul as the club's new field manager, succeeding Luke Sewell. Soriano was extolling the virtues of O'Doul, including his vast baseball experience and leadership qualities, when Heath piped up from the back in a loud voice, "Hey, Dewey, isn't that just what you said about Luke Sewell last year?"38
Heath became involved in real estate development, and in 1972 actively campaigned against the proposed domed stadium for Seattle, actually wearing a sandwich board and collecting signatures on a Seattle street corner.39 He was not against a new big-league stadium for Seattle, but thought a domed stadium was unnecessary and that the budget for the proposed Kingdome was totally inadequate to build a first-class facility.
In the end, he wouldn't live to see the Kingdome completed. On December 9, 1975, Heath was stricken with a fatal heart attack and died in Seattle. He was just 60 years old and left behind his wife, Theabelle, two daughters, a son, and six grandchildren.
Heath was a fine ballplayer who could and should have been a great one. He was, until his stint with the Braves, a real enigma. Howard Preston, a sportswriter with the Cleveland News, perhaps best captured the man in his obituary of Heath: "He was a mixture of gentleness and brute strength, angel and devil, but withal an exciting fellow for what he might have been as well as for what he was."
Note
This biography originally appeared in the book Spahn, Sain, and Teddy Ballgame: Boston's (almost) Perfect Baseball Summer of 1948, edited by Bill Nowlin and published by Rounder Books in 2008.
Notes
1. Jim Shearon, Canada's Baseball Legends (Kanat, Ontario: Malin Head Press, 1994), p.55. The Sporting News, October 6, 1948, p. 8. Braves' teammate Clint Conatser recalled that when the Braves ran out to tend to Heath, Campanella was visibly upset and repeatedly said, "I didn't block him. I let him slide through." Brent Kelley, The Pastime in Turbulence — Interviews with Baseball Players of the 1940s (Jefferson, North Carolina: McFarland & Co., Inc. 2001), p. 296. Photographs of the horrific injury show Campanella making a sweep tag as Heath's left ankle, away from Campy, is gruesomely twisted. Heath later noted that while he was laid up in Brooklyn's Swedish Hospital, Dodgers pitcher Rex Barney brought him a radio and Dodgers owner Walter O'Malley was a daily visitor, helping to boost his morale. Jeff Heath as told to Arthur Richman, "I Did It the Wrong Way!", Baseball Digest, January 1953, p. 5.
2. The Sporting News, December 17, 1947, p. 7.
3. Humber, William, Diamonds of the North — A Concise History of Baseball in Canada (Don Mills, Ontario: Oxford Univ. Press, 1995), pp. 160, 161.
4. The Sporting News, November 17, 1938, p. 5.
5. Heath finished the year on a tear, hitting .358 for the month of August and .377 for September. Shearon, Canada's Baseball Legends, 59.
6. Ibid.
7. Bob Dolgan, Tribe's Heath a Star Who Flared, Then Faded, Cleveland Plain Dealer, May 1, 2001, p. 1D.
8. Ibid.
9. Cleveland Plain Dealer, December 11, 1975, p.1-D.
10. Bob Feller with Bill Gilbert, Now Pitching — A Baseball Memoir (New York: Birch Lane Press 1990), pp. 73-74.
11. Vitt was later quoted as saying that Heath "had as much ability as Joe DiMaggio. [H]e had a fine arm and could hit the ball as far as anybody. He ruined a promising career because of temperament and disposition." Undated story, Baseball Hall of Fame Library, Jeff Heath file, Cooperstown, New York.
12. The Sporting News, July 10, 1941, p. 1. For additional accounts of the 1940 Cleveland Indians player revolt see John Sickels, Bob Feller — Ace of the Greatest Generation (Washington, D.C.: Brassey's, Inc., 2004) , pp. 91-101. Lou Boudreau with Russell Schneider, Lou Boudreau — Covering All the Bases (Champaign, Illinois: Sagamore Publishing, 1993), pp. 25-39. Bob Feller with Bill Gilbert, Now Pitching — Bob Feller (New York: Birch Lane Press, 1990), pp. 94-103. Lou Boudreau with Ed Fitzgerald, Player-Manager (Boston: Little, Brown & Co., 1949), pp. 39-48. Franklin Lewis, The Cleveland Indians (New York. G.P. Putnam's Sons, 1949, republished Kent, Ohio: Kent State Univ. Press, 2006), pp. 200-13. Bob Feller, Strikeout Story, (New York: A.S. Barnes & Co., 1947), pp. 158-205.
13. Boston Braves Historical Association Newsletter, Spring 2008.
14. The Sporting News, October 21, 1943, p. 18.
15. The Sporting News, December 20, 1945, p. 9.
16. Gordon Cobbledick, longtime sportswriter for the Cleveland Plain Dealer, generally defended Heath, calling him "the most misunderstood player in baseball." Even Cobbledick, however, acknowledged that Heath didn't always "hustle to the utmost" and sometimes "fail[ed] to seize the fullest advantage of opponents' misplays." Gordon Cobbledick, Heath Hustles — In His Own Way, Baseball Digest, October 1943, p. 60.
17. Ibid.
18. Lewis, The Cleveland Indians, p. 224.
19. Dolgan, Cleveland Plain Dealer, p. 1D.
20. Dolgan, Cleveland Plain Dealer, p. 1D.
21. The Sporting News, December 14, 1944, p. 10.
22. The previous May the Yankees expressed serious interest in obtaining Heath, but no deal was ever made. May 11, 1945 clipping from the Jeff Heath clippings file, National Baseball Hall of Fame Library.
23. The Sporting News, December 17, 1947, p. 7.
24. Bill James, The New Bill James Historical Baseball Abstract , p. 683. In another reported incident, Heath objected to teammates using his bats while with the Braves in 1949. Eddie Stanky began kidding Heath about his bat phobia and Heath retaliated by "half-kiddingly" lifting Stanky off his feet on the runway to the clubhouse. The Sporting News, September 7, 1949, p. 4.
25. Ibid.
26. Boston Braves Historical Association Newsletter, Spring Training 2008.
27. Ibid. In 1943, Southworth's St. Louis Cardinals had clinched the pennant with 13 days left in the season. Southworth rested his regulars and the Cardinals proceeded to lose the World Series to the Yankees four games to one.
28. Ibid.
29. The Sporting News, September 7, 1949, p. 22.
30. The publicity from the show launched the famous Jimmy Fund charity. Wisnia, Saul, Images of America: The Jimmy Fund of Dana-Farber Cancer Institute (Arcadia), p. 18.
31. The Sporting News, October 26, 1949, p. 20.
32. Heath, Baseball Digest, 5. The article was told to Arthur Richman of the New York Mirror.
33. For example, Heath mentioned that Earl Averill advised him that he was making a mistake by hitting so well during his first full season because everyone would expect that level of performance thereafter. A year later, Heath related that he understood what Averill meant.
34. William Humber, Diamonds of the North — A Concise History of Baseball in Canada (Don Mills, Ontario: Oxford Univ. Press, 1995), p. 161.
35. Ibid.
36. Seattle Times, December 11, 1975, p. F2.
37. Ibid.
38. Ibid.
39. Seattle Times, October 4, 1972, p. B4.
Sources
Boudreau, Lou, with Russell Schneider, Lou Boudreau — Covering All the Bases (Champaign, Illinois: Sagamore Publishing, 1993).
Boudreau, Lou, with Ed Fitzgerald, Player-Manager (Boston: Little, Brown & Co., 1949).
Caruso, Gary, The Braves Encyclopedia (Philadelphia: Temple Univ. Press, 1995).
Cobbledick, Gordon, Heath Hustles — In His Own Way, Baseball Digest, October 1943, p. 60.
Dolgan, Bob, Tribe's Heath a Star Who Flared, Then Faded, Cleveland Plain Dealer, May 1, 2001, p. 1D.
Feller, Bob with Bill Gilbert, Now Pitching — A Baseball Memoir (New York: Birch Lane Press, 1990).
Feller, Bob, Strikeout Story (New York: A.S. Barnes & Co., 1947).
Finoli, David, For the Good of the Country: World War II Baseball in the Major and Minor Leagues (Jefferson, North Carolina: McFarland & Co. 2002).
Heath, Jeff (as told to Arthur Richman), I Did It the Wrong Way!, Baseball Digest, January 1953, p. 5.
Humber, William, Diamonds of the North — A Concise History of Baseball in Canada (Don Mills, Ontario: Oxford Univ. Press, 1995).
Jeff Heath player file, National Baseball Library, Cooperstown, New York.
Kaese, Harold, The Boston Braves (New York: G.P. Putnam & Sons, 1948, republished Boston: Northeastern Univ. Press, 2004).
Kelley, Brent, The Pastime in Turbulence — Interviews with Baseball Players of the 1940s (Jefferson, North Carolina: McFarland & Co. 2001).
Lewis, Franklin, The Cleveland Indians (New York: G.P. Putnam & Sons, 1949, republished Kent, Ohio: Kent State Univ. Press, 2006).
Shearon, Jim, Canada's Baseball Legends (Kanat, Ontario: Malin Head Press, 1994).
Sickels, John, Bob Feller — Ace of the Greatest Generation (Dulles, Virginia: Brassey's, Inc., 2004).
Shatzkin, Mike, ed., The Ballplayers (New York: William Morrow & Co., 1990)
Photo Credit
The Topps Company
Born
April 1, 1915 at Fort William, ON (CAN)
Died
December 9, 1975 at Seattle, WA (USA)
If you can help us improve this player's biography, contact us.
http://bioproj.sabr.org/bp_ftp/images3/HeathJeff.jpg
600
800
admin
/wp-content/uploads/2020/02/sabr_logo.png
admin
2012-01-04 20:24:17
2012-01-04 20:24:17
Jeff Heath