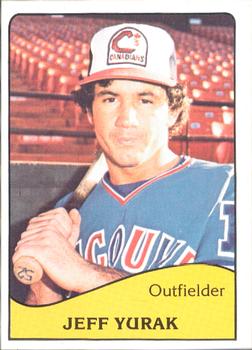 ---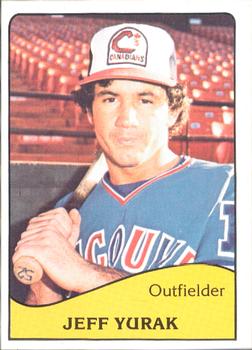 The angle of a bouncing baseball can often shape the course of one's career. That such an occurrence came at a high school track meet and put Jeff Yurak on a path to the major leagues makes his success nothing short of remarkable.
Jeff Yurak was born in Pasadena, California, along with a twin brother, Steve, to Steve and Zella Yurak. His father, an aerospace engineer, was the son of Austrian immigrants. Yurak's mother was a nurse in a hospital emergency room. Jeff Yurak's fascination with baseball began at the age of nine when he watched neighbors across the street, Grady and Gerry Hopkins, play pickle and Wiffle ball in the yard. When the boy's mother took Jeff to a Pee Wee League game, Yurak was instantly hooked.1
Yurak's interest in baseball quickened five years later when he met a schoolmate, James Elrod. The two became inseparable friends. Baseball consumed them: on walks to school, in driveway games of Wiffle ball, or pitching batting practice to one another in a nearby park. The pursuit of success became the root of their friendship. That same year Yurak happened upon a book about Ty Cobb in the school library. Struck by the story of a man of modest skills who became a Hall of Fame player through hard work and determination, Yurak asked his friend, "Why can't we do that?"
But the path didn't seem promising. During his senior season at Glendora High School, Yurak was cut from the baseball team. Galen Bowman, an area coach who had played a few seasons of minor-league ball, had seen Yurak perform, though. And he urged the teen not to get discouraged. So, Jeff took up sprinting for the school's track and field team to fill the spring afternoons. One afternoon, an errant baseball from a father and son playing catch nearby struck Yurak while he was stretching before a race. Upon returning the baseball, Jeff met Ray and Dan Daniels. Ray, a real estate investor, happened also to bird dog for the renowned San Francisco Giants scout, George Genovese. Yurak told the pair he wanted to be a ballplayer. The new acquaintance befriended both Yurak and Elrod. He invited the boys into his home, offered instruction, and talked baseball. Through Ray Daniels, Yurak learned about a weekend team made up of hopefuls just like him that Genovese ran in the San Fernando Valley.
Weeks later, on a Saturday afternoon, Yurak responded to Daniels' invitation. He and Elrod traveled to North Hollywood where they met Genovese and worked out with his team. At War Memorial Park, an overwhelming sight confronted the boys. Close to 100 players performed various drills, among them young hopefuls and future big-leaguers Gary Alexander, Jack Clark, and Reggie Walton. The child actor, Kurt Russell, was also among the players. In the bleachers behind home plate, Russell's father, Bing, sat chattering with Genovese. After this intoxicating experience Yurak and Elrod were soon making the 40-mile trip to play and work out every weekend.
During the fall of 1974, Yurak enrolled at Citrus Junior College, a Southern California baseball powerhouse that had just won back-to-back league titles during a run of five consecutive crowns. The head coach said he had no room on his talent-packed club for Yurak but urged him to come back and play the following season.
Yurak's play that year would instead be limited to weekend games with Genovese's amateur team. Though hardly consolation for not playing on the school team, the regular weekend games grew Yurak's skills. And he was growing physically as well, shooting up three inches to almost 6-foot-3. Genovese never stopped offering encouragement. After games, the scout would usher Yurak and Elrod to a nearby restaurant where they would talk more baseball over a bowl of bean soup.
Unbeknownst to the player, Genovese thought so highly of Yurak's talent that he had submitted his name on his draft list, and in the June 1974 draft, the San Francisco Giants selected him in the 24th round. By this point Yurak had graduated from the scout's Saturday development team to his Sunday team made up largely of prospects. One Sunday Yurak sent a pitch beyond right field, over a row of 30-foot tall eucalyptus trees and into a parking lot. Genovese was astonished. The blast had traveled well over 500 feet. "You need to sign! You're ready to go out," he gushed.2
As Yurak inked his contract, Genovese said, "Now, when you get to the big leagues, I'm going to come and watch you, and I'm going to say, 'Is that a big leaguer?'" As the two chuckled at the scout's promise, Yurak had little idea how prescient the words were.
With the Giants' short season rookie club at Great Falls, Montana, Yurak hammered out three hits in his first professional game. Later that week he hit two home runs and doubled off the top of the wall on three consecutive pitches in a game. It couldn't last. Yurak was soon brought back to earth and watched his average sink to just .235. He confessed to feeling overmatched. The following season, while playing for the Giants Class A club at Cedar Rapids, Iowa, in the Midwest League, Yurak met a local by the name of Horace Garner. Often around the ballpark, Garner talked of having played in the minor leagues with a young Henry Aaron. Curious to learn more, Yurak looked up the man's playing record and was startled to find out that Garner had finished his 10-year minor-league career with a .321 batting average. In 1952, Garner had hit .354 in Class B ball. Yurak pumped him for advice. "You've got to go to school on yourself," Garner answered. He urged Jeff to take stock of both his strengths and weaknesses. In doing so, Yurak realized that he had been content to be a contact hitter. At 6-foot-3 and 195 pounds he was far more suited to hit for power.
Through the second half of the 1976 season, Jeff Yurak went on a tear. He batted .336 with six home runs in June and was named the Midwest League's Topps Player of the Month. By the middle of July, Yurak was leading the league in batting with a .328 average. While the rest of the country celebrated America's bicentennial on July 4, 1976, Yurak produced enduring fireworks of his own. He blasted an opposite field dinger to help Cedar Rapids defeat the Burlington Bees. Matt Galante, the Burlington manager, turned in a report on Yurak after the game that motivated the parent Milwaukee Brewers to select the outfielder in the December minor league draft.
Mandated by draft rules to play at the Class AA level, Yurak struggled with the Holyoke Millers of the Eastern League at first. He felt that poor lighting affected his hitting. Used primarily as a pinch hitter during the second half of the season, Yurak found his stroke and hit .320 over the final two months, which brought his season average up to .246.
That winter, Yurak's off season training took a much more intense twist. His childhood friend James Elrod, also signed by Genovese, was playing in the San Francisco Giants farm system. Elrod introduced Yurak to Lee Fisher, a disciple of the legendary Southern California scout and instructor Kenny Myers. Fisher had adopted many of Myers' ideas about hitting, and the minor-league buddies became his earnest pupils. Yurak and Elrod joined Fisher one afternoon to shag balls as he trained pitched batting practice to Dave Collins. Each equipped with a sawed-off bat, Yurak and Elrod were instructed not to throw balls back to the infield but rather, using only their top hand, whack them back with the bat. For almost three months Yurak followed Fisher's teaching. During afternoon drills he swung sawed-off bats, hit balls with a framing hammer, practiced visualization techniques, and developed pitch recognition skills. The winter lessons jelled, and Jeff Yurak was an entirely different hitter once the 1978 season began.
The Brewers returned him to their Class AA farm club at Holyoke. Almost from Opening Day on he tore up the league pitching. Six weeks into the season his batting average was up by 50 points over 1977. He had already exceeded his 1977 homer total. "I'm more aggressive at the plate, and I'm trying to hit more homers," he told a reporter.3 By the middle of June he was hitting .337. On July 21, he hit two homers against Reading, and with two more four nights later, he held the league lead in both average and home runs and was Topps Minor League Player of the Month. During the final month of the season, with Milwaukee Brewers general manager Harry Dalton in the stands, Yurak went three-for-three to lead Holyoke past West Haven, 4-1. By season's end, he led the Eastern League in home runs (21), hits (154), doubles (28). He also finished second in the batting race (.321) bettering future Hall of Famers Wade Boggs by 10 points and Rickey Henderson by 15. Named Most Valuable Player of the Eastern League, Yurak was also selected left fielder on the All-AA all-star team.
Yurak's boyhood friend Elrod had also played in the Eastern League that season with the Giants farm club at Waterbury, Connecticut. Together, the pair drove cross country to Southern California. Having just arrived at his parents' home, Yurak received a phone call from Harry Dalton on September 13. The GM congratulated Yurak on his season, then asked if he would like to join the Brewers for the final three weeks of the season. Yurak caught a flight to Milwaukee and arrived at County Stadium in the middle of the Brewers game with Baltimore. When introduced to the rookie, Brewers coach Frank Howard asked Yurak if he'd like to take early batting practice the next day. At 4 o'clock the following afternoon, the sound of Yurak's bat smacking Howard's offerings echoed about the empty ball park. Yurak's concentration was momentarily interrupted when two guys emerged from the Twins dugout and leaned against the cage to watch the newcomer hit. The rookie was flustered to recognize the pair: Tony Oliva and Rod Carew.
That night Yurak made his major-league debut. In the bottom of the seventh inning with the Brewers trailing 10-3, he pinch hit and walked on four pitches against the Twins' Roger Erickson. The following night he was called on to pinch hit again. Minnesota brought Mike Marshall on to pitch the bottom of the ninth with a 5-2 lead, and Jeff was sent up to lead off the inning pinch hitting for Buck Martinez. While he loosened up in the on-deck circle, teammate Robin Yount advised Yurak to watch for Marshall's screwball, adding that it was "really good." Marshall's first pitch was high, but the home plate umpire, Ted Hendry called it a strike. "I wasn't happy and I said, 'That's not a strike in any league,'" Yurak recounted. "I couldn't believe it when Hendry said, '"You're right, Jeff. I missed that.'" After working the count to two balls and two strikes. Yurak hammered a fast ball to left field, but the fly ball held up and was caught for an out.
Sent up to pinch hit against Kansas City on September 20, Yurak belted a screamer toward center field. He sprinted toward first base, certain the ball would bounce off the wall and become a double. As he watched, the Royals' Amos Otis made a diving catch to thwart what Jeff felt certain would be his first big-league hit.
When the Brewers arrived in Anaheim during the final week of the season, Yurak emerged from the dugout to a familiar voice. "Is that a big leaguer?" The rookie looked up to see a smiling George Genovese. "I was amazed George believed in me," Yurak recalled. "I don't know what he saw, but George believed in me when I didn't believe in myself."
During the off-season, the Brewers made plans to develop Yurak further, arranging for him to play winter ball in the Mexican Pacific League for the Mexicali Eagles. With a glut of good outfielders, Milwaukee wanted the rookie to use winter ball to learn to play third base.
When spring training began in February 1979, Yurak picked up where he left off in Holyoke —on a hitting tear, highlighted by a ground rule double off of Nolan Ryan and a grand slam homer off Jim Barr in games against the Angels. The Sporting News reported that Yurak "was impressive in camp."4 On the next to the last day of camp Yurak was summoned to manager George Bamberger's office. Though he realized that the Brewers had a difficult outfield to crack, he thought that having survived so long in spring training might mean he would make the ball club. Bamberger explained that he had no place to play Yurak. He was sent to the Brewers' Class AAA farm club in Vancouver, Bamberger said. Yurak was upset. On his way out the door, Yurak heard Cecil Cooper call to him. "He told me to sit down. He said he wanted to talk to me." Cooper told of his own frustrations while climbing to the big leagues. "He urged me to go down. Hit my .330 and said, 'You'll be back.'"
Determined to establish himself as a power hitter, Yurak started well with an opening-night blast in Albuquerque. But soon things began to fall apart. "I was immature," he said. "I changed my swing and pressed to hit home runs. Before I knew it, I was struggling." Soon Jeff had gone from starting to playing every third day. Vic Harris, a seven-year big-league veteran, was signed and received the bulk of the playing time in left field. Yurak went to John Felske, the manager, to ask if the Brewers would option him to another Class AAA club. "Felske said the organization had plans for me," Yurak said. "He told me that two other clubs had tried to get me in trades but both times the Brewers said no." In July, Felske disclosed that the Brewers couldn't option Yurak to another AAA club and had decided to send him back to Holyoke.
Playing regularly again, Yurak regained his batting stroke. In his first 13 games, he batted .302. After a month of games, he had hit six home runs, twice hitting two in a game. "I don't believe you are in this league again," West Haven's manager, Stump Merrill, exclaimed one night.
As the season drew toward a close, something more than a curiosity or even baseball began occupying Jeff Yurak's attention. It was more of a calling, and for several nights he wrestled with the weight of decision. But when the season ended, he acted. Yurak informed the Brewers that he was done with baseball. He walked away from the game and enrolled in Bible college to become a minister.
But once he completed his education, his professional and personal life took yet another turn. Yurak married and pursued a sales career. As of 2017 Yurak and his wife Lorene (née Opland) live in the Seattle suburb of Sumner. Although they did not have any children of their own, Jeff has three stepsons. He has enjoyed a successful career as a sales representative for a company that produces products for the construction industry.
Last revised: August 3, 2017
Acknowledgments
The writer gratefully thanks Jeff Yurak for his time and information. Information came from personal conversations with Jeff in 2016 and 2017 as well as with George Genovese from 2009-2015.
This biography was reviewed by Tom Schott and fact-checked by Rod Nelson.
Notes
Born
February 26, 1954 at Pasadena, CA (USA)
If you can help us improve this player's biography, contact us.
https://sabr.org/sites/default/files/YurakJeff.jpg
600
800
admin
/wp-content/uploads/2020/02/sabr_logo.png
admin
2017-07-24 14:16:11
2020-04-09 14:40:33
Jeff Yurak