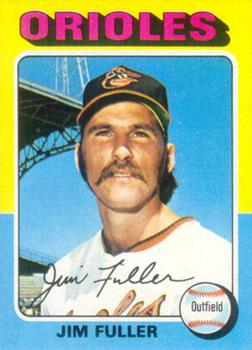 ---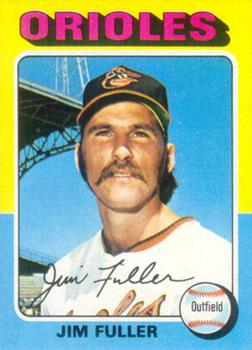 Over his career, Jim Fuller hit just 11 homers in the major leagues but amassed 170 in the minors, including many tape-measure blasts. The righty slugger stood 6 feet 3½ inches tall and weighed 215 pounds. As a rookie with the Baltimore Orioles in 1974, he drew this observation from team groundskeeper Pat Santarone: "Anybody with arms like that should be in the circus."1 Fuller's teammates nicknamed him "Cheyenne" after the popular television show (1955-63), which starred muscleman Clint Walker in the title role.2
"Fuller should have been the greatest hitter of all time," said Ray Poitevint, the longtime scout who helped build the great Baltimore teams of the 1960s and '70s. "He had more power than anyone."3 Like many promising prospects, however, Fuller was stuck in the incredibly deep Orioles organization of that era. He was also very streaky — and strikeout-prone at a time when that was tolerated much less. He played in just 107 major-league games for Baltimore (1973-74) and the Houston Astros (1977). He hit .194 and struck out in 38% of his plate appearances.
Fuller was a clean-living, religious player. He did not drink, smoke, swear, or chase girls. He made God the center of his life with nightly Bible sessions.4 His first meaningful experience with God occurred when he was a senior in high school, and it changed his life. He became deeply dedicated to serving the Lord, quoting from the Scriptures (Ecclesiastes 7:14) that in triumph or defeat, in the end only the love of God matters. As he said in 1973, "I don't get overly jazzed up when I do good and I am not super depressed when I go bad."5 Later that season, he noted things that he didn't like about baseball, including kids' idolization. Fuller said, "Here they are taking autographs and thinking, 'Golly, wow, isn't he something?' And I am thinking how silly it all is to get worked up over a game, when there are so many more important things in life.'"6
James Hardy Fuller was born on November 28, 1950 in Bethesda, Maryland. His parents were Grant and Pauline Fuller. His brother Tom, who was one year older, played briefly in the minors in 1969.
The Fuller family moved to southern California when Jim was young. While attending Loma Portal elementary school in San Diego, most kids were playing cowboys and Indians, but Jim always dreamed of playing baseball.
At Point Loma High School, Fuller was a third baseman. A 1971 feature noted that he hit just .250 there, which may have been because he was still maturing physically.7 He also played outfield, along with John Balaz (who played for the California Angels in 1974-75) and Peter McNab (who went on to a long and successful career in the National Hockey League).8
Upon graduating from high school in 1968, Fuller attended San Diego City College and then San Diego Mesa College. He was first chosen by the Los Angeles Dodgers in the 26th round of the amateur draft in June 1969. At that time Fuller deemed himself "not ready to play" (he did not specify whether it was physically, mentally, or both).9
He signed, however, after the Orioles selected him in the second round of the secondary phase of the January 1970 draft. The scout was Al Kubski. Fuller was assigned to the Miami Marlins of the Florida State League (Class A). He played mainly first base during his first season in pro baseball but appeared there only on occasion for the rest of his career. His strong throwing arm was a big asset in the outfield.
That first season was often frustrating for Fuller. He hit .247 with 9 homers and 64 RBIs, while striking out 83 times in 114 games. He recalled, "I was all messed up. I tried to get too tricky. I would make an out and immediately change my stance or grip."10 Yet his powerful batting stroke was visible at times. On July 15, 1970, against Daytona Beach, he launched a 460-foot homer to win the game 4 to 3. He also broke up a no-hit bid by Tommy Moore of Pompano Beach by stroking a leadoff double in the eighth inning on August 8.
A winter in the Florida Instructional League followed. Fuller worked on waiting on the ball; Cal Ripken Sr. instructed him to keep his hands back and focus on hitting the ball up the middle.11 The changes were soon noticed in 1971 — returning to Miami, Fuller took the Florida State League by storm.
In the first game of the 1971 season, he hit a solo shot against Key West. This sparked a hot start; 27 games into the season, Fuller was leading the Florida State League in average. His eight home runs and 24 RBIs also led the league. Manager Woody Smith commented, "If Jim improves as much he did last season, then he'll be in the major leagues in two years."12
On May 12, Fuller tied the club record by hammering his tenth home run of the season in a 6 to 3 victory over West Palm Beach. Topps named him the Florida State League's Player of the Month for May with a batting average of .346, 13 home runs, and 37 RBIs.13 On July 21, Fuller broke the club record for RBIs in a season with his 74th and 75th, helping his team to beat the Cocoa Astros. He finished the year with 110 RBIs. He also broke the club record for runs scored with 105 and hits with 159. On August 24, Fuller tied the Florida State League record for homers by belting his 33rd of the year. The record had been set by Sanford's Ed Levy during the 1950 season. Al Kubski said, "30-something homers was unheard of in those big parks down there. The rest of the team didn't hit 30."14 Actually, they got 32, but Fuller still outdid them by himself.
The Orioles (as the Marlins had been renamed) went on to win the league championship behind the bat of Fuller. In the first round of the league playoffs, a best-of-three against the Tampa Bay Tarpons, he hit an inside the park home run. The second game — and the series — ended on a Fuller homer. Miami then defeated Cocoa. Fuller was a unanimous selection to the Florida State League All-Star team at the end of the year. He was also named the league's Player of the Year.
Fuller's 1971 season earned him an invitation to the Orioles big-league camp in 1972. He arrived in Miami driving his Volkswagen bus, which included a blender (one may infer that he was mixing up health drinks), a Bible, and his wardrobe of wild sports shirts.15 His stay with the big club during the spring did not last long, though; he was farmed out to the minor-league camp at Biscayne College.
Nonetheless, the prospect's ability was recognized by one of the key men in the organization. Orioles manager Earl Weaver said, "With most batters an infielder has about a second to react when they hit the ball. When Fuller hits the ball right the outfielders have a second."16 Fuller jumped past Class AA to start 1972, joining the Triple-A Rochester Red Wings. He lifted the Red Wings to their first win of the season with a pair of three-run homers, which accounted for six of the seven runs scored. On April 18, Fuller propelled the Wings to a 14-inning victory against the Tidewater Tides. At the time it was the longest game ever played in Tides Park. His solo shot tied the game in the ninth; he then hit a two-run homer which ended a string of 13 scoreless innings pitched by the Tides relief corps.17
Joe Altobelli, the Red Wings manager at the time, had this to say about Fuller: "He has the power to hit a ball 500 to 550 feet. He is going to have his work cut out for him the first part of the year, but he'll get better as the season progresses."18 Fuller was in a 2-for-32 batting slump when he hit a two-run double and a two-run homer to help beat the Tides on June 9. Two days later, he was sent down to Double-A Asheville, despite being tied for the league lead with 11 home runs. His power was evident, but Fuller had a hard time making consistent contact. He struck out 62 times in 171 at-bats.19
He made better contact with Asheville, posting a .271 batting average to go with 23 homers and 70 RBIs. The 1972 season came to an end when the Orioles lost the Southern League Championship to the Montgomery Rebels three games to none.
The Orioles assigned Fuller to start 1973 with Rochester once again. This became a memorable season for him — it was the best of his baseball career. May 1 was Fuller's best day at the plate as a professional ballplayer. He went 5-for-6 with three singles, a triple, and a three-run homer; he struck out in his last at-bat.
Unfortunately, striking out was not uncommon for Fuller. He said, "I am pretty good at that. Two years ago, I struck out 129 times (a Florida State League record), but I still hit .326. I could be a defensive hitter, you know, get the bat on the ball every time — but then I'd be a 6-4 Punch and Judy hitter. I must be a free swinger. You can afford to strike out two to three times in 10 if you're popping the bat. I'm a little more selective at the plate this year, though."20
Fuller won the Topps Player of the Month award for May based on a batting average of .308, 12 homers and 36 RBIs. In a May 30 contest, Fuller crushed a 480-foot homer against the Pawtucket Red Sox that traveled over the left field light towers to start a Red Wing rally. On the next night, he hit his 13th homer of the year, helping the Wings to their third straight victory. His blast on May 31 was measured at 700 feet from home plate. The blast cleared the centerfield wall 420 feet away, hit the pavement, and rolled down the street an eighth of a mile away.21
This started a streak of four homers in a span of five days. Yet Fuller was not just a slugger; he played good defense, too. As of June 1, he led the league with five outfield assists. As his 1975 Topps baseball card later said, Fuller had perhaps the strongest throwing arm in the O's chain.
Fuller was named to the Triple-A All-Star team with other notable future major-leaguers, Dave Parker and Cecil Cooper. In the All-Star game, played in Syracuse that year, Fuller went 1-for-3 with two runs scored to help the International League All-Stars beat the Montreal Expos 8 to 4.
His torrid home run pace continued after the All-Star game — Fuller hit eight in the span of 12 days. In back to back games at his home ballpark, Silver Stadium, he launched two mammoth shots. The first one landed 480 feet away, clearing three decks of signs down the left field line. On the next night, his blast carried 460 feet over the 20-foot high wall in center field. Players on his team and around the league took notice; they predicted Fuller could hit 40 homers a year once he reached the majors. Yet he then fell into a horrendous seven-game batting slump, going hitless with 13 strikeouts in 26 at-bats. Fuller said, "This game will teach you humility."22
The streaky Fuller rebounded in July, winning Player of the Month honors for the second time. Rochester finished first in the American Division but lost the IL pennant to the Charleston Charlies in the playoffs. Fuller earned league MVP honors, finishing with 39 home runs, driving in 108 runs, and scoring 96 — though he hit just .247 and also struck out 197 times, a colossal amount even today. "Fans would stick around late in a game just to see him bat one more time," said Len Lustik, the longtime official scorer for the Wings. "He's the only guy I remember them doing that for. You just never knew what he was going to do next."23
Fuller earned a promotion to the majors for the final weeks of the season. He made his debut with the Orioles on September 10, 1973 as a pinch hitter for Mark Belanger in the bottom of the ninth. Fuller singled off Bobby Bolin of the Boston Red Sox for his first major league hit. On September 25, Fuller hit his first major league homer, knocking Jim Perry out of the box in the first inning. He added his second in the fourth inning off Lerrin LaGrow.
Fuller appeared in nine games for the Orioles that month, hitting .115 in 26 at-bats — the three hits mentioned were the only ones he got. He struck out 17 times. Jim Frey, who was then Rochester's hitting coach, warned Al Kubski that Fuller had holes in his swing, and that he'd be in trouble if he didn't close them. The Orioles sent Fuller to play winter ball in Puerto Rico under their former star, Frank Robinson, who was managing the Santurce Cangrejeros. Kubski went down to scout the league, and when he asked Robinson if Fuller would play in the big leagues, Frank replied, "I don't think so."24
Even so, Fuller started the 1974 season with the Orioles. Along with his circus-like physique, his new teammates also discovered that he had an interesting hobby: cutting hair. Fuller went to barber college during the fall of 1972. He was supposed to finish his degree in the fall of 1973 but was recalled by the Orioles. But for Fuller, this was not a career. His sole focus was being a major leaguer.
That season, Earl Weaver — a strong proponent of platoons — decided the best way to break in the rookie was by playing him only against lefthanders. Weaver believed that if he played Fuller against all types of pitching, his strikeouts would increase and his confidence would be shaken. Earl's strategy paid off. Fuller hit his first homer of the year on April 17, off southpaw Woodie Fryman of the Detroit Tigers. Against lefties, Fuller was batting close to .300 as of mid-June, swatting four homers and driving in 19 in 78 at-bats. He also struck out 19 times, not bad for him.25
However, in a span of 51 at-bats starting on July 1, Fuller had only six hits with 23 strikeouts. His average dipped to .220, and he was sent down to Rochester in early August. Fuller commented, "Sure, I would rather be up there with them, but I think I need to play more than I need to sit. I want to start getting good pitches, hit them, and remain an aggressive hitter. I am back here to get my old stroke back."26
When rosters expanded in September, the Orioles recalled Fuller. He appeared in six games, five as a defensive replacement and one in which he had one hit in three at-bats. Fuller's final numbers for 1974 were a .222 batting average with 7 home runs, 28 RBIs, and 17 runs scored. This was the last season in which he appeared as an Oriole in the majors.
Fuller was invited to spring training by the Orioles for the 1975 season, but he did not make the big club roster and was sent down to Rochester. It did not take him long to start knocking the ball out of the park; he had three homers in two days on April 20 and 21, helping the Red Wings earn two wins. After the first 19 games, Fuller had hit six homers. On April 25, he hit a shot that measured 493 feet. The homer left Memphis Park and landed on the mound of a softball field adjacent to the stadium.
As it developed, however, the 1975 season was Fuller's worst to that point in his career. He hit just .213, with 17 home runs and 50 RBIs. That July, the Rochester Democrat and Chronicle ran a column called "Time against Fuller" which said "His strikeout-laden slumps are as awesome as his home runs" and observed that he was taking a more defensive approach at the plate.27 At the end of the year, the same paper called it "one of the most frustrating slumps imaginable."28 Fuller was out of options, so he needed to stick with the big club in 1976 or hope that the Orioles would trade him.
Again, however, Fuller did not make the cut in 1976. He was sent to Rochester for his fifth season there, but he had contractual problems that kept him from playing for the Wings until late April. He later revealed that he was unhappy at how he was forced to sign. At the time, he said, "I originally didn't want to sign because I wanted to play out my option year in Rochester and become a free agent. I'm finished with Baltimore." Baltimore would not let Fuller play in Rochester, though, unless he signed a major-league contract.29
Although he started slowly, Fuller went on one of his batting tears from June 6 to June 12. The five-game streak brought his average up to .250 with 12 home runs and 36 runs batted in. Three homers came in one game on June 7; they measured 400, 450, and 500 feet and drove in eight runs. The 500-foot moon shot cleared the centerfield scoreboard at Silver Stadium for the first time since Mack Jones of Syracuse did it in 1964.30 The turnaround was based on advice Fuller received from a policeman in San Diego named Bill Allen, who studied film that Fuller's teammates had taken during batting practice.31
On July 10 Fuller was hit on the hand by a pitch by Jim Beattie of Syracuse. The initial prognosis had him sidelined for about 10 days with a chip fracture on his right thumb. However, he did not return to the Red Wings lineup until August 31.
Fuller finished the 1976 season with the Red Wings, but unhappiness with his contract lingered — he wanted it voided. The players' union filed a grievance on his behalf, claiming fraud, misrepresentation, and duress.32 Fuller's claim was decided by going to arbitration. This ended his career in the Orioles organization.
The Houston Astros signed Fuller as a free agent in November 1976. The Astros hoped he could become a power source, as he had previously been for the Red Wings. He made the team during spring training 1977.
Unfortunately, Fuller's initial stay in Houston ended after appearing in only two games. He was sent down to Houston's top farm team, Charleston, but because he didn't want to play there, he joined the Iowa Oaks of the American Association, a Chicago White Sox affiliate. It was a loan agreement, in which another outfielder, Bob Coluccio, went to Charleston.33
Fuller continued to show power against Triple-A pitching, with 11 homers and 31 RBIs while batting .233 in 50 games. Houston called him back up in June. He hit his first — and only — two homers in an Astro uniform against the Montreal Expos on June 22. But as the calendar turned to late July, Fuller was struggling in the field and at the plate, hitting .163. He was striking out in 43% of his plate appearances.34 He did not get much playing time after that, appearing in only six games after July 28. He spent part of August in Charleston, playing five games there (he must have agreed to go the second time), and was recalled at the end of the month. The last time Fuller played in a major-league game was September 25, 1977. He was assigned outright to Charleston in October.
Fuller was traded to the Pittsburgh Pirates for outfielder Dave Augustine in the spring of 1978. He started that season with the Columbus Clippers, the Pirates' top farm team, but was released in May after hitting just .167 (including one homer) in seven games.35 Shortly thereafter, he signed as a free agent with the Omaha Royals, Kansas City's Triple-A team. Fuller did manage to hit two more homers in 19 games for Omaha. That was the last time he played pro baseball as a professional.
Fuller retired to his home in Houston, Texas, with his wife, Gail (née Gilbert). The Fullers had two daughters, Amy and Cindy.
With his professional hardball career over, Fuller spent more than ten years playing professional slow-pitch softball. A 1991 article showed him in his third year with a team called Ritch's/Superior, which won the United States Slowpitch Softball Association Men's Major World Series. Fuller had some telling remarks: "This is more fun. Nobody's dangling your livelihood in front of you every time you go up to bat. . . It's all self-motivation, not the prodding that the major leagues provide. No one's going to send you down to the minors."36
Fuller believed that he hit over 3,000 homers in his softball career, with a batting average close to .770. The bat manufacturer Worth produced a Jim Fuller signature model. Playing softball allowed Fuller and his wife to tour the country, and he recalled it as one of the fondest times of his professional sports career. Once his softball career was over, Fuller worked as a business developer for a commercial contractor.37
Jim Fuller was elected to the Rochester Red Wings Hall of Fame in 1994. The website that shows the members of this hall calls him "one of the most renowned and feared sluggers in Rochester history."38
Last revised: July 20, 2018
Acknowledgments
This biography was reviewed by Rory Costello and fact-checked by Alan Cohen.
Sources
www.paperofrecord.com (various short items from The Sporting News)
Notes
1 Doug Brown, "Barber Fuller Trims His Whiff Habit," The Sporting News, June 22, 1974: 16.
2 Ron Coons, "Wings phenom Fuller puts faith in God No. 1," The Courier Journal & Times (Louisville, Kentucky), May 14, 1972.
3 John Eisenberg, From 33rd Street to Camden Yards, New York: McGraw-Hill (2002): 239.
4 Phil Jackman, "O's Nurture a Future Fireball — Jim Fuller," The Sporting News, March 25, 1972: 33.
5, Ray Buck, "Rochester's Fuller Keeping Faith, Sets Home-Run Pace," The Sporting News, July 14, 1973: 31.
6 "International League," The Sporting News, September 8, 1973: 34.
7 Bill Sheldon, "Miami's Fuller Turns Fouls Into HR's," The Sporting News, May 22, 1971: 43.
8 Leo Monahan, "Peter McNab–Baseball's Loss and NHL's gain," The Sporting News, April 8, 1978, 60.
9 Phil Jackman, "O's Nurture a Future Fireball — Jim Fuller.", The Sporting News, March 25, 1972, 33.
10 Ibid.
11 Sheldon, "Miami's Fuller Turns Fouls Into HR's."
12 Ibid.
13 "[Ross] Grimsley No. 1 Topps Star," The Sporting News, June 19, 1971: 34.
14 Eisenberg, From 33rd Street to Camden Yards: 239.
15 Jackman, "O's Nurture a Future Fireball — Jim Fuller."
16 Phil Jackman, "O's Rage Over Spartan Post-Game Rations," The Sporting News, April 8, 1972: 13.
17 "International League," The Sporting News, May 6, 1972: 34.
18 Coons, "Wings phenom Fuller puts faith in God No. 1."
19 Ray Buck, "Force-Fed Jim Fuller Farmed Out by Wings", The Sporting News, July 1, 1972: 32.
20 "International League," The Sporting News, May 19, 1973: 35.
21 "International League," The Sporting News, June 23, 1973: 36.
22 Ray Buck, "Rochester's Fuller Keeping Faith, Sets Home-Run Pace," The Sporting News, July 14, 1973: 31.
23 Jim Mandelaro and Scott Pitoniak, Silver Seasons: The Story of the Rochester Red Wings, Syracuse, New York: Syracuse University Press (1996): 159.
24 Eisenberg, From 33rd Street to Camden Yards: 239.
25 Brown, "Barber Fuller Trims His Whiff Habit."
26 "International League," The Sporting News, September 7, 1974: 38.
27 Larry Bump, "Time against Fuller," Rochester Democrat and Chronicle, July 2, 1975: 43.
28 "Orioles good to Wings," Rochester Democrat and Chronicle, September 28, 1975: 59.
29 "Fuller signing 'day or two' away," Rochester Democrat and Chronicle, April 27, 1976: 53.
30 "Fuller Blasts Long," The Sporting News, June 26, 1976: 51.
31 "International League," The Sporting News, July 3, 1976: 33.
32 "International League Index," The Sporting News, September 11, 1976: 30.
33 "Oaks to face Twins in May in Exhibition," Des Moines Register, April 19, 1977, 32. "A.A. Atoms," The Sporting News, May 14, 1977: 34.
34 Harry Shattuck, "Astro Honeymoon Boat Hits Shallow Waters," The Sporting News, July 30, 1977: 28.
35 "Minor deals," The Sporting News, May 20, 1979: 34.
36 Selena Roberts, "Ritch's Sweeps to USSSA Title," Orlando Sentinel, September 16, 1991.
37 Bill Flynn, Jim Fuller interview/profile, unknown date (http://www.flynnflam.com/wingsyrbks/fullerfile.doc)
38 "Rochester Red Wings Hall of Fame: F-J" (http://www.milb.com/content/page.jsp?sid=t534&ymd=20091029&content_id=7574230&vkey=team4)
Born
November 28, 1950 at Bethesda, MD (USA)
If you can help us improve this player's biography, contact us.
https://sabr.org/sites/default/files/Fuller%20Jim.jpg
600
800
admin
/wp-content/uploads/2020/02/sabr_logo.png
admin
2018-07-20 12:15:57
2020-04-09 14:38:43
Jim Fuller