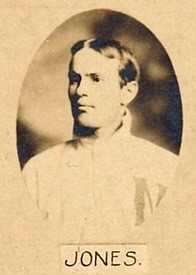 ---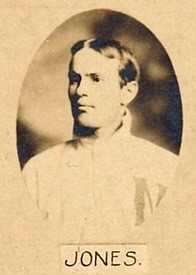 Jimmy Jones ended his major-league career with one sweep of his arm. The last-place New York Giants were struggling on August 6, 1902, having lost three straight to Pittsburgh and facing Jack Chesbro, who was on the way to a 28-win season. The Giants were in a foul mood and complained about umpire Bob Emslie from the beginning of the game. In the fifth inning, Jones flied out and as he returned to the bench he had words with Emslie about a strike call. The argument turned heated and Jones flailed his arm; knocking off Emslie's mask and cap. He was immediately ejected. Manager John McGraw suspended Jones for the rest of the season.1 Jones had appeared in 67 of the team's 92 games and had a .237 batting average. He never returned to the majors after the incident.
James Tilford Jones was born on Christmas Day, 1876, in London, Kentucky to Cyrus W. and Mary Jones. Cyrus was the County Clerk for Laurel County, Kentucky, for which London is the county seat. Like many settlers in their region, the Joneses were a mix of Scotch-Irish and English. James was the fourth of six children born to the couple. He attended school in London and completed two years of high school. On February 13, 1893, he enlisted with the 8th Infantry, leaving the Army just over three years later on May 12, 1896. His service fit in between when the 8th was stationed in Indian Territory and when they were sent to Cuba during the Spanish-American War. Back in Kentucky, he turned his attention to baseball. He saw action with Centre College from Danville, Kentucky in May and June.
In July, he was recruited by a crack independent team in Knoxville, Tennessee managed by Frank Moffett. He played right field on July 29, then took the mound on July 30 versus Maysville, Kentucky. He emerged with a 7-5 win and the local newspaper gushed that, "in pitching he has a swift and deceptive delivery and his speed was not lacking at any stage."2 The season lasted about a month, and afterwards, he returned to London. Besides pitcher and outfield, he had also seen action at first base.
In 1897, Jones and the Knoxville Indians played in the Southeastern League, which included Asheville, North Carolina; Atlanta, Georgia; Chattanooga Tennessee; and Columbus, Georgia. The league played from April 20 to May 29, when it was disbanded with all of its teams in the red. Atlanta finished with a 24-9 mark, with the Indians at 18-10.3 Jones' 9-3 pitching record attracted the attention of the Louisville Colonels in the National League.
Jones first major-league action came on June 29 against the Chicago Colts. He was sent to the mound in the third after Chicago had scored 14 runs off ace starter Chick Fraser. Jones completed the game but allowed 22 runs — 14 of them earned — in the process. The Colts had elected to bat first so, even as home team, they were able to hang an additional eight runs on the 20-year-old righty in the ninth inning. The final score was a whopping 36-7. At the plate, Jones went 1-for-3 and scored twice. He played outfield in a July 6 exhibition game, then pinch-hit on July 9. Soon after, Louisville purchased pitcher Pete Dowling from Class C Paducah of the Central League for $300. They shipped Jones to Paducah as part of the transaction.4 He lost his first appearance with Paducah, 14-12 versus the Washington, Indiana team. The league disbanded 12 days later when the Washington, Indiana club folded.
In the spring of 1898, Manager Charles Boyer of the Class B Charleston (South Carolina) Sea Gulls took Jones to spring training. The plan was for Jones to pitch and play right field. He showed off both positions in exhibition games versus McGraw's Baltimore Orioles. When the season opened on April 14, Jones had cemented his spot on the roster. The league lasted little more than a month, but Jones posted a 6-2 mark on the hill. He tossed a complete game each outing and recorded one shutout. At 5-foot-10 and 160 pounds, he produced enough power from the right-handed batter's box to lash four doubles, four triples, and four home runs, to go with a .363 average, in just 21 games.
Cortland in the New York State League had a roster littered with Ohio-and-Kentucky-born ballplayers. Jones joined Cortland after the demise of the Southern League. His first mound appearance was a 6-4 loss to Lyons. Pitching statistics are unavailable, but the Sporting Life credits him with a .309 average (76-for-246) in 61 games.5
Jones stayed in the NYSL for 1899 and 1900 with the Rome Romans. He served as the third or fourth pitcher on the staff in 1899. He tossed 15 complete games with an 8-4 record as a pitcher and batted .310 at the plate, helping Rome take the league title over Utica in 1899. In 1900, Utica stood on top, though. Jones hit .302 in 101 games according to the Reach Baseball Guide, 1901. Willard Mains led the pitching staff with 27 wins followed by Ed Rudderham, while Jones does not appear in that year's pitching ledger.
On August 28, Jones and third baseman James Tamsett left New York and joined the American League Cleveland Lakeshores. Jones had a shaky debut in the day's doubleheader. He misjudged and misplayed fly balls and went 1-for-7 at bat. He played 27 games in all with Cleveland and batted .239. His rights were retained, but Cleveland shipped both Jones and Tamsett to Albany in the NYSL for the 1901 season.
Jones batted cleanup for the Class C Senators, finishing the season with a .332 batting, by far the best on the team. He only produced 10 extra-base hits in 464 at-bats; however, despite the lack of power, he drew the attention of the struggling New York Giants and manager George Davis. He made his debut for them on September 12, playing right field and batting second. He was given a good tryout the rest of the season, even batted leadoff for the final few games of the year. He showed some pop with four doubles and three triples, but only hit .209.
On September 30 in St. Louis, he was given an opportunity to show his pitching talent even though he had not been on the mound since 1899. He held the Cardinals scoreless until the fifth inning when they exploded for six runs, all earned. The match, the nightcap of a Monday doubleheader, was called after five innings with St. Louis a 6-5 winner.
Jones went to spring training in 1902 hopeful of landing the right field job. His early work caught the eye of a Sporting Life correspondent who remarked, "Jones is somewhat of a sensational outfielder and a very fast man on his feet. He is confident he can make good with the stick and his future looks very promising."6 The Giants outfield plans unraveled early. Jones began the season in center for the injured George Van Haltren. That lasted less than a game when Jones injured his knee sliding into second base. He reinjured the knee during a May trip to St. Louis. Jones had finally returned to daily action in right field when the Emslie incident occurred. The Tribune bid farewell to him saying, "Jones is not so valuable to the club that his services will be missed."7 Had the writer known that replacement Jim Jackson would bat .181, he might have rethought his remarks.
Jones' suspension was actually a release. He was with Class A Eastern League Toronto by August 9. The Maple Leafs were in first place and having a spirited pennant race with Buffalo. Jones saw action in all three outfield spots and hit .291. Contemporary sources gave the Maple Leafs a .007 percentage point victory. Modern sources call the pennant race a tie.
The following year found Jones with the Indianapolis Indians in the Class A American Association. He drew early raves for his outfield work: An Indianapolis News headline dubbed him "the reliable left fielder."8 On July 25, he was leading the team in hits and batting .288. His performance was being noted by managers in other leagues and he began to get offers to jump from the Indians. The amounts dangled in these offers caused Jones to question his desire to stay in Indianapolis and led to his release by the Indianapolis management on August 9.
Jones weighed the offers and eventually took the deal offered by the Albany Senators in the Class B New York State League. The fans welcomed his return, as he played 37 games and batted .323. He was the only Senator to post an average over .300.
In 1904, Jones signed with the Newark Sailors in the Class A Eastern League. After seven years of bouncing around, he found a home with manager Walter Burnham for the next four seasons all of them eerily similar. Newark finished in the middle of the pack each year and Jones was one of the best hitters each season. His 1906 campaign may have been the best performance, as his .255 batting average led all Sailors with 300 or more at-bats. His team-leading five homers also helped him top the regular squad in slugging percentage.
George Stallings took over the Sailors in 1908 and Jones was sold to Montreal in late February or early March. The Royals finished in the second division of the Eastern League, but Jones did his part to help the team. His .309 batting average led the league. He played two more seasons with Montreal, posting a .246 average and a .232 mark.
In 1911, he returned to the New York State League and his final season of full time action. Playing with league tail-enders Scranton and Binghamton, he took the field in 143 games. His year started with Scranton before he was swapped on July 12. He posted a .252 batting average while leading outfielders in putouts. His 24 assists were in the top five of the league.
Jones had married Nellie McKee in 1899. The family now numbered five after the birth of daughters Mary Elizabeth, Katherine and Margaret. They made their home in Jones' hometown of London. Jones began the season with Binghamton, where he struggled and was eventually released. After Binghamton, he found a team close to home. He dropped down to Class D in the Blue Grass League and played for the Richmond, Kentucky Pioneers. He was used as an outfielder and relief pitcher. In midseason, he added manager to his duties. One of his first decisions was to move league home run king Louis Munn into the third spot and drop himself down in the lineup.
The Pioneers were a heavy-hitting bunch. Their team batting average of .329 was 35 points higher than first-place Frankfort. Jones batted .369 with five homers. As manager, he rallied the team and showed a fiery nature. His argument with an umpire on August 25 led to his ejection. He may have forgotten that he had no substitutes that day thus his heave-ho cost the team a forfeit.
Jones' stellar batting with Richmond earned him a return to Class A with the Columbus Senators. At 36, he was the elder statesman on the team, but saw action in 81 games and batted .281. The Senators finished in fourth, seven games off the pace set by Minneapolis. Jones returned to the American Association in 1914 and split time with Milwaukee and Columbus, where he played a total of 65 games and batted a lowly .228. He was appointed manager of the Grand Rapids River Men in the Class B Central League on July 9. He played outfield in 29 games and batted .292. On August 9, team president W. J. Essick named himself manager and released Jones without any explanation.
Jones was without a team briefly in 1915. The Frankfort (Kentucky) Old Taylors in the Ohio State League got off to a horrific start under Pat Bohannon. They started 0-8 and were 8-32 in late June. Jones took over as manager on July 4. He played outfield, first base, and occasionally pitched. The Frankfort fortunes took a complete about face under Jones' guidance. They finished 27-22 in the second half race behind Maysville (Kentucky). Jones appeared in 60 games and batted .269, according to the Reach Baseball Guide.
The Maysville (Kentucky) Burley Cubs in the Ohio State League signed Jones as manager for 1916. The season started with bright prospects, but when Portsmouth leapt ahead in the pennant chase, franchises started to fold. The Burley Cubs played until the league dissolved on July 18. They had a 26-36 record and the local paper credited Jones with a .312 batting average.9 With the impending war in Europe, Jones' baseball career was at an end.
Jones returned to home life in London and found work as a salesman. He also dropped the nickname of "Jimmy" and went by his middle name of Tilford. His father had been instrumental in county politics and Jones followed suit. He became the Laurel County Clerk and served for 20 years. He then put in service as the city clerk and collector for London. His health became an issue and, in 1939, his right leg was amputated because of blood poisoning. After a lengthy illness, he died of a heart attack on May 6, 1953. He was buried in A.R. Dyche Memorial Park in London.
Acknowledgments
This biography was reviewed by Joel Barnhart and fact-checked by Stephen Glotfelty.
Sources
Statistics that do not appear on Baseball-Reference.com come from Reach or Spalding Guides or from Sporting Life.
Notes
Born
December 25, 1876 at London, KY (USA)
Died
May 6, 1953 at London, KY (USA)
If you can help us improve this player's biography, contact us.
https://sabr.org/sites/default/files/JonesJimmy-Newark.jpg
600
800
admin
/wp-content/uploads/2020/02/sabr_logo.png
admin
2017-04-20 16:56:34
2017-04-20 16:56:34
Jim Jones