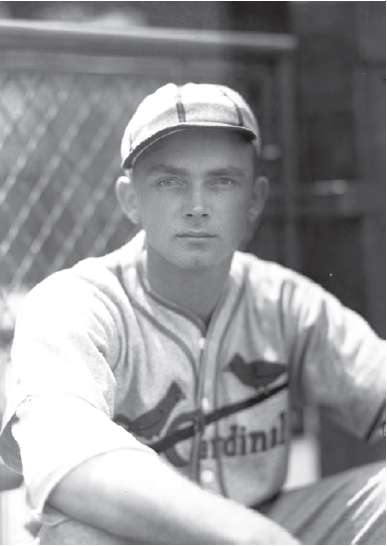 ---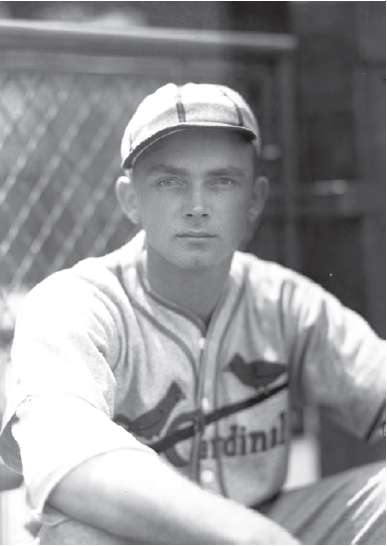 Jim Winford pitched professionally for 14 years (1929-1942). The lanky, 6-foot-1 right-hander spent parts of six seasons in the major leagues with the St Louis Cardinals (1932, 1934-1937) and the Brooklyn Dodgers (1938).  He was a knuckleballer who could be counted on as both a starter and a long reliever.  Nicknamed Cowboy for his Oklahoma upbringing and his long and lean physique, Winford pitched in 14 different cities over the course of a 12-year minor-league baseball career, which began in 1929 with the Scottdale (Pennsylvania) Scotties of the Class C Mid-Atlantic League and ended in 1942 with the Oklahoma City Indians of the Texas League.1
Cowboy Winford spent 12 of his 14 years in professional baseball with the Cardinals organization. At 24 he pitched in five early-season games for the 1934 Gas House Gang Cardinals, his second stint with club.  In 1932 he pitched in four September games for the Cardinals, garnering a 1-1 record with an earned-run average of 6.48.  In 1934 he went 0-2 with a 7.82 ERA for the Cardinals before being sent in June to the Rochester Red Wings of the International League for the remainder of the season.2
A study of Winford's career reveals the texture of an increasingly distant yet not forgotten America.  He was idiosyncratically craftsmanlike and  journeymanlike in an era laden with craftsmen and journeymen. Winford was a mechanic of the mound beginning in his teens, relying not on power pitching to advance through the Cardinals' system but on his skill as a knuckleballer. Despite his brief tenure in the major leagues, The Sporting News described him in 1937 as a "master of the knuckleball."3 Winford was a journeyman in the romantic age of American travel, the decades between the World Wars when trains and automobiles passed right through the middle of the nation's cities and towns as peers.  He moved from one club to another a total of 24 times, including multiple stops in St Louis, Rochester, and Columbus.  Winford lived in the Branch Rickey farm system as fully as anyone, experiencing success and failure in big league metropolises, Double-A industrial cities, and Class D small towns. He made his home in Northern California, Piedmont North Carolina, Central Oklahoma, Eastern Texas, Ozark Arkansas, Appalachian Pennsylvania, and Brooklyn, New York, in a career that spanned the Great Depression and the early years of World War II.
James Head Winford was born in Shelbyville, Tennessee, on October 9, 1909.  During his childhood, his family settled in Meeker, Oklahoma, a town of less than 1,000 residents in the center of the newly-admitted state. Winford excelled as a pitcher at Meeker High School, where several years earlier Hall of Fame left-hander Carl Hubbell had starred for the Meeker Bulldogs.4 Winford grew up in the Cardinals' expansive scouting territory, which radiated out from the franchise's industrial Midwestern base into the mid-South, across the Plains, and the Old Southwest. The Cardinals assigned Winford to Scottdale in the Class C Mid-Atlantic League, bypassing Class D ball for the young knuckleballer.
After a 10-15 campaign in Scottdale, Winford was assigned to the Shawnee (Oklahoma) Robins of the Class C Western Association for 1930.  He excelled for the Robins, earning a 14-10 record before being elevated to Houston of the Class A Texas League late in the season. During the 1931 season, Winford pitched in five cities for the Cardinals organization: Scottdale, Columbus (Ohio), Greensboro (North Carolina), Springfield (Missouri), and Bartlesville (Oklahoma).  He compiled a 15-8 record with a 2.00 ERA.5
During the 1932 season, Winford went 8-10 with a 3.64 ERA for the Rochester Red Wings of the International League, and earned a September call-up by the Cardinals. He had finished strongly for the Red Wings, striking out 13 in his final International League appearance, an 8-2 victory over the Buffalo Bisons on September 8.6 
Winford appeared in four games for the Cardinals in September 1932, earning a 1-1 record with a 6.48 ERA. The Cardinals finished the  season tied for sixth place, 18 games off the pennant-winning pace set by the Chicago Cubs, enabling St Louis to give a half-dozen promising pitchers in their farm system National League experience in the season's final weeks. Winford debuted for the Cardinals in a two-inning relief appearance against the New York Giants at the Polo Grounds on September 10, two days after his final start with Rochester.7 He allowed two hits and one unearned run and got a no-decision in an 11-7 defeat.  Winford earned his first major league win in a scoreless 4⅔-inning relief appearance against Cincinnati on September 22 at Sportsman's Park.  Two days later, he made his first major-league start, against Pittsburgh. Winford lasted two-thirds of an inning, allowing six earned runs and taking the loss in a 7-4 defeat.  The shellacking by the Pirates raised his ERA from zero to 6.48 to finish the season.8
Splitting the 1933 season between Rochester and Columbus, Winford compiled a 16-9 record with a 3.72 ERA. Pitching alongside future National League aces Paul "Daffy" Dean and Bill Lee, Winford and the Columbus Red Birds won the 1933 American Association championship. He returned to the Cardinals in the spring of 1934, appearing in five games for the eventual world champions before being sent back to Rochester in June.9 His 1934 campaign, both at the major- and minor-league levels, proved unsuccessful. Winford went 0-2 with the Cardinals, posting a 7.82 ERA. At Rochester, he finished 2-7 with a 5.96 ERA. Winford returned to form in 1935 with the Columbus Red Birds. He went 14-11 with a 3.65 ERA. Winford appeared in two late-September games for the St Louis Cardinals, not earning a decision in either game, but pitching for 11⅓ innings with a 3.97 ERA. 
The 1936 season proved to be Winford's most successful in the major leagues and the only season in which he spent most of the season in the majors. He became the Cardinals' fourth starter, filling in for Paul Dean, who missed much of the season with arm  trouble. Winford finished the season with an 11-10 record and a 3.80 ERA. His 11 wins were good for second on the Cardinals' roster behind Dizzy Dean.10 Winford pitched ten complete games, including a 15-inning, 3-1 victory over the Boston Braves on September 9. He threw a four-hit shutout against the Brooklyn Dodgers in the second game of a July 30 doubleheader after Dizzy Dean shut out the Dodgers in the first game.11
Winford's 1936 season earned him a reputation as a talented young pitcher.  The Sporting News took particular note of his crafty work on the mound, describing him as a "master of the knuckle ball" in its preview of the Cardinals' season.12  The paper projected Winford as the club's number four starter behind the Dean brothers and Bob Weiland.13 But Winford pitched poorly, going 2-4 with a 5.83 ERA in 16 appearances. He lost all four games he started. Additionally, Winford suffered from appendicitis during the season, missing 2½ months of action. Over the course of the season, Si Johnson, Lon Warneke, and Mike Ryba performed well as starters and in long relief, relegating Winford to the back burner.14
The following spring, Winford pitched for the Houston Buffaloes, the Cardinals' affiliate in the Class A Texas League. Winford won a career-high 17 games. On September 10 the Brooklyn Dodgers purchased Winford's contract and brought him up for the rest of the season. Winford pitched in two games for the Dodgers, taking the loss in a September 16 start against his former team, the Cardinals, and allowing three earned runs in 1⅔ innings of relief against Pittsburgh on September 22.15
Winford's two appearances for the Dodgers proved to be his final major-league games. Still the property of Brooklyn, he pitched for their Montreal and Nashville farm teams in 1939 before being released and subsequently signed off waivers by the Cardinals for the 1940 season.16 Winford bounced around the Cardinals' minor-league system in 1940 before taking on the position of player-manager of the Batesville Pilots of the Class D Northeast Arkansas League in 1941.The veteran right-hander went 8-3 on the mound for the Pilots in 13 starts.17 In 1942 Winford, then a resident of McCloud, Oklahoma, pitched his final season in Organized Baseball, for the Oklahoma City Indians, the New York Giants' affiliate in the Texas League. Winford appeared in 11 games for Oklahoma City as a relief pitcher.18
After the 1942 season, Winford enlisted in the US Navy.  In 1943 he was stationed at the Norman (Oklahoma) Naval Air Station, where he was a naval fireman and played on the base's baseball team, the Norman Zoomers.19  After his discharge from the Navy, Winford became a firefighter in Oklahoma City.
Winford married Magdalena Kohler on November 18, 1932. The couple divorced in 1937. They had one child, a daughter, Sara.20 Winford died at age 61 on December 16, 1970, in Miami, Oklahoma.  He was buried in his hometown of Meeker, at the New Hope Cemetery.21 
Sources
Milwaukee Journal
New York Times
The Sporting News
Baseball-Reference.com
The Encyclopedia of Oklahoma History and Culture: digital.library.okstate.edu/encyclopedia/
Ancestry.com
The Baseball Necrology: thebbnlive.com
Notes
1 "Minors Coming Up to Majors in '33," Sporting News, November 3, 1932, 5; "Minors Coming Up to Majors in '35," Sporting News December 27, 1934, 8.
2 "Winford Sent to Columbus," New York Times, January 1, 1935, 35; "Minors Coming Up to Majors in '35," 8. 
3 "Cards Still Rated in Terms of 'Ifs,'" The Sporting News, April 15, 1937, 1.
4 Frankie Fair Burchette, "Meeker," Encyclopedia of Oklahoma History and Culture, accessed on July 5, 2013: digital.library.okstate.edu/encyclopedia/entries/M/ME009.html
5 "Minors Coming Up to Majors in '35," 8.
6 "Rochester Wins 8-2; Winford, Soon to Join Cardinals, Sets Back Buffalo," New York Times, September 9, 1932, 26.
7 "Minors Coming up to Majors in '33," 5.
8 Ibid.
9 "Winford Sent to Columbus," 35; The Sporting News; "Santa Makes Early Gallop to Cullop, Delivering Brewer Pilot Job to Nick," The Sporting News, December 21, 1944, 2.
10 "Young Bob Can't Be Discounted," The Sporting News October 22, 1936, 3; "Cards Still Rated in Terms of 'Ifs,' " 1.
11 "Winford Gives Dodgers Four Hits as the Cardinals Breeze to 7-0 Victory," New York Times, July 31, 1936, 12.
12 The Sporting News, April 15, 1937.
13 "Cards Still Rated in Terms of 'Ifs,' " 1.
14 "Cardinal Collapse Muffles Flag Talk," The Sporting News, July 15, 1937, 3.
15 "Lights Shed Bright Ray on 700,000 Dodger Gate," The Sporting News, September 15, 1938, 2.
16 "Columbus Buys Winford," New York Times, June 23, 1940, S6.
17 "Hershel Martin, Jim Winford Add Class to Oklahoma City," The Sporting News, March 19, 1942, 11.
18 Ibid.
19 "In the Service," The Sporting News, May 6, 1943, 7.
20 "Jim Winford Sued for Divorce by Wife," Milwaukee Journal, October 5, 1937, 19; "Sara L. Winford: 1940 Census," Ancestry.com: accessed on July 5, 2013: interactive.ancestry.com/2442/m-t0627-03294-00830/89418026?backurl=http%3a%2f%2fwww.ancestry.com%2f1940-census%2fusa%2fOklahoma%2fMagdalena-W-Winford_33thvg&ssrc=&backlabel=Return
21 "Jim Winford," The Baseball Necrology, accessed on July 5, 2013: thebbnlive.com/PlayerInfo.aspx?FullName=Winford%2c+Jim-09%2f10%2f1932
Born
October 9, 1909 at Shelbyville, TN (USA)
Died
December 16, 1970 at Miami, OK (USA)
If you can help us improve this player's biography, contact us.
http://sabr.org/sites/default/files/Jim%20Winford.png
600
800
admin
/wp-content/uploads/2020/02/sabr_logo.png
admin
2012-01-04 20:19:20
2020-10-07 12:52:34
Jim Winford