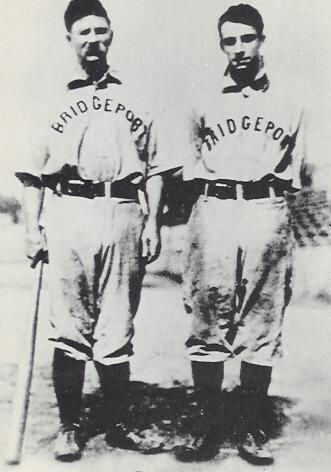 ---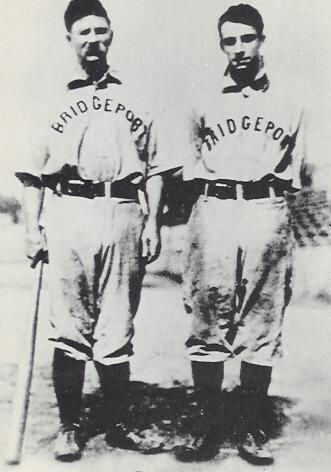 Father and son teammates are a familiar feature of the slow-pitch softball games played at Fourth of July picnics and on other celebratory occasions. But such pairings are an exceedingly rare event in professional baseball. When future Hall of Famer Ken Griffey Jr. and his dad, Ken Griffey Sr., manned the outfield for the Seattle Mariners in a 5-2 victory over Kansas City on August 31, 1990, they made history, becoming the first father-son duo to play together in a major-league ballgame.1 But if the distinction is expanded to include the entirety of Organized Baseball, the Griffeys must yield these laurels to another renowned baseball family: the O'Rourkes.
Orator Jim O'Rourke — he was partial to grandiloquence and later became a practicing attorney — and his older brother John O'Rourke were pioneer-era stalwarts whose playing careers predate the founding of the National Association of 1871. In 1876 Jim registered the first base hit in National League annals, and the O'Rourke brothers were teammates on the 1880 Boston Nationals. John O'Rourke retired from the game shortly thereafter, but Orator Jim went on to a Cooperstown-bound career that saw him star for the world champion New York Giants of 1888 and 1889, and play regularly in the National League through the 1893 season. He thereafter continued playing minor-league ball until he neared age 60.
The most noteworthy event of these latter years took place on July 1, 1903, when his son Jimmy O'Rourke joined him in the lineup of the Bridgeport Orators of the then-Class D Connecticut State League. The O'Rourkes thus became the first father and son to play together in Organized Baseball history.2 Jimmy — frequently identified today by the historically contrived nickname Queenie3 — went on to a brief major-league career of his own, getting into 34 games with the New York Highlanders in 1908. His biography follows.
James Stephen O'Rourke was born in Bridgeport, Connecticut, on December 26, 1883. He was the third of eight children, and the only son, born to Orator Jim (James Henry) O'Rourke (1850-1919), himself a Bridgeport native, and his Irish immigrant wife, Anna (née Kehoe, 1854-1910). Both parents were Roman Catholic.
Jimmy was educated locally through graduation from Bridgeport High School, where he was a standout on the baseball team. He then matriculated to Yale University in New Haven, where he pursued an undergraduate degree in law. Although only a freshman, Jimmy became Yale's varsity shortstop in spring 1901. Apart from two costly fielding miscues in a late-campaign 3-0 loss to archrival Harvard, he played well. Academics were another matter. Coursework deficiencies led him to be declared ineligible for athletics the following year.4 O'Rourke regained his eligibility in spring 1903, but struggled for playing time. "Jimmy O'Rourke was given a chance to show his mettle after warming the bench for three weeks," it was reported in early June. But upon his return to the lineup, "he failed to hit the ball out of the diamond and made two errors" in a 12-2 loss to Dartmouth.5
While Jimmy was playing at Yale, his father was owner-manager of a minor-league ball club in Bridgeport.6 And despite now being in his 50s, he was also the team's regular catcher.7 But Orator Jim, an 1887 graduate of Yale Law School who maintained a solo practitioner law office in Bridgeport, had hopes that his son would follow him into the legal profession.8 He was, therefore, disappointed when Jimmy revealed his intention to pursue a career in professional baseball. To afford his son that chance, Jim put his misgivings aside and signed him to play for his own Bridgeport Orators. With that, Jimmy forfeited his athletic eligibility at Yale.9 But he remained a student in good standing at the university.
Jimmy O'Rourke made his professional debut on July 2, 1903, "playing a rattling good game of ball" at third base for Bridgeport in a 3-2 loss to the Springfield (Massachusetts) Ponies.10 He also did "good work with the stick,"11 notching two of Bridgeport's six hits. Jimmy and his father, who went hitless in four at-bats, presented a study in contrast. Both men batted and threw right-handed, but at 5-feet-7 and 150 pounds, the clean-shaven younger O'Rourke was a bit smaller than his father, a sturdy 5-foot-8, 180-pounder who sported a signature handlebar mustache. Their batting styles were also dissimilar. "Jimmy, slender, active, and swift of foot, grasps his bat in the middle and taps the ball with the quick forearm movement of the new scientific game, with good result," observed an unidentified Springfield sportswriter.12 "His father," meanwhile, "solid, square and grizzled, grips his bat by the very end of the handle, to get as much sweep as possible, looking, as he waits for the ball, like pictures of the sluggers of old."13 Although it came in defeat, the O'Rourkes established a baseball landmark that July 1903 day, for as noted by Sporting Life, "probably never before in the history of the game have a father and son played on the same professional team."14
O'Rourke completed his maiden pro season batting a soft .230, with only six extra-base hits in 235 at-bats for the third-place (59-47, .557) Bridgeport Orators. At season's end, he returned to Yale for his senior year. Jimmy remained on campus as the 1904 Connecticut State League season opened, and was not expected to report until late June.15 In the meantime, he stayed in shape playing the odd game for an unaffiliated pro nine in South Manchester, Connecticut.16 At ceremonies conducted on June 29, 1904, James Stephen O'Rourke received his diploma and became a Yale University graduate. A week later, he made his initial season's appearance for Bridgeport, playing shortstop (one error in five chances) and going 1-for-4 (and scoring the game's only run) in a 1-0 Orators win over Hartford.17 Shortly thereafter, his name disappeared from the Bridgeport lineup. For reasons unknown, Jimmy spent the remainder of the season back with the South Manchester club.18 He returned to his father's team the next year.
In 1905 the Connecticut State League (CSL) was promoted to Class B status. Jimmy upgraded his performance as well — at least insofar as it came to batting. In 127 games for Bridgeport, he batted a solid .273, with 49 stolen bases and 71 runs scored. His fielding, alas, went in the other direction, with substandard marks at both third (.873 FA with 47 errors committed) and shortstop (.821 FA with 14 errors).19 In the following season, now the Bridgeport team captain, O'Rourke rendered a repeat performance at the plate (.274 BA, with 34 extra-base hits) while his fielding improved markedly (.945 FA) for a seventh-place (54-72, .429) Orators club.
As the 1907 season progressed, Orator Jim O'Rourke, now 56, eased himself out of the Bridgeport lineup. His 23-year-old son, however, was just entering his prime as a ballplayer. He entered the charmed circle with the bat, hitting .303 with 98 runs scored, while posting a respectable .939 fielding average at a new position, second base.20 Jimmy kept it up the following season. After 93 games, he was fighting for the CSL batting title with a .318 average, with 33 extra-base hits that included the first three home runs of his professional career.21 In mid-August, Jimmy received the hoped-for summons from the big leagues. His contract was purchased by the New York Highlanders, the cellar-dwellers of the American League.22
O'Rourke made his major-league debut on August 15, 1908, starting a home game at Hilltop Park against the Cleveland Naps. New York lost, 5-4 in 10 innings, but reviews were positive for the club's rookie recruit. O'Rourke "played fast ball at second base" and beat out a swinging bunt base-hit "with a beautiful sprint to first," reported a Manhattan newspaper.23 He also "made a favorable impression in his first appearance" on the Cleveland press.24 Follow-up wire-service dispatches were similar: "Jimmy O'Rourke acquitted himself finely against Cleveland," said one.25 Another concurred, reporting that "Jimmy O'Rourke, the former Yale infielder and this season with Bridgeport, made good in his first game with the New York Highlanders last Saturday."26
By season's end, O'Rourke had appeared in 34 Highlanders games, splitting time between shortstop and left field, with a handful of games at second base and third base thrown in. His combined fielding average of .957 (six errors in 116 chances) was first-rate, but his offense was not: a meek .231/.259/.241 slash line with only one extra-base hit and three RBIs in 108 at-bats. But O'Rourke was young and no worse than other members on the last-place (51-103, .331) club's roster, so New York placed him on its reserved list for 1909. As it turned out, however, Jimmy O'Rourke's time in a Highlanders uniform, or that of any other major-league team, was now behind him.
During the offseason, rumor had it that New York intended to sell O'Rourke to the Buffalo Bisons of the Class A Eastern League.27 Right idea/wrong destination. Instead, he was peddled to another Class A club, the Columbus Senators of the American Association.28 There, Jimmy's work was solid but unremarkable. In 129 games, he batted .265, with 66 runs scored and 15 stolen bases, and played a competent second base (.937 FA).
O'Rourke was slated to return to Columbus for the 1910 season, but preceded his departure from home in Bridgeport with a startling announcement. For the past 13 months, he had secretly been a married man. Unbeknownst to family and friends, Jimmy and Emma Reif, "a dashing brunette" from East Bridgeport and a friend of his sister Ida, had quietly been wed in New York City on February 11, 1909.29 The two had then returned to Bridgeport and spent the succeeding year living in the homes of their unsuspecting parents. "Jimmy and his pretty wife disclosed their secret to their families on Sunday," reported the Bridgeport Evening Farmer breathlessly. "They had no particular reason for keeping their marriage quiet, but it suited them to do so. Their families were as surprised as any, for while each had known that Jimmy and Emma had formed a mutual admiration society, it was not suspected that the shafts of Cupid had been darting about in their vicinity."30 Notwithstanding his surprise, Orator Jim was delighted with the match, bestowing a handsome cash wedding gift on the couple. The birth of grandson James John O'Rourke in 1911 would only increase his joy. But the marriage was not a happy one, and would end in a bitter divorce only a few years later.
In the interim, the couple took up residence in Columbus, where a near-tragedy awaited. On July 20 Jimmy was beaned and rendered senseless by an errant fastball thrown by Kansas City Blues right-hander Vinegar Bill Essick. Taken to a nearby hospital, O'Rourke regained consciousness, but his vocal cords were frozen, leaving him speechless for days.31 He eventually recovered, even returning to the Senators lineup late in the season. Thereafter, a hopeful hometown report stated, "By next spring it is expected that he will have fully recovered his health, and be able to play as well as ever."32 But Jimmy O'Rourke was never the same player after the beaning.
In 1911 O'Rourke managed to appear in 147 games for Columbus, but his batting average fell to a powerless .244. He rebounded somewhat the following year, raising his batting average to .267, but still exhibited little pop (only 16 extra-base hits in 457 at-bats). Prior to the 1913 season, O'Rourke was shipped to league rival St. Paul, where his numbers dipped to a .236 BA, and with only 16 extra-base hits in 537 at-bats. His batting average fell even further in 1914 (.222), but he did coax 87 walks and poled a career-high four home runs.
Jimmy O'Rourke reached the end of the professional baseball trail in 1915. Released by St. Paul, he hooked on with the Syracuse Stars of the Class B New York State League. In 36 games, O'Rourke batted a meager .226, and was then cut loose at age 31. His marriage also hit the rocks, with wife Emma suing for divorce in mid-June.33 Unhappily, the case, complete with allegations of emotional cruelty and abandonment, dragged on for months before a final decree was entered in 1916, with Emma awarded custody of their five-year-old son.34 By that time, Jimmy was long separated from his ex-spouse and living in Sparrows Point, Maryland, an industrial suburb of Baltimore dominated by steel mills and shipyards. He found clerical work in the offices of Bethlehem Steel's Sparrows Point shipyard, and played weekend ball for company teams through 1919.35 O'Rourke remained a Bethlehem Steel employee for the remainder of his life.36
In 1938, 54-year-old Jimmy O'Rourke remarried, taking as his second wife telephone operator Ada Wellings Maxwell, a divorcee some 15 years his junior with a pre-teenage daughter. The couple lived quietly in Sparrows Point for the remainder of their marriage. In mid-1955 O'Rourke was diagnosed with lung cancer.37 He died in his home on December 22, 1955, days short of his 72nd birthday. Following local funeral services, the deceased was interred at Oak Lawn Cemetery, Baltimore. Survivors included his widow, Ada; son, James; stepdaughter, Grace Maxwell Smith; and ex-wife Emma Reif O'Rourke.
Sources
This biography was reviewed by Rory Costello and Len Levin and fact-checked by Chris Rainey.
Sources for the biographical info contained herein include the O'Rourke file maintained at the Giamatti Research Center, National Baseball Hall of Fame and Museum, Cooperstown, New York; Mike Roer, Orator O'Rourke: The Life of a Baseball Radical (Jefferson, North Carolina: McFarland, 2005); US Census and O'Rourke family posts accessed via Ancestry.com, and certain of the newspaper articles cited in the endnotes. Unless otherwise indicated, stats have been taken from Baseball-Reference.
Notes
1 Tim Raines Sr. and Jr. followed in 2001. They are the only other such duo to date.
2 The first father-son duo known to have been teammates were the Ansons. In the late 1860s, future Hall of Famer Adrian "Cap" Anson and his father, Henry, played together on the town team of what became Marshalltown, Iowa.
3 Throughout his 13-year career as a major- and minor-league ballplayer, James Stephen O'Rourke was known as Jimmy. The putative nickname Queenie did not appear in newsprint during O'Rourke's lifetime. Rather, it debuted some months after his death in December 1955 in the second edition of The Official Encyclopedia of Baseball by Hy Turkin and S.C. Thompson. Like other biographical data published in T&T, the provenance of this heretofore unknown O'Rourke nickname was not provided, and has proved untraceable. Notwithstanding that, Queenie O'Rourke was adopted as our subject's name by ensuing baseball reference works and remains in use today. The effort to extirpate this fictitious appellation from current authority is ongoing at this writing.
4 See "Yale's Football Outlook," Trenton (New Jersey) Evening Times, September 11, 1901: 7, and "Yale Shortstop Is Suspended," Pawtucket (Rhode Island) Times, February 21, 1902: 2. See also, Boston Globe, February 23, 1902.
5 "Dartmouth Trounces Yale," Springfield (Massachusetts) Republican, June 4, 1903: 7.
6 The elder O'Rourke also doubled as Connecticut State League president.
7 After more than a decade's absence from the majors, Jim O'Rourke returned to the New York Giants to play a final game in September 1904. Thereafter, he returned to his own Bridgeport club and played into the 1909 season.
8 Bar admission standards vary from state to state, but in all likelihood, the undergraduate bachelor of law degree that Jimmy was pursuing would not have qualified him to stand for the Connecticut bar examination. He would have had to perform further work or study, like reading law/clerking in his father's law office, before he could seek admission.
9 As noted in "Young O'Rourke a Pro," Boston Herald, July 2, 1903: 5, and "Yale Man Now a Pro," Pawtucket Times, July 2, 1903: 7. It was subsequently reported that "the Yale baseball coaches were cut up badly over the defection of Jimmy O'Rourke Jr." 1904 Reach Guide, 12.
10 According to "The Sports of the Day," Springfield Republican, July 2, 1903: 3.
11 "Becomes Professional," Boston Journal, July 2, 1903: 10.
12 Springfield Republican, July 2, 1903: 3.
13 Springfield Republican, July 2, 1903: 3.
14 "Connecticut League News, Sporting Life, July 11, 1903: 23.
15 As reported in "Jim O'Rourke Ball Players," Springfield Republican, April 21, 1904: 3.
16 Baseball-Reference places Queenie O'Rourke with the Evansville (Indiana) River Rats of the Class B Central League in 1904. This is incorrect as the O'Rourke who played 48 games for Evansville was a Jimmy O'Rourke from Chicago, not our subject. See "Pitchers Must Have Their Electric Juice," Evansville Courier, May 12, 1904: 5.
17 See the game account/box score published in the Springfield Republican, July 7, 1904: 3.
18 As reported in the Springfield Republican, August 9 and 16, 1904, and reflected in subsequently published South Manchester game accounts/box scores.
19 Per the 1906 Reach Guide, 214. Baseball-Reference provides no stats for O'Rourke in 1905
20 The O'Rourke runs scored and fielding average do not appear in his Baseball-Reference entry, but were published in the 1908 Reach Guide, 232, 234.
21 Per the Connecticut State League stats published in the 1909 Reach Guide. Baseball-Reference provides no 1908 Bridgeport data for O'Rourke.
22 As reported in "O'Rourke a Yankee," New Haven (Connecticut) Journal-Courier, August 15, 1908: 2, and "Yankees Lose Hard Battle at Home," New York Times, August 15, 1908: 5.
23 "Yanks in Hard Game," New York Tribune, August 16, 1908: 9.
24 "Rhoades Drives in Winning Run," Cleveland Plain Dealer, August 16, 1908: 14.
25 "Jimmy O'Rourke's Debut," Waterbury Evening Democrat, August 17, 1908: 7.
26 See e.g., "Baseball Gossip," Dallas Morning News, August 29, 1908: 9.
27 See e.g., Washington Evening Star, February 11, 1909: 16; Wilkes-Barre (Pennsylvania) Times, February 11, 1909: 11; San Jose Mercury News, February 21, 1909: 10.
28 As reported in "'Duke' to Coach Pitchers," Boston Herald, February 20, 1909: 5; "Baseball Notes," Bridgeport (Connecticut) Evening Farmer, March 10, 1909: 8.
29 Per "Jimmy O'Rourke Wed Year Ago," Bridgeport Evening Farmer, March 16, 1910: 1, and verified by New York state marriage records accessible online via Ancestry.com. See also, "Young O'Rourke Marries," Stark County (Ohio) Democrat, March 17, 1910: 4.
30 Bridgeport Evening Farmer, March 16, 1910: 1.
31 As reported in "'Jimmy' O'Rourke Is Speechless," Evening Nonpareil (Council Bluffs, Iowa), July 21, 1910: 1; "Injury Is Serious," Grand Rapids (Michigan) Press, July 21, 1910: 6: "Struck Speechless by Pitched Ball," Wilkes-Barre Times, July 23, 1910: 13.
32 "Jimmy O'Rourke Visiting Father," Bridgeport Evening Farmer, October 29, 1910: 8. A dent in O'Rourke's skull just above the left ear was still visible months after the beaning.
33 As reported in "O'Rourke Will Not Contest Divorce; Wife Wants Child," Bridgeport Evening Farmer, June 19, 1915: 2.
34 Emma Reif O'Rourke never remarried, earning her living as a Bridgeport antiques dealer. She died in February 1972 at age 83, predeceased by her bachelor son, James John O'Rourke, in 1968. Mother and son rest together in Park Cemetery, Bridgeport.
35 Baseball-Reference places the near-40-year-old O'Rourke with the Syracuse Stars of the Class AA International League in 1922, batting .283 in 23 games. Research by SABR member Christian Trudeau establishes that O'Rourke then continued playing, serving as player-manager for the Ottawa Canadiens of the Class B Eastern Canada League in 1923, and as third baseman for the Ottawa-Hull Senators of the Class B Quebec-Ontario-Vermont League the following season. B-R has O'Rourke batting .283 in 88 games for Ottawa-Hull in 1924.
36 Letter of Ada O'Rourke to Cliff Kachline dated January 11, 1972, contained in the O'Rourke file at the Giamatti Research Center, Cooperstown.
37 Per the death certificate contained in the O'Rourke file at the GRC.
Born
December 26, 1883 at Bridgeport, CT (USA)
Died
December 22, 1955 at Sparrows Point, MD (USA)
If you can help us improve this player's biography, contact us.
https://sabr.org/sites/default/files/ORourke-Jim-Queenie.jpg
600
800
admin
/wp-content/uploads/2020/02/sabr_logo.png
admin
2020-02-19 15:37:58
2021-06-08 11:29:18
Jimmy O'Rourke