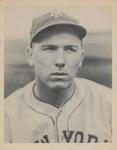 ---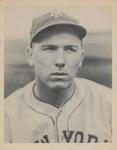 Jimmy Ripple battled injuries and struggled with his weight. Doubters said he didn't have enough power to make it as an outfielder. But his career — just seven major-league seasons, three of them partial — was packed with a disproportionate number of highlights. He led teams on dramatic late-season charges, sparkled in three World Series, and earned a reputation as an outstanding clutch player. Red-haired and freckle-faced, he was a hustling fan favorite and a vociferous heckler. He was also remembered for decades as a central figure in a notable baseball brawl.
James Albert Ripple was born October 14, 1909, in Export, Pennsylvania, 20 miles east of Pittsburgh, the fifth child and second son of William C. and Sarah R. "Sadie" Painter Ripple. His father was a coal miner. Except when he was playing ball somewhere else, Ripple lived his entire life in Westmoreland County, Pennsylvania.
He quit high school after two years1 and worked as a paperhanger and ambidextrous housepainter, which he credited with strengthening his forearms. He played semipro ball in Greensburg, the county seat, where he attracted enough attention to get a tryout with the Cincinnati Reds at 18. Scouted by Herbie Moran, who had played the outfield for Boston's "miracle" Braves in 1914, Ripple signed his first professional contract the following year and began his career right in Westmoreland County in 1929. He batted .336 with a league-leading 24 triples for the Jeannette Jays of the Class C Middle Atlantic League to earn a late-season promotion to Montreal in the Class AA International League.
From the start, Ripple delighted the Royals' fans "with his sterling fielding and throwing and his spectacular clouting at bat."2 He spent the next six years in Montreal, batting over .300 four times. By 1932 the Chicago White Sox were reportedly interested, but Ripple broke his collarbone attempting a diving catch.3 The Chicago Cubs then gave him a look, but he broke his right foot in spring training and, playing at Montreal with the foot heavily bandaged for much of 1934,4 saw his batting average plunge to .267.
He finally got a shot at the big leagues after his .333 average and 115 runs batted in led Montreal to first place in 1935. Before he left town, fans passed the hat and collected $1,900 for him. Ripple was purchased by the New York Giants, but before he even joined that club, manager Bill Terry was convinced he couldn't crack the outfield and would have to try his luck at third base.5 Ripple had heard that before. In 1931 Ernest J. Lanigan had reported scouts telling him that "if Rip is to go up [to the majors] he will go up as an infielder, that he doesn't hit hard enough for an outfielder."6
Ripple, who experimented with switch-hitting in the minor leagues,7 never became a prolific home run hitter. His long balls were always more timely than numerous. Settling on batting left-handed, he became a productive line-drive hitter who sprayed the ball to all fields and walked nearly twice as often as he struck out. Contrary to Terry's expectations, Ripple shouldered his way into the Giants' outfield mix and the 1936 season was barely a month old before J.G. Taylor Spink pronounced him the best rookie outfielder in the National League.8 Ripple was also part of a systematic effort to put new life into the Giants.
"The players we have let go were deadpan guys," Terry said. "The men coming in" — and he mentioned Ripple by name — "… are known conversationalists of skill."9 Before his career ended, Ripple would be acknowledged as one of the National League's leading bench jockeys.10
Jimmy the Ripper, as he was called, spent most of 1936 as the Giants' fourth outfielder. His playing time increased thanks to one of those Wally Pipp moments when, on August 4, center fielder Hank Leiber had to leave the game after getting a cinder in his eye. Ripple stepped in and followed a Mel Ott home run with one of his own. The pair went back-to-back again the next day, giving rise to a new nickname — the Double-Indemnity Kid.11 After that Ripple started regularly against right-handed pitchers, soon launching a 19-game hitting streak.
For his rookie year, Ripple batted .305 in 96 games. He was also the National League's top pinch-hitter, 9-for-19 (.473) with two home runs and six runs batted in.12 The Giants won the pennant by five games over the Cubs and St. Louis Cardinals. The New York Yankees beat the Giants in a six-game World Series but Ripple batted .333 and homered off Bump Hadley in Game Three. The next day he made "the best play of the game, and for that matter the series,"13 with a diving, tumbling grab of Jake Powell's low line drive.
Another highlight of 1936 occurred off the field. Ripple had married Helen Berlin. Their son, James Charles Ripple, was born June 24. The proud papa marked the occasion by going 2-for-4 as the Giants split a doubleheader with Pittsburgh.
Ripple's first hit of 1937 was a pinch-hit grand slam off Brooklyn's Max Butcher, but by now the Ripper was usually in the starting lineup, playing right or center field and batting somewhere in the middle of the order. He had his best season at the plate, but his most memorable day involved "clouting" of a different sort.
Ripple was "a fun-loving ballplayer,"14 but his feisty side came out on May 19. The Giants were in St. Louis where Carl Hubbell, seeking his 22nd consecutive win, was matched against the Cardinals' Dizzy Dean in front of a Wednesday afternoon crowd of 26,399.15 Dean initiated the festivities by knocking down New York leadoff man Dick Bartell, and before the contest was over Dean "threw at everybody in the Giants lineup except Burgess] Whitehead and Hubbell."16
Ripple hit the dirt for the first time in the sixth inning. He and Dean had barnstormed together just two years earlier, but when Diz low-bridged him again in the ninth, Ripple responded by dragging a bunt down the first-base line. The bunt was too hard and was fielded by second baseman Jimmy Brown while Johnny Mize covered first base. Dean could have stayed out of the play but he came over anyway, meeting Ripple at the bag. Words were exchanged, "Ripple missed [with] a hard left"17 and both dugouts emptied in what sportswriter Tom Meany described as "one of the wildest melees in the history of present-day baseball."18 According to one witness, fans and ushers spilled out of the stands to join in.19
It took umpires and police 14 minutes to clear the field. New York won the game, 4-1, and Hubbell eventually extended his winning streak to 24.20 Both Ripple and Dean were fined $50. Twenty years later, when The Sporting News recalled the Cardinals' Gas House Gang teams of the '30s in a full-page feature, both the incident and Ripple received appropriate mention.21
The Giants spent much of 1937 chasing the Chicago Cubs. On August 25 the Cubs came in for a doubleheader at New York's Polo Grounds with a four-game lead. They appeared to have the first contest locked up until Ripple's three-run homer capped a five-run ninth-inning rally and sent the game to extra innings. New York won both games and cut Chicago's lead in half. Three weeks later Ripple went on a 15-game hitting streak during which he batted .491 with 17 runs batted in. The Giants won 12 of the 15 games, took over first place and clinched the pennant the day Ripple's streak ended.
Overall, he batted a career-best .317 and also established personal highs for runs, hits, doubles and RBIs. Syndicated columnist Hugh Bradley pegged Ripple as "baseball's best money player"22 and teammate Gus Mancuso called him the best player in the National League.23 Ripple played every inning of the World Series and batted .294, but the Yankees bettered the Giants again, this time in five games.
Ripple played more (134 games) in 1938 but hit less, his average tailing off to .261. Part of the problem was his weight, a matter of increasing concern as he grew older. Standard sources, including Baseball-Reference.com and Retrosheet.org., list Ripple as 5-foot-10 and 170 pounds. Those dimensions might have been correct when he turned professional as a teenager, but by the time he reached the majors his normal playing weight was in the 190s. The writers tracked his weight as assiduously as his batting average. He sometimes reported to spring training weighing 220 pounds and regularly struggled to get down to 200. When he joined the Giants his weight was reported at 194; the World-Telegram described him as "chunkily built."24 When Ripple trimmed down to 192 early in 1940, he told sportswriter Tommy Holmes that was the lightest he had been in six years.25
Amid the disappointments, there were a couple of bright spots in 1938. Ripple went 13-for-20 in a six-game streak in May, at one point rapping out seven straight hits. He also swatted his major-league high 10 home runs, the first four in a 10-day flurry early in the season. The fourth came on May 2 off Brooklyn's Freddie Fitzsimmons. Next time up, Ripple was carried off the field after being hit in the head by a pitch from reliever Buck Marrow.
Ripple's weight inched up. His productivity declined. By mid-1939 he was "chained in Terry's doghouse" and his physique had taken on "the general appearance of a toy balloon."26 When a 2-for-21 slump drove his batting average down to .228, the Giants asked waivers on Ripple and traded him to Brooklyn for catcher Ray Hayworth.
The change of scenery worked wonders. Dodgers manager Leo Durocher plugged Ripple into the five hole in the batting order and he promptly went 8-for-17 as Brooklyn won his first four games. Over the last three weeks of the season, Ripple batted .330 and the team went 19-9.27 On the final day of the campaign he knocked in the winning run against Philadelphia, enabling the Dodgers to beat out Chicago for third place.
Ripple started slowly in 1940 and in May he was optioned to Montreal, now a Brooklyn farm club. There he was welcomed back and proceeded to hit .305. In August, Brooklyn sought waivers in order to release him outright to Montreal but Warren Giles, general manager of the Cincinnati Reds, saw Ripple's name on the waiver list. The Reds were bidding for the pennant and looking for outfield help. Giles asked his manager, Bill McKechnie, what he thought of Ripple.
"Well, he's over 30. But he's a money ballplayer," McKechnie replied. "… If he's in shape, let's get him."28
Montreal, in its own fight for a berth in the International League playoffs, attempted to delay the deal under an agreement that required the Dodgers to give 10 days' notice before recalling Ripple, but Commissioner Kenesaw Mountain Landis ruled that Cincinnati had an overriding interest in securing the player before September 1 so he would be eligible for the World Series.
The Reds bought Ripple for the $7,500 waiver price and he was in their lineup on August 29. Through September 18, when they clinched the title, he batted .319. On September 14, he homered off Hal Schumacher in the ninth inning to beat the Giants, 3-2.
Ripple, playing at a svelte 184 pounds, started every game of the World Series and batted .333 with a team-high six runs batted in. He homered off Schoolboy Rowe in Cincinnati's Game Two victory, becoming just the second player to hit World Series home runs for two different teams,29 and got a standing ovation from 55,000 fans in Detroit after making an "almost impossible" catch in Game Five.30 In the seventh game, with the Reds trailing 1-0 in the seventh inning, he doubled off Bobo Newsom to send home the tying run, was bunted to third and scored on Billy Myers' sacrifice fly — giving his club all it needed for a 2-1 victory and the world championship.
Unfortunately for Ripple, 1941 proved to be 1939 all over again, only worse. Coming off the previous year's late-season heroics, he never got untracked. He logged just 102 at-bats in the Reds' first 60 games and was hitting .216 when, on June 21, the Reds sold him to the Cardinals. While some of Ripple's Cincinnati fans protested,31 the Cards shipped him to Rochester, where he spent the rest of the summer burning up the International League to the tune of .378.
Ripple remained in the International League in 1942, splitting the season between Rochester and Toronto. He started 1943 in Toronto, but the World War II player shortage afforded him one more crack at the big time. Acquired by the lowly Philadelphia Athletics in August, he hit .238 in his last 32 major-league games. The A's traded Ripple to Louisville of the American Association in the winter; he opened the '44 season there before finishing up at age 34 with brief stops at Seattle and San Francisco in the Pacific Coast League.
After retiring, Ripple played some semipro ball in the Pittsburgh area. He took over operation of the Victor Hotel in Jeannette, Pennsylvania, renaming it the Diamond. And he gave up fighting the battle of the bulge: When he returned to the Polo Grounds for an old-timers game, a reporter described him as "bulbous." But he could still hit. After stretching the count to 3-and-2 against Paul Derringer, Ripple fouled off several pitches, then "tagged a drive to left-center, where Joe] Medwick made a fancy running catch."32
Accolades and honors caught up with him. When Frank Shaughnessy retired after 24 years as president of the International League, he named his personal all-time IL team with Ripple as part of a five-man outfield corps that included Yankee standout Charlie Keller and Dodger stars Duke Snider and Carl Furillo. Ripple, who batted .299 with 114 home runs in 11 International League seasons, was inducted into the league's Hall of Fame in 1956 and into the Pennsylvania Sports Hall of Fame in 1983.
In 1959, the Cincinnati Reds invited the members of their 1940 team back to Crosley Field for a reunion and celebration of the city's most recent World Series triumph. It was a joyful occasion, but Jimmy Ripple was among the missing. He had died a month before, on July 16, 1959, after emergency surgery in Greensburg, Pennsylvania. Death was attributed to acute hemorrhagic pancreatitis. He was buried in Eastview Cemetery in Delmont, Pennsylvania.
He was 49 years old. It was a short life, but long on highlights.
Acknowledgments
This biography was reviewed by Norman Macht and verified for accuracy by the BioProject fact-checking team.
Notes
1 U.S. census, 1940.
2 J.L. McGowan, "Montreal Royals Ripple Along to King's Taste," The Sporting News, May 15, 1930: 1.
3 George Kirksey, "Ripple, Cincinnati's Wave of Fury in World's Series, a $7,500 Hunch that Delivered Million Dollar Punch," The Sporting News, October 24, 1940: 3.
4 Harry Grayson, Newspaper Enterprise Association feature, August 31, 1936. See also Ralph Cannon, Chicago Daily News, reprinted in "Scribbled by Scribes," The Sporting News, September 19, 1936: 4.
5 Daniel M. Daniel, "Terry Puts Himself on Bench and 14 Players on Block," The Sporting News, September 26, 1935: 1.
6 Ernest J. Lanigan, "Fanning with Lanigan," The Sporting News, July 2, 1931: 4.
7 "Minors Worth Watching," The Sporting News, May 23, 1935: 5.
8 J.G. Taylor Spink, "Three and One," The Sporting News, May 28, 1936: 4.
9 Daniel, "Giants Get Collins if Mize Makes Good," The Sporting News, January 16, 1936: 8.
10 Stanley Frank, "Rough Riders of the Dugouts," The Saturday Evening Post, Vol. 213, No. 46 (May 17, 1941): 87.
11 The new nickname was proposed by Tom Meany of the New York World-Telegram. See Meany, "Accidents Delayed Jim Ripple's Big League Debut, Mishaps Helped Him Win Regular Berth with Giants," The Sporting News, September 17, 1936: 3. Ott and Ripple went back-to-back again on August 19.
12 Don Basenfelder, "Ripple Topped Pinch-Hitters; Giants Best in Clutch Clouting," The Sporting News, November 19, 1936: 8.
13 "Pearson Outpitches Hubbell, Yanks Taking Third Straight," The Sporting News, October 8, 1936: 6.
14 Bob Husted, "Jim Ripple Dies; '40 Series Star," Cincinnati Enquirer, July 17, 1959: 1D.
15 Cardinals officials said the crowd was the largest ever for a single weekday game in St. Louis. See Fred R. Copeland, United Press, "Players, Ushers and Fans Stage Free-for-All Fight in St. Louis," Daily Independent (Elizabeth City, North Carolina), May 20, 1937: 5.
16 Tom Meany, "Battle in St. Louis Park Laid to Dizzy's Beanball," New York World-Telegram, May 20, 1937.
17 Meany, "Battle in St. Louis."
18 Meany, "Battle in St. Louis."
19 Fred R. Copeland, United Press, "Players, Ushers and Fans Stage Free-for-All Fight in St. Louis," Daily Independent (Elizabeth City, North Carolina), May 20, 1937: 5.
20 Hubbell's streak began July 7, 1936, and he won his 24th straight on May 27, 1937, before finally losing to Brooklyn four days later before 61,756 fans at the Polo Grounds. See Baseball-Almanac.com.
21 J. Roy Stockton, "'34 Gashousers Frolicked and Fought," The Sporting News, July 10, 1957: 9.
22 Hugh Bradley, "Hugh Bradley Says," Midland Journal (Rising Sun, Maryland), September 17, 1937: 2.
23 Dan Parker, New York Mirror, reprinted in "Scribbled by Scribes," The Sporting News, October 7, 1937: 4.
24 "Giant Fans — Meet Jimmy Ripple," New York World-Telegram, March 26, 1936.
25 Tommy Holmes, "Ripple's Status Tip-Off on Improved Outfield," Brooklyn Eagle, April 23, 1940: 13.
26 Holmes.
27 The schedule for this period included nine doubleheaders.
28 Kirksey.
29 The first was Kiki Cuyler, for Pittsburgh in 1925 and the Chicago Cubs in 1932.
30 "Jimmy Ripple's Rousing Spirit," The Sporting News, October 10, 1940: 4.
31 Tom Swope, "Ripple Sale Causes Wave of Indignation," The Sporting News, June 26, 1941: 5.
32 Bob Broeg, "Ex-Gashousers Cut Up High Jinks — But Giants Win," The Sporting News, August 9, 1950: 16.
Born
October 14, 1909 at Export, PA (USA)
Died
July 16, 1959 at Greensburg, PA (USA)
If you can help us improve this player's biography, contact us.
https://sabr.org/sites/default/files/RippleJimmy.jpg
600
800
admin
/wp-content/uploads/2020/02/sabr_logo.png
admin
2018-07-06 01:47:23
2020-04-09 14:38:44
Jimmy Ripple