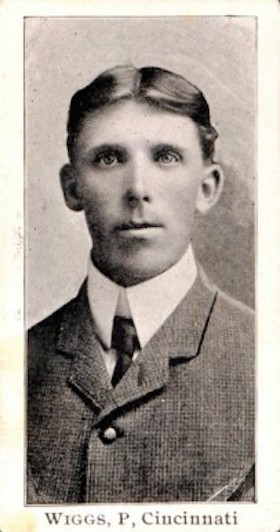 ---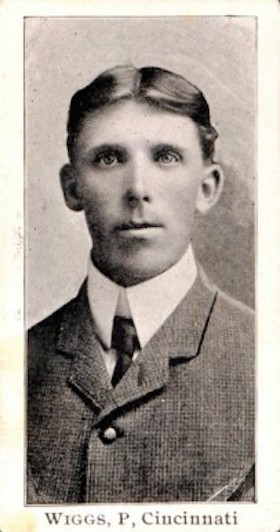 Mrs. Wiggs of the Cabbage Patch was a best-selling book published in 1901 by Alice Hagen Rice. It told the tale of a widowed Mrs. Wiggs raising five children in the fictional town of Cabbage Patch, Kentucky. In the book, her oldest son was named Jimmy. In a 1903 interview[fn]Devils Lake (ND) Inter-Ocean, May 15, 1903.[/fn], pitcher Jimmy Wiggs apparently convinced a newspaper reporter he was in fact the Jimmy Wiggs from Cabbage Patch, and that he had developed his pitching skills by throwing cabbages around the family farm. In reality, the pitcher had nothing to do with the character in the book other than sharing the same name. However, this incident was an example of some of the unusual behaviors that marked Wiggs' baseball career and life in general.
A huge man for the time (6-foot-4 and 200 pounds) Wiggs had tantalizing talent; he threw three no-hitters in the minors. Displaying "cannon-ball speed, control, and a fine assortment of twisters."[fn]Seattle Daily Times, January 26, 1905.[/fn] he was signed by three major league organizations and received offers from several others. However, he was a notoriously poor fielder — he once spiked himself when he stepped on his hand while fielding a bunt — and was often accused of being out of condition. That, and his numerous run-ins with team management and the National Commission, and overall eccentric behavior, limited him to just 13 major league games.
Wiggs was clear about the fact that he was only playing baseball for the money, and sought the best terms for himself no matter where or at what level of play. When he wasn't paid what he thought he was worth, or got a better offer elsewhere, he had no qualms about either holding out or jumping his contract. He had some leverage in that he worked offseasons as an accountant and had another potential source of income. Once early in his career he said, "Of course I like the sport, but if I could secure a position that would pay me steadily $30 or $40 a week, I would never play baseball again."[fn]Cincinnati Post, March 19, 1903.[/fn]
James Alvin Wiggs was born September 1, 1876, in Trondheim, Sor-Trondelag, Norway. As of Opening Day 2016, Wiggs was still one of only three major league players born in Norway; the others being John Anderson, who had a 14-year career with several teams around the turn of the 20th century, and Arndt Jorgens, a backup catcher for the New York Yankees in the 1930s. When he was a young boy[fn]His immigration year is listed as 1880 on the 1910 US Census, 1879 on the 1920 US Census, and 1883 on the 1930 US Census.[/fn], Jimmy and his family immigrated to the United States and settled in central Ohio. Little is known of his early childhood other than later census reports indicated he had completed the eighth grade.
Wiggs was first signed by Minneapolis of the Western League in 1899 but was farmed out to an independent team in Superior, Wisconsin. Reports are that he pitched well, but upset team management when he bet against his own club in a game against a traveling team that summer. He started the 1900 season in Superior again, but by June had joined the London Tecumsehs of the International League, his debut in Organized Baseball. Wiggs jumped the London club in July and finished the season with an independent team in the small town of Washburn, on Wisconsin's north shore not far from Superior.
It is not known why Wiggs may have been in Chicago during the middle of the 1899 season, but on July 28 he married Cora Mae Fyfe in that city. He apparently secured outside employment in Chicago and made it his offseason home for the next several years. At the time of the 1910 U.S. Census, Wiggs' residence was still listed as Chicago, and he and Cora were living with Cora's parents and brother. The couple was childless when Cora died in 1936.
Around this same time Charlie Comiskey moved his St. Paul team to Chicago to become the White Stockings in the new American League. Comiskey knew of Wiggs from his time with Minneapolis and had maintained close ties with both Mike Cantillon of Minneapolis, and his brother Joe. In March 1901 Comiskey sent Joe Cantillon, who was working as an American League umpire, to sign Wiggs to a Chicago contract. However, no record could be found of Wiggs having signed with Chicago or being invited for a tryout.
Instead, Wiggs signed with St. Joseph, Missouri, of the Western League where he played the early part of the season. Although his record does not indicate it, he also pitched briefly for Des Moines[fn]Denver Rocky Mountain News, May 27, 1901.[/fn] in May, but by early June was pitching for an independent team in Milton, North Dakota. By mid-August he was back in the Western League, this time with Minneapolis, where he pitched for a couple of weeks until his release at the end of August.
In 1902 Wiggs pitched with the Helena, Montana, Senators of the Class B Pacific Northwest League. No statistics are published in baseball-reference.com, but according to a postseason summary[fn]Seattle Daily Times, November 30, 1902.[/fn] Wiggs had a record of 27 wins and 16 losses, completing 42 of 43 starts, and held opposing hitters to a .182 batting average. He rang up nine consecutive wins in July, four of them shutouts, and made national news by throwing forty-four consecutive scoreless innings during one stretch.
Naturally, he caught the attention of major league teams. Bill Armour, manager of the American League's Cleveland Bronchos, began negotiating with him as early as July, but it was Cincinnati Reds owner Garry Herrmann who signed him to a contract. One reason put forward for why Armour broke off negotiations was that if Wiggs were to join Cincinnati, it was thought the Reds would run away with the National League pennant, thus driving down attendance around the circuit, which would then improve the status of the fledgling American League.[fn]Cleveland Plain Dealer, November 6, 1902.[/fn] Herrmann was so desperate for Wiggs' services that he made the unusual move of giving him a $1,150 advance on his salary.[fn]Idaho Statesman, June 27, 1904.[/fn]
Wiggs went to spring training with the Reds in Augusta, Georgia, in 1903 but struggled early in camp. He blamed his problems on the height of the pitching mound, which was set at 13 inches this year. The elevated mound was an advantage for overhand pitchers, but Wiggs often threw with an underhand motion (he claimed his best pitch was his upshoot), and the added height was actually a disadvantage for him. He found he needed to change his pitching motion, harming his control and resulting in a sore arm.
Nevertheless, he made the Reds' Opening Day roster and made his major league debut when manager Joe Kelley gave him a starting assignment on April 23 against the Cubs in Chicago. He worked a scoreless first but surrendered five runs in the second and was relieved by Jack Sutthoff. The five runs were all the Cubs needed in a 5-3 win over the Reds. Wiggs gave up a couple more runs in a mop-up relief appearance four days later when Chicago clobbered the Reds 13-5 in Cincinnati.
Play-by-play data for the game in which Wiggs debuted is not available, but a later news report described his fielding difficulties that day: "Wiggs' stunts were ludicrous in the extreme. His efforts to get bunts were funnier than the antics of a clown at a circus. He fell down, slipped, threw wild, and finally would up his career by spiking himself in trying to pick up a dumper. That settled Jim. All his speed, curves, and control were useless, for he could not stop his opponents from bunting."[fn]Seattle Daily Times, January 26, 1905.[/fn]
After appearing in just those two games for the Reds, he was released in early May, subject to recall at the end of the season, to the San Francisco Pirates of the Pacific National League. He also played briefly again for Helena, as well as Portland and Salt Lake City in the same league that year. Wiggs started the 1904 season with Salt Lake City, but was later sold to the New Orleans Pelicans in the Southern Association, where he compiled a record of 14 wins and 5 losses. His contract was purchased by Ned Hanlon of the Brooklyn Superbas, and it appeared Wiggs was on his way back to the major leagues.
However, the salary offered by Hanlon was $65 per month, less[fn]Boston Herald, April 4, 1905.[/fn] than he was making in New Orleans, so he refused to report to Brooklyn. In July Wiggs met with Brooklyn owner Charles Ebbets and offered to buy out his contract. Ebbets refused, and was quoted as saying "There is principle involved in this jumping of contracts […] Wiggs will play with Brooklyn, or remain where he is."[fn]Sporting Life, July 8, 1905.[/fn] Essentially blackballed from Organized Baseball, Wiggs then joined Altoona, Pennsylvania, in the outlaw Tri-State League, and later an independent team in Burlington, Vermont, the rest of that summer. Meanwhile Wiggs appealed for reinstatement to the National Commission.
By late August, Ebbets had given up on Wiggs coming to Brooklyn, so he released him to Minneapolis, which then traded him to the Detroit Tigers.[fn]Boston Herald, August 28, 1905.[/fn] He had a rough beginning to his second stint in the majors, allowing eight runs — aided by five walks — in the first inning in a 15-0 loss to Chicago on September 6. He did have several strong outings the rest of September and finished the season with a 3-3 record and a 3.27 ERA in seven games.
In what was a surprising ruling at the time, on September 19, 1905, National Commission president Garry Herrmann reinstated Wiggs. Herrmann's announcement read, in part, "when a player advances from a minor to a major league he is to receive a reasonable increase in salary … In my judgment, the player was forced into his position by the actions of the Brooklyn Club."[fn]Sporting Life, September 30, 1905.[/fn] Herrmann further ordered Brooklyn to pay New Orleans the balance of the money owed for Wiggs. For many years the "Wiggs Case" was cited as a precedent for players in similar circumstances, resulting in increased salaries for major league players.
In February 1906, it was reported Wiggs had been signed by Connie Mack of Philadelphia,[fn]Salt Lake Telegram, February 10, 1906.[/fn] but instead he opened the 1906 season with Detroit. After appearing in four games he was optioned to Toledo of the American Association. In July, Wiggs went missing from his train sleeper while the Mud Hens were en route from Minneapolis to Milwaukee. He had jumped his contract again, was suspended by Organized Baseball a second time, and wound up back with the outlaw Altoona club. He won 15 games with Altoona in 1907 but, despite having few other options, Wiggs held out when he was not satisfied with the 1908 contract offered him by the Mountaineers. The National Commission denied continued appeals for reinstatement, so Wiggs spent the 1908 season with the Logan Squares in the semipro Chicago City League.
In the spring of 1909, Wiggs went looking for another outlaw team and landed on the West Coast with Fresno Raisin Growers of the independent California League. However, even though he was still on baseball's suspended list, he soon joined the Oakland Oaks of the Pacific Coast League. On June 8, Wiggs was on the losing end of what was at the time the longest shutout in professional baseball history. In what was called "the greatest game ever seen west of the Rockies," he and the San Francisco Seals Clarence "Cack" Henley dueled through twenty-three scoreless innings before Wiggs and the Oaks lost 1-0 on an unearned run in the 24th. He had a sub .500 record (19-24) with Oakland but surrendered just 263 hits in 398 innings and compiled a 2.15 ERA. That November, he was finally reinstated by the National Commission and spent the winter on the West Coast pitching for Santa Ana in the California Winter League.
In March 1910, he left the West Coast for the East Coast and signed with Montreal in the Eastern League. He had a record of 8-16 in 35 games with the Royals, but still showed flashes of his earlier dominance, throwing a no-hitter against Rochester on July 6. He returned to Oakland in 1911, but after a slow start was placed on waivers by the Oaks and claimed by the Seattle Giants of the Class B Northwestern League. He won 19 games the rest of the season for the Giants, and combined with the three wins with Oakland, had a record of 22-8 in his final season of professional baseball. His winning percentage was second only to George Engel of Vancouver in the Northwestern League.
Wiggs had begun to develop arm trouble, and thought that pitching in a warmer climate might help. Seattle management tried to arrange a trade to Chattanooga which never materialized. He announced his retirement from baseball in a manner typical of how he conducted his entire career. Seattle still held his rights, so when team owner Dan Dugdale mailed him a contract for 1913 (which naturally Wiggs thought was too low) he wired back with the following message: "Dear Dug: Sorry you wasted stamps."[fn]San Francisco Call, January 20, 1913.[/fn]
Wiggs then went into the insurance business full time although he still pitched for several Bay Area semipro teams on weekends for the next few years. By the time of the 1920 Census Wiggs and his wife had moved to San Francisco, where he was employed as an accountant with a fire insurance company. By 1930, Wiggs held the same position, but he and Cora were now living in San Mateo, California.
After Cora's death in 1936, Wiggs married Lois Virginia Street, a woman from his home town of Xenia, Ohio, who was less than half his age. They had a son, George Elliot, in 1938 (born when Wiggs was 61 years old) and another son, James Alvin Jr., in 1940 (when Wiggs was 63). At the time of the 1940 Census Wiggs was still working in the insurance industry, as a department manager. When he retired he was the national reinsurance manager at the Firemen's Fund Insurance Company in San Francisco.
At some point he and his family moved back to Ohio, and Wiggs died after a brief illness at Greene Memorial Hospital in Xenia on January 20, 1963. He was 86 years old. Wiggs was buried at Woodland Cemetery in Xenia. Survivors include his wife Lois, a daughter, and sons George and James.
Sources
Lee, Bill. The Baseball Necrology: The Post-Baseball Lives and Deaths of More Than 7,600 Major League Players and Others. Jefferson, N.C.: McFarland, 2013, 426.
Seymour, Harold. Baseball: The Golden Age. New York: Oxford University Press. 1971
Ancestry.com
Born
September 1, 1876 at Trondhjem, (Norway)
Died
January 20, 1963 at Xenia, OH (USA)
If you can help us improve this player's biography, contact us.
/sites/default/files/WiggsJimmy_0.jpeg
600
800
admin
/wp-content/uploads/2020/02/sabr_logo.png
admin
2016-05-12 23:25:25
2016-05-12 23:25:25
Jimmy Wiggs