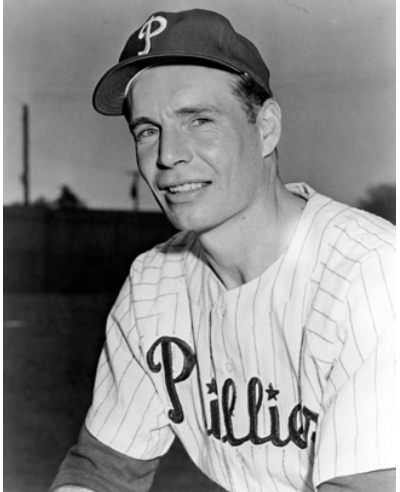 ---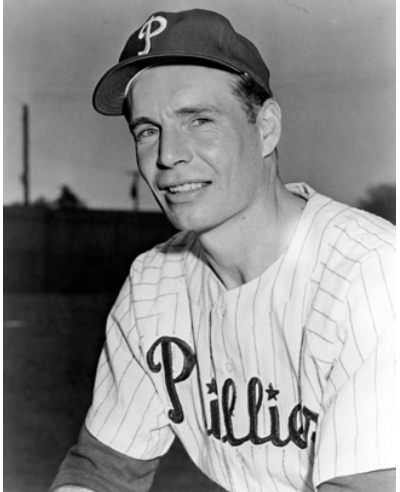 John Samuel "Jocko" Thompson pitched in 41 major-league games between 1948 and 1951. The 6-foot left-handed pitcher spent his entire major-league career with the Philadelphia Phillies. Overall, Thompson played 12 years of professional baseball between 1940 and 1955: four with the Boston Red Sox organization (1940-1941, 1946-1947) and eight with the Phillies organization (1948-1955). He made two appearances for the Whiz Kid Phillies during their 1950 National League pennant run. The left-hander made the vast majority of his big-league appearances (29) during the 1951 season, his final year in the majors, when he served as a starting pitcher and long reliever for the fifth-place Phillies. One might argue that his greatest accomplishments were as a paratrooper during World War II. In fact, the rumor among his fellow Whiz Kids is that Thompson carried around a good deal of shrapnel in his body after the war.1
Thompson was born in Beverly, Massachusetts, on January 17, 1917. His parents, John and Ethel Thompson, were both of English extraction. During his childhood, Thompson's family relocated from Beverly, a resort town on the North Shore of Boston with a long history as a manufacturing center, to Milford, Massachusetts, a town west of Boston known for its granite quarries. From an early age Thompson was known as Jocko, which at the time was a common diminutive for John. He graduated from Milford High School in 1934 and attended Northeastern University in Boston on a baseball scholarship. At Northeastern Thompson earned a career-long reputation as a hard-throwing pitcher on the Huskies' highly successful baseball teams of the late 1930s (1938-1940).2 During Thompson's career at Northeastern, the Huskies went 10-7 (1938), 11-6 (1939), and 10-3 (1940) respectively.3
After his career at Northeastern, Thompson signed as a free agent with the Boston Red Sox in 1940. The Red Sox assigned the left-hander to the Centreville (Maryland) Red Sox of the Class-D Eastern Shore League. Thompson excelled in his inaugural season of professional baseball, earning an 18-5 record with a 1.56 ERA. He also pitched briefly for the Canton (Ohio) Terriers of the Class-C Middle Atlantic League in 1940, posting a 1-1 record with a 3.41 ERA in seven appearances. In 1941 the Red Sox organization assigned the promising young pitcher to the Greensboro (North Carolina) Red Sox of the Class-B Piedmont League in 1941. There under manager Heinie Manush, Thompson posted an 8-13 record with a 3.56 ERA.
Thompson's professional baseball career was interrupted by four years of service (1941-1945) in the US Army during World War II. He volunteered immediately after Congress declared war on Japan and Germany following the Japanese attack on Pearl Harbor in December 1941. In a highly decorated military career, Thompson attained the rank of captain and led a platoon of paratroopers in the 82nd Airborne Division on combat missions in Italy and Holland in 1943 and 1944, including jumps into combat zones on several occasions during the Italian campaign, including the Allied invasions of Sicily (July 1943), Salerno (September 1943), and Anzio (January 1944).4
Thompson, who was promoted to first lieutenant after the Italian campaign, engaged in his greatest combat exploits in 1944 in Western Europe. On September 17 he and his platoon parachuted into Grave, Netherlands, as part of Operation Market Garden, a failed Allied airborne offensive aimed at ending the war by the end of the year. Thompson's unit was among the 40,000 Allied troops parachuted behind enemy lines into the Netherlands and Germany as part of the operation. The paratroopers were assigned the task of seizing the area's major bridges, which would have allowed Allied armored forces to advance quickly. The success of Thompson's platoon was among the few bright spots in the doomed operation. Undermanned and dropped far from their target, Thompson's 16-man platoon attacked German machine-gun positions at a bridge over the Maas River near Grave. His platoon held out against the superior firepower of the German forces until reinforcements arrived, enabling the Allies to seize the bridge.5
Sixty years later, on September 17, 2004, local officials in Grave held a ceremony attended by Thompson's widow and many World War II veterans to rename the bridge in honor of Thompson.6
Soon after Operation Market Garden, Thompson was promoted to captain and became an aide to General James M. Gavin, a position he held from late 1944 through the Allied occupation of Berlin in 1945. Late in 1945, Thompson was discharged from the Army and resumed his professional baseball career the following spring as a 29-year-old.7
Thompson was awarded a number of medals and commendations, including two Purple Hearts (for wounds), a Bronze Star, and a Silver Star.8 His wartime heroics certainly interrupted his baseball career, but his service to his country and to the people of Western Europe left a legacy that lasted long beyond his days as a professional ballplayer.
In 1946 Thompson returned to the Red Sox organization and was assigned to Scranton of the Class-A Eastern League. There he posted a 13-7 record with a 2.60 ERA in 26 appearances, 20 of which were starts. The Red Sox promoted Thompson in 1947 to Toronto of the Triple-A International League, where he struggled to a 6-12 record with a 3.80 ERA. After the season the Philadelphia Phillies signed Thompson and assigned him again to Toronto, which became a Phillies affiliate that year. Despite a 5.09 ERA, Thompson's record improved considerably in 1948 to 12-8 in his second season in Toronto.
In September 1948 the Phillies, struggling through their 16th consecutive season as a second-division club, called up the 31-year-old Thompson for his first stint in the major leagues. Thompson's big-league debut was a gem. He threw a five-hit, complete-game against the Cincinnati Reds on September 21 at Shibe Park, a 6-1 victory that earned the Phillies a split in the doubleheader. A week later at the Polo Grounds, the Giants knocked Thompson around for three runs in four innings of work in a no-decision start that the Phillies ended up winning 6-3. In his two 1948 major-league appearances, Thompson had a 1-0 record with a 2.77 ERA.
Stan Baumgartner, who covered the Phillies for the Philadelphia Inquirer and The Sporting News, predicted that Thompson, who showed improved control during spring training, would serve most of the 1949 season as a reliever for the Phillies.9 Instead, the 32-year-old left-hander bounced up and down between Philadelphia and Toronto. He excelled in the International League, winning 14 games against 5 losses with a 2.73 ERA. In the majors, he struggled in a pair of early-season starts against the Boston Braves, posting a 0-1 record with an ERA of 6.55. Thompson made several more appearances for the Phillies in the spring and summer of 1949, alternating between solid performances and outings in which he was roughed up by opposing batters. In eight major-league appearances in 1949, Thompson posted a 1-3 record with an ERA of 6.89. The one bright spot came on September 19 in a start against the first-place St. Louis Cardinals. (They ended up losing the pennant to the Dodgers by one game.) Thompson pitched a complete-game 4-3 victory at St. Louis's Sportsman's Park, surrendering just three hits while striking out six. Baumgartner wrote that the victory over the Cardinals "earned [Thompson] another trip to spring training" in 1950.10
After a mediocre exhibition season, Thompson spent virtually all of the 1950 Whiz Kids season in Toronto. He regressed in his fourth International League season, posting a 10-14 record with a 4.57 ERA. Thompson appeared in two games in relief for the Phillies, one in May and one in late September, posting a 0.00 ERA over four innings and not figuring in a decision. His late September call-up by the National League champion Phillies followed pitcher Curt Simmons' own call-up to active duty, which caused him to miss the 1950 World Series and the entire 1951 season. Simmons, 21, had a breakout 17-win season for the Whiz Kids. Thompson, the most experienced southpaw in the Phillies' minor-league system, replaced the left-handed Simmons on the Phillies' World Series roster, but did not appear in the four-game Series, which was won by the New York Yankees.11
Simmons' absence from the Phillies for the entire 1951 season opened up a roster spot for Thompson. His pitching proved erratic. During the first half of the season, he worked primarily as a starter before moving mostly to the bullpen in the latter half of the season. For the season, Thompson posted a 4-8 record with a 3.85 ERA in 119⅓ innings of work spread over 29 appearances, 14 of which were starts. The highlights came in a pair of shutout victories over the Cincinnati Reds in July and August.12
Thompson's erratic 1951 season did not earn him a permanent spot on the Phillies' pitching staff. The return of Curt Simmons to Philadelphia's roster in 1952 led to Thompson's return to Triple-A. He spent the 1952 season in Baltimore, the new home of the Phillies' International League team. He struggled with arm problems throughout the season and compiled a 10-14 record with a 2.49 ERA.13 After the season he pitched briefly for Almendares and later the Havana Reds of the Cuban Winter League.14 Thompson rebounded in 1953, posting a 10-4 record with a 3.80 ERA for Baltimore and earning consideration for International League MVP.15 After his comeback season, the Chicago White Sox purchased Thompson's contract and gave him a tryout in spring training. Thompson failed to make the White Sox roster and was sold to the unaffiliated Richmond Virginians of the International League.16 He spent his final two seasons in Organized Baseball with Richmond, compiling a combined 14-30 record with an ERA over 5.00 both seasons.
In 41 major-league appearances, Thompson won 6 games and lost 11 with a 4.24 ERA and 81 strikeouts in 167⅔ innings. At bat the left-handed hitter was 6-for-53 (.113) with 3 RBIs. As a minor-league pitcher, Thompson won 119 games and lost 113 in 11 seasons with a 3.60 ERA.
After leaving baseball, Thompson worked in the wholesale grocery business and then as a sales manager in the bookbinding industry. He resided in the Boston area for many years before moving to Montgomery County, Maryland, near Washington, D.C.17 At the time of his death, he resided in Rockville, Maryland. Thompson died at the age of 68 on February 3, 1988, in Olney, Maryland. He was buried in Gate of Heaven Cemetery in Silver Spring, Maryland.
This biography appears in "The Whiz Kids Take the Pennant: The 1950 Philadelphia Phillies" (SABR, 2018), edited by C. Paul Rogers III and Bill Nowlin.
Notes
1 Robin Roberts and C. Paul Rogers III, The Whiz Kids and the 1950 Pennant (Philadelphia: Temple University Press, 1995), 200.
2 Stan Baumgartner, "Phillies New Wrinkle for Trinkle — Turning Ex-Reliever into Starter," The Sporting News, April 20, 1949, 24.
3 "Northeastern University Baseball: All-Time Records," GoNU.com. Accessed on November 12, 2014: gonu.com/sports/2010/3/25/BB_0325104127.aspx?id=379.
4 "Jocko Fourth 82nd Airborne Vet to Pitch in Major Leagues," The Sporting News, May 9, 1951, 19.
5 "Baseball Hero: John "Jocko" Thompson," Baseball in Wartime Newsletter.
6 Ibid.
7 "Jocko Fourth 82nd Airborne Vet to Pitch in Major Leagues."
8 Robin Roberts and C. Paul Rogers III, 68.
9 Stan Baumgartner, "Phillies New Wrinkle for Trinkle — Turning Ex-Reliever into Starter."
10 Stan Baumgartner, "Phillies' Climb to Bring Rise in Contract Headaches, Too," The Sporting News, September 28, 1949, 11.
11 "Hopp, Thompson, Mayo Made Eligible for Series," The Sporting News, October 11, 1950, 10.
12 Stan Baumgartner, "Who'll Replace Curt? Phillies' Big Puzzler," The Sporting News, January 10, 1951, 12; "Bad News for Backstops — Richie's Running Again," The Sporting News, March 28, 1951, 6; "Sawyer Jolts Complacent Phils," The Sporting News, April 11, 1951, 11; "Left or Right — Reds Out of Step on Both," The Sporting News, September 5, 1951, 10.
13 "International League," The Sporting News, August 27, 1952, 24.
14 Pedro Galliana, "Pascual of Havana Hurls One Hitter," The Sporting News, December 3, 1952, 34; "Klein and Rand Go on Homer Sprees for Havana Reds," The Sporting News, January 7, 1953, 23.
15 "International League Scribes Cut Down List for Loop's 2 MVP Awards," The Sporting News, September 9, 1953, 27; "Playing Data on Draftees," The Sporting News, December 9, 1953, 13.
16 "Deals of the Week: Major-Minor," The Sporting News, April 21, 1954, 32.
17 Roberts and Rogers, The Whiz Kids and the 1950 Pennant, 357; Oscar Ruhl, "It's Work All Winter for Modern Ball Players," The Sporting News, December 26, 1951, 6; Allen Lewis, "35,621 See Whiz Kids Flit Again 'Cross Memory's Page," The Sporting News, June 22, 1963, 13.
Born
January 17, 1917 at Beverly, MA (USA)
Died
February 3, 1988 at Olney, MD (USA)
If you can help us improve this player's biography, contact us.
https://sabr.org/sites/default/files/ThompsonJocko.png
600
800
admin
/wp-content/uploads/2020/02/sabr_logo.png
admin
2012-01-04 20:41:57
2012-01-04 20:41:57
Jocko Thompson