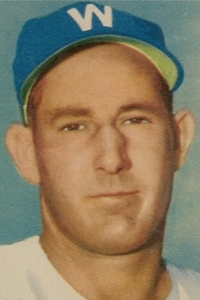 ---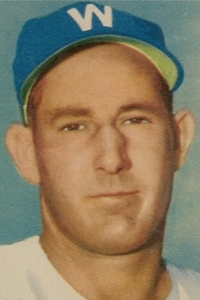 Pitcher Joe Haynes fell in love with the boss' daughter at the Washington Senators' spring training camp in 1938. This didn't, however, prevent him from being traded two years later to the Chicago White Sox, where he spent eight very productive years. He returned to the Senators in the latter part of his career, until he retired in 1952. His connection with the family did ensure that his playing days were followed by a career in the front office, which ended with his sudden death in 1967 after the team had moved to Minnesota.
Joseph Walton "Joe" Haynes was born on September 21, 1917, in Lincolnton, Georgia. His parents were Thomas Clarence and Lou Mae Walton Haynes. His father was a farmer, and the family was large. Joe, one of eight children, had three older brothers, three older sisters, and one younger sister. By 1930, when Joe was twelve years old, the family had settled in Columbia, South Carolina, where his father was working as a guard at the South Carolina Penitentiary. His father was to die in Columbia only a few years later, in 1935.
A right-hander, he got his start in American Legion Junior Baseball. In 1935 and 1936 he played for Appleton, Laurens, and Anderson Mills in the South Carolina textile leagues. He was scouted by former Philadelphia Athletics shortstop Chick Galloway, and was signed by the Washington Senators in 1937. Among the things that sold the Senators on Haynes was his ability to mix a curveball with his fastball. The 19-year-old started the 1937 season with the Chattanooga Lookouts of the Southern Association, was hit hard in three brief pitching appearances, and was sent down to the Jacksonville Tars of the Class B South Atlantic League, where he had a record of 11-11 and a 3.43 ERA. He was with the Senators in spring training in 1938, then was sent down to the Charlotte Hornets in the Class B Piedmont League, where he won 18 and lost 9, and had a 3.23 ERA. In the post-season playoff, Haynes pitched a no-hit, no-run game against the Portsmouth Cubs. [1]
That time at spring training in 1938 was not totally wasted, however. It was there that he met Thelma Griffith, the niece of Senators owner Clark Griffith. Thelma was the daughter of James Robertson and his wife Jane, whose sister Addie was Clark Griffith's wife. When her father died, she and her brother, Calvin, went to live with Clark and Addie in Washington. Although they were never formally adopted, they were raised as the Griffith's children. Thelma was working as Clark's personal secretary when she met Joe. Thelma liked to remember that when she signed Joe up, she put the notation "very good looking" next to his name. They were married in 1941, a year after Haynes was traded to the White Sox. Even though Clark Griffith had a rule against family members marrying ball players, Thelma managed to marry Joe and stay with the organization, and her sister, Mildred Robertson, married Joe Cronin, who played for both the Senators and the Red Sox.
Haynes made his major league debut with the Senators on April 24, 1939, pitching in relief against the Boston Red Sox. He was hit hard, giving up five hits and two runs in 2 2/3 innings, but wound up as the winning pitcher in the Senators' 10-9, ten-inning victory.[2] After more relief work, he made his first start on May 11 against Detroit. He pitched a complete-game seven-hitter and won, 4-2. Inserted into the Senators' pitching rotation, the rookie won 8 games, lost 12 and had a high 5.36 earned-run average. One of his victories was a two-hit shutout of the St. Louis Browns on September 16. He was also regarded as one of the league's better hitting pitchers. Late in the season Haynes was stricken by ailing tonsils and spent time in a hospital.
Haynes made only seven starts in 1940 and had a 3-6 record with a 6.54 ERA. He had an excellent curveball but the Senators wanted him to improve his fastball, and he hurt his arm trying. On January 4, 1941, Haynes's future father-in-law, Senators owner Clark Griffith, sold him to the Chicago White Sox. The deal was conditional on the successful rehabilitation of Haynes's pitching arm.
Despite his arm troubles, the White Sox had high hopes for Haynes, probably attracted by his above-average curve. Chicago Tribune sportswriter Irving Vaughan wrote that the Senators "literally gave him away" to the White Sox. Washington "didn't consider the curve of much value. Speed was the thing and Haynes, under orders, tried to develop it. The speed wasn't there, but the young man kept on, and what happened? His arm went bad under the strain, finally giving in completely in June of 1940."[3] As a result, in his first year with the White Sox, Haynes didn't play much in 1941 because Chicago's trainer wanted to work on the neuritis-like pains he was experiencing in his pitching elbow.
Haynes's arm improved and he wound up playing for the White Sox until 1948, both as a starter and a reliever. This was the most productive part of his career; his earned-run averages improved. In 1942 he was first in the American League in fielding percentage, first in games finished (35), first in games pitched (40), and second in saves (6). In 1943, when he was used as both a starter and a reliever, he was 7-2, and in 1944 he was 5-6. On May 1, 1945, Haynes shut out the Detroit Tigers on one hit, facing only 28 batters in the 5-0 victory. After a 7-9 season in 1946, Haynes won 14 and lost 6 in 1947, with a league-best 2.42 ERA. In May of 1947, Joe and Thelma welcomed a son, Bruce Griffith Haynes, who was to be their only child. In 1948 Haynes was named to the American League All-Star team, but his record fell to 9-10.
Haynes began to have arm troubles again, and in November 1948 the White Sox traded him to the Cleveland Indians for outfielder Joe Tipton. His "throwing arm has bothered him considerably, but he thinks he can get it into shape by spring-training time," the New York Times wrote.[4] If so, it wouldn't be with Cleveland; less than a month later, the Indians traded him to the Senators, in a deal that sent Mickey Vernon and Early Wynn to Cleveland. It is rumored that Clark Griffith sent Calvin Griffith to negotiate the trade with the Indians so Joe wouldn't have to play for Indians owner Bill Veeck, of whom Griffith disapproved. Plus, Veeck wanted Wynn and Vernon from Washington, and acquiring Haynes was the only way he was going to get Griffith to deal with him.[5] Haynes continued to have trouble with his pitching arm, and before the 1949 season began he had surgery for bursitis in his shoulder.
Haynes stayed with the Senators for four years. He pitched in 37 games in 1949, but in only 27, 26, and 22 in the next three seasons. He was released on August 30, 1952. During his last four years with the Senators, he had won only 10 games and lost 21. Haynes stayed with the team as pitching coach under manager Chuck Dressen, who called him one of the best pitching coaches he had ever seen. According to the Washington Post, the players liked Haynes, even though he was married to the boss's daughter, because he acted like just one of the boys.
Over a 14-year career in the majors, Haynes compiled a 76-82 record and an ERA of 4.01. He pitched 1,581 innings, appearing in 379 games, 147 of which he started. He pitched 53 complete games, finished 159 games, and struck out 475 batters. His career batting average was .213.
In 1955 Haynes became the Senators' minor-league pitching instructor. His father-in-law, Clark Griffith, died in October 1955, and by 1956, when other cities were beginning to bid for the team, he was in the front office as executive vice president, and kept the post when the team was moved to Mineapolis-St. Paul in 1961 as the Minnesota Twins. He was still with the Twins when he died shoveling snow at his Hopkins, Minnesota, home on January 6, 1967. He was survived by his wife and their teenage son, Bruce. He was buried in Fort Lincoln Cemetery in Brentwood, Maryland. His widow, Thelma Griffith Haynes, continued to serve as an executive vice president, assistant treasurer, and part owner of the Twins until they were sold to Carl Pohlad in 1985. Her brothers, Sherry, Jimmy, and Billy, were also part of the organization. Thelma died in Orlando, Florida, in October of 1995 at the age of 82.
March 11, 2011
Sources
"Joe Haynes." Baseball-Reference.com
"Joe Haynes Dies after Shoveling Snow." Washington Post and Times Herald, January 8, 1967, p. C2.
"New Nats, No. 7: Joe Haynes." Washington Post, March 20, 1938, p. X3.
Washington Post, September 11, 1938, May 12, 1939, September 17, 1939.
Perry, Thomas K. Textile League Baseball: South Carolina's Mill Teams, 1880-1955. Jefferson, North Carolina: McFarland and Company, 1993.
---
Born
September 21, 1917 at Lincolnton, GA (USA)
Died
January 6, 1967 at Hopkins, MN (USA)
If you can help us improve this player's biography, contact us.
http://bioproj.sabr.org/bp_ftp/images5/HaynesJoe.jpg
600
800
admin
/wp-content/uploads/2020/02/sabr_logo.png
admin
2012-01-04 20:00:15
2012-01-04 20:00:15
Joe Haynes