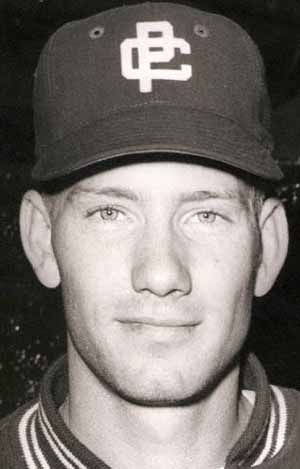 ---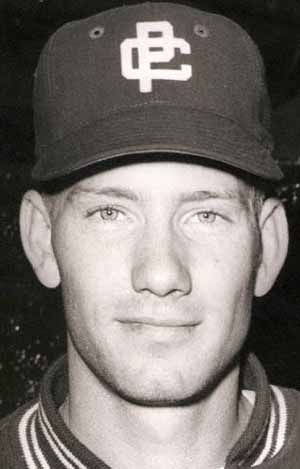 Purchased by the Chicago White Sox from the Pacific Coast League near Labor Day of 1959, Joe Stanka was a 28-year-old journeyman in his 10th minor-league campaign. He appeared in just two games for the Go Go Sox, winning one, losing none, and compiling a 3.78 earned run average in 5⅓ innings of pitching. He was not eligible for the World Series and, just like that, his major-league career was over. But that brief fling with the '59 White Sox is only a small part of the Joe Stanka story. The following year, 1960, found Stanka well on his way to becoming the first American pitcher to become a star in Japan as he won 17 games for the Nankai Hawks. He went on to pitch for seven seasons in Japan, win 100 games, and become one of the most popular and recognizable people in that country. His career peaked in 1964 as he put together a 26-7 won-loss record to lead his Hawks to Japan's Pacific League pennant.1
That Stanka became a professional baseball player at all, much less an exceptional one, was more accident than design. He was born in Hammon, in western Oklahoma, on July 23, 1931, the youngest of four children of Bill and Tress Stanka. Bill worked for the Santa Fe Railroad as a repairman and moved the family to nearby Carter before Joe's ninth-grade year. Even though he had no baseball experience, Joe joined the high-school baseball team because he was bored and the team needed someone tall to play first base. The small high school had trouble getting nine guys to show up for the games and so Joe played wherever he was needed, mostly first base or the outfield. He also did a little pitching.2
By the time Joe was 15 years old he was 6 feet 5 inches tall. His favorite sport was basketball, and he dominated the competition. Baseball was mostly an afterthought and something to do after the basketball season was over.
The family moved to Waynoka, about 60 miles to the north, before Stanka's senior year. Joe, however, spent the summer far from home, in Boston, staying with his older brother Oral, who was a Navy recruiting officer stationed in the area. It was the summer of 1947 and Joe spent his time attending Red Sox and Braves games almost every day. Among others, he watched three Braves players with whom he crossed paths in his own baseball career: utility infielder Sibbi Sisti, who managed Joe at Sacramento in 1958; third sacker Bob Elliot, Joe's manager with Sacramento in 1959 before his call-up to the White Sox; and first baseman Earl Torgeson, a teammate with the White Sox.3
Stanka returned to Waynoka for his senior year and went out for the football team, even though he had never played the game. He played in the second game of the season, only the second football game he had ever witnessed, although he did not know the plays. The highlight of the season came when he met Lida Jean McDaniel, the homecoming queen. He was immediately smitten.4
Joe made the most of his senior year in basketball as his team ran off 18 straight wins to start the season. They lost two before winning another 10 in a row to propel themselves into the state tournament. They were upset in the first round, but 16-year-old Stanka was the top scorer in Oklahoma and was named to the All-State team.
Stanka's basketball prowess earned him a scholarship to powerful Oklahoma A&M to play for the legendary Hank Iba. The summer before he enrolled, Stanka played baseball for the Waynoka town team on Sundays. A player named Norm Parsons did most of the pitching until he signed for $300 with a Dodgers farm club. From then on Stanka did the pitching. At a state semipro tournament in Enid, a bird-dog scout saw Joe pitch and offered to sign him with the Dodgers' organization. Stanka declined, however, because he was all set to go to college and play basketball, his first love. If you ever change your mind, the scout told him, give me a call.
Joe's stay at Oklahoma A&M was neither a long or happy one. He wasn't particularly fond of his freshman coach, wasn't keen on going to class, and missed his sweetheart Jean, who was still in high school. When Stanka told Coach Iba that he was going home, the venerable coach told him that he would have a four-year scholarship waiting for him if he ever decided to come back to Stillwater.5
Back in Waynoka, Joe hooked on with the Santa Fe Railroad, married Jean, and planned to raise a family and work for the railroad, just as his father had done. He was still just 17 years old. Joe's initial foray into professional baseball occurred because the arrival of their first child, Joey, coincided with a railroad strike. The Stankas owed $300, which they did not have, to the hospital and the obstetrician. Joe remembered that his town team teammate Norm Parsons had gotten a $300 bonus for signing with the Dodgers and thought he might give baseball a try, since he was out of work anyway.6
Stanka contacted Bert Wells, the Dodgers' area scout, and was invited to try out with the 1950 Ponca City Dodgers of the Class-D KOM (Kansas, Oklahoma, Missouri) League. After a few days, the 18-year-old Stanka signed for a $750 bonus, $650 of which was contingent upon his staying with the club for at least 30 days. He made his professional debut about a week after signing and did not fare well, balking home a run and exhibiting a lack of command. Joe also managed to anger his manager, Boyd Bartley, by missing the team photo shoot.7 So after about a month with Ponca City, during which he compiled a 1-3 won-loss record, he was optioned to the Duncan, Oklahoma, Utts of the even lower Class-D Sooner State League. The Duncan franchise soon folded and was transferred to Shawnee.
To say that Joe was raw is an understatement. He finished with a 1-8 record and an eye-popping 8.72 earned run average with Shawnee. He threw 10 wild pitches, walked 69, and was torched for 11 home runs.8 After that inauspicious beginning, Stanka was ready to walk away from baseball again, especially when he was able to get a job on the railroad as a switchman, a significant upgrade from his earlier track repair position. However, a conversation with the yardmaster made him realize that the ceiling was not very high for a railroad workman. Still only 18, Joe was not ready to settle for that and decided to give baseball another try.
As a result, he reported to the Dodgers' minor-league spring training in Vero Beach, Florida, and was again assigned to Ponca City. There he experienced a complete turnaround, winning 16 games, losing only 5, and compiling a 2.53 earned run average while leading Ponca City (85-39) to the pennant. That record earned Stanka a promotion for 1952 to the Pueblo Dodgers in the Class-A Western League. There he struggled to a 7-11 record. Joe was still just getting by with his fastball and asked his manager, Bill McCahan, who had pitched a no-hitter for the Philadelphia Athletics in the late '40s, to help him develop a curve. McCahan said, "Joe, I've never thrown a curveball in my life. I don't know how to help you."9
Stanka had pitched well against the Des Moines Bruins, a Chicago Cubs farm club, and caught the attention of Wid Matthews, the Cubs' director of player personnel. After the season the Cubs drafted Joe from the Dodgers organization for the Los Angeles Angels, the Cubs' top affiliate in the Pacific Coast League. Joe was not ready for the Angels and spent the bulk of the season with the Cedar Rapids Indians in the Class-B Three I League. He again showed real promise, going 12-8 with 155 strikeouts in 180 innings and a league-leading 2.35 earned run average for a fifth-place club. In 1954, Stanka was back in Class A with the Macon Peaches of the South Atlantic League and showed still more progress, winning 16 and losing just 5 with an ERA of 2.99. Stanka was now considered a bona fide prospect and was invited to pitch winter ball in Puerto Rico for the first time.
His stay with the Mayaguez team in Puerto Rico, where his teammates included Tommy Lasorda and Don Zimmer, was brief. He was rusty when the winter season began and had the misfortune of pitching his first two games against the powerful Santurce Crabs featuring reigning National League MVP Willie Mays. As a result, he had a rough start. Winter league clubs, faced with a short season, did not exercise patience with slow-starting pitchers and Joe was released after a couple of weeks.
In 1955, Joe reported to the Cubs' spring training camp in Mesa, Arizona and pitched well, earning another shot with the Los Angeles Angels. Joe thought he had nailed down the fifth starter's spot but then read in the paper that manager Bill Sweeney was going to start Bob Thorpe, up from Class C the year before, in that position. Thorpe was to start on the first Sunday in the season and Stanka was bent out of shape when he arrived at the ballpark for the Saturday game. Sweeney thereupon told Joe he was starting that day's game since the fourth starter was ill, further making Stanka feel like a spare part.
The start did not go well and Sweeney came out to remove Joe from the game in the fourth inning after four earned runs and numerous walks. Sweeney asked for the ball, as is customary, and Stanka refused to put it in his outstretched arm. After some sharp words, Joe threw the ball down behind the mound, refused to pick it up, and finally stalked off the field. The next day Stanka was headed back to Des Moines, where he spent the 1955 season.10
Still just 24, Stanka found himself in Class A for a third time, this time battling a sore elbow. An orthopedist in Des Moines recommended massage treatments coupled with squeezing a rubber ball, rather than surgery. Joe also had an understanding manager with the Bruins, Pepper Martin of Gashouse Gang fame. Pepper helped baby Stanka through the season, often starting him on the first and last day of homestands, thereby allowing Joe to skip road trips and get his massage treatments. His teammates referred to him as Pepper's Pet but Martin's handling of Joe paid dividends as he won 17 games against 9 losses, leading the league in victories.11
During the offseason, the Cubs traded Stanka to the Sacramento Solons of the Pacific Coast League for another pitcher, Johnny Briggs. Still a notoriously slow starter, Stanka struggled to a 5-14 record for the lowly Solons (often called the Sad Sacs) in 1956, but at least he wasn't sent down to a lower classification. He finished 10-14 for Sacramento in both 1957 and 1958 before improving to12-12 in 1959.
The Solons were in the business of selling their players to major-league teams for cash, and during his time in Sacramento, Stanka came close to being purchased by the Kansas City Athletics and the Cleveland Indians. Finally, with a month to go in the 1959 season, the Chicago White Sox, in a pennant race with the Cleveland Indians, purchased Stanka for a reported $30,000. Joe reported to the White Sox immediately, a 28-year-old rookie in his 10th year of professional baseball.
When Stanka arrived in Chicago, he found a note from White Sox general manager Hank Greenberg telling him to report to Comiskey Park as soon as possible because he was the starting pitcher that night. Joe was dead tired and very nervous because he had never been in a big-league ballpark before. Manager Al Lopez had other ideas about starting Joe, and Billy Pierce took the mound instead. When Pierce got into trouble, Stanka was told to warm up and in doing so strained his groin. As Stanka tells it, he didn't even know what a groin was before the injury. In any event, Pierce got out of trouble and Stanka was not called into the game that night.
Two days later, Joe made his major-league debut and it was a most successful one. He was called into the game in the fifth inning of a game against the Detroit Tigers and gave up only one hit in 3⅓ scoreless innings. He also slapped a base hit and scored a run as the White Sox rallied to win, making Joe the winning pitcher. His next appearance, a few days later, did not go so well. Woody Held of the Cleveland Indians greeted him with a 450-foot home run into the center-field bleachers. Joe's groin pull was bothering him and he ended up walking four batters in a two-inning stint.
Afterward, Stanka went to the White Sox trainer, who told Joe he needed complete rest for at least a week to let his groin heal. Somehow Al Lopez was not informed about the injury and he and Greenberg came to believe that Stanka was a malingerer. Stanka never appeared in another game for the Sox.
Stanka, who had been added to the Sox roster too late to be eligible for the World Series, was not allocated any Series tickets. He visited Hank Greenberg in his office and was told that it was just an oversight that would be taken care of. Stanka also mentioned that he hoped for more money next year since he had actually taken a cut from his Sacramento salary (where he had an unauthorized expense account). Greenberg was taken aback and said, "You've got a lot of gall, asking for more money when you refused to pitch."
Joe said, "What do you mean I refused to pitch?" Greenberg related that Lopez had called the bullpen to tell Stanka to warm up and the bullpen coach had said, "He doesn't want to pitch." Stanka explained about his injury and his understanding that the trainer had told Lopez about it. He also told Greenberg that he had never said anything to the pitching coach and would have pitched any time he was asked. Greenberg promised that he would straighten everything out with Lopez but Stanka still felt very uneasy about his future with the White Sox.12
During the World Series against the Los Angeles Dodgers, Stanka pitched batting practice and then showered and watched the games in street clothes from the nosebleed seats, where he was one of 90,000 people attending the games in the Los Angeles Coliseum. After the Series, Stanka was pleasantly surprised when his White Sox teammates voted him a $1,000 share from the Series.
Stanka played winter ball in Caracas, Venezuela, for the third time after the 1959 season. While there he read in The Sporting News about all the pitchers the White Sox were bringing to spring training, cementing his belief that he would not really get a fair shot at making the team. After 10 years, he had not been able to stick in the majors and his prospects for doing so with the White Sox did not look very good. Further, he had learned that major-league salaries for marginal players were lower than those in the Pacific Coast League. As a result, Stanka decided to seriously consider his options.
In the spring of 1959, Gary Blaylock of the St. Louis Cardinals had told Joe that the Japanese clubs were looking for American players. Blaylock had given Joe the name of Cappy Harada, a Nisei (an American-born Japanese), who was a talent scout for Americans interested in playing in Japan. Stanka's move up to the White Sox had put thoughts of playing in Japan on the back burner, but after his unpleasant experience in 1959 and his doubts about making the White Sox in 1960, Stanka contacted Harada from Venezuela. Harada quickly obtained an offer of a good salary and bonus from the Nankai Hawks, who were looking for a starting pitcher capable of winning 15 games a year.13
Thus, after going on the voluntary retired list with the White Sox, Joe moved his wife and two children to Kobe, Japan, very near Osaka, home of the Hawks. His first start was against the Toei Flyers in Tokyo and, if nothing else, revealed some cultural differences. Early in the game the Hawks' left fielder let a base hit go through his legs with runners on base and then turned and jogged after the ball as the runners circled the bases. Joe blew a gasket on the mound. His manager, Kazuto Tsuruoka, did not understand why he was upset.14 Joe continued to get hit hard and shortly the manager stepped in front of the dugout, waved in a relief pitcher, and gestured Joe to the dugout. Stanka had seen enough Japanese baseball to know that this was the custom, but he still refused to leave the mound. Only when Tsuruoka strode to the mound did Joe relinquish the baseball and leave the field.15
After a rough start, Stanka won 17 games while losing 12 and posting a 2.48 era, sixth best in the Pacific League. His Hawks finished in second place in the six-team league, four games behind the pennant winners, the Daimai Orions. Still, some fans were disappointed because they had assumed that a 6-foot-5 American would be invincible and would cement the pennant. Stanka's periodic bouts of wildness led some of the press to call him the Beanball Yank.16 The Hawks' ace pitcher, Tadashi Sugiura, had compiled an incredible 38-4 record in 1959 and finished at 31-11 in 1960, so Joe's numbers paled by comparison.17
At the time, no working agreement existed between Japanese baseball and the major leagues and the White Sox, no doubt influenced by Stanka's 17 wins, claimed he was still their property. U.S. baseball commissioner Ford Frick agreed but the Stankas had just had a baby daughter and buoyed by their fine treatment and good salary, wanted to stay in Japan. The U.S. State Department even became involved, urging a settlement of the dispute before it ripened into an international incident. Joe eventually agreed to buy his own contract back from the White Sox for $30,000, the amount the Sox claimed to have invested in him.
Joe again started slowly in 1961 and was inconsistent during the first half of the season. Manager Tsuruoka lost confidence in him and Stanka did not pitch much from early July into September. Nonetheless, the Hawks were rolling along with a 10-game lead over the Toei Flyers when they lost their ace Sugiura to a sore arm. They soon hit a losing streak while the Flyers got hot and won nearly every game. With five games left in the season, the two clubs were not only deadlocked but were to finish the season against each other.
Stanka arrived at the ballpark before the first game of the series and learned that he was starting. He initially refused to pitch. His contract provided for a bonus if he won 15 games and Joe was unhappy that he had not been allowed to pitch for several weeks and would have little chance to earn the bonus. He finally relented after manager Tsuruoka agreed to put in a good word for him with management. It was a good thing Joe gave in; all he did was pitch a one-hit shutout against the Flyers' 30-game winner Masayuki Dobashi to win 1-0. Stanka faced only 27 men and allowed only a scratch hit by Dobashi. Now, instead of the Beanball Yank, the Japanese press was referring to Stanka as "Big Thunder."18
Joe followed that performance with a win in Tokyo two games later to clinch the pennant and secure his bonus. He then pitched the opening game of the Japan Series against the Central League champion Yomiuri Giants, throwing another shutout to win 6-0. The Giants won the second game, 6-4, and Stanka started Game Three in Tokyo. He led 4-3 heading into the bottom of the ninth. With two outs and a runner on base, the batter hit a simple popup to the first baseman, Terada. As he reached to catch the ball, he began to extend his right hand to Joe to congratulate him on the victory and, in doing so, took his eye off the ball and dropped it. It was one of the biggest gaffes in Japanese baseball history.
The next batter was the legendary Shigeo Nagashima, one of the two most popular players in Japan (along with home run king Sadaharu Oh). Nagashima topped an easy groundball to third but the third baseman booted it to load the bases. Stanka then got two strikes on the next batter, Andy Miyamoto,19 and then threw what some have said is the most famous pitch in Japanese baseball history. Stanka threw a forkball that split the heart of the plate; but umpire Enjyoji called it a ball. Stanka stormed to the plate and, with his hands behind him, bumped the umpire with his chest as he railed at him for the horrendous call.
When play resumed, Miyamoto slammed the next pitch into right field for a single, driving in the tying and winning runs in what the Japanese call a sayonara (game-winning or walk-off) hit. Stanka, joined by his Hawks teammates, again charged umpire Enjyoji and bowled him over. The police finally had to break up the riot of Hawks, fans, and umpires at home plate. Stanka later learned that Enjyoji so favored the Giants that he was known throughout the Central League as "the Giants' 10th man."20
Stanka was suddenly the ace of the Hawks' staff and won the fifth game of the series, 6-3, before losing the sixth and last game in relief in 10 innings, 3-2. The Hawks lost the series, four games to two. Afterward, Manager Tsuruoka had to appear before the Japanese baseball commissioner and apologize for his team's accosting of Enjyoji.
After the season, Joe and his family, which now included three children, returned to his hometown of Waynoka for the winter. He appeared on the television show To Tell the Truth in New York City and won $1,000 when none of the panel guessed the real Joe Stanka. The family returned to Kobe for the 1962 Japanese baseball season but Joe was plagued by a sore arm and won 8 games while losing 10 as the Hawks finished second to the Flyers.
In 1963, Stanka's fourth year in Japan, he improved to 14-7 with a sharp 2.66 ERA in 186 innings. The Hawks lost a tight pennant race, finishing only a scant game behind the Nishitetsu Lions. That set the stage for 1964, when Stanka, now armed with a sinking off-speed forkball to complement his fastball, became the dominant pitcher the Japanese had long expected. He finished the season with 26 wins against 7 defeats in 278 innings as the Hawks swept to the Pacific League pennant by 3½ games over the Hankyu Braves. Stanka was particularly tough during the last month of the season when his team was slumping and trying to hang on to its lead. The Hawks won only five of their final 14 games, and Joe won all five.
Not surprisingly perhaps, Stanka was in the middle of a couple of melees in 1964. What was surprising was that one involved another American, Chuck Essegian of the Kintetsu Buffaloes, also based in Osaka. (Oddly enough, Essegian had starred for the Dodgers, hitting two pinch-hit home runs against Stanka's club, the White Sox, in the 1959 World Series.) Stanka thought the umpire was squeezing him, refusing to give him any calls on the corners, and began shouting at the arbiter with Essegian at bat. Essegian thought that Joe was yelling at him and the two eventually tangled in the middle of the infield before teammates pulled them apart.
Stanka's other fracas was also against the Buffaloes and involved an inside pitch to Akitoshi Kodama that went past the catcher for a wild pitch. Kodama had arched his body to avoid the pitch but he and the entire Kintetsu bench claimed that the ball had nicked him. The umpire ruled otherwise and when Joe finally started into his windup the Buffaloes' manager, Kaoru Betto, again called for time and walked from the dugout to continue his protest. Stanka rushed from the mound, grabbed Betto, and gave him a healthy shove, precipitating the first player free-for-all in the 30-year history of Japanese professional baseball.21 It took the police 26 minutes to restore order and the game continued without Stanka, who was ejected.22
The Hawks faced the Central League champion Hanshin Tigers in the 1964 Japan Series. Both teams were based in Osaka and both had been propelled to their pennants by a star "gaijin" (foreign) pitcher. Gene Bacque, from Lafayette, Louisiana, had won a remarkable 29 games for Hanshin. He had pitched an astounding 353 innings (in a 130-game season) and finished with a sparkling 1.89 era.23 The Tigers, however, started 22-game winner Minoru Murayama in the first game, avoiding a pitching match-up of American stars. Stanka pitched brilliantly, shutting out Hanshin, 2-0.
Bacque won Game Two for Hanshin, 5-2. Stanka was asked to start Game Three on only two days' rest. He lost, 5-4, although he was aided by home runs by his two gaijin teammates, Kent Hadley and Johnny Logan. The Hawks won Game Four, 4-3, to even the Series, but the Tigers prevailed in Game Five, 6-3, behind another American, Pete Burnside, to take the Series lead, three games to two.24
Stanka finally faced fellow American Bacque in Game Six as the Tigers attempted to win their first Japan Series title. But Stanka had his full four days' rest and continued his exceptional pitching, defeating the Tigers, 4-0, for his second shutout of the Series.
The climactic Game Seven was scheduled for the next day, and the unthinkable happened. Manager Tsuruoka asked Joe to start, apparently prompted by Stanka's teammates and coaches, who thought the Hawks' best chance for victory rested with him. There was some logic behind the request since of the last 30 games, including six in the Japan Series, the Hawks had only 13 wins and nine were by Stanka. In their last 15 games, Joe had rung up seven of the Hawks' eight wins.
Incredibly Stanka pitched another complete-game shutout to win 3-0 and clinch the Japan Series for the Hawks. The two shutouts on back-to-back days with his team facing elimination propelled Stanka to almost mythic status in Japan. He was named the Most Valuable Player of the Series and soon was voted the Pacific League's MVP and Outstanding Pitcher awards, the first foreigner to be so honored.25
Joe returned for his sixth season in Japan in 1965 a national hero and was often referred to as "the blue-eyed Japanese." He struggled with a sore arm some that season, but still pitched 173 innings and put together a 14-12 record. The Hawks blazed to a second straight Pacific League pennant, by 12 games. They faced the powerful Yomiuri Giants, who had won the Central League pennant by 13 games, in the Japan Series. In a battle of the two dominant teams in Japanese baseball, the Giants won the series, four games to one. Stanka started Game
Three against the Giants' legendary left-hander Masaichi Kaneda26 but his Japan Series magic was gone and he lost, 9-3.
Joe, his wife, Jean, and their four children (son Jay was born in June, 1965) stayed in Osaka after the 1965 season, as they had in alternate years. Then, shortly before Thanksgiving, tragedy struck. The Stankas' oldest child, Joey was asphyxiated by a faulty gas heater in the bathroom while taking a shower.27 He was only 15 years old.
After the tragedy, the Stankas returned to Oklahoma to grieve. Joe initially had no intention of returning to play baseball in Japan but in the spring decided that a return to Japan would aid the family's grieving process. Nankai had already signed its allotted two gaijin players but Stanka soon received an offer to pitch for the Tokyo-based Taiyo Whales of the Central League. Joe struggled to a 6-13 record for a team that finished tied for the basement, 37 games out of first place.28
The Whales wanted to sign Stanka for the 1967 season, but at 35, Joe was ready to retire from baseball and move back to the U.S. His Whales and former Hawks teammates presented Joe with a traditional Japanese warrior's helmet at the Tokyo airport on their return to the States. The Stankas settled in Waynoka, Oklahoma, far from the bright lights of Tokyo, where Joe purchased a variety store. In 1967 he sold the store and moved to Oklahoma City to sell insurance. He quickly found it not his cup of tea, so he purchased a franchise of an employment agency and moved the family to Houston, where he has lived ever since. In 1970 Joe sold the agency and began selling home study courses in art, writing, and photography. Later, Stanka sold real estate and in 1988 he and son Jim began a very successful duty recovery consulting firm. He retired from that business in 1996 at the age of 65 to travel with Jean.
After their baseball days, the Stankas returned to Japan on a number of occasions, including attending a 20-year reunion of the championship Hawks in 1984. During the 1990s, Joe traveled to Japan several times for gatherings of the Meikyukai29 when that group invited a number of former Americans who had been Japanese All-Stars during their playing careers.
When the Stankas were asked to reflect about their time in Japan, they pointed to three events: the birth of their two youngest children, Janet in 1961 and Jay in 1965, and the terrible pain of losing their old oldest son Joey.
The Joe Stanka story ultimately is one of perseverance, persistence, and taking the road less traveled. One of the least known members of the 1959 Chicago White Sox became a baseball icon in Japan. Forty-some years later, Joe Stanka's fame in Japan still far exceeded that of any member of the '59 Sox in the US.
Stanka died at age 87 in his home in Katy, Texas, on October 15, 2018. The headline for his obituary in the Japan Times referred to him as the "hero of 1964 Japan series." 30
An earlier version of this biography originally appeared in SABR's "Go-Go To Glory: The 1959 Chicago White Sox" (ACTA, 2009), edited by Don Zminda.
Notes
1 The Japanese major-league season is 130 games, compared with the 162-game season in the U.S. major leagues.
2 Correspondence with Joe Stanka, on file with author.
3 Ibid.
4 Ibid.
5 Ibid.
6 Rob Trucks, Cup of Coffee — the Very Short Careers of Eighteen Major League Pitchers (Astoria, New York: Smallmouth Press, 2002), 54.
7 Trucks, 56.
8 Donald S. Connery, "A Yank in Japan," Sports Illustrated, June 25, 1962.
9 Trucks, 59-60.
10 Trucks, 61.
11 Jean and Joe Stanka, Coping With Clouters, Culture and Crisis (Wilmington, Delaware: Dawn Press, 1987), 52-53.
12 Stanka and Stanka, 63-65.
13 Connery, 65. The Hawks had won the Japan Series in 1959 behind their great submarine pitcher Tadashi Sugiura, who had won an astounding 38 games while losing only 4. He then won four more games in the Japan Series. The Hawks hoped to obtain a dependable starter from America to take some of the pressure off Sugiura in 1960, assuming that as good as he was, he could not repeat that performance in 1960. Stanka and Stanka, 70.
14 Ryan Chamberlain, "Joe Stanka, First American All-Star in Japanese Baseball," SABR Bulletin, July-August 2005.
15 The manager thereafter always went to the mound to remove Stanka from the game and gradually began to do so with all his pitchers. Stanka and Stanka, 82.
16 Connery, 66.
17 Daniel E. Johnson, Japanese Baseball — A Statistical Handbook (Jefferson, North Carolina and London: McFarland & Co., 1999) 102, 106.
18 San Francisco Chronicle article dated November 3, 1961, in National Baseball Library on Stanka. It is unclear whether Stanka's moniker was more related to his temper or his mound prowess.
19 Miyamoto was a Nisei (second-generation Japanese) from Hawaii who played in Japan for 10 years.
20 Joe Stanka, told to Al Hirshberg, "I'm Big in Tokyo," Baseball Digest, August 1962.
21 Stanka/Hirshberg.
22 June 20, 1964, unidentified clipping from the National Baseball Library file on Stanka.
23 Johnson, 123.
24 Johnson, 126-27.
25 Stanka and Stanka, 134-38.
26 Kaneda holds most of the career records for a Japanese pitcher, including wins with 400. He pitched from 1950 through 1969. Thus, he averaged 20 wins a season for 20 years, all the more remarkable when one considers that the Japanese season is only 130 games long.
27 Stanka and Stanka, 159-66; April 9, 1966 unidentified clipping from the National Baseball Library file on Stanka.
28 Johnson, 132-33.
29 Meikyukai stands for "Association of Great Players" or "Golden Players Club" and represents one of two Japanese Baseball Halls of Fame. Players are automatically inducted if they reach 2,000 career hits or 200 wins in Japanese baseball or the same number when Japanese baseball and major-league baseball statistics are combined. No foreign player has been inducted, however. See www.meikyukai.co.jp.
30 Jason Coskrey, "Nankai Hawks ace Joe Stanka, hero of 1964 Japan Series, dies at 87," Japan Times, October 19, 2018.
Born
July 23, 1931 at Hammon, OK (USA)
Died
October 15, 2018 at Katy, TX (US)
If you can help us improve this player's biography, contact us.
http://bioproj.sabr.org/bp_ftp/images5/StankaJoe.jpg
600
800
admin
/wp-content/uploads/2020/02/sabr_logo.png
admin
2012-01-04 20:42:54
2012-01-04 20:42:54
Joe Stanka