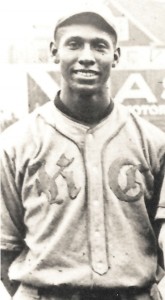 ---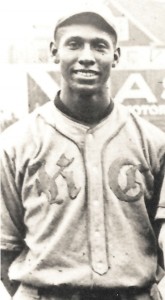 In 1908 John Donaldson was a tall, slender young man from small-town America with a strong left arm and the hand/eye coordination required to squarely hit a round ball with a round bat, yet there was no place for him in Organized Baseball. Because he was a black man. But using his talent and personality, he made a place for himself in segregated baseball as the star of various black and mixed-race barnstorming teams in the Midwest. Later in his career he also played as the only black man on small-town Minnesota teams. He drew a blueprint on how to make money in baseball outside of the major leagues that Satchel Paige followed 20 years later.
Donaldson was born on February 20, 1891, in the hamlet of Glasgow, Missouri. This historic village is located in central Missouri on the bluffs above the Missouri River. The river takes a sharp north-south bend at the town, making it very easy to locate on a map. Culturally, the historic town identified as Southern and during the Civil War, General Sterling Price led an expedition through central Missouri to try to wrest control of the state from the North. Ultimately his expedition failed, but not before he was victorious over the Union army in Glasgow. Like many Missouri river towns in the post-Civil War years, there was a population of former slaves and their offspring living with the whites.
It was a turbulent time in the town (population 1,800). One month before Donaldson's birth, an African-American man, Olli Truxton, was killed by a white lynch mob in Glasgow. In fact, 17 black men were murdered by lynch mobs within 75 miles of Glasgow before Donaldson turned 20.1 Donaldson's father, James, worked as a laborer (and later a foreman) for the local stone quarry. His mother, Ida Hurt Donaldson, stayed at home and raised her oldest (John) and four other children (Russel, Odel, James Jr., Tina May). His parents were both born in the early 1870s, part of the first large generation of African-Americans born free in the United States.
Like most American boys at the time, Donaldson played baseball. On weekdays after he finished his chores, the neighborhood boys would play "one old cat." He was always the pitcher because he had the best arm. He attended the all-black Evans grade school in Glasgow and, against his mother's wishes, pitched for the school baseball team, leading it to an eight-cities championship. His mother asked him not to pitch on the Sabbath but the championship game was on a Sunday. He pitched and she found out about it, but when she heard the crowd cheer for him, she relented and became his biggest fan.2
Donaldson also attended Evans High School in Glasgow. He did well in school and graduated with honors.3 While there is no documented evidence of his play in high school, the first time he is mentioned in the newspaper is September 17, 1908: "John Donaldson, a member of the H.(annaca) Blues, Glasgow's crack colored ball team[,] went to Higbee Sunday and pitched for Higbee against Moberly, winning the game by a score of 2-1."4 This was newsworthy because he left his regular team to go play for a team in another town. Based on newspaper clippings, Donaldson played mostly for the amateur Hannaca Blues from 1908 to 1910. After high school, he attended George R. Smith College in Sedalia, Missouri (Scott Joplin's alma mater) for one year, possibly in religious studies. The college had a seminary for the African Methodist Episcopal Church and his mother wanted him to become a Methodist preacher.
In 1911 Donaldson started his professional career by playing for Brown's Tennessee Minstrels, more often referred to as the Rats. That summer he played more than 60 games, mostly in Iowa with brief forays into Minnesota and Nebraska, typically spending just a day or two in each town before moving on. The team would play a day game, then put on a minstrel show in the evening. In a letter to his hometown paper, "John writes that in a game played in Novinger, Mo., last Saturday, the Brown's team won by a score of 3-0. The opposing team was made up of Kirksville leaguers, a white team. He let his opponents down with one scratch hit, and struck out the first eleven men and nineteen in all."5 The Rats' record for that year was reported as 184-17,6 while Donaldson's pitching record was 44-3.7 His talent was certainly recognized: "The rats have a slab artist on their staff who if he had a coat of white wash would be playing big league ball. He is certainly a chocolate colored wonder with his slants."8 Donaldson had speed to go along with a big curveball that certainly overwhelmed many of the batters he faced.
J.L. Wilkinson put together a traveling team for the 1912 season, the All Nations. This team was a group of mixed ethnicities and a woman who barnstormed around the Upper Midwest, traveling by train. They traveled in their own private Pullman car, which also carried portable bleachers and arc lights. The team would arrive in town, assemble the bleachers and set up tents for their stay. Donaldson was the primary pitcher. The team played against various levels of competition and was covered by the local papers. One example of such reporting is "Donaldson, a long, lank dusky boy, was on the hill for the All Nations and twirled a sensational game. He fanned eighteen. …"9
The seasons of 1912 through 1917 were Donaldson's prime baseball seasons in terms of raw ability. In 1911 and 1912, he is referred to by the press as the world's best colored pitcher. Later in this period, the press begins to call him the world's greatest pitcher.10 The statistics he amassed were nothing short of amazing. In both 1913 and 1914 he pitched 100 consecutive shutout innings. In 1915 he pitched 30 consecutive innings of no-hit ball.11 He has 2,332 verified strikeouts for those years. He pitched every third game and played the outfield the other games. He pitched seven of his 11 documented no hitters between 1912 and 1917. In short, he was absolutely amazing. Unfortunately, there was no league for him to play in.
The All-Nations were a profitable enterprise for Wilkinson for a time. They continued their barnstorming each season from 1912 through 1917. In June 1917, with the national military draft looming, Wilkinson decided to pull the plug on the team. However, Donaldson took over as manager and kept the team together and continued barnstorming, meeting as many of the promised dates as it could. He also took side jobs with other teams, notably spending the winter of 1917 playing with the black Los Angeles White Sox.
On November 7, 1917, Donaldson married Kansas native Eleanor Dixon Watson in Kansas City. Their union resulted in no children and they would remain together the rest of their lives. He registered for the draft like all able-bodied American men and he reported himself as a World War I veteran in the 1930 census. But based on his known game-playing schedule in 1917 and 1918, it appears that his time in the military would have been very short or nonexistent.
World War I affected black baseball significantly. Many players were drafted into the military, and then the Spanish flu epidemic caused great fear among spectators, who didn't want to closely congregate anymore. Donaldson joined the Indianapolis ABCs, playing games April through June in 1918. But the East Coast came calling. "John Donaldson, one of the greatest pitchers in the country, who has been pitching such sensational baseball through the middle west in the past several seasons, signed up with John Lloyd, manager of the Brooklyn Royal Giants, and is now on his way East to join the crack Brooklyn aggregation. …"12 He was signed largely to keep the Royal Giants ahead of their rival, the Lincoln Giants, and to win for the Royals the title of best colored champion of the East. The teams played four doubleheaders, with the Royals taking six of eight games. Donaldson was on the losing end of both of the Royal Giants' defeats, falling 1-0 and 3-2, both times to Smokey Joe Williams. He stayed in the New York area through October, playing many games as a pitcher and outfielder for the Royals.
Rube Foster, owner of the Chicago American Giants, helped organize a new team, the Detroit Stars, before the 1919 season. He was laying the groundwork for the foundation of the Negro National League in 1920 and needed some high-level competition for his Giants. He signed Donaldson for the Stars. They primarily played in Detroit with one trip to Chicago and a longer one to Atlantic City, New Jersey. In October, Donaldson was selected to play for the American Giants against the Kansas City All Stars in a five-game series in Kansas City. Donaldson won the third game of the series (after being scratched from game two with a charley horse). Games four and five don't seem to have been played, likely being canceled due to weather.
Rube Foster, J.L. Wilkinson, and six other owners founded the Negro National League in 1920. Wilkinson, who owned the Kansas City team, credited Donaldson with coming up with its name, Monarchs.13 Donaldson was the fourth pitcher on the team, behind Sam Crawford, Rube Curry, and Bullet Joe Rogan. In the first league game of the season Crawford started and Donaldson played center field, making a great running catch in the second inning and blasting a run-scoring double in the sixth. The Monarchs went on to defeat the St. Louis Stars, 2-1. During league games, he compiled a 6-4 pitching record and a .320 batting average. In 1921, the 30-year-old Donaldson pitched very little. He had only one league win although he did hit .294 in more at-bats than in 1920. His usage suggests arm fatigue or injury, although the injury didn't impact his play in the field. And the Monarchs had an incredible amount of pitching talent with no real need to use Donaldson as a pitcher.
In 1922 Donaldson made a career shift. He continued to play in the field for the Monarchs, but in June Wilkinson sent him to the All-Nations team, for which he played in 1912. Wilkinson needed the headline star for his money-making All-Nations team. Donaldson's arm must have come back because he began pitching again, along with his customary play in center field. Because of a revenue-sharing agreement in the Negro National League, it is likely he could make substantially more money for Wilkinson (and for himself) by playing for the All-Nations instead of the Monarchs. He returned to the Monarchs at the end of the season in time to play in a late series of exhibitions. In 1923 the pattern continued. Donaldson's pitching skills may have deteriorated but his skill at the bat was still recognized. The Kansas City Sun remarked, "Donaldson a few seasons ago was the greatest pitcher in the country black or white and a team in his league with just two pitchers like Donaldson was … would make a runaway race for the pennant. John has developed into one of the best outfielders in the game and is one of the fastest men in the league."14 For the All Nations, he won a verified 21 games against 11 losses that year.
Donaldson returned to Glasgow frequently throughout his career, particularly to visit his mother. He was the primary breadwinner for the family as shown by his 1917 draft card, which gave his address as Glasgow but had him employed with the Schmelzer Arms Company, which sponsored the All Nations team, and showed his mother as dependent on him. The 1920 census had him residing in Glasgow with his mother and father, but his wife is not tallied in the household. Donaldson's father was killed in a drunken confrontation with a police officer in Glasgow before the 1923 baseball season. Donaldson never commented to the press about that event but must have attended the funeral. In the summer of 1933 he visited Glasgow several times to play for the Donaldson All Stars and for a local team.
In 1924 Donaldson started the season with the Monarchs but by May 4 he was playing for Bertha, Minnesota. He took this job because it was a much less grueling schedule than barnstorming would be. No longer would he have to play seven games a week in different cities every night. Now he could play three to four games a week and limit his travel and be rewarded well for it. He played for Bertha the remainder of the season and also in 1925. His 1925 record shows that he left the team a few times to play for other teams in Montana and Saskatoon, Saskatchewan, but they were not lengthy road trips. Donaldson hired himself out to a team so it could put on a special promotion for Donaldson's appearance. He was pitching again, often striking out double-digit numbers of hitters each game. In 1926 he pitched primarily for the Lismore (Minnesota) Gophers. In 1927 he was with Bertha again, and 1928 with Melrose. In 1929 Donaldson went back on the barnstorming circuit and played for multiple teams throughout the Upper Midwest and Canada, including a House of David team. In 1930 he played for St. Cloud, Minnesota. He was a huge star in the Upper Midwest, drawing fans from all over wherever he appeared. He was making upwards of $750 a month playing ball.
The 1930 census shows Donaldson and Eleanor living in Chicago with her sister. His occupation is listed as ballplayer, which was accurate given documentation of nearly 2,000 games he had played in to that point. That's from known newspaper accounts, which clearly missed hundreds of other games that weren't reported. The Donaldsons would keep a home in Chicago for the remainder of their lives.
In 1931 Donaldson turned 40 and had a final hurrah with the Monarchs while they barnstormed through the Midwest. He played a number of games in the outfield, hitting .282 against higher-level competition. He was not done with baseball, though. He played on semipro teams throughout the 1930s, continuing to pitch and play in the field. In 1939 Donaldson shepherded Satchel Paige's All Stars across the Midwest and the two players were favorably compared to one another. His last documented "competitive" game was played in 1940, when he was 49 years old, but he played in an Old Timer's game as late as 1949 at the age of 58. Donaldson was known as an upstanding person with impeccable character. He never picked up the habits of smoking or drinking, did not curse, and stayed in shape throughout his life.
Donaldson's career and talent are hard to characterize. He has 405 documented wins and 5,039 documented strikeouts but much of his career was against lower-level competition. Even so, he also faced many more obstacles than a white player would have in his day. At the height of his prowess, 1910 to 1920, his immense talent was recognized. John McGraw said, "If Donaldson were a white man … I would give $50,000 for him."15 In 1952 the Pittsburgh Courier published a poll seeking the greatest black ballplayers. The five pitchers on the Dream Team were Joe Williams, Satchel Paige, Bullet Rogan, John Donaldson, and Bill Foster. J.L. Wilkinson said John Donaldson "was the greatest pitcher that ever threw a baseball."16 He also clearly had a star's personality, given that he was a leading headliner for his teams for so many years and was able to barnstorm through the Upper Midwest, often as the only black player on white teams in mostly white small towns in that pre-civil-rights era. He was also greatly respected by all the teams he played for and the media that covered him.
Donaldson had this to say about his career: "I am not ashamed of my color. There is no woman whom I love more than my mother, I am light enough so that baseball men told me before I became known that I could be passed off as a Cuban. One prominent baseball man in fact offered me a nice sum if I would go to Cuba, change my name and let him take me into this country as a Cuban. It would have meant renouncing my family. One of the agreements was that I was never again to visit my mother or to have anything to do with colored people. I refused. I am clean morally and physically. I go to my church and contribute my share. I keep my body and mind clean. And yet when I go out there to play baseball it is not unusual to hear some fan cry out: 'Hit the dirty nigger.' That hurts. For I have no recourse. I am getting paid, I suppose, to take that. Buy why should fans become personal? If I act the part of a gentleman, am I not entitled to a little respect?"17
In 1949 Donaldson was hired by the Chicago White Sox as a scout. He was the first African-American scout hired by a major-league organization. He recommended multiple young black ballplayers to the White Sox. Eventually he grew disenchanted with the job and the organization. He left the organization in 1955 after general manager Frank Lane resigned. The final straw for Donaldson was when the White Sox passed on a young ballplayer named Ernie Banks. Donaldson said that if they couldn't recognize good young ballplayers, then he didn't want to work for them.18
During Donaldson's post-baseball life, he worked for the US Post Office and made his home in Chicago with Eleanor. In 1967 he was inducted to the Old Ball Players Club of Chicago and Evanston, an organization of retired athletes in the Chicago area. The club had luncheons and other charity events to raise money for down-on-their-luck former players. It claimed to be the oldest organization of its type in existence. He also spent time coaching youngsters in the Chicago area.
Donaldson died from bronchial pneumonia on April 14, 1970, in Cook County Hospital. His funeral was at the Metropolitan Community Church. He was buried in an unmarked grave at Burr Oak Cemetery in Alsip, Illinois. Eleanor died on June 24, 1971.
There have been several recent recognitions of John Donaldson and his career. In 2004 the Negro League Baseball Grave Marker Project placed a headstone on his grave. The Donaldson Network, a group of researchers dedicated to finding more out about him, was formed by SABR member Peter Gorton about the same time. June 11, 2005, was declared John Donaldson Day in Glasgow, Missouri.19 The National Baseball Hall of Fame included him on a special ballot of pre-Negro Leagues candidates in 2006 although he was not elected to the Hall. However, he is a Hall of Famer because the Missouri Sports Hall of Fame inducted him in 2017. Most recently Glasgow High School planned to name its new baseball field in his honor. They hoped to have it ready for the 2020 baseball season.
Acknowledgements
This biography was reviewed by Len Levin and fact-checked by Chris Rainey. SABR member Peter Gorton was incredibly generous with his time, reviewing this biography and providing additional information and insight.
Sources
Ancestry.com.
Peter Gorton and others' research documented on johndonaldson.bravehost.com.
Notes
1 30 Years of Lynching in the United States from 1889-1918, 80. Book published by the National Association for the Advancement of Colored People in 1919. archive.org/details/thirtyyearsoflyn00nati/page/n0.  
2 "John Donaldson, the 'Colored Mathewson' of America,' Plays with Wells Team Next Season," Wells (Minnesota) Forum Advocate, September 10, 1914: 1.
3 Ibid.
4 Glasgow Missourian, September 17, 1908: 3.
5 Glasgow Missourian, April 20, 1911: 3.
6 Indianapolis (Indiana) Freeman, October 21, 1911: 6.
7 "John Donaldson, the 'Colored Mathewson' of America.'"
8 Ackley (Iowa) Inter-County Journal, August 18, 1911: 1.
9 Omaha World-Herald, May 13, 1912: 8.
10 Chicago Defender, September 23, 1916: 5.
11 Sporting Life, July 3, 1915: 8.
12 "Donaldson to Pitch for Royal Giants," New York Age, June 29, 1918: 6.
13 John L. Johnson, "Sport Light," Kansas City Call, May 28, 1948.
14 Kansas City Sun, April 19, 1923: 5.
15 Frank G. Menke, "Color Line Loses 3 Great Pitchers to Major Leagues," Colorado Springs Gazette Telegraph, June 9, 1915: 7.
16 John L. Johnson, "Sport Light," Kansas City Call, May 28, 1948.
17 Ironwood (Michigan) Daily Globe, June 10, 1932: 12.
18 Author conversation with Buck O'Neil, St. Louis, 2003 (actual date not recorded).
19 Russell Cooper, "Restoration of a Lost Legacy — Glasgow Honors Former Standout of Negro Leagues," Columbia (Missouri) Tribune, June 12, 2005.
Born
February 20, 1891 at Glasgow, MO (US)
Died
April 14, 1970 at Chicago, IL (US)
If you can help us improve this player's biography, contact us.
https://sabr.org/sites/default/files/Donaldson%20John%20Negro%20Leagues.jpg
600
800
admin
/wp-content/uploads/2020/02/sabr_logo.png
admin
2018-10-30 16:56:31
2022-11-07 11:49:38
John Donaldson