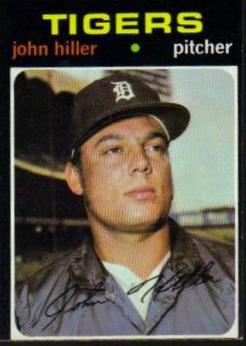 ---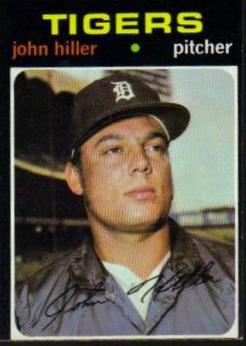 When John Hiller retired in 1980 after 15 seasons, all with Detroit, he was the last member of the 1968 world champion Tigers still playing in the majors. Best known, perhaps, for his work out of the bullpen, Hiller in fact started 43 games for the Tigers, 12 of them in the star-struck 1968 season. During his career, he pitched 13 complete games and racked up six shutouts. Of his 1,242 major league innings pitched, 962.2 were in relief. Hiller compiled these figures despite suffering a three heart attacks one off-season; he missed the entire 1971 season, and was perhaps the only major league player to resume his career after a heart attack.
Hiller's most remarkable season may have been 1974, when, pitching for a team that finished last in the American League East Division with a 72–90 record, Hiller won 17 games and lost 14, all in relief (he had no starts that season). His 17 relief victories were one less than the record of 18 set by Roy Face (his teammate on the 1968 world champions) in 1959 when Face was with the Pittsburgh Pirates. And his 14 defeats were two less than the record for relief losses later set by Gene Garber of Atlanta. All this by a native of Canada who grew up as a hockey fan.
Born on April 8, 1943, in Toronto, Ontario, the son of an auto body repairman and a homemaker, Hiller grew up in Scarborough, outside Toronto, playing hockey as a goaltender and hanging around Maple Leaf Gardens. He once jokingly said he would have given up a year of baseball just to spend a game between the pipes in the National Hockey League. But the die was cast when, to have something to do between hockey seasons, he took up baseball in the summer with the Kiwanis Club. He told an interviewer in 2006 that at a tryout camp in Toronto when he was 16 or 17, Charlie Dressen told him, "Son, I hope you haven't thrown out your hockey skates."
But the baseball bug persisted. "I just loved playing and got better and better," he recalled. "One time, I struck out 22 guys in seven innings— I think one guy got [on base] on a wild pitch—and that got some more attention. A great old scout named Cy Williams, out of Buffalo, took a look at me for the Tigers.…Williams offered me $400 a month to play baseball. This was a time when I was finishing up eleventh grade, making $10 a week bagging groceries. Wasn't an especially hard decision. My bonus was a pair of shoes he had stashed in his car trunk."
Hiller played in Jamestown, New York, in the New York-Penn League in 1963, going 14–9 with 172 strikeouts in 181 innings and earning a promotion to the Class A Duluth-Superior Dukes of the Northern League in 1964. There he went 10–13, although he lowered his ERA from 4.03 with Jamestown to 3.45. He finished 1964 with a promotion to Double A Knoxville of the Southern League, making three starts for the Smokies. In 1965, he became a reliever for the Tigers' new Southern League affiliate, the Montgomery Rebels, and got a summons to Detroit in September. The first big-league hitter the 22-year-old Hiller faced that September 6 was Boston Red Sox shortstop Rico Petrocelli. Hiller said he was "totally intimidated" by the major leagues, but he wound up pitching five games in relief, allowing no runs in six innings and getting one save. (That month he also married Janis Patricia Baldwin.)
Hiller started the 1966 season with the Tigers but pitched in only one game before catching pneumonia and being sent down to Syracuse, the Tigers' Triple A team, where he spent the rest of the year, except for one game with the Tigers. He started the 1967 season with the Tigers' new Triple A club in Toledo before being called up to the Detroit, with Pat Dobson, Fred Lasher, and Mike Marshall, other untested players. The young pitchers bonded with one another on the way up, as they would with Tigers backup catcher, Jim Price. Hiller said, "Collectively, the younger guys called themselves the scrubbinis, we were just happy to be there." In relief, Hiller won the second game of a home doubleheader on July 23, 1967, against New York. (By the third inning of that game, smoke from rioting in Detroit was visible inside Tiger Stadium.) In late August Hiller was given a chance to start and he shined. He threw back-to-back shutouts against the Indians and Athletics, followed by a win over the contending California Angels in which he carried a shutout into the ninth inning. He had three more starts, but did not go more than six innings in any of them, and finished the season in the bullpen. Hiller was hit hard in the season's final game, giving up three runs after relieving Denny McLain in the third inning and being charged with the loss that eliminated the Tigers from the 1967 pennant chase. Despite that last game, it was a successful rookie season for Hiller. He pitched in 23 games, going 4–3 with a 2.63 ERA and an outstanding 49/9 strikeout/walk ratio.
In 1968 Hiller stayed with the Tigers all year as they won the pennant and World Series. He spent most of the first four months in the bullpen, but made three starts in June. He got a chance to move into the rotation in August when Mickey Lolich was moved to the bullpen (Lolich relieved in seven games that season) and the doubleheaders started piling up. In the first of those starts, on August 6, Hiller struck out the first six Indians, tying a major league record (the record has since been broken).
Hiller made nine starts the rest of the way, including a shutout of the White Sox in the first game of an August 20 doubleheader. Three days later against New York, he came in with nobody out in the eighth inning and wound up pitching a "complete game"—throwing nine shutout innings in a game that was called with the scored tied, 3–3, after 19 innings. He had two complete-game wins in September, including the game that clinched a tie for the American League pennant on September 16 against the Yankees. (Had the Baltimore Orioles lost that night, Hiller—not Joe Sparma—would be remembered as the man who won the pennant-clinching game.) He finished the year with 39 appearances, 12 of them starts, and went 9–6 with a 2.39 ERA. He led a quartet of relievers—Don McMahon (3-1), Fred Lasher (5–1), and Pat Dobson (5–8) were the other three—who were credited with two dozen wins for a 103–59 club.
Hiller pitched in World Series Games 3 and 4, in both cases doing mop-up duty in games in which the Tigers were well behind. He gave up four runs, three earned, in his second appearance, and ended the Series with a 13.50 ERA.
With a newly developed slider taught to him by pitching coach Johnny Sain, Hiller pitched in 40 games in 1969, eight of them starts. He shut out the Yankees on June 17, the third time he had kept New York scoreless over nine innings (counting the 19-inning tie) in a year. He went 4–4 but his ERA jumped by almost two runs, to 3.99. The next season was similar, with Hiller spending most of his time in the bullpen. He ended the year in the rotation, making four starts. On the last day of the 1970 season, Mayo Smith's last game as Detroit's manager, Hiller threw possibly the best start of his career, shutting out Cleveland 1–0, allowing only two hits and walking two while striking out 11—including seven in a row—to tie an American League record. It was his last major league game for 20 months. On January 11, 1971, Hiller suffered three heart attacks.
Hiller's recovery was one of the greatest sports comeback stories of all time. He underwent an experimental procedure called intestinal bypass surgery, intended to help him lose weight. The surgery was successful and by November 1971, Hiller was working out for three hours a day and losing weight (between 1968 and his heart attack, it had gone up from 185 pounds to 220 pounds). With renewed confidence he began to plan his comeback.
Hiller worked out at the YMCA in Duluth, Minnesota, until spring training of 1972. The Tigers offered him a $7,500 contract to be a minor league instructor, starting in spring training. "It was a comedown from $20,000 a year to play ball, but I hadn't had a paycheck for a year, so I took it," Hiller said. In dealing with young pitchers, he applied some of Sain's lessons about psychology. Meanwhile, while instructing young pitchers, he learned a changeup from John Grodzicki, a minor league pitching coach. It gave him a third pitch and made the fastball and slider more effective.
Hiller refined the changeup against the minor-leaguers he was instructing, getting feedback from Grodzicki. To go with his 90–91-mph fastball the changeup became the difference-maker in Hiller's baseball career. Still, the Tigers were nervous about playing him, so they took him north as a batting-practice pitcher. Before that, Hiller exercised a bit of bravado to keep himself in the Tigers' sights. When General Manager Jim Campbell came to Lakeland, Florida, Detroit's spring training headquarters, Hiller spotted him and took the offensive. "The second I saw him, I knew, I just knew—he was there to cut me loose," Hiller recalled. "Supposedly, he was there to check on the minor-leaguers, but I just knew it. So I got up from the bleachers, walked straight up to him, and said, 'Jim, if you're here to release me, go home. I'm not letting you release me.' And I walked away."
In July Hiller finally got a chance to pitch because Tigers hurlers Les Cain and Fred Scherman were having arm troubles, and he made the best of it. He hadn't faced any game action since the 1970 season. By now the Tigers had given him a contract for $17,000, a cut of $3,000 from what he was making before the heart attack. He faced Dick Allen, the American League MVP, in his first game back, and Allen clubbed a home run off him. The outing wasn't spectacular—in three innings pitched, Hiller gave up four hits, two runs, and one walk with two strikeouts—but he was back.
Hiller ended 1972 having pitched in 24 games with a 2.03 ERA. His strikeout/walk ratio was 26/13, and manager Billy Martin was holding him up as an example to the other pitchers. (Hiller says Martin liked veteran players, and "strategy-wise he was probably one of the best, he and Earl Weaver.") Still, his favorite manager was Ralph Houk. He says Houk didn't get enough credit for the 1984 team that won the World Series, many of whose star players got their start under Houk's 1974–1978 tenure in Detroit.
Hiller won Game 4 of the 1972 American League Championship Series in relief over Oakland, shutting off the Oakland A's after they had scored two runs in the top of the 10th and taking the win when the Tigers got three in the bottom of the inning. If not for a controversial call at first base, he might have saved the decisive Game 5 and returned the Tigers to the World Series. It was not to be, as Oakland won, 2–1
In 1973, Hiller saved a league-leading (and at that time a major league record) 38 games, added 10 wins to his ledger, and was in at game's end 60 times in 65 appearances, finishing the season with a 1.44 ERA and striking out 124 batters in 125.1 innings. His record-tying 37th save occurred when he came into a 10–0 game in the ninth inning and allowed a run. That game, among others, helped prompt changes to the save rule. Hiller won both Comeback Player of the Year and Fireman of the Year honors. He finished fourth in the Cy Young Award voting and tied for fourth in the MVP voting.
Hiller and fellow fireman Rollie Fingers of Oakland contributed to the evolving thinking of the value of relief aces. Hiller was a pioneer in making the save a popular statistic. But he was used very differently than today's closers are. His 125.1 innings pitched in 65 games in 1973 were an average of almost two innings per game. He pitched more than one inning in 40 games. He came into the game in the sixth inning or earlier 13 times, in the seventh 11 times, and in the eighth 15 times. In 22 of his games, the Tigers were losing or tied when he came in. He pitched five or more innings three times, including a game on July 22 that he entered in the second inning and pitched 8.1 innings, striking out 10 before losing the game in the 10th on the only run he allowed.
Hiller followed up that performance by winning 17 games, losing 14, and saving 13 in 1974, throwing 150 innings. His playing weight, as listed in the 1974 Tigers yearbook, was 165 pounds. By now, he was the old hand in the bullpen. In 1975, he was having another fine season until a pulled muscle suffered during a game on July 25 put him out for the year. Mickey Stanley also suffered an injury in that game that would end his season, and without the two 1968 veterans, the Tigers went 13–51, including a team-record 19-game losing streak.
Hiller returned healthy in 1976 and resumed his role as the Tigers' main reliever. After pitching 55 games out of the bullpen, he started the third-to-last game of the season and shut out Milwaukee on four hits to gain his 12th win. In 1977, he returned to a starting role for a while, with seven starts between May 18 and June 26, going 2–5 in those games. His ERA ballooned to 3.56, his highest since 1969, and he went 8–14 with only seven saves. Again, he ended the season on a high note, beating the Yankees, 5–2, while throwing a complete game.
In 1978, Hiller's 92.1 innings were his fewest in a full season since 1967, even though he pitched in 51 games. He threw more than four innings in a game four times. He won nine games and had 15 saves and 7 blown saves (for his career, Hiller had 125 saves and 60 blown saves). It was clear in 1979 that Hiller's career was coming to an end. His 5.22 ERA was his career worst and his season ended prematurely in late August with a shoulder injury. Early in the 1980 season, Hiller pitched in 11 games, including four of four or more innings. He retired on May 30. His last game was on May 27, against the Yankees, but this time, they got the best of him, getting four runs and 10 hits off him in four innings.
Hiller retired with a then-franchise record of 125 saves. He had become the Tigers' all-time leader in games pitched with 545. Hiller reaped post-retirement rewards recognizing his inspiring comeback story, and his incredible record as a relief pitcher. "I was happy, my family was happy with my career," said Hiller. "I was 37 years old, the oldest guy on the team and the last link to our '68 championship. We had a young club, with Sparky Anderson in as the new manager, and he wanted to clean house from the old establishment. I told Jim Campbell that it was time for me to go and the comment was, 'I respect your decision.'" Hiller was the last of the 1968 Tigers to leave the playing ranks.
After retiring, Hiller tried to return to the Tigers as a roving pitching coach, but a circulatory blockage behind one knee ended that. In Lakeland, Florida, a surgeon told Hiller his leg would have to be amputated. In response, John headed home to Iron Mountain in Michigan's Upper Peninsula, where he lives year-round with his second wife, Linette. "I just enjoy the small-town flair.…You better just be like you're everybody else, and they'll accept you in a heartbeat."
Of his early days as a relief pitcher, Hiller says, "In those days, there was no one stopper. Pitchers who had a bad go ended up in the bullpen. You had to pitch your way out of the bullpen to get back in the lineup by doing spot starting and long relief. Then you might get a chance, say, in a doubleheader."
The Hutch Award in 1973 for fighting spirit and competitive desire—named for former Tigers manager Fred Hutchison, who died of cancer—and the American Heart Award are Hiller's "most honored moments."
John and Linette Hiller have been married since 1985. Linette has a son from a prior marriage and John has two children who reside in Orlando, Florida, and a third in North Carolina from his first marriage. He has a brother, Jim, who lives in the Toronto area.
Said Hiller in "Baseball Men—The Comeback": "Well, some people have told me I've been an inspiration, You don't know what it's meant to me. What can I say? I was just a ballplayer who wanted to make a living; I didn't set out to be a spokesman for anything, but I was happy for the opportunities to help when they came up. Every time I visited quite a few kids in the hospital or in cancer units, and every time I went there to help them, they helped me by showing their inner strength."
Sources
Cantor, George. The Tigers of '68: Baseball's Last Real Champions. Dallas: Taylor Trade Publishing. 1997.
Middlesworth, Hal. Detroit Tigers 1974 Yearbook. Detroit: Tigers Baseball Club. 1974.
Harwell, Ernie. "Hiller survives another scare" Detroit Free Press, September 19, 2005.
Handrinos, Peter. "Baseball Men—The Comeback" Available online at http://angels.scout.com/2/586736.html (accessed November 4, 2006)
Markusen, Bruce. "Comeback Kids—Remembering the Tigers of '68." Cooperstown Confidential, August 22, 2003. Available online at http://www.baseballguru.com/archives/entries/00000498.htm
Leggett, William. "Those Big Tiger Muscles" Sports Illustrated, June 5, 1967, p. 24, 27.
Sargent, Jim. "Jim Northrup Recalls His Playing Days with Tigers. (Turn Back the Clock)(Detroit Tigers)." Baseball Digest, February 1, 2004. Available online at http://www.encyclopedia.com/doc/1G1 112167130.html
Schechter, Gabriel. "John Hiller's Amazing Comeback" Originally posted at http://www.baseballhalloffame.org/li. . ./gs_050625.htm and available online at http://www.motownsports.com/forums/showthread.php?p=652441
www.baseballlibrary.com/ballplayers/player.php?name=John_Hiller_1943&page=chronology—"BaseballLibrary.com, The Home of Baseball History: John Hiller—chronology"
www.members.cox.net/hholtsb/HillerJ.jpg
www.usfamily.net/web/trombleyd/Northern%20L%20History.htm#Duluth—"Northern League Organization and Team Histories"
www.usfamily.net/web/trombleyd/Northern%20PlayersGL.htm—"Baseball The Biographical Encyclopedia," cited in "Northern League Players Who Made the Majors"
Hilliard, Larry, and Rob Hilliard. Interview with John Hiller, August 12, 2007.
Thanks to the Mayo Smith Society, to my co-author and brother Rob Hilliard, and of course to John Hiller for granting us the interview.
Note
This article originally appeared in the book Sock It To 'Em Tigers–The Incredible Story of the 1968 Detroit Tigers, published by Maple Street Press in 2008.
Photo Credit
The Topps Company
Born
April 8, 1943 at Toronto, ON (CAN)
If you can help us improve this player's biography, contact us.
http://bioproj.sabr.org/bp_ftp/images3/HillerJohn.jpg
600
800
admin
/wp-content/uploads/2020/02/sabr_logo.png
admin
2012-01-04 20:40:42
2012-01-04 20:40:42
John Hiller