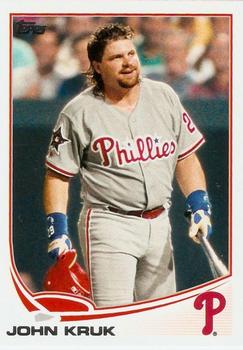 ---
A quick, short tale of a man named Kruk
Who ran the bases for 30 years
When he finished up, we shed no tears
'Cause on TV he became our Puck 1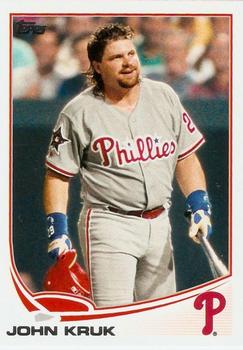 Yes, it is Kruk-as-Puck that keeps extending his career in baseball. Ten years as a player, where his bat spoke for him, but as a baseball commentator his wit is the voice that keeps us listening. In fact, when ESPN let him go in October 2016, his comment to inquiring media about his future proved it. He said he was thinking of becoming a fitness expert. He is, uh … hefty, and, uh … doesn't fit the bill, so to speak.2
John Martin Kruk first breathed the air of West Virginia in Charleston on February 9, 1961, but his family moved to New Jersey one year later, settling near the Jersey Pinelands. In Jersey, his father worked two shifts in a bottling company so his kids could play ball. Kruk said his parents, Moe and Lena Kruk, did everything to ensure that their children played baseball. When he was 11, his father moved the family back to West Virginia, settling in Keyser and reducing his workload to one job.3
Kruk played baseball at Keyser High School, then went on to Potomac State College and thence to Allegheny Community College in Maryland. In January 1981 the Pittsburgh Pirates drafted him but John didn't sign. However, while playing for New Market in the Shenandoah Valley League, an NCAA-sanctioned league operating under NCAA rules, he was drafted in the third round of the June 1981 Draft Secondary Phase by the San Diego Padres. This time he signed.
Kruk spent five full seasons in the minors, steadily progressing through each classification and excelling each year. He started in the minors in 1981 with the Walla Walla Padres of the Class-A Northwest League as a left-handed batter and thrower. He did not perform well, batting a middling .242. He improved notably in 1982 for the Reno Padres of the Class-A California League with a .311 batting average, and finished second on the team with 92 RBIs. Promoted in 1983 to the Beaumont Golden Gators of the Double-A Texas League, Kruk led the team in average [.341, sixth in the league] and placed third with 88 RBIs. San Diego moved him to Triple A, the Las Vegas Stars of the Pacific Coast League, in 1984. His batting average of .326 led his team and placed him 12th in the league. In 1985 Kruk finished fourth in the league with a batting average of .351, again the best on the Stars. Impressed, the Padres brought him to the major leagues at the start of 1986.
Kruk played in the majors for the Padres, the Philadelphia Phillies, and the Chicago White Sox, finishing up with Chicago in 1995. With the Phillies he made the All-Star team three times. Like his own oft-said Round Figure, he had four career round-figure statistics: 10 years in the majors, 1,200 games played, 100 HRs, and a .300 BA — and just missed two more round figures: 199 doubles and 701 strikeouts. Incredibly, the hefty Kruk also stole 58 bases! In his only postseason, with the 1993 Phillies, he hit a combined .298 with one homer and nine RBIs in the NLCS and World Series. In the all-important 1993 World Series against the Blue Jays, he sported a .348 batting average with four runs scored and four RBIs.
Kruk fielded excellently, suffering only 42 errors over 10 years (4.2 errors annually) and only 3.1 a year at first base. His .9946 fielding average at first is tied for 36th all-time –not bad for a person noted for his bulk.
(References to Kruk's build have led to any number of humorous asides. At the 1999 All-Star Game, the height- and weight-challenged Tom Lasorda wanted to walk off a practice field with Kruk. He called out to Kruk, "Wait up, I want to walk with you so I can look real thin." Kruk's response: "You're still gonna be real short."4)
Kruk's physical appearance was the subject of frequent comment but he is officially listed at 5-feet-10 and 170 pounds. It may strike some as surprising that the portly Kruk's major-league debut came as a pinch-runner on April 7, 1986. He was caught stealing. He made outs in his first three pinch-hitting appearances, but finally singled and drove in a key run on April 14. The Dodgers were visiting at Jack Murphy Stadium and took a 3-2 lead in the top of the 10th; Kruk singled off Bob Welch to tie the game, one that Bruce Bochy won with a walkoff homer in the bottom of the 11th.
Kruk appeared in 122 games in 1986 with the Padres, most of them in left field, starting in 65 of them. He hit well — .309/.403/.424 with 4 homers and 38 RBIs. In his 122 appearances he made only three errors.
The Baseball Writers Association of America voted Kruk seventh in the 1986 Rookie of the Year polling for the National League. He placed just above Barry Larkin and just below Barry Bonds but with a batting average and on-base percentage better than any of the other nine candidates.
In 1987 Kruk had a career year, hitting .313 with 20 homers and 91 RBIs while playing in 138 games. He led the team in home runs and RBIs. But in 1988 his numbers plummeted. He finished at .241 with 9 homers and 44 RBIs. That was also the year that his West Virginia roots bit him in the butt.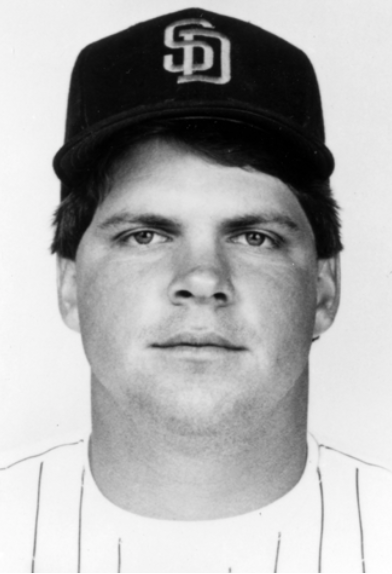 The year before, two West Virginia buddies, one of them a hard-nose, inveigled Kruk into a living situation during his second year with the Padres. The hard-nose flashed a lot of money, which puzzled Kruk because he wasn't working. It turned out the two housemates were robbing banks. When the FBI put them on the wanted list, Kruk heard they suspected he turned them in. (He didn't.) He feared for his life during his third season and he did not perform well on the field, significantly affecting his productivity with San Diego. Fortunately for Kruk, later that season, the FBI nabbed the bank robber — who forgave Kruk for the rumored snitching transgression.5
Kruk started slowly in 1989 with the Padres. After 31 games he was batting.184, had notched as many strikeouts as hits (14) and plated only six RBIs. The Padres responded in June by trading him to the Phillies, along with Randy Ready, for Chris James. With the Phillies, he responded by batting .331 with 5 HRs and 38 RBIs.
The Phillies proved a good fit for Kruk as he settled into being a first baseman for the Phils, a natural infield position for the stocky left-hander. He didn't hit as well in 1990 (.291) for the Phillies but upped his home runs and RBIs (7 and 67). In 1991 he had an exceptional year. He played his most games in the big leagues (152), and batted .294 with 21 homers and 92 RBIs. He led the Phils in all three stats. He fell off a bit in 1992, playing in eight fewer games, hitting 11 fewer home runs, and knocking in only 70 runs but hitting at a .323 clip. The Phillies in those years did not match Kruk's productivity as they finished fourth, third, and sixth respectively in the NL East.
He bounced back in 1993 with 14 home runs, 84 RBIs, and a .316 batting average. From 1991 through 1993, Kruk made the National League All-Star team three years in succession. He did not appear in the 1991 game, but was 2-for-2 in 1992. In the 1993 game, he was 0-for-3. One of those outs was a strikeout by Randy Johnson. Kruk struck out, demonstrating hilarity, on four pitches with the first being a 98-mph heater above and behind him. In the locker-room afterward, he opined, "When I stepped in the box, I said all I wanted to do was make contact. And, after the first pitch all I wanted to do was live. And I lived, so I had a good at-bat."6
That All-Star Game produced a lot of humorous commentary from his contemporaries. Reggie Jackson said, "John Kruk's hitting .350, man. I don't care, don't matter what you look like, that boy can hit." Barry Bonds said, "I think he's a good role model. He gets to bring the hillbillies back into the game. … He's a stud." Andy Van Slyke added, "John Kruk'd be the one guy I'd pay for of any player in the big leagues to see, 'cause he'd be like the truck driver, delivery beer guy who somehow slipped past security and put a uniform on." Kruk making the All-Star squad in the first place prompted Mark Grace to quip, "Society's really coming to a standstill when something like this can happen."7
The 1993 season was magical for the success-starved Phillies fans. Not picked to win the National League East, the team went wire-to-wire to cop the division crown. They were dubbed the Wild Bunch while the sluggers earned the nickname Macho Row — all because of their scruffy appearance and demeanor. They were the Philly version of the 1934 St. Louis Cardinals Gas House Gang. Team leaders included Darren Daulton, Lenny Dykstra, and John Kruk. Philadelphians loved them and still do.
They beat the Braves to nab the National League title and make the World Series. In Game One of the NLCS, Kruk doubled in the bottom of the 10th and scored the winning run when Kim Batiste doubled behind him. He homered and drove in three runs in a losing effort in Game Three. He drove in the first run in the deciding Game Six, which the Phillies won, 4-3.
In the World Series, the Phillies won two games against the Toronto Blue Jays. Unfortunately, for the Phils, the Jays beat them in the Series — but only on a dramatic walkoff homer in the final Game Six. Kruk contributed four more RBIs in the Series, his double in Game Two providing the first Phillies run and his first-inning grounder in Game Five driving in the winning run in a 2-0 Phils victory.
For Kruk, 1994 did not pan out. Though he hit .302, he played in only 75 games as the Phils failed to repeat their prior year's success — in part because of failure on the field but mostly by events occurring off the diamond. Acting Commissioner Bud Selig suspended play in September due to the protracted players strike that began in August.
Things happen to guys like Kruk that don't happen to regular folk, such as the bank robbers saga. But for 1994? During the 1993 season, pitcher Mitch Williams plunked Kruk with an errant pickoff throw that hit him in the groin and broke his protective cup. A medical examination during spring training in 1994 revealed the presence of testicular cancer. He underwent surgery to remove the affected testicle and missed the opening part of the season, but the strike finished it.8
After the strike-shortened 1994 season, Kruk was granted free agency and signed with the Chicago White Sox for 1995, but his physical condition hindered him. His retirement also reflected his sense of theater. He singled against the Orioles in Camden Yards on July 30, 1995, advanced to third and at inning's end stepped off third base into retirement in a prearranged plan with the White Sox.9
But even before he retired, John Kruk's wit surfaced in his autobiography, coauthored with Paul Hagen. I Ain't an Athlete, Lady (1994) is filled with his insights, goofs, and humor. He based it on his self-deprecating rejoinder to a woman in a restaurant who questioned his unhealthy depiction of an athlete as he gorged on his food, beer, and cigarettes in public. "I'm a ballplayer," he said.10
That kind of remark plus his funny asides, let alone his hilarious appearances on Late Night With David Letterman, led Kruk to a post-baseball career in movies and sports-talk-TV-theater.11 He became a baseball commentator in retirement, although he briefly worked in the minors as hitting coach for the Reading Phillies. He worked for Fox Sports, among others, and in 2004 settled in with ESPN. He and the channel had a mutual parting with ESPN in 2016, in part, he said, because their phone calls interrupted his golf games. "The phone calls weren't that bad," he later clarified, adding a joke for good measure: "It was having to listen to them that was painful."12 Comcast made him part of its Phillies broadcast crew in December 2016 and through the 2017 season he regaled his audience with his unique inside take on the national pastime.13
As with other baseballers of his ilk (Casey Stengel, Yogi Berra, Bill Lee, etc.) who were playful, goofy, and clever, there are lots of stories about him and his character. But unlike Berra and Stengel, Kruk's stories can be corroborated. Many of them are on the web but some still reside in print.
His wit is noted for its self-deprecation, while his humor is usually of the "aw, shucks" variety, but both are delivered deadpan and are most effective in interviews. Many know of his comment to the lady in the restaurant but in 1988, as an emerging star in San Diego, he said during an interview, "You know what I like? I like walking with Tony Gwynn across the street from the hotel to the stadium. All the kids with pens grab at Gwynn. They look at me and ask if I'm a ballplayer. I tell them, 'No, I'm his bodyguard and if you touch him, I'm killing you.'"14 It's not known if the kids recoiled but coming from a burly guy who once left a hot tub during deer season in his West Virginia home, grabbed a rifle and, wearing only boots and a swim suit, dropped a buck in his back yard, one can only imagine.15
Asked one time if fans mistook him for a ballplayer, Kruk said, "Me, no! John Goodman, maybe."16 After he retired from baseball in dramatic fashion, right after a single for the White Sox in 1995, he commented on criticism at his action. "People say I quit on the Sox. But I wasn't going to play anymore. I wasn't physically able to compete. I would have been stealing from the White Sox if I had stayed."17
After his playing career, John Kruk found occasional employment in motion pictures. As of 2017 he had five screen credits to his name:
The Fan (1996), in which Kruk plays a player who is slain at the ending by a deranged fan played by Robert De Niro.
American Pastime (2007). Kruk plays a broadcaster during a game between a Japanese internment camp team and a local nine.
The Sandlot: Heading Home (2007), in which he plays the coach of an opposing team during this time-travel movie on rediscovering team spirit.
Aqua Teen Hunger Force (2008). In this animated film, Kruk is a siren who is tortured by two other sirens that some viewers describe as a "twisted sex act."
Ring the Bell (2013). Kruk plays himself in a cameo appearance in this film about spiritual values and ego.18
Kruk's appearances on Letterman highlighted more of his wit. On a 1992 show, Letterman asked him about the dreadful Phils: "Are you optimistic for the rest of the season for your team's chances?" Kruk deadpanned, "To finish the season?"19 In a 1993 appearance, Kruk commented on trading his number to new teammate Mitch Williams. "I saw where Rickey Henderson gave a guy $25,000. … I got two cases of beer." Williams wanted Kruk's 28 because his wife had lots of jewelry with Williams's former number on them. "The best part of it is, now, he got divorced, now he wears 99 and the two cases of beer are gone! It's a sad story."20 The 1995 show featured a newly retired Kruk. During a conversation about a movie offer, Kruk opined, "What the hell kind of movie can it be where I never acted? He wants me to be a lead? I'm pretty certain it's gonna be very low-budget."21
Kruk has been married twice. His first wife was Jamie Heeter. They divorced in 1998. His second wife is Melissa (McLaughlin) Kruk, a former Miss New Jersey (1999), whom he met at a "setup" dinner by former teammate Mitch Williams. As of 2017 they lived in Naples, Florida, with their two children, Kyle and Keira. John credited Melissa with a life-changing epiphany: "I was a mess. She saved my life."22
He is candid about the problem he credits his wife for saving him from — alcoholism. A steady drinker during his career, he became a heavy drinker in retirement. "I was no angel when I played the game. … When I went out, I drank to get drunk because I wanted to be drunk — not because I couldn't go without it. And you don't stop doing something like that by taking a pill or getting some medicine. You stop when you realize that you're an idiot. I've heard all the talk about chemical imbalances and the other crap about some people being predisposed to addiction. Let me tell you all something: It still comes down to a choice. I never chose to have cancer, but I did choose to have a drink."23
As a ballplayer, Kruk is estimated to have earned more than $11 million. He must have held on to a lot of it and invested it wisely because some estimates of his net worth have topped $25 million. One of his financial actions was to use his wealth for the benefit of his parents. He talked them into retiring so he could provide for them as they had provided for him. "It was only right," he said.24
Last revised: March 1, 2018
This biography originally appeared in "From Spring Training to Screen Test: Baseball Players Turned Actors" (SABR, 2018), edited by Rob Edelman and Bill Nowlin.
Sources

In addition to the sources cited in the Notes, the author also consulted baseball-almanac.com, Baseball-Reference.com, and Retrosheet.org.
Notes
1 Seamus Kearney, copyright 2017.
2 Rob Tornoe, "Former Phillies Great John Kruk and ESPN Have Parted Ways," October 4, 2016. https://philly.com/philly/blogs/real-time/Former-Phillies-great-John-Kruk-and-ESPN-have-parted-ways.html.
3 John Kruk and Paul Hagen, I Ain't an Athlete, Lady (New York: Simon & Shuster, 1994), 62.
4 "Vintage John Kruk," YouTube, uploaded August 15, 2011, Bryan Sargent. See youtube.com/watch?v=58i725rhklo.
5 Kruk and Hagen, 141-143.
6 YouTube, Midsummer Classics [1993], uploaded June 12, 2011, MLB Baseball. See youtube.com/watch?v=9SH715tr6ek.
7 youtube.com/watch?v=58i725rhklo.
8 See banishedtothepen.com/the-1994-strike-what-was-the-deal/,
community.seattletimes.nwsource.com/archive/?date=19940310&slug=1899466,
9 articles.baltimoresun.com/1995-07-31/sports/1995212095_1_kruk-white-sox-designated-hitter.
10 Kruk and Hagen, 57.
12 nypost.com/2017/02/07/john-kruk-the-worst-part-about-working-for-espn/.
13 m.phillies.mlb.com/news/article/214728408/phillies-broadcasters-prep-for-spring-training/.
14 Bill Plaschke, "Country Kruk: Padre First Baseman Came From the Sticks Carrying a Big Stick," Los Angeles Times, April 14, 1988.
15 Patrick Reusse, "Kruk's W. Virginia Roots Still Run Deep," Minneapolis Star Tribune, October 24, 1993.
16 "John Kruk, White Sox Designated Kidder, er, Hitter," Chicago Tribune, June 27, 1995.
17 Fred Mitchell, "Sure, Jordan's Rich, but He's No Bill Gates," "Odds and Ins," Chicago Tribune, August 9, 1996. https://articles.chicagotribune.com/1996-08-09/sports/9608090155_1_sox-success-bill-gates-john-kruk.
18 Kruk's full list of credits can be found at https://imdb.com/name/nm0472658/?ref_=nv_sr_1.
19 youtube.com/watch?v=wkLV5xV5ezc.
20 youtube/watch?v-00-MPOMvnZl.
21 youtube.com/watch?v=MCtdTIJ4x6s.
22 Martin Kaufman, "ESPN Duo Makes Perfect Double Play," Golf Week, April 6, 2009. https://golfweek.com/2009/04/06/espn-duo-makes-perfect-double-play/.
23 John Kruk, "The Hypocrisy of Sports," ESPN.com, April 10, 2008. https://espn.com/espn/page2/story?page=kruk041008.
24 Kruk and Hagen, 62.
Born
February 9, 1961 at Charleston, WV (USA)
If you can help us improve this player's biography, contact us.
https://sabr.org/sites/default/files/KrukJohn.jpg
600
800
admin
/wp-content/uploads/2020/02/sabr_logo.png
admin
2012-01-04 20:29:07
2012-01-04 20:29:07
John Kruk