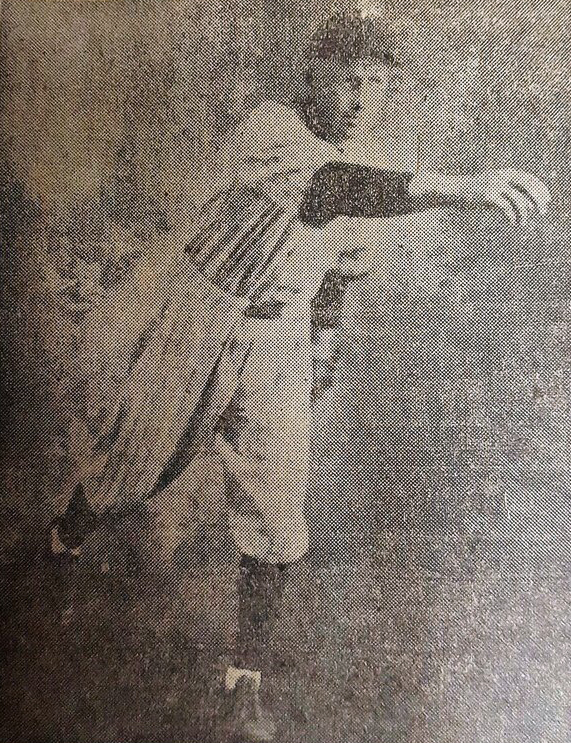 ---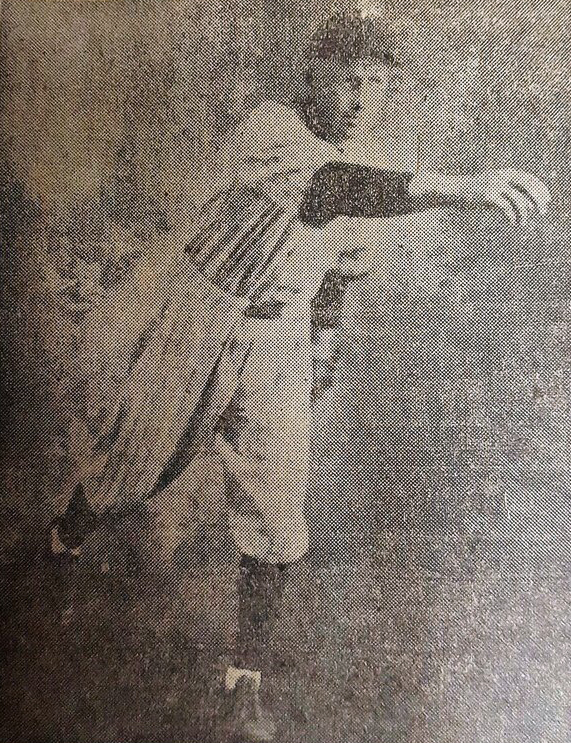 Like his father before him, John Michaelson may have been destined for a life working in the copper mines had it not been for his ability to throw a baseball. After the right-handed pitcher was discovered by scouts, he had a spring training invitation from the Detroit Tigers and a two-game trial with the Chicago White Sox at the end of the 1921 season. However, he always preferred playing semipro ball (and being paid more than teams in Organized Baseball were offering) near his home on Michigan's Upper Peninsula. His one claim to fame, if you could call it that, is that as of 2019 Michaelson remains the only player in major league history ever born in Finland.
John Michaelson was born August E. Mikkola on August 12, 1893 in Taivalkoski, Finland, to Mikko and Kati Mikkola. He had an older brother, Jacob; an older sister, Lizzie; and two younger sisters, Lilly and Mildred. By the time of the 1920 U. S. Census his parents had Americanized their first names to Mike and Katarine, respectively. John was still going by the name August Mikkola in 1920, but in 1930 he was August Michaelson, and by 1940 John Michaelson. During his baseball career, mostly in the 1920s, he was called both John and August, or alternately Gus.
In 1898, when August was about five years old, the family boarded the Empress Ireland at Liverpool, England. They arrived in North America at Quebec, Canada, and subsequently entered the United States. The family settled in the small town of Allouez on Michigan's Upper Peninsula, about 25 miles northwest of Houghton. His father worked in the local copper mines; as soon as he was old enough, August did too. At the time of the 1910 U. S. Census, when he would have been about 16 years old, his listed occupation was that of a framer in a copper mine and by 1920 as a motor man in the mines.
It's not exactly clear when Michaelson began pitching, but the earliest available evidence shows 1919. The first reports in print that have surfaced about his baseball career (referring to him as both Michaelson and Mikkola) come from 1921. He was then with a team called the Mohawk Juniors. A story that March noted that in 1919 he had played for Wakefield, Michigan, where he established a record (ostensibly local) by striking out 21 men in one game.1 That same article said that in 1920, he was discovered by Joe Swetish, manager of Calumet in the semipro Copper Country League.2 Later that summer he joined a factory league in Flint, Michigan, "with the inducement of a steady job in the automobile plant."3
While pitching for Buick 11, Michaelson had a memorable match-up with Notre Dame football star George Gipp. Gipp first came to Norte Dame to play baseball but was persuaded to go out for the football team by coach Knute Rockne. He and Michaelson were practically neighbors, Gipp having been born in Laurium, Michigan, on the Keweenaw Peninsula. The two men may have known each other before facing off as opponents in the Flint factory league. Michaelson struck Gipp out the first three times, but in his fourth at-bat Gipp hit a home run over the center field wall off of Michaelson that was said to be the longest anyone had ever seen. Gipp died just a few months later, in December 1920.
Also while with Buick, Michaelson was seen by a Detroit Tigers scout, who sent a favorable report to owner Frank Navin. The pitcher was reportedly "signed on the spot." The scouting report on Michaelson was prophetic, saying, "he possessed a fastball with real 'zip' and his only apparent weakness was a tendency to wildness. This may prove fatal."4 He was invited to the Tigers spring training camp the following spring in San Antonio under new manager Ty Cobb and was taken north by the big club. He was with Detroit, although he did not appear in any games, until early May. He was then farmed out to the Jackson (Michigan) Mayors in the Class B Central League. 5
At the time it was reported, "Fans are of the impression Michaelson loomed well in the eyes of manager Cobb of the Tigers owing that the Detroit pilot must have regarded the Keweenaw pitcher a player worthy of development. Major league managers as a rule seldom take the trouble to place a candidate under the wing of a minor league team unless he shows ability and the fans declare that it is assured that Michaelson impressed Cobb."6
His stay in Jackson was brief — "owing to a disagreement with the management, he asked for and was given his release."7 Michaelson was back with his former semipro team in Wakefield by early June. He reportedly won 16 consecutive games pitching the "Open Pitters" to the league championship. Through mutual friends, Wakefield manager Dr. Robert Mullen got in touch with Chicago White Sox owner Charles Comiskey, who dispatched P. C. Kearey, a representative of Comiskey's described as an "approval man," to look over Michaelson. He was signed and told to report to the White Sox in late August.
The White Sox were mired in seventh place in the American League and it was thought Michaelson would get a good opportunity because "[Dickey] Kerr is laid up with a sore arm and as the other pitchers with the exception of the invincible [Red] Faber are not in particularly good form"8 He made his major league debut against the Boston Red Sox at Comiskey Park on August 28, entering in relief in the eighth inning and retiring both batters he faced. His next — and, as it would turn out, last — major-league appearance came two days later. He was roughed up for three earned runs in two innings pitched in an 11-6 loss to the St. Louis Browns.
Michaelson described his jump from the factory leagues to the majors as "just like learning the game all over again."9 At a time when many veterans were wary of a rookie trying to take their jobs, Michaelson was very complimentary about the support and instruction he received, particularly from his manager, Kid Gleason, and fellow pitcher Kerr. "The fellows on the team are a most likable group and aided with many suggestions," he said.10
Michaelson signed a contract with the White Sox for the 1922 season and spent the winter trapping in the woods near his home. He failed to make the team out of spring training and was farmed out to the New Haven (Connecticut) Indians in the Eastern League. In mid-May it was reported that he was being recalled by the White Sox.11 However, there is no evidence that he ever reported. A week later he was with an independent team Chisholm on Minnesota's iron range. Salary may have led to the change — it was reported that Chisholm was paying him $325 per month while he only made $300 with New Haven. Michaelson made it known that he would be willing to return to Wakefield if they matched his current salary, but his former team declined.12
By July 1922 he was with Valley City, North Dakota, in the Class D Dakota League. He finished the season near his home in northern Michigan with Calumet. He pitched for independent teams near his home in 1923, then made one more appearance in Organized Baseball the following year, pitching in 21 games with the Kalamazoo Kazoos in the Class B Michigan-Ontario League.13 In 1925 he pitched independent ball for the Traverse City Resorters and had another stint back in the Flint factory league. Now more than 30 years old, he continued to pitch semipro ball on Michigan's Upper Peninsula for a few more years.
On January 15, 1930, Michaelson married Beulah Pennock. At the time of that year's U. S. Census, the couple was living in Wakefield, Michigan, and he was working as a laborer. By 1940 he was working as a painter. He and his wife had settled in Marenisco, Michigan, not far from where he grew up. Sometime later he and his wife moved to Woodruff, Wisconsin, a few miles across the state line in far northeast Wisconsin.
Michaelson died from a heart attack on April 16, 1968, at the age of 74 while dumping rubbish at the city dump in Woodruff. His obituary noted that as a young man he once attended a commercial art school in Chicago and that at the time of his death was a retired house painter and artist.14 He was buried at the Marenisco Cemetery. Michaelson was survived by two sisters and his wife Beulah, but left no known descendants.
Acknowledgments
This biography was reviewed by Rory Costello and Tom Schott and fact-checked by Bill Lamb. Photo: Ironwood Daily Globe, June 30, 1921. Thanks to Jouni Nieminen.
Sources
Unless otherwise noted, Michaelson's playing statistics are taken from Baseball-reference.com. Family and genealogical data were taken from Ancestry.com.
Notes
1 "Former Wakefield Twirler To Tigers," Bessemer (Michigan) Herald, March 2, 1921.
2 "Former Wakefield Twirler To Tigers."
3 "Another Flint Player To Try Out With Majors," Flint, (Michigan) Journal, February 28, 1921.
4 "Another Flint Player To Try Out With Majors."
5 "Ex-Wakefield Hurler Let Go," Bessemer (Michigan) Herald, May 4, 1921.
6 "Ex-Wakefield Hurler Let Go."
7 "Michaelson Soon To Chicago White Sox", Ironwood (Michigan) Daily Globe, August 16, 1921.
8 "Michaelson Soon To Chicago White Sox."
9 "White Sox Hurler to Trap During Winter", Ironwood (Michigan) Daily Globe, November 2, 1921.
10 "Michaelson is In Pink Of Condition", Ironwood (Michigan) Daily Globe, January 28, 1922.
11 "Michaelson Recalled From New Haven Club," Ironwood (Michigan) Daily Globe, May 16, 1922.
12 "Michaelson Asks $325 Salary to Pitch Here," Ironwood (Michigan) Daily Globe, May 23, 1922.
13 John Michaelson's record in Baseball-reference.com lists only his major league record. His appearances with Flint, New Haven, and Valley City/Bismarck are under a different entry for a player named Michaelson with no first name given (Chadwick ID: a59e95d9). His 1924 record with Kalamazoo is under a third player, A. Michaelson (Chadwick ID: 66cb323a).
14 Obituary — no headline given, Ironwood (Michigan) Daily Globe, April 18, 1968.
Born
August 12, 1893 at Tivalkoski, (Finland)
Died
April 16, 1968 at Woodruff, WI (USA)
If you can help us improve this player's biography, contact us.
https://sabr.org/sites/default/files/MichaelsonJohn-1921.jpg
600
800
admin
/wp-content/uploads/2020/02/sabr_logo.png
admin
2020-03-18 13:16:39
2020-04-09 14:37:25
John Michaelson