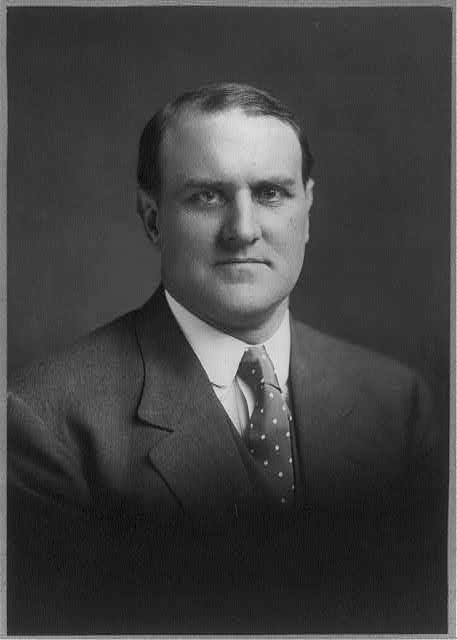 ---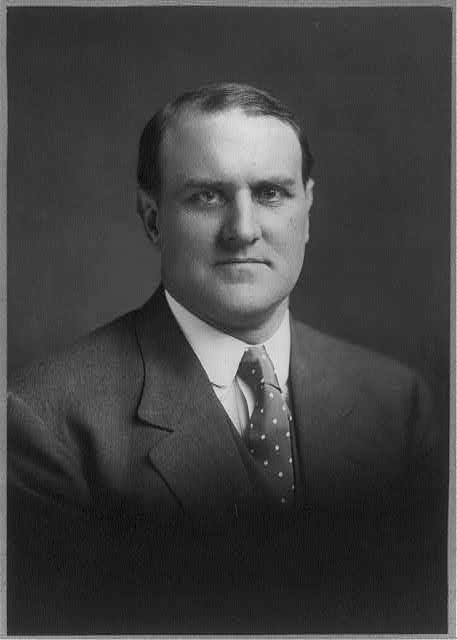 Many people achieve success in their chosen field, but few match the versatility of John Tener. During a 30-year span, 1888 to 1918, this Horatio Alger figure was a major league pitcher, successful businessman, United States Congressman, Governor of Pennsylvania, and President of the National League. In the latter office, Tener fought off the threat posed by the Federal League and continued the efforts of his predecessors to eliminate rowdyism from NL ballparks.
The seventh of 10 children, John Kinley Tener was born in County Tyrone, Ireland, on July 25, 1863. His parents, George and Susan (Wallis) Tener, were well-to-do farmers. In 1873 they decided to emigrate to the United States to join their eldest daughter in Pittsburgh. Before they could leave, however, George contracted pneumonia and died. Despite the loss of her husband, Susan went ahead with the move. Shortly after the family's arrival she also died, leaving John an orphan at age 10. Largely due to the efforts of John's eldest brother, George Jr., the stricken family held together. John completed school and went to work for a local iron and steel manufacturer.
John's real love, however, was baseball. The 6'4″, 180 lb. right-hander left home in 1885 to pitch for Haverhill of the New England League, where his teammates included Wilbert Robinson and Tommy McCarthy. (More importantly for Tener, he met his future wife, Harriet Day, in Haverhill, and the two were married in 1889.) In 1888 he returned to Pittsburgh where his pitching on local sandlots caught the attention of Chicago White Stockings manager Cap Anson, who signed him to a contract in August. Despite a disastrous first game (he was beaten by Indianapolis, 14-0), John posted a 7-5 record and 2.74 ERA. After the season he accompanied the White Stockings on baseball's second great world tour, playing in New Zealand, Australia, Ceylon, Egypt, Italy, France, and England. In addition to his mound duties, Tener served as treasurer, a difficult task given the different currencies used in each country, and was chosen to help explain baseball to the Prince of Wales.
That tour was when Tener became friendly with John Ward, a friendship that resulted in his becoming secretary of the Baseball Brotherhood. Following another respectable season with Chicago, Tener joined his fellow Brotherhood members by jumping to the Players League in 1890, posting a disappointing 3-11 record and 7.31 ERA for the Pittsburgh entry. Afterwards he left baseball to return to business in Pittsburgh, becoming the cashier of the First National Bank in the Pittsburgh suburb of Charleroi and eventually moving up to president of that institution in 1898. Tener also organized the Charleroi Savings and Trust Company, serving as its secretary and treasurer, and the Mercantile Bridge Company, serving as president for a time before accepting a position on the board of directors. He later served as a director of other companies, including two Pittsburgh area street railway concerns.
In 1908 John Tener was elected as a Republican to the U.S. House of Representatives, defeating a seven-term incumbent. He was re-nominated for Congress in 1910, but the Republican Party had bigger plans for him: Tener was nominated and subsequently elected the Governor of Pennsylvania. His successful term in office featured the passage of significant legislation to improve state roads and schools, a public utilities act, and the establishment of a pension program for widows decades before the introduction of Social Security.
During that time the National League, due largely to a lack of unity among its owners, was gradually becoming less powerful than the American League, united under Ban Johnson's leadership. Tired of the situation, NL owners voted not to renew the one-year contract of league president Thomas Lynch and to replace him with a more prestigious leader. New Philadelphia owner W. F. Baker proposed Tener, and it was agreed to offer the Pennsylvania Governor a four-year contract, reportedly for $25,000 per year. Tener was amenable to the offer, provided that he could serve on a part-time basis without salary until the end of January 1915, when his term as governor expired (under Pennsylvania law, Tener could not succeed himself as governor). On December 9, 1913, John K. Tener was unanimously elected the NL's eighth president.
Soon after his election the Federal League war began. Though he remained in the background until his term as governor ended, Tener played a major role in battling and ultimately negotiating a settlement with the rival league. He publicly ridiculed the Feds' quality of play, an example of which was his reaction to a Federal League plan in 1915 to reduce the price of some seats to 10 cents. When asked for comment, Tener stated, "I believe most businessmen charge for their goods in due relation to the value of the goods that they have to offer, don't they?"
One of Tener's major initiatives during his term as NL president was his strong stand against umpire-baiting and rowdy behavior. Like Ban Johnson, he strongly supported his umpires. Following a June 1917 incident in which Giants manager John McGraw struck umpire Bill Byron, Tener suspended McGraw for 16 days and fined him $500. After McGraw delivered an angry tirade against Tener to reporters, the former governor added another $1,000 to the fine. Another contentious incident involved Cubs owner Charles Webb Murphy. A former newspaper reporter, Murphy frequently embarrassed the league with his ill-advised player transactions and outspoken comments. Tener had to step in when Murphy tried to void the contract of Johnny Evers before the 1914 season, and he later played an important role in forcing Murphy out of baseball by arranging for Cincinnati newspaper magnate Charles P. Taft to purchase Murphy's stock in the Cubs. Tener also played a prominent role in baseball's recognition of the Players Fraternity, but he later withdrew his support, charging that the group had adopted a policy "calamitous to the best interest of the sport."
When John Tener was chosen as NL president, Pittsburgh owner Barney Dreyfuss stated that the owners' goal was to rally behind him and "bring together the petty factions that now exist in our ranks." Despite that avowed intention, the politics and in-fighting continued among senior circuit owners and between the two leagues. Though unanimously re-elected as NL President in November 1917, Tener deliberated for two months before agreeing to an additional one-year term.
The final straw for Tener resulted from a dispute over the rights of pitcher Scott Perry, who had been sold by Atlanta to the Boston NL team in 1917 on a conditional basis, in essence a 30-day trial. After remaining with Boston a little over two weeks, Perry jumped to an outlaw team. The National Commission, which consisted of Tener, Ban Johnson, and Cincinnati owner Garry Herrmann, ruled that Boston retained the rights to Perry should the pitcher return to organized baseball, contingent on their paying the balance of the purchase price. In 1918, however, Atlanta sold Perry to the Philadelphia Athletics. When Perry started the season by pitching well, Boston exercised its rights to Perry and appealed to the National Commission, which supported Boston's claim. Connie Mack, however, refused to accept the verdict or Boston's offer of a compromise. With Ban Johnson's support, Mack went to court to secure an injunction to prevent the enforcement of the National Commission's ruling. Tener was furious. He urged NL owners to break off relations with the AL, including cancelling the World Series, unless the Athletics returned Perry to Boston. The NL owners refused to support such a strong stand, and on August 6, 1918, Tener resigned.
After leaving baseball, Tener devoted himself to his various business interests in Pittsburgh. He became heavily involved with the Elks Club, both locally and nationally, and headed up the Elks War Relief Commission during and after World War I. He remained active in politics but was unsuccessful in his bid to secure the Republican nomination for another term as Governor of Pennsylvania. The former NL President maintained his interest in baseball, regularly attending games at Forbes Field. He was also an avid golfer.
Harriet Day Tener died in January 1935, and in August 1936 John married Leone Evans. Unfortunately, the second Mrs. Tener took ill and died in October 1937. John Tener died from heart disease on May 19, 1946, and was buried in Homewood Cemetery in Pittsburgh. Stating that "we have lost a dear friend and a great American," Pennsylvania Governor Edward Martin ordered the state flags to be flown at half-mast for 30 days.
A slightly different version of this biography appeared in Tom Simon, ed., "Deadball Stars of the National League" (Washington, D.C.: Brassey's, Inc., 2004).
Sources
For this biography, the author used a number of contemporary sources, especially those found in the subject's file at the National Baseball Hall of Fame Library.
Born
July 25, 1863 at County Tyrone, Tyrone (Ireland)
Died
May 19, 1946 at Pittsburgh, PA (USA)
If you can help us improve this player's biography, contact us.
https://sabr.org/sites/default/files/TenerJohn.jpg
600
800
admin
/wp-content/uploads/2020/02/sabr_logo.png
admin
2012-01-04 20:41:47
2022-06-02 06:36:01
John Tener