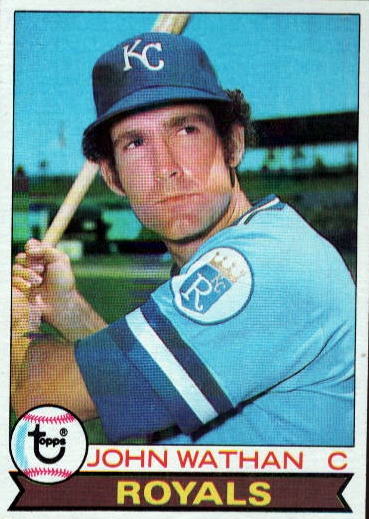 ---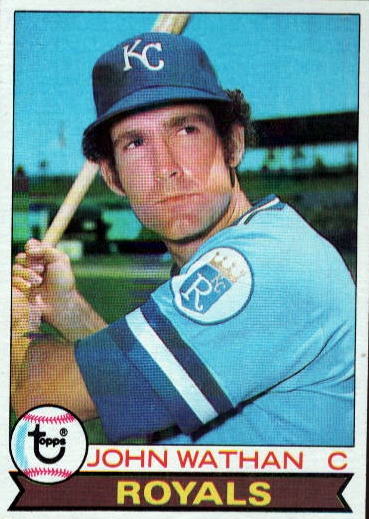 John Wathan was a rare catcher that possessed both size and speed, innate gifts most notably displayed when the six-foot, two-inch, 205-pound backstop stole 36 bases in 45 attempts in 1982, a feat that broke Ray Schalk's 1916 major league record for single-season stolen bases by a catcher. Wathan also played first base and outfield during a nine-year career with the Kansas City Royals, and after retirement went on to manage both the Royals and the California Angels, along with the AAA Omaha Royals, before settling in to a position in player development for Kansas City in 2008.
John David Wathan was born on October 4, 1949, in Cedar Rapids, Iowa, to Mary and James Wathan. Jim Wathan, something of an aviation pioneer, had started the Wathan Flying Service, at the Cedar Rapids airport in 1954 after a fifteen year career as a civilian pilot. Jim and Mary divorced when John was two years old, and the toddler accompanied his mother to live in San Diego.
Growing up in Southern California, as so many talented athletes do, John played in a number of youth baseball organizations, including Little League, Pony, Colt, and the American Legion. He enrolled at a small, private high school, Saint Augustine in San Diego, where he continued to play baseball while adding basketball and football to the mix. He was good, and in his senior year, 1966-67, he was named to the All-Eastern League team in baseball.
"I never wanted to do anything else in my life except play major league baseball," said Wathan in an interview with former umpire Ron Luciano, for Luciano's book, "The Fall of the Roman Umpire," a series of interviews with major league players. "In high school I had also played basketball and football. I never understood football. We would practice all week just to play one game, and then I got to play only half the game anyway. I hated practice, so I gave it up.
"On the baseball team I played whatever position the team was weakest at," he recalled. "I played third base, first base, all the outfield positions…at the end of the year, the scholarship offer came rolling in. One. It came from the University of San Diego."[1]
Undeterred despite not being recruited by the larger baseball programs in the region, like USC and the Arizona colleges, Wathan entered the University of San Diego, a small, private college not to be confused with the University of California (San Diego) or the California State University (San Diego, commonly called San Diego State). At USD Wathan majored in history, but his athletic talents were too obvious to ignore.
In baseball, John was named All-SOCAL Conference as a freshman in 1968 (at first base) and the next year as a catcher. This was, in part at least, probably due to his base stealing ability; during his sophomore season, 1969, he stole 30 bases in 32 attempts. As a junior, in 1970, John hit .430 and stole 30 more bases, and led the NCAA "College Division" in hits with 61.
During the college off-season, Wathan played amateur baseball in the California Collegiate League. In 1967 and 1968, playing for San Diego, he batted at a .344 clip in '67 and .330 in '68. In 1969 he played for La Mesa and in 1970 switched to National City (where he hit .377 in 40 games and stole 20 bases). That year he also led the USA team to 2nd place in the World Amateur Baseball Tournament in Cartagena, Colorado.
The Kansas City Royals – in the person of scouts Spider Jorgensen and Ross Gilhousen – took notice, and convinced the team to make Wathan their first round (fourth pick overall) selection in the 1971 January draft.
"I didn't know anything but what I saw on television about Kansas City: they had a lot of cows and Matt Dillon kept law and order. But I did know that the Royals were an expansion team and I felt signing with them would give me an excellent chance to get to the big leagues right away. I did, too, if you consider six years right away," Wathan recalled.[2]
Two months later, on March 7, Wathan married Nancy L. Brown, whom he'd met during college. Their union would, later, produce two sons, Derek and Dusty, both of whom went on to play professionally, with Dusty appearing in three games for the Royals in 2002, and later managing the Clearwater Threshers of the Florida State League.
Wathan's minor league apprenticeship began with a blaze. Starting at Waterloo in the Class A level Midwest League, he lasted only forty-three games before his .384 batting average earned him a promotion to San Jose of the California League.
The 1972 season proved even more dynamic. Despite breaking his wrist on May 4, 1972, which put him on the Disabled List for four weeks, Wathan spend forty-eight games with San Jose, then sixteen with Class AA Jacksonville of the Southern League (where he hit. 393), and closed the year at AAA Omaha. John was returned to Jacksonville for the 1973 seasons, and remained at the AA level in 1974 in part due to having lost another month due to a shoulder dislocation in May 1973. Back on the field for 120 games in 1974, Wathan's .319 batting average left the Royals with little choice but to bring him back up to Omaha.
Nicknamed "Duke", ostensibly due to his near-perfect impersonation of movie star John Wayne, Wathan continued his equally stellar play on the field. In 1975 he batted .303 for Omaha and caught in the American Association All Star game that year. In 1976, despite hitting only .155 in the early going at Omaha, the Royals summoned Wathan to the major leagues. The reason for the call-up: catcher Buck Martinez spiked himself in the hand while sliding into second.
Debuting on May 26, 1976, Wathan played sparingly as the team's third catcher (behind Martinez and Bob Stinson), yet earned a start in what proved to be the division-clinching game for Kansas City in September. Wathan told a reporter from the Cedar Rapids Gazette, "Our manager, Whitey Herzog, asked pitcher Larry Gura what catcher he wanted for the final game. Larry asked for me, and he pitched a 4-0 shutout that practically clinched the pennant for us." After the Yankees bounced Kansas City in the ninth inning of a classic League Championship series, a tilt in which the young catcher caught only two innings, both in Game 1, John and Nancy returned to Cedar Rapids, and moved into his father's house.
The elder Wathan told Gus Schrader of the Gazette: "I gave the house to John, and he lives in it during the winter while I'm in Florida. I return in the spring and live in the house while he's playing baseball. Actually, we have the house fixed so there are separate units, and we could both live there the same time." Wathan spent that first off-season working for Wathan Flying Service at the Cedar Rapids airport and stayed in shape by refereeing high school basketball games during the winter.
Building on his 1976 success, the twenty-seven year old made the team in 1977 as a reserve catcher. Over the campaign he batted .329 in 119 at-bats, but still appeared in four games during the 1977 American League Championship Series, even replacing first baseman John Mayberry in Game Four. Wathan returned in 1978, sharing both first-base and catching duties as needed, but in the playoffs saw his team fall to the Yankees for the third consecutive year. Oddly enough, Wathan was hitless in his post-season play with the Royals.
On August 25, 1977. Wathan entered a game against Milwaukee as a pinch hitter, and knocked his first major league home run to help the Royals defeat the Brewers 9-6. This followed his extra-inning double the previous night, one that drove in the tie-breaking run against those same Brewers in 15th inning. John then scored the winning run in a 4-3 Kansas City win.
1979 was, perhaps, the most difficult year in Wathan's life. Although he'd played forty-nine games at first base (and broke John Mayberry's team record for consecutive errorless games at first, with 57), and ninety overall, he saw his batting average begin a slide that bottomed out at .206. That decline was almost entirely attributable to tragedy he suffered when his 65-year old mother was murdered in San Diego on June 10.
That late spring afternoon, in the Pacific beach section of San Diego, Wathan's step-brother, 34-year old Mark Yavorsky, evidently snapped. Brandishing an antique saber, the man chased Wathan's mother across the street, into a neighbor's living room, and used the sword to stab her to death. The crime captured national attention, especially when Yavorsky was found not-guilty-by-reason-of-insanity, and committed to a mental institution instead of prison. The story was sufficiently compelling that, almost 30 years later, filmmakers David Lynch and Werner Herzog produced the movie "My Son, My Son, What Have Ye Done?", based on Yavorsky's deranged actions.
Wathan, though, carried on. He caught 77 games the next season. The aggregation of his defensive prowess, his seventeen stolen bases, and a .305 batting average earned him a 24th place finish in the American League Most Valuable Player voting. While 24th place may not seem significant, it was remarkable given his three years of platoon status and the pain that remained from the death of his mother a year earlier. To cap the year, the Royals finally defeated New York in the League Championship Series, although they fell to Philadelphia in the World Series.
Beginning with the 1980 season, and carrying forward, John Wathan was primarily used behind the plate. His outfield and first-base appearances dropped appreciably, as did his batting average, but his knowledge of the game had expanded and he still had his legs. While the 1981 schedule was truncated due to a labor strike, Wathan still pilfered eleven bases. The next season, 1982, was the year that he broke the single season record for steals by a catcher. Despite breaking his left ankle on July 5 when he fouled a pitch off the vulnerable joint, Wathan recovered quickly.
"I broke the record in Texas," Wathan told Luciano for his book. "The Rangers' ground crew had planned to present me with the base when I broke the record, so they used an old base at second, assuming that would be the base I would steal. I guess they figured there was no use giving a new base to an old catcher. I fooled them. I stole third base." The game was stopped, and Ranger third baseman Buddy Bell struggled to remove the plate from the ground. "Our third base coach, Joe Nossek, tried to help Bell. I was still standing there, the fans were still applauding, and they couldn't get it out of the ground." Third base umpire Bill Haller came over to try to help, and he could not succeed. The applause died away, replaced by fan mumbling over the delay.
Finally, the base was removed from the ground. "So there I was standing on third base, holding third base in total silence. I didn't know what to do. I hadn't set that many records, so I didn't know how to act. Finally someone came and took my base away from me. It's now the top of a bar stool."
Wathan attributed his breaking the record to having been a backup catcher – "Full-time catchers like Bob Boone or Jim Sundberg have been crouching behind the plate for 10 years and more. I'm not surprised they don't steal bases. I'm surprised they can still walk. I've only caught more than 100 games in a season only four times. Compared to players like Boone and Sundberg, I'm a sprinter."[3]
In a newspaper column on September 27, entitled "The Catcher with True Speed", George Vecsey noted that Wathan was fifth in the entire league in stolen bases despite having missed five weeks due to injury. He also quoted manager Gene Mauch: "When you talk about John Wathan, you're not talking about catchers, you're talking about athletes."
"The way I figure it," Wathan said, "I've got a 32-year old body and 26-year-old legs. I didn't play that much in the minors, or even up here until the last couple of years. I haven't worn out my legs the way another catcher might." Dick Howser added: "John takes one of the best walking leads you'll ever see. He knows the pitchers and isn't afraid to run. Some guys may have speed but they are afraid of being embarrassed."
Wathan's batting average fell to .181 in 1984, but the team retained him for one more season in 1985. The move could not have been better for the aging catcher. Wathan appeared in only sixty games that year, but the Royals made it back to the World Series, which gave him one more shot at a title. His final appearance as a major league player came on Saturday, October 26, 1985, when he was inserted into Game Six of the series to pinch run for Hal McRae in the bottom of the ninth inning. With the bases loaded and the Royals trailing 1-0, pinch hitter Dane Iorg stroked a single to right field and drove in the two runners ahead of Wathan for the win. The next night, in an anti-climactic Game Seven, Kansas City scored eleven runs and earned Wathan a World Series ring.
Wathan described the life of a backup catcher to Luciano: "Probably the most difficult thing about being a utility player is keeping occupied during the game. When I'm not playing, I usually stay out in the bullpen for the first few innings, so the crew out there usually starts the day by doing the Kansas City Star's crossword puzzle and the Jumble puzzle. Our renowned groundskeeper, the great George Toma, has an office out there and there is a radio, a television, and a charcoal grill in that office. So we'd sit out in the bullpen, watching the ball game, eating grilled hot dogs. Without question, Marty Pattin is the best chef in baseball, Besides being a fine person, he would bring the bratwurst."[4]
John Wathan retired during the 1985-1986 offseason after a nine-year career in which he hit .262 and stole 105 bases. The next year, 1986, he was hired as an assistant coach for the Royals, and in 1987 was named manager of Kansas City's AAA Omaha Royals. On August 28, 1987, the Royals fired manager Billy Gardner and replaced him with Wathan.
The Royals finished in second place in the American League West division in both 1988 and 1989, and Wathan placed fifth in American League Manager-of-the-Year voting in '89. After finishing in sixth place in 1990, though, and opening 1991 with a 15-22 record, Wathan was fired and replaced by Bob Schaefer. Even with the poor 1990 season, Wathan's .515 winning percentage remains fourth on the all-time list of Royals managers, trailing only those of Whitey Herzog, Jim Frey, and Dick Howser.
Unemployed for only a few months, Wathan returned to southern California in 1992 when the Angels brought him on as third base coach. In the middle of that season, on May 21, the team bus crashed on the Jersey Turnpike, and manager Buck Rodgers was seriously injured. Wathan was named interim manager and led the team to a 39-50 record over the remainder of the season. He continued as bench coach for 1993, but was only offered a minor league coaching position in 1994.
Wathan declined. He told Larry Whiteside of the Boston Globe in 1994, "I don't know if I'll ever manage again…it's not a burning desire anymore."
Despite Wathan's overall managerial record of 326-320, a .505 winning percentage, no other managerial offers materialized, so he accepted the bullpen coaching job with the Boston Red Sox for 1994. He was out of organized baseball in 1995, but returned to the Royals as television analyst for the 1996 and 1997 seasons. For the next decade he worked as a scout and a minor league instructor for several organizations and in 2006 become a roving base running and bunting instructor for the Royals. In 2008 was named special assistant to the director of player development. He and Nancy still reside in the Kansas City area.
March 13, 2011
Sources
Archives of the National Baseball Hall of Fame (Giamatti Research Center)
www.Baseball-reference.com
Boston Globe – various issues
Cedar Rapids Gazette – various issues
Des Moines Register – various issues
Los Angeles Times – various issues
New York Times – various issues
Sports Illustrated – various issues
---
Born
October 4, 1949 at Cedar Rapids, IA (USA)
If you can help us improve this player's biography, contact us.
http://bioproj.sabr.org/bp_ftp/images5/WathanJohn.jpg
600
800
admin
/wp-content/uploads/2020/02/sabr_logo.png
admin
2012-01-04 20:27:59
2012-01-04 20:27:59
John Wathan