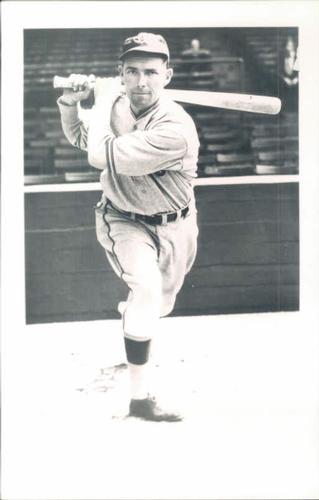 ---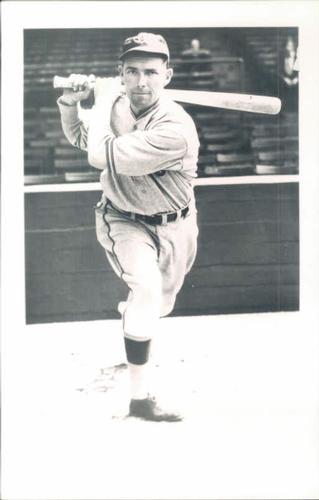 Cleveland shortstop Johnny Burnett was in the midst of a 12-game hitting streak when he entered the baseball record books. On July 10, 1932, the Indians and the Philadelphia Athletics engaged in an 18-inning slugfest won by the A's, 18-17. Burnett set the major-league mark for hits in a game with nine. He had six hits in seven at-bats in the first nine innings and then went 3-for-4 in extra innings. Despite the once-in-a-lifetime performance, Burnett had to share newspaper headlines with the Athletics' Jimmie Foxx, who had three homers and eight RBIs in the game.
John Henderson Burnett was the fourth and youngest child born to British-born Benjamin and Margaret Elizabeth (McKinnon) Burnett. His parents grew up in Lancashire, England. They were married in 1887 and shortly after the birth of their first child, Christine, they traveled to Boston, Massachusetts, and a new life in the United States.
Benjamin Burnett took a position as superintendent of a phosphate mine in central Florida. The family moved to Bartow, in central Florida. On November 1, 1904, John joined his sister and brothers, Paul and Elmer. The children all attended the Bartow schools where first Paul and then John were star athletes on the gridiron and baseball diamond. Bartow was a baseball hotbed that had a franchise in the Florida State League during Johnny's high-school days. After high school, John went on to graduate from the University of Florida in Gainesville. He played infield for the Gators' baseball team and lettered.
University of Florida baseball was far from its best when Burnett was there. His freshman team played mainly high-school squads, and the 1924 varsity went 5-14. In 1925 they played only nine games, winning three. Major-league veteran Lance Richbourg served as head coach in 1926. He beefed up the schedule considerably with games against the Giants and Senators during spring training and a trip to Havana and Key West.1 Burnett was one of the stars on the 14-7 team.
The Cleveland Indians held spring training at Lakeland, about 20 miles from Bartow. They had tracked Burnett from his early college days and on March 3, 1927, the Indians signed him before any other suitor could acquire his services.2 Manager Jack McCallister used Burnett at first base during spring training. At 5-feet-11, he made a decent target. He was a left-handed batter and weighed 175 pounds, but he never developed much power. Oddly, the decision was made not to send Burnett to the minors, but to give him "a seat on the bench to absorb words of wisdom from his elders and on occasion show his twinkling heels as an emergency runner."3
Burnett had plenty of opportunity to absorb wisdom because he left the bench in only 18 games4 in 1927. His debut came against the Philadelphia Athletics on May 7. George Uhle had delivered a two-run, pinch-hit double in the sixth and Burnett ran for him. He scored and the Indians eventually won in extra innings. He made nine more pinch-running appearances, six as a pinch-hitter, and two at second base. Over an entire season McCallister gave Burnett just eight at-bats, all of them hitless.
Roger Peckinpaugh took over as manager in 1928 and quickly recognized that Burnett needed playing time. He was optioned to Terre Haute in the Class B Three-I League. The Tots got off to an inauspicious start, but when Wes Ferrell was sent down from the Indians their fortunes improved. Below .500 after the first 50 games, the Tots turned it around and finished second to Decatur. Burnett placed second on the team in batting average at .326. Terre Haute and Decatur faced off in the playoffs with Decatur winning the best-of-seven series in five games (plus a tie). When the playoffs ended, Burnett, Ferrell, and first baseman Cecil Bolton joined the Indians.
Burnett made the roster in 1929 as a utility player. In midseason, Peckinpaugh realized that the youngster needed to get in more playing time and optioned him to the New Orleans Pelicans on July 1. After only 33 at-bats with Cleveland, Burnett hit .310 in 54 games for New Orleans. In 1930 he split time at shortstop and third base for Cleveland and was batting a lusty .312 when he fractured his wrist on July 19, missing the remainder of the season.
Burnett opened 1931 at third base for the Tribe. Cleveland acquired Willie Kamm from the Chicago White Sox on May 17 and Burnett found himself shifted to second base. He held down the keystone until a bout with pleurisy sidelined him on June 1. He returned to the lineup full-time on June 13 at shortstop and held the job for a month before the recall of Ed Montague. Burnett became the floater between second and short, seeing plenty of action. He played in 111 games and batted .300.
Despite a reputation as a fleet-footed runner, Burnett was never given much opportunity to be a basestealer. Over his career he averaged an attempt approximately every 20 games. Basestealing was not a well-used weapon during Burnett's playing time compared with other eras. Oddly, the Yankees with Ben Chapman were one of the most larcenous teams. Cleveland was consistently in the bottom half of the league in steals. Perhaps Cleveland believed in the element of surprise. That would explain why catcher Frank Pytlak would twice lead the team in steals.
There was a battle for the second-base job at the Indians' spring camp in 1932. Johnny Hodapp was the incumbent but faced a challenge from Burnett. Neither man had an outstanding spring, but when the team opened the season Burnett was at second and batting leadoff. He held that distinction until May 7. His play had been ragged and his hitting was below par, so he was benched for Bill Cissell. Cissell made an immediate impression by going 3-for-6 with three RBIs in a win over Philadelphia. Burnett saw limited action until he was given the shortstop job on June 7. His bat came alive and his average jumped up into the .290's. He was used as the number-two hitter with Dick Porter batting leadoff.
In the second game of a July 4 doubleheader, Burnett delivered a single to start his 12-game hitting streak that would be stopped by the Yankees on July 15. He went 25-for-60 during the streak, including his nine-hit performance. In late August he and Porter swapped spots in the lineup. Burnett played a career-high 129 games and hit .297 for the year. A season like that would usually ensure a starting spot the following year. Not for Burnett. The Indians brought in Bill Knickerbocker, who was regarded as a better fielder than Burnett.
Facing a challenge in spring training, Burnett found himself beset by a series of nagging injuries. His misfortune resulted in Knickerbocker's getting the nod to start the season at short. By the end of April, manager Peckinpaugh had a major dilemma. Knickerbocker's batting average hovered around .120, Cissell at second base was hitting just over .200. Burnett found himself playing the two positions in spurts at the whim of the manager. He saw daily action until June 5, when he pulled his hamstring. He was batting .308 at the time. It was nearly a month before he returned to the starting lineup on July 2, only to suffer the same injury in midgame. Burnett missed nearly all of July and was used erratically after that. He appeared in only 83 games with a .272 average.
Burnett went to camp as a utility infielder in 1934. He saw most of his action at third base. On September 9, he was playing there against Philadelphia when he launched a 10th-inning walk-off home run off Johnny Marcum. It was one of the few highlights he had that season. Over the winter, Cleveland packaged Burnett with Bob Weiland and sent them to the St. Louis Browns for outfielder Bruce Campbell.
Burnett opened the season with the Browns at shortstop. After a week he moved to third base for Harlond Clift, who was battling minor injuries. In July he played a stint at second before his .221 batting average relegated him to bench duty. He made only 10 appearances in August and September. Cincinnati swapped Jim Bottomley for him in 1936, but optioned him to Toronto in the International League, where he played 91 games. Now a baseball journeyman, he started 1937 in the PCL with Portland. He was dropped in early June with a batting average of .085. Tulsa of the Texas League added Burnett to its roster on June 22 for a brief stay. His journey took him to Dallas in July. Between the two teams, he played in 13 games at third base and batted .200.5
The Columbia, South Carolina, franchise in the South Atlantic League was bought by the Cincinnati Reds in 1938. Burnett was installed as the manager. The 1937 team had been affiliated with the Boston Bees and finished in last place. Burnett was entrusted with turning the tide and he did just that. The team finished in a third-place tie and took on league leader Savannah in the playoffs. Savannah advanced after a hard-fought seven-game series. Attendance was up by over 100,000 and Burnett was rewarded with a new contract for 1939 containing a hefty raise. The 1939 team collapsed and finished in seventh place. Burnett played in less than 10 games each season so his stats line was not published in the baseball guides.
Burnett left baseball behind and returned to the Tampa area. His brothers were both mining engineers, so it was no surprise that Burnett found work in mining, initially as a rigger. At the time of his death he worked for Pimm Engineering in Tampa. He had left the mines behind. Pimm was responsible for building schools, auto dealerships and the like. Burnett had taken a bride, Lucille Seward, in 1928. The couple had one child, Betty Lou. He was diagnosed with acute leukemia in 1959 and was hospitalized in Tampa for a short period before he died on August 12. He and Lucille rest at Garden of Memories Cemetery in Tampa, Florida.
Acknowledgments
This biography was reviewed by Len Levin and fact-checked by Alan Cohen.
Sources
Baseball-Reference.com.
Johnson, Lloyd, and Miles Wolff, eds., Encyclopedia of Minor League Baseball (Durham, North Carolina: Baseball America Publishing, 1993).
Various Spalding and Reach baseball guides.
Notes
Born
November 1, 1904 at Bartow, FL (USA)
Died
August 12, 1959 at Tampa, FL (USA)
If you can help us improve this player's biography, contact us.
/sites/default/files/BurnettJohnny.jpg
600
800
admin
/wp-content/uploads/2020/02/sabr_logo.png
admin
2017-11-06 18:41:42
2020-04-09 14:40:29
Johnny Burnett