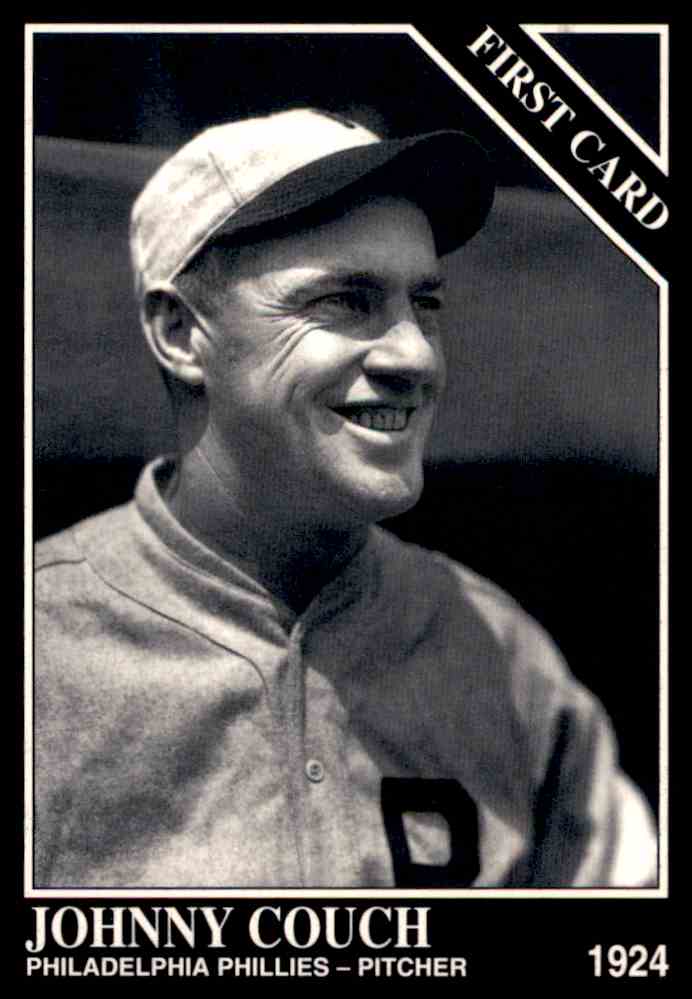 ---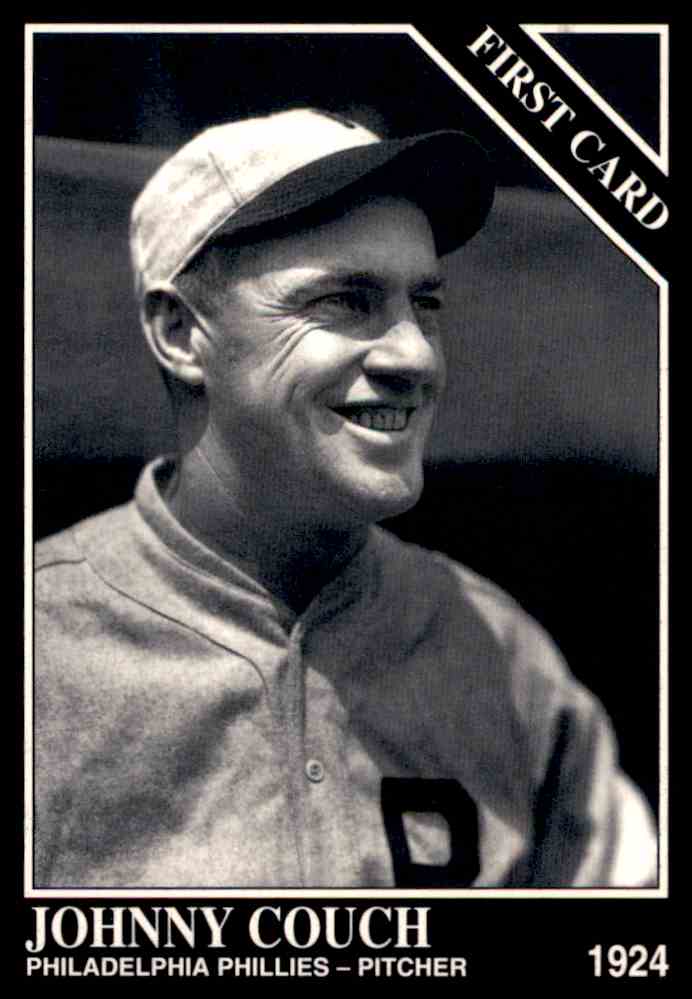 Johnny Couch, a proud Montana native, was a fan favorite of the San Francisco Seals following World War I. He reinvented himself multiple times during a 15-year professional pitching career (1914-29). Known as a "gentleman scholar" in baseball circles because of his studies at Stanford University, he entered law enforcement after his playing career, retiring from the California Highway Patrol (CHP) after 24 years of distinguished service.1
Couch's opportunity in the major leagues almost never happened. After four years in the minors he was given a chance with Detroit in 1917, but blood poisoning limited him to three games. When the Great War threatened civilization, Couch entered the service, but had an itch to return, and did in 1919.
He returned to the Seals after the war and pitched in over 150 games from 1919 to 1921. He spent the next four seasons in the majors before an arm injury threatened his career. At age 35 some players would have called it quits, but Couch rehabbed the arm and played through 1929.
Overall Couch pitched for three major league teams (1917-25). His best season came in 1922, when he won 16 for Cincinnati. He finished 29-34 with a 4.63 ERA in the majors and went 135-120 in the minors. His finest minor league seasons came with the Seals when he won 22 and 25 in consecutive years.
Johnny Couch was born on March 31, 1891, in Vaughn, Montana, one of eight children (six boys and two girls). His father, Thomas, a miner from Cornwall, England, had emigrated in 1868; his mother, Rachel Webber, was from Glamorganshire, Wales.2 The couple married in 1874.3 Thomas raised thoroughbred horses and cattle on a 10,000 acre ranch in Sun River, 13 miles from Great Falls.4 Couch Avenue in Vaughn bears the family's name.
Politically active, Thomas turned down the Republican nomination for Montana governor.5 To his sons, he was "a good comrade" but also the "final authority on all questions." He was known to be "big of nature, broad of view and generous to a fault."6 In 1901 he took a job dredging the Feather River in northern California, where he took ill and died. A year later Rachel left the ranch in her older sons' hands and moved to Palo Alto with her sons Johnny and Albert.7 The boys attended Mansanita school, which had an enrollment of 15 boys.8 They played football, with Albert at quarterback.9 Johnny was the baseball team's catcher who whipped it to second with power and speed.10
Johnny attended nearby Stanford in 1912 and 1913.11 He switched to pitching for the school team that went 12-12 and included future major league infielder Zeb Terry and "lanky twirler" Semet Gilfillan, who was offered a record-breaking salary to join the New York Giants, but turned it down to continue his schooling; an arm injury ended any thought of playing later.12 With Terry hitting .306 in 1912, scouts also noticed Couch.13
In 1914 the 23-year-old Couch signed with the 1914 Modesto Reds in the Class D California State League. He shut out Fresno in his first start14 and had an eight-game winning streak end with a 1-0 loss to San Jose.15 He was 8-2 in May when the San Francisco Seals bought him just before Modesto folded. 16 The Seals sent him to the Ogden Canners in the Class D Union Association for more "seasoning."17 He was 5-2 when the Union Association folded, then won one more in a playoff series against the Salt Lake City Sea Gulls.
Couch returned to San Francisco in July, appearing in six games with no decision and with a 3.38 ERA. Couch credited Seals center fielder Justin Fitzgerald with being instrumental in teaching him how to pitch. To Couch's knowledge, Fitzgerald was never a pitcher, but a student of the game. Fitzgerald kept after Couch to mix in some "slow ones" to complement his fastball. Every half inning Fitzgerald sat next to the young righthander with "mental notes."18
The six-foot, 190-pound Couch was described as a "big, handsome looking lad with every natural advantage and such a shrewd judge of baseball [with] a world of speed" and a "good left-handed batter . . . fast on the bases."19
Couch slimmed down to 180 pounds for spring training in 1915 and began to get looks from the majors. The White Sox picked up an option20 while Connie Mack's Athletics were also interested.21 His fastball was there, but he had trouble with his control,22 The Seals sent him to San Jose, where he started with two "rattling good games" before the league folded.23 He pitched in relief for the Seals in April and May before they optioned him to the Galveston Pirates of the Class B Texas League. Couch went "great guns in the hot climate"24 with an 11-6 mark for manager Paul Sentell. In late August, when rosters expanded from 18 to 30 players, he returned to the Seals.25
He also developed a curveball thanks to Detroit scout and former catcher Billy Sullivan, who worked with Couch that summer.26 After returning to the Seals, he won four of his first six games.27 Overall he was 6-5 with a 2.66 ERA in 21 games and 91 1/3 innings for the 118-win Coast champion Seals. When the Seals were home he commuted by train from his home in Palo Alto.
He boarded a Southern Pacific train and exited at Third and Townsend Streets at a Spanish Revival train terminal built for the 1915 Panama-Pacific International Exposition. From there he took a 15-line or 16-line streetcar up Third Street to Market and transfered to a 9-line streetcar down Valencia Street to Rec Park.28
To start 1916 the San Francisco Chronicle reported he had "better than ordinary control" on his pitches.29 Couch and Bill Steen were the lone bright spots for the pitching staff as the team finished fourth in the six-team league.30 Couch had 10 wins by early June and was tabbed the "best prospect in the Pacific Coast League."31
On August 1, with a record of 14-9, Couch was sold to Detroit for an estimated $3,500.32 After three wins in late August, he went 1-6 the final month to finish a combined 18-15 with a 2.68 ERA.33
The Tigers liked what they saw in Spring Training in Texas and took him north.34 But while in Texas, Couch had gone swimming in a pool in San Antonio and scratched his arm. Blood poisoning set in slowly and when the season began he had to sit out in April and May with an infected arm.35 His Tiger career lasted three games with a 2.70 ERA.
In his major league debut on opening day, April 11, he went six relief innings in relief, giving up two runs on four hits in a 6-4 loss to the Indians. It was a day after he had pitched nine innings in an exhibition game. Couch later said, "Hughey Jennings doesn't know how to handle a pitching staff."36
After pitching 1 inning on April 15 and 6 1/3 innings on May 15, he was given his unconditional release soon after.37 There was also pressure from his brothers to quit and return to the ranch;38 reports questioned his desire, saying "a man usually needs the spur of necessity."39
With the war in Europe raging, Couch enlisted in the 319th Engineers and reported to Camp Fremont. Johnny spent six months in France as a lieutenant for the 12th Infantry and "did not get under fire," according to the San Francisco Chronicle.40 His brother Albert was in the 364th infantry and participated in the battle of Argonne and was severely wounded in Flanders on November 4, 1918. Another brother, William, trained as an aviator, but died on board the transport Lapland on September 28, 1918.41
On September 3, 1918, Johnny married Stanford history graduate Zetta Mills.42
After being discharged from the Army in early 1919, Couch was signed by the Seals' new co-owners Charlie Graham and Alf Putnam on March 18. He was "fighting trim" and down 20 pounds, with the "old sharp break to his fastball, a good curve, and a slowball."43
His first season back was typically described: "He pitched three good innings, three bad innings and then three good innings"44 One Chronicle headline late in the year said, "Johnny Couch has plenty of stuff, but no luck."45 He finished 12-19 with a 3.27 ERA for the sixth-place 84-94 Seals.
A year later Couch got off to an 11-2 record by mid-June, but finished 22-17 with a 2.72 ERA for the fourth-place club. Still a resident of Palo Alto, he returned to Stanford to help the varsity in 1921 and 1922.46
Hopes were high for the 1921 Seals as they were predicted to be among the league leaders, with a staff the "tallest and heaviest and apparently the liveliest in the club's history."47 Couch and Los Angeles Angel Arthur Reinhart (15-5), of the eventual Coast champions, were the top pitchers.48 Couch finished 25-15 with a 3.08 ERA for the third-place Seals.
Minor league teams made their fortunes by selling their best players to major league teams. Couch was sold to the Cincinnati Reds for $20,000. The Seals in one stretch made over $400,000 selling its players.49
It paid off for the Reds. The 31-year-old Couch finished with 18 complete games in 33 starts, a 16-9 record and a 3.89 ERA for the second-place club. On April 27 the Couches welcomed their only child, a daughter, Mary Jean.50
Couch was paired with Eppa Rixey on the Reds staff for 1923. The press noted that "Pat Moran's Reds loom as one of the most dangerous teams in the National League."51 But 1923 was not kind, as Couch lost five decisions over his first two months and his ERA ballooned to 7.77 on May 20.
The Sporting Life mused, "This year however [Couch] has been hopeless" as the bench awaited.52 He started just three of his nine games in June and July. His last win came on July 11 at Philadelphia, an 11-hit complete game. He proved better in relief (4.23 ERA in 11 games) than as a starter (7.19 ERA in eight starts). He finished 2-7 with a 5.97 ERA. "I never felt better in my life … It just seemed I couldn't win ball games…"53
On August 2, 1923, he was selected off waivers by the seventh-place Phillies, the start of three seasons with the club. He lost a 2-1 duel to the Cubs on August 9 and went "seven fine innings" against the Pirates before surviving a 16-10 game.54 He ended his Phillies season 2-4 with a 5.23 ERA.
The 1924 Phillies had a veteran pitching staff but none of them was known for the ability to miss opponents' bats. Couch's 1.526 WHIP was second-best on the team for pitchers with over 50 innings.
The Phillies offense did not help matters. Couch started the year 0-4 as Philadelphia managed just nine runs in his first four starts. The most painful loss in that span was in fourteen innings to Boston, 3-2. Couch took the high road, stating, "My arm feels like a million dollars. If I can't win some ball games this summer, I won't blame it on my ball club"55
Late in the season, Couch found himself drawn into a baseball scandal. New York Giants coach Cozy Dolan hatched a plan to get the Phillies to roll over for the Giants. He had shortstop Jimmy O'Connell approach Heinie Sand. Joe Oeschger and Couch were with Sand when the conversation took place during warmups. Both Couch and Oeschger walked away before the conversation ended. Sand declined the offer.56 The players later testified and the two Giants were banned from baseball.57
The 1925 season was Couch's last in the majors. He watched his ERA hover above 5.00 for much of the season. Showing he still had something left in the tank at 34, during three straight starts in August he had a 2.46 ERA, including a 2-0 shutout of the Cubs. In his 31 appearances, the Phillies were 9-25 while he was 5-6 with a 5.44 ERA. In his final major league appearance, he gave up a run in the third inning of a loss to the first-place Pirates on September 21.
Couch then spent another four years pitching in the Pacific Coast League. He joined the Portland Beavers and felt "strong and healthy" in camp at San Jose.58 But in late March his shoulder began to bother him.59 He was only able to make two appearances, giving up five runs before going to see a specialist in Los Angeles. He did not pitch again in 1926 but figured out a way for one last go at it.
Couch credits his return to Al Fitzgerald, the brother of Justin, who had taught him how to pitch with the Seals back in 1915. Starting in June Al rubbed Couch's shoulder daily. He began throwing again in August. By February of 1927 the last ache had disappeared and he asked the Beavers for another tryout.60
A smile returned to his face after his first workout with the Beavers in March 1927.61 On April 4 he pitched against his old Seals team and received a warm welcome from the fans.62 He finished the season 18-15 with a 4.03 ERA for the fifth-place Beavers.
He reported to spring training in Santa Ana in 1928 back down to 180 pounds after hitting 202 pounds the year before.63 In July he faced off against former Stanford great, Missions pitcher Ernie Nevers, known more for his gridiron skill than his pitching. Nevers, a decade his junior (Stanford: 1923-25), lasted until the second and Couch the third inning.64
Couch had lost five in a row to fall to 8-13 before being traded to the Hollywood Stars.65 The Stars were in a pennant chase with the Seals and Sacramento. Couch gave them immediate help with a 4-1 win over the Missions on August 19. He was 2-4 with the Stars, who ended up eight back of the pennant-winning Seals. Overall Couch was 9-17 with a 4.88 ERA.
Sold to the Seals in 1929, he looked to reinvent himself with a "number of different speeds."66 Couch served primarily as a reliever with the "aging arm and the heart of a Lion."67 He finished 9-8 with a 5.42 ERA for the second-place Seals.
In 1930 Couch moved to Marysville to begin his police career. He pitched in the Sacramento Valley League and for the Marysville Giants in 1930 and 1931.68 After three years with the Marysville police department, he joined the CHP in San Mateo, where he rode a motorcycle for 21 years (1933-54).69
A fan favorite, he returned to the Seals in July 1932 to participate in an alumni game.70 Two years later the San Francisco Chronicle launched a fan vote for the favorite Seals of all time. Of the 4,416 entries, third baseman Willie Kamm earned the most votes (2710). Couch earned 141 votes for 13th place on the 10-man team.71
In later years John walked around with a deer-horn-handle cane with a silver sword design on its handle. It had originally belonged to Colonel Thomas Couch, who gave it to John's sister, Rachel Mary, and her husband Lee M. Ford.
John and Zetta Couch remained together in Palo Alto until John's death from heart complications at the age of 84 on December 8, 1975.72 According to their nephew, Dale, Zetta was "formal, polite with such etiquette, she would fit right into high society." John was very sociable and would greet his nephew at the door with a smile. The house was "downright immaculate" and had a bookcase full of books –Westerns, military books and popular books of the time. Zetta passed away at the age of 94 in February 1989.73
In 1954 Stanford selected the first members of its athletics Hall of Fame. The initial class of 34 did not include Couch. Sportswriter Wilbur Adams noted in the Sacramento Bee, "The selections are fine as far as the list goes but too many athletes have been overlooked."74 The school's fourth major leaguer, Couch is still not in its Hall of Fame. Just seven of the 45 baseball inductees played before 1950.75
Acknowledgments
This biography was reviewed by Chris Rainey and Norman Macht and fact-checked by SABR's fact-checking team.
Notes
1 Harris, Dick. "Ex-Baseball Star Planning to Retire from State Patrol Duty." Hall of Fame Archives.
2 Historic Record Company. Eugene T. Sawyers' History of Santa Clara County, California. Last modified 1922. Accessed September 20, 2019. http://www.mariposaresearch.net/santaclararesearch/SCBIOS/tcouch.html.
3 Historic Record Company.
4 Historic Record Company.
5 Sanders, Helen Fitzgerald. A History of Montana. Vol. 2. Chicago and New York, IL/NY: Lewis Publishing Company, 1931, 1261.
6 Sanders.
7 Browning, Skylar, and Watterson Jeremy. Montana Baseball History. Charleston, SC: History Press, 2015. 70-71.
8 Mansanita High Catalogue, 1909-10.
9 San Jose Mercury News (San Jose, CA). "Amateur Gossip." November 19, 1914, 13.
10 Walsh, Christie. "Big League Yarns – Johnny Couch." Evening Tribune (San Diego, CA), May 26, 1924, 15.
11 "Stanford Registry." Accessed September 20, 2019. https://archive.org/stream/alumnidirectoryt03stan/alumnidirectoryt03stan_djvu.txt.
12 Walsh, Christie. "Big League Yarns – Johnny Couch." Evening Tribune (San Diego, CA), May 26, 1924, 15.
13"Sox Grab off Young Player of PC League." Anaconda Standard (Anaconda, MT), September 3, 1916, 3.
14 "Johnny Couch Wins Second Game for Modesto Reds" San Jose Mercury News (San Jose, CA) April 19, 1914, 19.
15 "Johnny Couch, Former California League Player, is Sold to Detroit by the Seals," San Jose Mercury News August 2, 1916, 12.
16 "Career of Johnny Couch Sketched in baseball record," Stanford Daily (Palo Alto, CA), April 2, 1923.
17 San Francisco Chronicle August 11, 1914, 10.
18 Walsh, "Big League Yarns – Johnny Couch."
19 Evansville Courier and Press (Evansville, Indiana), June 21, 1914, 7.
20 "Diamond Chatter," Stanford Daily, February 25, 1915, 3.
21 San Francisco Chronicle, April 20, 1915, 10.
22 San Francisco Chronicle, March 11, 1915, 10.
23 "Oaks Handed us Good Trimming, but it Can't Always be Thus," Salt Lake Telegram (Salt Lake City, UT), April 14, 1915, 12
24 San Francisco Chronicle , August 17, 1915, 8.
25 "Seals to Recall Two Men." Oregonian (Portland, OR), August 11, 1915, 10.
26 "Game Draws Sullivan ", Oregonian, December 30, 1916, 16.
27 San Francisco Chronicle, September 14, 1915, 6.
28 Laubscher, Rick, Market Street Railway President, email correspondence with author, November 15, 2017.
29 San Francisco Chronicle , April 2, 1916, 37.
30 San Francisco Chronicle, April 18, 1916, 15.
31 "Couch Comes Up in Front as a Heaver," San Luis Obispo Daily Telegram (San Luis Obispo, CA), May 5, 1916. 7.
32 "Dozen Coast League Stars worth $70,000" Cincinnati Post, August 8, 1916, 6.
33 San Francisco Chronicle, October 31, 1916, 9.
34 Stanford Daily, March 1, 1917, 2.
35 Santa Ana (California) Register, May 9, 1917: 1.
36 Hughes, Ed, "Johnny Couch May Again Don Seal Uniform," San Francisco Chronicle, March 14, 1919, 12.
37 "Corhan Says Couch Will Quit Baseball," Los Angeles Herald, May 30, 1917, 1.
38 "Johnny Couch draws release from Detroit," San Francisco Chronicle , May 30, 1917, 9.
39 Kofoed, J.C. "The Youngsters of 1917." Baseball Magazine, August 1917, 435.
40 Hughes, Ed "Couch Wants to Play with Graham's Team," San Francisco Chronicle , March 15, 1919, 12.
41 Mylne, Dale. Nephew of Johnny Couch, email interview by the author. December 1, 2017.
42 "Cupid Entices Former Students," Stanford Daily, October 9, 1918, 1. Zetta's family had arrived in Palo Alto via Minnesota and Nova Scotia, changing their name to Mills from Mylne, according to their nephew, Dale Mylne.
43 "San Francisco Looks Dangerous but Slow," Seattle Daily Times , April 6, 1919, 72.
44 Ed Hughes, "Hard Hitting Defeats Seals in Good Game," San Francisco Chronicle, June 8, 1919, 64.
45 "Johnny Couch Has Plenty of Stuff, But No Luck" San Francisco Chronicle, September 2, 1919, 18.
46 "Couch '15 to Assist Coach Seay with Pitching Staff," Stanford Daily , Feb 16, 1921, 3.
47 Sacramento Union, March 21, 1921, 6.
48 "Angels Let World Know They Are Due," The Sporting News, August 4, 1921, 3.
49 Rice, Grantland, "The Spotlight," Augusta Chronicle (Augusta, GA), October 22, 1925, 13.
50 San Francisco Chronicle, April 26, 1922, 21.
51 "Four Reasons Why the Reds Look Dangerous," Brooklyn Daily Eagle , February 6, 1923.
52 Phelon,W.A. "This Sporting Life," Evening Journal (Hamilton, OH), May 22, 1923, 9.
53 Walsh, "Big League Yarns — Johnny Couch."
54 Journal News (Hamilton, OH), August 16, 1923, 16.
55 Walsh, "Big League Yarns — Johnny Couch."
56 Associated Press. "Giants Coach's 'Can't Recall' All He'd Say," Daily Register-Gazette (Rockford, IL), January 10, 1925.
57 "O'Connell is Called in Scandal Hearing," Evening Star (Washington DC), January 28, 1925, 25.
58 "Beavers Open Camp with Eight on Hand," Oregonian (Portland, OR), March 2, 1926, 14.
59 "Beavers Near Top Form," Oregonian, March 27, 1926, 14.
60 "Couch Wishes to Rejoin Beavers," Oregonian , February 15, 1927, 13.
61 Gregory, LH. "One Mound Worry for Beavers Ends," Oregonian , March 12, 1927, 11.
62 "Beavers Drop Two to San Francisco," Oregonian , OR), April 4, 1927, 13.
63 Gregory, LH. "Beaver Operations Delayed by Deluge," Oregonian , March 4, 1928, 66.
64 Gregory, LH. "Beavers Take Wild 11-10 Game in 11th," Oregonian , July 14, 1928, 17.
65 "Beavers Trade Players," Oregonian August 11, 1928, 18.
66 Hughes, Ed. R. "Suhr, Pinelli and Crosetti are Choices," San Francisco Chronicle, March 12, 1929, 27.
67 Hughes, Ed. R. "Angels Labor Eleven Innings Before Winning," San Francisco Chronicle , September 12, 1929, 31.
68 San Francisco Chronicle , May 18, 1931, 19.
69 "John Couch Leaves Patrol," San Mateo Times (San Mateo, CA), July 31, 1954, 9.
70 "Old-timers Play Baseball at Local Park," San Francisco Chronicle , July 10, 1932, 58.
71 "Fans Select SF All-Star Baseball Team," San Francisco Chronicle, March 25, 1934.
72 Baseball Hall of Fame archives.
73 Mylne, Dale. Nephew of Johnny Couch, email interview by the author. Email. December 1, 2017.
74 Adams, Wilbur "Between the Sports Lines," Sacramento Bee, December 28, 1954, 30.
75 "Stanford Athletics Hall of Fame." Accessed September 20, 2019. http://gostanford.com/news/2017/9/14/hall-of-fame.aspx.
Born
March 31, 1891 at Vaughn, MT (USA)
Died
December 8, 1975 at Palo Alto, CA (USA)
If you can help us improve this player's biography, contact us.
https://sabr.org/sites/default/files/CouchJohnny.jpg
600
800
admin
/wp-content/uploads/2020/02/sabr_logo.png
admin
2020-01-02 10:55:37
2020-04-09 14:37:28
Johnny Couch