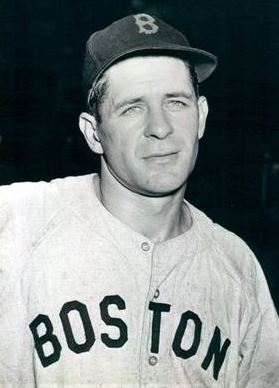 ---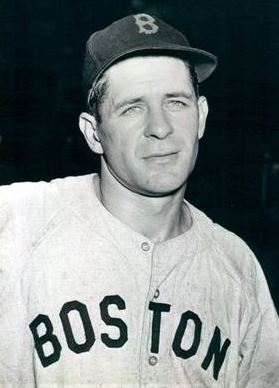 Johnny Lazor was a ten-year veteran of the minor leagues and a wartime major-league outfielder for the Boston Red Sox, playing for four seasons from 1943 through 1946. Why he never appeared in the '46 World Series is a matter of conjecture, but there appear to have been a couple of good reasons.
He was born about eight years after his parents came to the United States from Slovakia. John Paul Lazor was born in Taylor, Washington, near Seattle, on September 9, 1912. He was 30 years old when he first made the major leagues. John was the middle of three sons born to Mike and Veronica Lazor. There was also a daughter, named Mary. Mike and Veronica's granddaughter, Barbara Ochoa, recalled, "I remember my grandmother always telling me I was 'Slovak — not Czech' — she got really angry if we said we were Czech."1 Both parents emigrated to the United States, Mike arriving in 1899 and Veronica arriving in 1900. Granddaughter MaryJo Anderson said she believed that Veronica came from the Slovak city of Kosice, in the eastern part of the country near the border with Ukraine, and that she was the youngest of a large family, her way to America paid for by an older sister who had come to the US earlier. She worked in the kitchen of a family and later rolled cigars in a factory to pay back her sister, living in an apartment with two other women.
Mike grew up more in the southern part of Slovakia, near what is now the border with Hungary. He and his two brothers also wanted to go to America, and their grandmother promised them that if they stayed on the farm and worked for their dad a certain amount of time, she would pay the fare for all three. They traveled widely, even to Alaska, but settled in the King County (Seattle) area. After several years, Mike and two of his friends decided it was time they sought suitable wives and traveled to New York, where they found a Catholic church where there were Slovak people. "They attended some social doings," MaryJo said. "Then Grandpa went to the ladies' apartment and said, 'I want this one.' He pointed to Grandma. So they were married, came by train to Seattle, and went to the Black Diamond, Green River area."2
Mike and Veronica spoke Bohemian in the home at first. They were living in Sherwood, King County, Washington, at the time of the 1910 Census and Mike is listed as a laborer in a coal mine. By the time he registered for the draft during the First World War, he listed his occupation as "farming" and by the time of the 1930 Census his occupation is listed as "farm labor — mill."
The family moved when Johnny was quite young. He attended elementary school in Hobart, about 25 to 30 miles southeast of Seattle, and graduated from Tahoma High School. He attended Washington State College for a year. Had baseball not worked out, he'd planned to become a forest ranger. Hunting, trapping, and fishing remained a source of enjoyment.3
Lazor played baseball in high school and in semipro and industrial leagues around the area. He batted left and threw right; he was 5-feet-10 with a listed playing weight of 175 pounds by the time he'd become professional. That wasn't until he was almost 25 years old. Lazor listed the Northwest League as the first semipro league in which he'd played, and an appreciation of his life printed a few days after his death in the Renton Journal Reporter gave a little more detail of how his career began while the country was deep in the Depression: "Back in the early days of his career a lot of teams were company-sponsored. A good player didn't have much trouble getting a job with a company that wanted a good team. He got his start with the Record Chronicle [newspaper] team in Renton, playing in the Northwest League. Lazor would walk a mile to the Hobart store, then hitch a ride with a bakery truck to Renton. A job — and a place on the Stoneway team — followed. That was in the Industrial League. Next came the Seattle League."4
Lazor was a catcher at first, but later became an outfielder. "The math just made sense: one catcher, three outfielders. Play in the outfield and you had a better chance at starting," he figured.5
On weekends in 1936 Lazor played in nearby Bremerton for the Northwest League team there and the manager of that team did some scouting for the Boston Red Sox. He mentioned a baseball school the Red Sox were holding in San Diego in the spring of 1937. "I went down at my own expense," wrote Lazor. "They had about 60 fellows there and they signed about five players. Ernie Johnson and Earl Sheely ran the school. After they signed me I went to Little Rock and trained there a while. I was then assigned to the Moultrie Chiefs of the Georgia-Florida League."6
Playing in Class D for Moultrie, Johnny collected 143 hits in 455 at-bats for a .314 average with six home runs. Later in the 1937 season, his contract was transferred to Canton and he played both 1938 and 1939 in the Middle Atlantic League for the Canton Terriers, having good success at Class C, too. He hit .314 again, with 11 homers, in 1938 and he hit .334 with 13 homers in 1939. Four of the home runs in 1938 came in one doubleheader, which Lazor listed in an American League player questionnaire as his best day in baseball. It was also in Canton, in 1938, that he met and married Dorothy-Rae Crowl.
Promoted to the Scranton Red Sox in 1940, Lazor proved he was ready for Class A baseball, and hit .306 in exactly 500 at-bats, with three home runs. At some point in the 1941 season (perhaps in the beginning of the year, since he had played with Louisville during spring training), Lazor had three hitless at-bats in three games with the Double-A Colonels, Boston's highest-level team at the time. Most of the 1941 season, however, he spent with Scranton again, hitting .290 there.
In 1942 Lazor spent the full season with Louisville and had an even better year at the higher level, batting .309 with six home runs. In 124 games playing the outfield, he committed only two errors. And he began to attract some positive attention, helped when he went 4-for-4 in the first game of a July 19 doubleheader against Toledo. His four hites were a home run, a triple, and two doubles. Anticipating their need in 1943, the Red Sox purchased Lazor's contract from Louisville in October.
With Ted Williams in the Navy and with Dom DiMaggio and numerous other Red Sox starters also in the service, Lazor and several others had opportunities during the war years. He clearly merited a shot in any event, but it was definitely easier to stick given the depleted ranks. Lazor trained with the club during their wartime spring-training home at Tufts College in the Boston area, made the team, and played in 83 games, second-most among Red Sox outfielders. Only Pete Fox played more, but several other outfielders shared similar records: Leon Culberson 81 games, George Metkovich 78, and Eddie Lake 75.
Lazor played left field — in Williams' stead — on Opening Day in Philadelphia. Tex Hughson pitched a 1-0 three-hit shutout for the Red Sox. Boston had only two hits. Lazor was 0-for-4, but drove in the only run of the game. In the fourth inning Pete Fox doubled, was sacrificed to third by Bobby Doerr, and scored on Lazor's groundball out. His first major-league base hit was a single on May 1 that drove in the first run of that day's game against the visiting Philadelphia Athletics. The second run of the 3-1 win came in Johnny's his next time up when he reached base on an error, stole second, and scored on Johnny Peacock's single.
On May 20 Lazor had his first multi-hit game, the second game of a doubleheader at Cleveland, when he was 3-for-4 with three RBIs in a 7-4 win. Two triples against the visiting Yankees helped produce another three RBIs in the second game of a September 12 doubleheader. Those two games provided almost half of the 13 RBIs he produced (he scored 21 runs) in the 1943 campaign. He hit for a .226 average. For more than 60 years, his uniform number from 1943 (82) was the highest number ever assigned to a Red Sox player, but when contacted by this author in 2001, he couldn't say why and thought his number had been 29.7
In the spring of 1944 the team experimented with Lazor catching some games in spring training. He hit two home runs in the sixth inning of a 19-3 game against Baltimore during the exhibition season, but didn't play much during the regular season. Up to July 31 he appeared in 12 games, with 14 at-bats, and hit only .143 without either a run scored or a run batted in. There was one game when he filled in as catcher on an emergency basis. He was optioned to the San Diego Padres on July 31 as part of a deal that brought pitcher Rex Cecil to Boston. Returning to the Red Sox on September 17, he finished out the season, appearing in four more games and getting 10 more at-bats. His final average was .083, still without either a run scored or a run batted in.
It didn't look as though there was room to break into the 1945 outfield, with Bob Johnson in left field, Culberson in center, and Fox in right. Lazor was used in pinch roles for the first month and a half, getting his first start on May 31 after Fox was hurt. He took advantage, going 2-for-4, going 2-for-4 the next day as well, and then hitting his first major-league home run on June 2, a three-run drive off Art Houtteman in the eighth inning of a 5-1 win over Detroit. Manager Joe Cronin sometimes platooned Lazor and Tom McBride in right field when Fox could not play. Lazor's best day of the year came in a losing effort when he drove in all four Red Sox runs in a 5-4 loss in Detroit, with two home runs. He had a very good year in 1945, appearing in 101 games and driving in 45 runs while batting .310 — the highest batting average on the team.
That accomplishment put Lazor in good stead when returning servicemen came back after World War II. He wasn't going to keep Ted Williams from reclaiming left field, but he was good enough to stick for the full season as a utility fielder. The 1946 team won the pennant with ease, and Lazor didn't see much playing time. He appeared in 23 games but had only 29 at-bats; for the most part he was used late in games. "I played left field mostly. No one was going to take Ted's place! [Tom] McBride played left, too. Cronin didn't believe in left-handers hitting against left-handed pitching. In the minors, I had to face left-handers and I hit them just as well."8
When he did play, he was much less productive, hitting for a .138 average with only four runs batted in. Oddly, every one of the four RBIs and his only run scored of the season came in a May 22 game in Cleveland. One of the RBIs came on a home run in the top of the ninth that sent the game into extra innings. The Red Sox won the game in 12. Fellow left-handed hitter George Metkovich was used much more than Lazor. The reason may have been that Johnny had found himself in manager Joe Cronin's doghouse. "In '45, I hit .310 but in '46 I only got up 29 times. In '45 I had a chance to make some money on a barnstorming trip — mostly in Ohio — and Cronin advised me not to. So the next year I was on his shit list. At that time it was pretty good money, I think it was $400 or $500."9
Lazor traveled to St. Louis and remained with the team during the 1946 World Series, but was never called upon. Would he have fielded the ball better than Culberson in Game Seven, and held Enos Slaughter at third base? We'll never know. Culberson had a better average, and played many more games in the field.
The Red Sox sold Lazor's contract to the Portland Beavers on January 23, 1947, and he spent the next three seasons — his last in baseball — in the Pacific Coast League. The years saw a decline — from .304 to .265 to .191 for the 59 games he played in 1949. He had one major hot streak, going 21-for-37 in July '47. He was released by Portland in January 1950.
While Johnny Lazor was playing for Portland, brother Vince was pitching quite well on the West Coast, too. He'd worked for Modesto in 1946, then was 16-6 for the Salem Senators in the Western International League in 1947, pitched for both Salem and Tacoma in 1948, and wound up his four years in Organized Baseball with Tacoma in 1949. All in all, he was 52-48 with a 4.96 earned-run average. Both Vince and Johnny worked construction in the offseasons. Johnny's son Ray recalled, not certain how legal their approach to fishing had been: "They also worked in the lumber camps but had very different type of jobs, they were in charge for providing the meat and fish that fed all the logging workers. They would hunt deer, elk, and birds. They would provide fish for the cooks, and at times they would use 'yellow hammer' to obtain the fish, that is dynamite. This would stun the fish and they would use a big net to scoop them up."10
Ray played some baseball and football, received a full football scholarship at Kent State University in Ohio, and played some summer baseball there against Thurman Munson. He was signed to the taxi squad of the New York Jets but was hurt badly with a broken neck. He later worked for Boeing in computers for 30 years. Brother David also played ball, including time playing center field while in the Army in Korea on a team that won the championship of the Far East in 1960. As of 2011, he still played over-70 "supermajor" senior softball, competing at the national level. David Lazor taught college at Washington & Lee University and Indiana University before starting in the petroleum industry with Texaco, working as manager, geologist, or geophysicist before starting his own company generating and marketing oil and gas prospects.11 As of 2011 Barbara Ochoa worked for the Boeing Company on the B-2 bomber program.
Johnny and Dorothy had divorced some years earlier; Johnny married again in June 1955, to Mary Gloria Bronson. After baseball he worked steam-cleaning oil tanks for the Anderson-Sherman company in Seattle. He also worked in a stone quarry near Renton, in a gravel pit running the crusher and the separator.
Lazor lived to be 90 years old. He died on December 9, 2002. "Physically he wasn't that strong," daughter Barbara said, "but he was still very alert right up until the end." He liked to read Harlequin romance novels, and he followed both the Seattle Mariners and the Red Sox on television. "He usually watched the games with the TV and the radio turned on at the same time. The last five years of his life that's what he did — watch baseball. When the Mariners and the Red Sox played each other he rooted for both of them." At a memorial Mass held for him at St. Anthony's Catholic Church in Renton, Barbara brought photographs and other memorabilia from his years in baseball, but also brought a pair of pinstripe overalls and some chewing tobacco. "He always had those bib overalls and chewing tobacco," she said. "Up to the day before he died he chewed tobacco."12 Now, that's old school.
Sources
In addition to the sources noted in this biography, the author also accessed Lazor's player file from the National Baseball Hall of Fame, the online SABR Encyclopedia, the Encyclopedia of Minor League Baseball, Retrosheet.org, and Baseball-Reference.com.
Notes
1 E-mail from Barbara Ochoa, October 25, 2011
Born
September 9, 1912 at Taylor, WA (USA)
Died
December 9, 2002 at Renton, WA (USA)
If you can help us improve this player's biography, contact us.
http://bioproj.sabr.org/bp_ftp/images5/LazorJohnny.JPG
600
800
admin
/wp-content/uploads/2020/02/sabr_logo.png
admin
2012-01-04 20:04:09
2012-01-04 20:04:09
Johnny Lazor