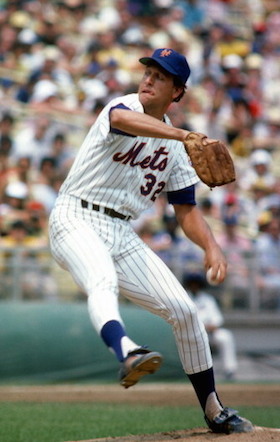 ---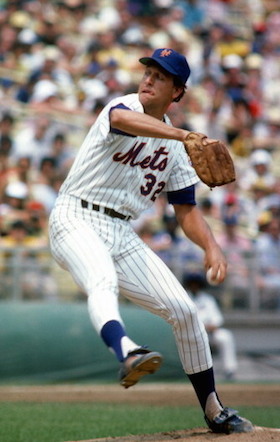 Jon Matlack is one of the most underrated and unappreciated New York Mets pitchers in their 50-plus years of existence. Matlack's baseball records are one of the best examples of why won-lost records may not be the best way to measure a pitcher's efforts.
Jonathan Trumpbour Matlack was born on January 19, 1950, in West Chester, Pa., to Ralph Russell and Marcella Trumpbour Matlack. Matlack grew up in a large household; he was the oldest of eight children and the only one who pursued sports.1 His unusual middle name is his mother's maiden name. It is an old Dutch name and recognizes his family's roots in Saugerties, N.Y., dating back to the 1700s.
Matlack attended high school at West Chester High School, which was renamed Henderson High School during his senior year. Matlack began playing baseball in Little League. He started playing as an outfielder, but after a growth spurt, he was one of the bigger players on lis Little League team, so he was made a pitcher. With a height of 6-foot-3, he continued to pitch throughout his high school career.2 As a result of his high school performance, Matlack was recruited by the Mets out of high school.
The Mets used their first pick in the 1967 amateur draft — the fourth overall — to choose Matlack. The lefthanded pitcher began his professional career late that year due to his American Legion team going deep in tournament play that year. His first assignment was the Williamsport Mets, New York's Double-A farm team. Matlack believes he was sent there since it was close to his home when he finally became available late that summer.3 This first season was not exactly memorable for Matlack. He finished with a 0-1 record and his ERA was 14.40 in the two games that he pitched that season.
But Matlack quickly became the Mets' first solid amateur draft pick as he improved each year, moving up through the team's minor league system.4 He first showed that the Mets made a smart decision during his second season, when he pitched for the Raleigh-Durham Mets of the single-A Carolina League. Matlack earned a 13-6 won-lost record, had a 2.76 ERA and fanned 188 batters during his lone year in Raleigh-Durham. As it turned out, 1968 was his best minor league season. It was also the year that Matlack married his wife, Diana, after they had been sweethearts during high school.5
After his sophomore season in the minors, Matlack pitched the next three years for the Mets' AAA team, the Tidewater (Va.) Tides, in the International League. While Matlack had respectable numbers, they did not match those of the previous season. In 1969, Matlack pitched in 26 games, ten of them complete games. He earned a 14-7 won-lost record and whiffed 99 batters as he helped the Tides win the International League championship that year. Unfortunately, his 4.14 ERA earned him another stay with the Tides for the 1970 season.
Matlack's father died shortly before the 1969 season. Matlack always regretted that his father did not get to see him pitch in the majors. As he said in an interview, "There's a lot that stinks about that because I was at the stage of my life when he was still a dummy [to me, sic]. I had gone through revering my dad as a youngster to the teen years where I knew it all, and I hadn't really gotten beyond that when he died."6
During his second season with the Tides, Matlack again pitched in 26 games and had nine complete games. His won-lost record of 12-11 was overshadowed by his 146 strikeouts that season. Matlack was quickly on his way to becoming the hard-throwing lefty that would impress Mets fans in coming years.
After two seasons with the Tides, Matlack was almost ready for the major leagues. He began 1971 with Tidewater and earned the attention of the parent club; the Mets called him up in the middle of the season. Matlack's first game was against the Cincinnati Reds on July 11, 1971. He pitched seven innings and gave up six hits and two earned runs while earning a no-decision for his efforts as the Mets lost to the Reds, 5-3. Tom Seaver ended up as the loser in this game when he came in as relief in the ninth inning and gave up three runs. Matlack ended the season with a 0-3 record and had to wait until 1972 to earn his first major league win. After the season, Matlack played winter ball in Puerto Rico for the San Juan Senadores, gaining additional experience that paid off when he made the big-league club the following year.
Matlack started the 1972 season in the majors. He earned his first major league win April 23 as he came on in relief of Gary Gentry. Matlack pitched four scoreless innings and struck out five batters in the 8-2 Mets win over the Chicago Cubs. Matlack ended up winning five more games with no losses over the next two months and by the end of May his earned run average was 1.95. He finished the season with a 15-10 record, his win total second on the team behind Mets ace Seaver. Even more significantly, Matlack had the best ERA on the Mets, his 2.32 being fourth best in the National League.
One of the memorable moments of Matlack's rookie season came September 30, 1972, when he was the pitcher who served up Roberto Clemente's 3,000 hit, which turned out the be the last one of his career. Matlack remembers the game this way: "I had no idea he was sitting on 2,999. I was just trying to win a game. When I gave up the double — I think it short-hopped the center-field wall — there was all this hoopla. The ump presents him the ball at second and I'm glowering and thinking, 'Hey, we have a ballgame here.' I was just an oblivious rookie."7
As a result of his performance during the 1972 season, Matlack earned the NL Rookie of the Year award. Matlack easily beat out Dave Rader of the San Francisco Giants and fellow Met John Milner for the award. Matlack threw four shutouts and eight complete games that year, the most of any Met. He also had 169 strikeouts. Mets' aces, Seaver and Jerry Koosman, played a big role in helping Matlack mature as a pitcher. "The fact that my locker was between [the lockers of] Seaver and Koosman says enough," he noted.8
Matlack's sophomore season was not as notable as his rookie year, although he continued to be an important part of the Mets' starting rotation. While Matlack's won-lost record in 1973 was 14-16, he struck out 205 batters that year, which was third in the National League behind Seaver and Steve Carlton of the Philadelphia Phillies. On May 8, 1973, Matlack suffered his first injury when Marty Perez of Atlanta lined a shot that hit Matlack in the forehead and fractured his skull during a game at Shea Stadium. He was carried off the field in a stretcher and it was feared his career was over. But Matlack pitched again 11 days later and ended up playing an important role in the Mets' improbable run to the 1973 World Series, as he was 5-1 from August 18 to the end of the season with the Mets taking the National League East Division crown.
During the NL Championship Series, Matlack came through for the Mets in what might have been his most significant and memorable moment as a Met. On October 7, 1973, Matlack started against the Cincinnati Reds and held the Big Red Machine to two hits in the second game of the series. Both of the hits were by reserve outfielder Andy Kosco as Matlack held the formidable Cincinnati lineup in check.
Matlack was equally impressive in the 1973 World Series. He pitched well and gave up just three hits in six innings in the first game of the series against the formidable Oakland A's. Unfortunately, the A's got a break and scored two runs when Felix Millan couldn't handle a ground ball in the third inning. They held on to win the game 2-1 with the Mets scoring their only run in the fourth inning when Cleon Jones doubled and then scored on a Milner single. Matlack pitched and won Game Four. He gave up just one run in eight innings as the Mets won 6-1. Matlack was asked to pitch the seventh and deciding game on just three days of rest. Matlack only last 2 2/3 innings and was pulled for Harry Parker after giving up home runs to Bert Campaneris and Reggie Jackson. It turned out that these were the only home runs that the powerful A's would hit in the entire series. The Mets lost the game (and the series) 5-2, with Matlack taking the loss. While Matlack ended up with a 1-2 record for the Fall Classic, he allowed only four earned runs in 16 2/3 innings while striking out 11 batters, walking five and finishing with a 2.16 ERA.
In 1974, Matlack's record was another mediocre one at 13-15. But this does not accurately reflect his overall pitching prowess. Matlack threw 195 strikeouts that season, which was the fourth in the National League. His ERA was also a respectable 2.41 that year and he had seven shutouts. This tied the club record until it was broken by Dwight Gooden in 1985.
In 1975, Matlack had a 16-12 record for the Mets, who had begun their slide from champions to cellar-dwellers. Matlack's ERA rose to 3.38 and he rang up only 154 strikeouts. He was selected to the 1975 All-Star Game. After pitching two scoreless innings and striking out four batters, Matlack ended up sharing the MVP award with the Pittsburgh Pirates' Bill Madlock. This was the only time that the award was shared by two players.
Matlack's best season with the Mets was probably 1976. Matlack won 17 games and only lost 10 while pitching 16 complete games. His ERA was 2.95 and he struck out 153. The low point of that year was the Mets being on the short end of a heartbreaking 1-0, 10-inning game to J.R. Richard and the Houston Astros. Matlack pitched nine scoreless innings but had only a no-decision to show for his efforts while Richard pitched ten scoreless innings. The Astros won the game on a pair of singles against Skip Lockwood in the bottom of the tenth frame. At the end of the season, Matlack finished sixth in the voting for the Cy Young Award.
Matlack's worst year with the Mets was 1977, playing for a team that accumulated 98 losses that season. His record slipped to 7-15 and his ERA jumped to 4.21 after entering the season with a career 2.88 mark. His final game as a Met was September 30, 1977, against the St. Louis Cardinals. Matlack won the game 6-3, pitching 5 2/3 innings and allowing only two earned runs. Following the season, the Mets dealt Matlack to the Texas Rangers as part of a four-team trade on March 15, 1978. Matlack went to the Texas Rangers as part of this convoluted trade involving 11 players between the Atlanta Braves, Rangers, Pirates and Mets. The deal astounded Matlack. He recalled, "It totally shocked me because you never want to be let go. I felt like I was a real part of something."9
Matlack's first year with the Texas Rangers was a respectable one. He finished the season with a 15-13 record and an ERA of 2.27. Matlack also struck out 157 batters, which was good enough for sixth among American League pitchers. Matlack's statistics were in the top 10 in several important categories such as Wins Above Replacement and WHIP (walks plus hits per inning pitched). Matlack and Ferguson Jenkins were the two aces on a Texas pitching staff that year when the Rangers finished 87-75.
1979 was not as productive for Matlack. He had surgery to repair his left elbow and missed much of the season. He managed to appear in 13 games and ended the season with a 5-4 record. His elbow repair seemed to be successful and Matlack bounced back from the injury to appear in 35 games in 1980. He ended up with a 10-10 record that year. His ERA rose to 3.68 but he still was effective off the mound as evidenced from his 142 strikeouts, which was in the top 10 in the American League that year. Matlack also continued to maintain his control as he led the AL with a WHIP of 1.334 that year, besting such players as Hall of Famer Dennis Eckersley and Tommy John.
Major League Baseball had its fourth work stoppage since 1972 during the 1981 season. The strike began on June 12 and forced the cancellation of 713 games in the middle of the regular season. Matlack was part of the MLB Players Association's negotiating committee during the strike. It was a particularly bitter strike due to the principal issue: the owners' demand of compensation for losing a free agent player to another team. Eventually, a compromise was reached and the season resumed.
After that tumultuous season, Matlack found that his role with the Rangers was significantly reduced. In an interview in 2008, Matlack wondered if this was a backlash for being part of the MLBPA negotiating committee and his role in the strike.10
In the strike shortened campaign, Matlack finished the year with a 4-7 record, an ERA of 4.13 and just 43 strikeouts for a Texas Rangers team that finished in the middle of the pack during both halves of the split season. Matlack did bounce back a little in 1982 when he appeared in 33 games for the Rangers. He started 14 games and finished the season with a 7-7 record. Matlack did not show up in the top 10 among American League pitchers in any pitching categories that year.
The following year, 1983, ended up being Matlack's final season in the majors. Matlack played a limited role on a Rangers pitching staff that showed limited effectiveness that year as the team finished with a 77-85 record. Matlack's final major league game was September 15, 1983. He pitched the seventh and eighth innings of a 6-5 Texas victory over the A's. Matlack gave up one earned run while collecting two strikeouts and walking one batter. Matlack was released by the Rangers on October 31, 1983.
When Matlack finished his career, he could feel confident that he had been an accomplished starting pitcher based on his own definition. In a 2015 interview, Matlack said that he thought of his role as a starting pitcher was "to keep our club in the game for as long as I was in the ballgame."11 Matlack averaged 6 2/3 innings pitched for the 361 games that he appeared in. Additionally, strikeout-to-walk ratio was an excellent 2.38 and he had a 5.58 strikeouts per nine innings over the course of his career.
Once his pitching career was over, Matlack stayed in Texas. For the next few years, Matlack worked in commercial real estate. He also raised show horses. Neither of these activities kept his interest and Matlack eventually found his way back into baseball. As Matlack watched games in retirement, he observed that "the game was less than it could be and there were things that I could do to help.12 He was hired as a pitching coach for the San Diego Padres' Rookie-level team in Arizona for the 1988 season. He continued to work as pitching coach at every minor league level for the San Diego Padres from 1988 to 1992.
Matlack also had a brief but successful stint in the Senior Professional Baseball Association. He pitched for the St. Petersburg Pelicans in the winter of 1990. Matlack had a tidy 10-2 record as the Pelicans won their division. But Matlack hung up his cleats after the season. He said that he realized that he preferred the coaching aspect of the game instead of the competition.13
After a change in the Padres' management, Matlack worked in a similar role for the Chicago White Sox for a couple of years before returning to the Padres in 1995. In 1996, he was hired to be the Detroit Tigers' major league pitching coach under new manager Buddy Bell. Matlack was released before the end of the season as the Tigers compiled a 53-109 record, but the Tigers asked him to stay as minor league pitching coordinator and he did that from 1997 to 2011. In 2012, Matlack joined the Houston Astros as a pitching coordinator but retired from major league baseball at the end of that season.
After his stint with the Astros, Matlack stayed out of baseball for some time. By then, he had moved to Johnsburg, N.Y. Matlack and his wife had three children, Kristin, Jennifer and Dan. Dan spent a short time in the Padres organization but knee and shoulder injuries shortened his playing career.14 Baseball eventually found Matlack one more time. In 2015 Matlack worked as the pitching advisor for the Glens Falls Dragons of the PGCBL (Perfect Game Collegiate Baseball League). After one year in that role, Matlack retired once again and continues to enjoy life with his wife and family.
Matlack played on teams with more celebrated pitchers during his major league career, Matlack ended up with a surprisingly middling 125-126 won-lost record considering that he consistently ranked high in many pitching categories during his 13-year career. He also played important roles on the Mets' championship teams in the early 1970s. His consistency on the mound and his contributions to his team's successes, not his record, are what make Matlack an underrated and unappreciated pitcher.
Last revised: December 9, 2016
Sources
In addition to the sources cited in the Notes, I also utilized the Baseball-Reference.com and Retrosheet.org websites for box scores, player, team, and season pages, pitching and batting game logs, and other material pertinent to this biography. Fangraphs.com provided some the individual statistical information used in this biography. Finally, the Ultimate Mets Fans Database and Bleacher Report.com also provided me with some leads that I was able to confirm elsewhere regarding Matlack's career.
I also would like to express appreciation for Jon Matlack. He generously gave me his time and allowed me to interview him so that I could fill in a number of gaps in his story.
Notes
Full Name
Jonathan Trumpbour Matlack
Born
January 19, 1950 at West Chester, PA (USA)
If you can help us improve this player's biography, contact us.
http://sabr.org/sites/default/files/MatlackJon.jpg
600
800
admin
/wp-content/uploads/2020/02/sabr_logo.png
admin
2016-12-09 13:43:43
2016-12-09 13:43:43
Jon Matlack